Sony camera rumors
While Canon and Nikon tried to pull the rug out from under Sony, by entering the full-frame mirrorless fray, Sony has fought back handily – it currently sits just 1% behind Canon in terms of mirrorless market share in Japan (while Nikon is nowhere to be seen).
After starting the year by releasing the content creating compact powerhouse Sony A6400, the company went nuclear on all the pretenders to its full-frame mirrorless throne – and the medium format throne, for that matter – by announcing the 61MP Sony A7R IV.
On top of that, it also unveiled its latest camera phone, the Sony Xperia 1, that finally packs some of the technology of its Alpha cameras to deliver fantastic stills and video shooting.
So what else is likely to materialize from the Japanese manufacturer this year?
Sony A7S III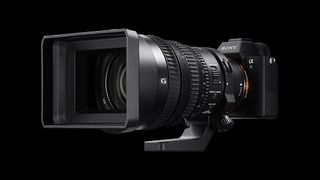 The A7S II has spent the last two-and-a-half years as one of the most appealing mirrorless choices for the professional videographer, and while its spec sheet holds up well next to more recent releases, it's possible Sony will incorporate some of the goodies from the A9, A7R III and A7 III in a potential replacement.
Read more: Sony A7S III: What we want to see and what we're likely to get
These include a joystick around the back for moving the focusing point, as well as a battery with more juice than before. This should be in addition to a revised sensor too, potentially one with a different architecture to the one inside the A7S II.
As a video-centric model, it wouldn't be a surprise to see video specs fleshed out, too, perhaps with a greater choice of frame rates or output options.
Sony A5
Another rumor that makes some sort of sense is for Sony to produce a low-cost full-frame mirrorless model. Sony kind of already does do this, as the original first-generation A7 is still available, and often at a heavily discounted price that makes it seriously tempting for anyone who fancies trying full-frame without making a huge investment.
But it is just possible that Sony build a budget from the ground up – to challenge low-cost full-frame DSLRs, not to mention the Canon EOS RP and (potentially) the Nikon Z5 head-on.
Sony A7000
Sony doesn't just make full-frame mirrorless cameras – its smaller format APS-C sensor models are very much alive and kicking. The Sony A6000, Sony A6300, and Sony A6500 are, in fact, still selling strong. And the new A6400 came out in February of this year. But we are still expecting a new flagship model in this range of non-full-frame mirrorless cameras...
The new powerhouse in the range is rumored to be called the A7000, or possibly the A6700. We think Sony already has all the technology and know-how to produce a truly credible APS-C alternative to Fujifilm's X-mount range, and we already have an idea what the Sony A7000 might look like.
With two new cameras rumored to appear before the end of August, it's possible that we could be seeing the Sony A7000 sooner than you may think...
The Sony verdict
What we think: We've probably already seen Sony's biggest news for 2019 in the form of the A7R IV. However, although rumors of a potential Sony A7S II successor aren't quite as hot as those of other manufacturers' models right now, the arrival of a Sony A7S III would make a lot of sense by the year's end.

More camera rumors: Canon rumors • Nikon rumors • Fujifilm rumors • Olympus rumors • Panasonic rumors