You can't take pictures without lenses, and while cameras tend to grab all the headlines, it's lenses that stay with you the longest. And 2020 has been a really exciting year for lenses, and not just from the big camera makers but third party and smaller lens makers too.
What's especially exciting is that we're starting to see lenses of very different specifications and configurations, as makers experiment with new glass and the possibilities offered by new mirrorless lens mounts, while photographers and videographers constantly evolve their ideas about the lenses they want to work with and the 'looks' they want to achieve.
So let's take a look back through 2020 to see all the lenses that were rumored, launched, reviewed and talked about...
• All the new lenses of 2020: part 2
• All the new lenses of 2020: part 3
• All the new lenses of 2020: part 4


January 2020
So much happened in January 2020 that it felt like a year's worth of lens news packed into a single month!
Fujifilm hit the ground running in 2020 by announcing its new Fujinon GF 45-100mm f/4 R LM OIS WR medium format lens. It's only an f/4 with an equivalent focal range of very roughly 35-80mm, but any medium format zoom is big news, and we would get to test it later in the year.
Further ahead, and more exotic by far was the Fujinon GF 90mm f/1.4, so far just a patent application but one day, we hope, set to become a physical reality. An f/1.4 lens on a medium format camera is just insane.
Back on planet Earth, Fujifilm also announced the Fujinon XC 35mm f/2, its third 35mm (50mm equivalent) lens for its X-mount cameras. So why make this one when there is already an XF 35mm f/2? The XC tag is the clue – this is a much lighter, cheaper version for Fujifilm's entry-level cameras like the Fujifilm X-A7 and X-T200.
If Fujifilm was busy, Chinese lens maker Laowa was positively frenzied, bringing five new lenses. Laowa specialises in compact, manual focus ultra-wide lenses and macros, and the Laowa 65mm f/2.8 2x Macro APO was to offer twice the magnification of a regular macro lens.
Laowa also brought out its first cine lens, the Laowa 12mm t/2.9 Zero-D, a sign that this ever-inventive company was looking for yet another market to conquer. And if that wasn't enough, we got wind of a new Laowa 15mm f/4.5 shift lens that would bring perspective control optics to E-mount and L-mount cameras for the first time.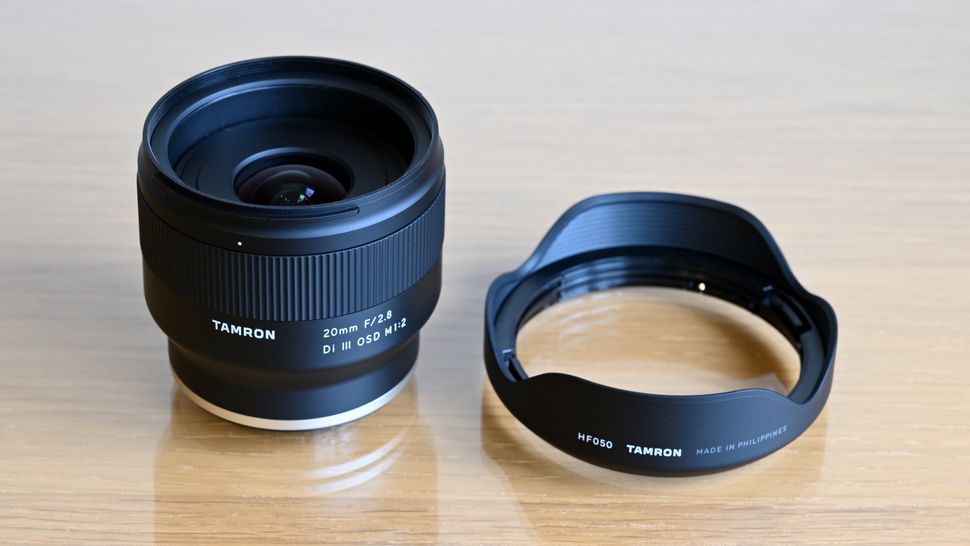 Getting back to normal (normal for Laowa), we revealed the planned Laowa 9mm f/5.6, which would be the widest full frame rectilinear non-fisheye lens ever, and we reviewed the goggle-eyed Laowa 4mm f/2.8 Fisheye for APS-C and Micro Four Thirds cameras and gave it a whopping 5-star rating.
Possibly the highlight of the month, though, was when we FINALLY got to do our Nikkor Z 58mm f/0.95 Noct review, and that that wasn't the only treat for Nikon Z fans as we also published our Nikkor Z 24mm f/1.8 S review in January too. Good to see the Nikkor Z range gathering momentum, and there would be more to come in 2020.
January 2020 was an absolute bonanza for Sony APS-C fans, after a long, dry spell when it looked as if Sony might have lost interest in its smaller format mirrorless cameras. But no – and we got to test the pro-quality Sony E 16-55mm f/2.8 G and the long-range Sony E 70-350mm f/4.5-6.3 G OSS too. And Sigma jumped on on the act, sending us the Sigma 30mm f/1.4 DC DN | C for review and the Sigma 56mm f/1.4 DC DN | C. Tamron wasn't going to be left out either, as we also published our full frame Tamron 20mm f/2.8 Di III OSD review.
Is that everything? No. We also published a review of the rather good Irix 11mm f/4 Blackstone. And it was still only January.
Lens reviews in January 2020
• Irix 11mm f/4 Blackstone review
• Laowa 4mm f/2.8 Fisheye review
• Nikkor Z 24mm f/1.8 S review
• Nikkor Z 58mm f/0.95 Noct review
• Sigma 30mm f/1.4 DC DN | C review
• Sigma 56mm f/1.4 DC DN | C review
• Sony E 16-55mm f/2.8 G review
• Sony E 70-350mm f/4.5-6.3 G OSS review
• Tamron 20mm f/2.8 Di III OSD review
February 2020
February picked up pretty much where January left off, with reviews of the Tamron 35mm f/2.8 Di III OSD M1:2 and the Tamron 24mm f/2.8 Di III OSD M1:2. This completed the trio of rather good, close-focusing Tamron primes for full frame Sony E-mount cameras – and at down-to-earth prices which make them even more appealing! Not to be outdone, Sony revealed its new Sony FE 20mm f/1.8 G, the widest full frame E-mount prime lens yet from Sony. Sony's E-mount system has been around for ages now, and it's gained some proper momentum and interest from third-party lens makers – the Tokina atx-m 85mm f/1.8 FE portrait lens was announced this month too.
Of course, you can't go very long without some new Canon RF lens rumors, and this time it was for up to five new RF lenses, including a Canon RF 10-24mm f/4L USM, Canon RF 35mm f/1.2L USM, Canon RF 50mm f/1.8 MACRO IS STM, Canon RF 85mm f/1.8 IS STM and Canon RF 70-135mm f/2L USM.
Two rumors which actually turned into officially announced products included the Canon RF 24-105mm f/4-7.1 IS STM and the Canon RF 100-500mm, plus RF 1.4x and 2x Extenders. The 24-105mm lens was to prove especially interesting, because of its price and its size. It's perfect in both respects for the Canon EOS RP and encouragement that Canon was going to cater for amateurs and new users, not just professionals.
There was a lot of buzz around this time about Fujifilm's new flagship X-T4, and especially with its new in-body image stabilisation system, which would work in conjunction with stabilised lenses to offer even more compensation, so we put together a list of the 18 lenses that give you maximum IBIS on the Fujifilm X-T4. At the other end of the scale, we also grabbed a quick hands on Fujinon XC35mm F2 review, a rather good low-cost prime for Fujifilm's entry-level models. And at the third end of the scale (no, wait, that can't work), we were introduced to two new medium format GF lenses – the super-fast Fujinon GF 80mm f/1.7 and the practical everyday Fujinon GF 35mm f/3.5.
Olympus had some news too, soldiering on despite a series of gloomy news stories, and had a new lens for us. Our Olympus M.Zuiko 12-45mm f/4 Pro review left us with some doubts about where it fitted in next to the very similar 12-40mm f/2.8 lens, but being lighter, cheaper and smaller it could prove a better 'pro' match for smaller Olympus models like the excellent OM-D E-M5 III. Another reason for Olympus fans to cheer was the new Voigtländer Nokton 60mm f/0.95. OK, so hardly an everyday lens, but an encouraging indication that the Micro Four Thirds format has plenty of support.
February also brought some movie news, with a new Sigma MC-31 mount converter for fitting PL mount cine lenses to L-mount cameras, and two new Samyang Xeen CF lightweight cine lenses.
Lens reviews in February 2020
• Hands on: Fujinon XC35mm F2 hands on review
• Olympus M.Zuiko 12-45mm f/4 Pro review
• Tamron 24mm f/2.8 Di III OSD M1:2 review
• Tamron 35mm f/2.8 Di III OSD M1:2 review
March 2020
In March 2020 we caught up with some of the lenses we had seen earlier in the year. We were pretty impressed in our Fujifilm GF 45-100mm f/4 R LM OIS WR review, though the size, cost and limited zoom range of this lens is a reminder that stepping up to medium format brings a lot of compromises you don't get with full frame cameras.
Our Laowa 65mm f/2.8 2x Ultra Macro APO review was really positive too. The only downside is that this is an APS-C mirrorless lens and not full frame. There's no autofocus either, but that's not so important in a macro lens where you typically use manual focus anyway.
We also published a review of the Tokina atx-m 85mm f/1.8 FE we first saw in February. It's not the best 85mm portrait lens we've tested, but the price makes it ideal for occasional portrait shooters. If only all 85mm primes were this affordable! In fact, Tokina was on a roll, promising new 23mm, 33mm and 56mm f/1.4 Tokina lenses for Sony APS-C E-mount in the summer, with Fujifilm X-mount versions to follow in the autumn.
Meanwhile, independent lens maker Irix announced a new 45mm f/1.4 Dragonfly lens for DSLR cameras.
It was two bigger makers that made the biggest splash, though. We reviewed two key full frame mirrorless camera lenses from Sigma – the Sigma 24-70mm f/2.8 DG DN Art and the Sigma 14-24mm f/2.8 DG DN Art. These lenses fill two of the three slots in the 'holy trinity' of constant aperture pro lenses, at prices way below camera makers' own-brand lenses but with a level of optical quality that is at least as good, if not better.
We were also pleased to get two key Panasonic L-mount lenses in for review too. The Panasonic Lumix S Pro 50mm f/1.4 is a big, pricey but beautiful bokeh lens which we first saw at the launch event for these cameras, and while the Panasonic Lumix S Pro 70-200mm f/4 O.I.S. is an f-stop slower than the later f/2.8 version, it is at least portable and affordable (by the standards of Lumix S lenses, anyway!).
Lens reviews in March 2020
• Fujinon GF 45-100mm f/4 R LM OIS WR review
• Laowa 65mm f/2.8 2x Ultra Macro APO review
• Panasonic Lumix S Pro 50mm f/1.4 review
• Panasonic Lumix S Pro 70-200mm f/4 O.I.S. review
• Sigma 14-24mm f/2.8 DG DN Art review
• Sigma 24-70mm f/2.8 AF DG DN Art review
• Tokina atx-m 85mm f/1.8 FE review