We all know that a major advantage of mirrorless cameras over SLRs is that they're more compact and lightweight. After all, they're called 'compact system cameras' for a reason. It seems that nobody told Panasonic, however, as its full-frame mirrorless S1, S1R and S1H cameras are at least as big and heavy as competing SLRs, if not bigger.
• Read more: Best L-mount lenses
It also seems that its L-mount lenses are following suit, if this S Pro 50mm f/1.4 is anything to go by. It measures a whopping 90x130mm and tips the scales at 955g, making it almost as large and considerably heavier than most full-frame compatible 70-300mm telephoto zooms.
The bottom line is that, with more than a little help from Leica, Panasonic has set about creating an absolutely top-performance 50mm prime with absolutely no concession to compactness.
Specifications
Mounts: L-mount
Full frame: yes
Autofocus: yes
Lens construction: 13 elements in 11 groups
Angle of view: 47 degrees
Diaphragm blades: 11
Minimum aperture: f/16
Minimum focusing distance: 0.44m
Maximum magnification ratio: 0.15x
Filter size: 77mm
Dimensions: 90x130mm
Weight: 955g
Key features
For a 50mm prime, the S Pro has a large and complex optical path, based on no fewer than 13 elements arranged in 11 groups. These include two aspherical elements with the aim of minimizing spherical aberrations and distortion, and three extra-low dispersion elements helping to optimize sharpness, contrast and color accuracy, while reducing chromatic aberrations.
A main attraction is the fast f/1.4 aperture rating which enables a tight depth of field and relatively fast shutter speeds even under dull lighting. A particularly well-rounded 11-blade diaphragm helps maintain the quality of bokeh when stopping down.
For autofocus, the lens boasts not one but two actuators, combining both a linear motor and a stepping motor to drive different groups of elements. The aim here is to deliver very fast autofocus for stills and smooth focus transitions during video capture, in virtual silence.
Build and handling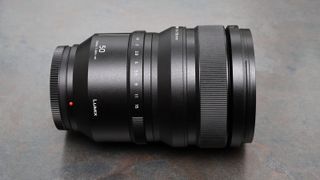 Given its size and weight, it's fair to say this lens is built like a tank, and it has pretty much the same kind of build quality. Weather-seals on the mounting plate and around the barrel ensure a 'dust and splash resistant' construction and Panasonic says the lens is freezeproof down to -10 degrees Celsius. It certainly feels rock-solid and very robust.
Unusually for a lens featuring linear and/or stepping motor autofocus systems, this one has a clutch mechanism coupled to its manual focus ring with a push-pull mechanism for switching between autofocus and manual focus. It's a bit of a Marmite feature in terms of handling - some love it, some hate it. It certainly enables quick and easy swapping between focusing methods, but you might feel it's a little too easy to make the switch unintentionally. Even more unusual for a linear/stepping motor autofocus lens, the manual focus ring has a physical distance scale.
Hands-on control extends to setting the aperture, thanks to a physical aperture ring which has click steps in one-third f/stop increments. Overall, handling is very refined although, with a combined weight of around two kilograms on an S series body, there's no getting away from the fact that the lens is a weighty proposition.
Performance & image quality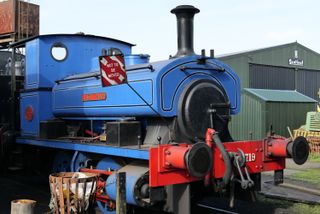 Sharpness, contrast and colour rendition are simply spectacular, even when shooting wide-open at f/1.4. For such a 'fast' lens, sharpness remains highly impressive right into the extreme corners of the frame when shooting at the widest aperture, and becomes even more stellar when stopping down to just f/2.8. Equally importantly, defocused areas look wonderfully creamy, and the transition between focused and defocused regions is impressively smooth. Lateral chromatic aberration is negligible and axial chromatic aberration or 'bokeh fringing' is remarkably minimal, even when shooting wide-open. The latter can often be quite noticeable with fast prime lenses, showing up as coloured fringing around the edges of objects that are in front of or behind the point of focus. To all intents and purposes, the Panasonic is also a zero-distortion lens.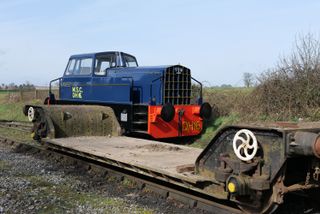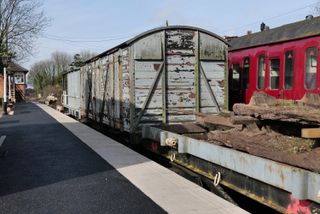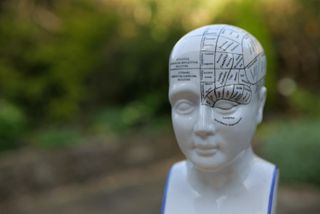 Lab data
We run a range of lab tests under controlled conditions, using the Imatest Master testing suite. Photos of test charts are taken across the range of apertures and zooms (where available), then analyzed for sharpness, distortion and chromatic aberrations.
We use Imatest SFR (spatial frequency response) charts and analysis software to plot lens resolution at the centre of the image frame, corners and mid-point distances, across the range of aperture settings and, with zoom lenses, at four different focal lengths. The tests also measure distortion and color fringing (chromatic aberration).
Sharpness: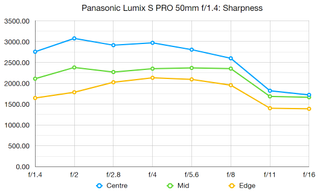 Even when shooting wide-open, the lens is scary-sharp across most of the frame, and sharpness also reaches dizzy heights in the extreme corners when stopping down to just f/2.8
Fringing: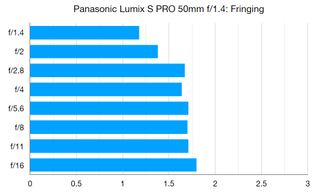 Lateral chromatic aberration is minimal and the lens does similarly well to control axial chromatic aberration, which is often more of a problem with fast prime lenses
Distortion: 0.03
The virtually perfect lab score confirms that the lens is essentially a distortion-free optic
Verdict
Living up to its claims, the S Pro 50mm f/1.4 has super-fast and virtually silent autofocus that works with excellent accuracy and consistency. The high-precision manual focus and aperture rings are a handling bonus, and image quality is simply stunning in every respect. All in all, it's a fabulous lens with absolutely top-notch performance and fully pro-grade build quality. However, it's huge and very hefty for a 50mm f/1.4 lens, and the same goes for the price tag.
Read more
• The best 50mm lens
• Panasonic S1R review
• Panasonic S1 review
• What is a prime lens?