In a somewhat surprising move, Fujifilm has revealed the Fujinon XC 35mm f/2 – which, for those keeping count, is the manufacturer's third 35mm X-mount lens, behind the Fujinon XF 35mm f/1.4 R and Fujinon XF 35mm f/2 R WR.
The Fujinon XC 35mm f/2 is set to launch day-and-date with the new Fujifilm XT200, and has no doubt been envisioned as an ideal low-price companion lens for the affordable new camera.
On its own merits, it's an appealing lens. Conforming to Fujifilm's XC designation (denoting lenses that are designed to be compact and ultra-portable, and are generally cheaper to buy than XF lenses that aim for premium performance), it measures just 46.5mm long and weighs in at only 130g.
It shares the same maximum aperture, number of lens elements (9 in 6 groups, with 2 aspherical), aperture blades (9) and filter size (43mm) as the Fujinon XF 35mm f/2 R WR – and it should offer comparable AF speed and quietness, too, with its internal focusing system powered by a stepping motor.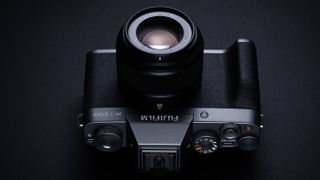 However, unlike its bigger brother, the XC 35mm is not weather sealed – though, of course, the new lens is less than half the price of the XF 35mm f/2, which carries a suggested retail price of £349 / $399 / AU$549.95.
We're all for cheaper lenses, of course, especially since most of us at DCW are old enough to remember when a bog standard nifty fifty (the Fujinon XC 35mm f/2 being equivalent to 52mm on a 35mm camera) used to be dirt cheap. This three-way overlap in the Fujifilm lineup is still more than a little odd, though.
The Fujinon XC 35mm f/2 goes on sale 27 February for $199 / £169 and will be available in silver or black. Which means you can get one of each color, for the same price as buying a single XF 35mm f/2. Aha, now it all makes sense! Well played, Fujifilm…
Read more:
The best Fujifilm lenses in 2020: the best lenses for X-mount cameras
The best Fujifilm cameras in 2020: from X-mount to GF medium format