With the best lenses for landscapes, you can capture incredible sweeping scenes in pin-sharp detail. We've picked out the absolute best landscape lenses you can buy, but not just the pricey ones, as we know not everyone has an unlimited budget. So, on this list you'll find a mix of top-shelf optics, mid-range choices and cheap but high-quality options.
In most cases, the best lens for landscape is going to be a wide-angle zoom. Having a little zoom flexibility is good for landscapes as it lets you fine-tune your composition without having to hike over hills, while a wide angle lets you fit a lot of the landscape into the frame.
Top-end zooms will generally have a maximum aperture of f/2.8 through the zoom range – while this is good to have, especially when light gets low, it's less important in landscape than it is in other disciplines, as you'll likely be stopping down to get a large depth of field. Therefore, you may want to opt for an f/4 lens, which will be both cheaper and more lightweight to carry.
We've picked out options for a range of different mounts, manufacturers and sensor sizes, so no matter what camera system you use, there should be plenty of options here for you. We've split the list up by popular manufacturers, to make it easier for you to find the right landscape lens for your photography.
Best lenses for landscapes in 2023
Why you can trust Digital Camera World Our expert reviewers spend hours testing and comparing products and services so you can choose the best for you. Find out how we test.
Best RF lens
A weighty proposition for Canon's EOS R-series mirrorless cameras at 840g, this 'fast' f/2.8 lens is nevertheless only about the same size and a little heavier than most f/4 wide-angle zooms for full-frame SLRs. Speaking of which, it has similarly high-end L-series build quality as Canon's EF 16-35mm f/4L IS USM lens for SLRs, with weather-seals and fluorine coatings on the front and rear elements.
It also shares the same 'IS USM' credentials but the image stabilizer is even more effective, rated at 5-stops instead of 4-stops, and the autofocus is 'Nano Ultrasonic' which is even faster more silent, while adding the bonus of smooth autofocus transitions during movie capture.
Unusually for such a wide-angle f/2.8 zoom, it has a filter attachment thread and separate hood. The only real downside is the steep selling price. See our full Canon RF 15-35mm F2.8L IS USM review.
Nikon
Best for DX format
Nikon currently markets a low-budget AF-P DX 10-20mm f/4.5-5.6G VR wide-angle zoom for its APS-C format SLRs, as well as more up-market (and much older) 10-24mm and 12-24mm DX lenses.
The Tamron occupies the middle ground in terms of selling price but beats all the Nikon lenses for image quality, especially in terms of corner-to-corner sharpness. It has a solid build, incorporating weather seals and a fluorine coating on the front element.
Key features include a highly efficient 4-stop optical stabilizer, a fast and virtually silent HLD (High/Low toque-modulated Drive) autofocus system and an electromagnetically controlled aperture.
However, this makes aperture adjustment unavailable when using older Nikon SLRs including the D3000 and D5000. See our full Tamron 10-24mm f/3.5-4.5 Di II VC HLD review.
Best for Nikon DSLR
Although fairly weighty for an f/4 wide-angle zoom, this Nikon 16-35mm is nevertheless only about two-thirds the weight of most f/2.8 editions. It certainly feels very solid and comes complete with a weather seal on the mounting plate.
The up-market optical design includes two ED (Extra-low Dispersion) elements to enhance sharpness and contrast while minimizing color fringing, plus Nano Crystal Coat to reduce ghosting and flare.
There's a typically fast and whisper-quiet ring-type ultrasonic autofocus system, with the usual full-time manual override. The VR (Vibration Reduction) system is a bonus, although it only gives a relatively meager 2.5-stop advantage in beating camera shake.
See our full Nikkor AF-S 16-35mm f/4G ED VR review.
Best for Nikon mirrorless
This Nikon is refreshingly compact and lightweight for a full-frame compatible wide-angle zoom. Designed for full-frame mirrorless Z-mount cameras, it's only about the same size and weight as the Tamron 10-24mm zoom for DX format SLRs.
It nevertheless packs a lot into its diminutive and weather-sealed build, including four aspherical elements, four ED (Extra-low Dispersion) elements, Nano Crystal Coat, and a fluorine coating on the front element.
There's a fast and virtually silent stepping motor-based autofocus system but, as usual with Nikon Z lenses, this comes without a physical focus distance scale. There's no optical image stabilizer either but that's no problem because Z 6 and Z 7 cameras have built-in, sensor-shift stabilization.
Typical of Nikon's Z-mount full-frame compatible lenses, image quality is exceptional with incredible corner-to-corner sharpness. See our full Nikon Z 14-30mm f/4 S review.
Best for APS-C users
Lenses with a constant f/2.8 aperture are generally thought of as being reserved for professionals, simply due to cost, but this affordable zoom by Tokina comes at a very reasonable price indeed.
This is a refresh of a lens that's been around for quite some time – and the Nikon-mount version has finally gained an autofocus motor, which was previously only on the Canon version.
Sharpness is excellent in the center of the frame, as we discovered in our lab testing of the lens, though we did also notice some minor color fringing and barrel distortion, especially at the wide end.
Overall though, the lens performs very well, and if you don't mind a slightly restrictive zoom range, this is a highly impressive f/2.8 lens to get for the price. Be aware though – it's APS-C (DX format) only. You can mostly only pick them up secondhand now but the plus side of that is you can save yourself even more!
Fujifilm
Best for Fujifilm X-mount
Fairly hefty for an APS-C format wide-angle zoom, the XF-10-24mm combines a generous zoom range with a constant f/4 aperture rating. It's impeccably turned out and the high-end construction looks and feels fabulous.
As signified by the 'R OIS' lettering in its title, the lens has a physical aperture ring to enhance handling and an Optical Image Stabilizer, albeit with a slightly mediocre 3-stop effectiveness.
There's nothing mediocre about the optical path, which includes four aspherical elements and four ED (Extra-low Dispersion) elements and delivers exceptional sharpness in the short half of the zoom range, even when shooting wide-open.
At longer zoom settings, it pays to narrow the aperture by an f/stop for real bite. See our full Fujifilm XF 10-24mm f/4 R OIS review.
Olympus/Panasonic MFT
Best for Micro Four Thirds
Ultra-wide-angle lenses represent a real challenge for the Micro Four Thirds system, due to its 2x crop factor doubling the 'effective' focal length. Even so, there are high-performance zooms to choose from, including the Olympus M.Zuiko Digital ED 7–14mm f/2.8 PRO.
Unlike that lens, the Panasonic has a separate hood and comes complete with a filter attachment thread, while nearly matching the Olympus for maximum angle of view. Further landscape photography credentials include a tough, weather-sealed and freeze-proof construction.
The lens lives up to its Leica billing with excellent image quality, thanks to an exotic optical path that includes three aspherical elements, two ED (Extra-low Dispersion) elements, one aspherical ED element and a UHR (Ultra High Refractive index) element.
Sony
Best affordable Sony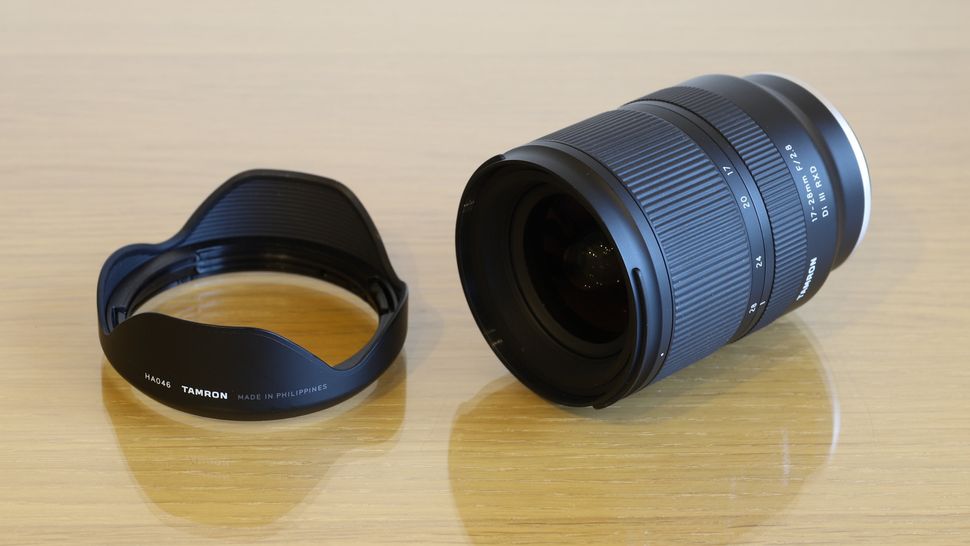 if you thought all wide-angle, fast-aperture lenses had to be super heavy, think again. Tamron's range of f/2.8 lenses for Sony mirrorless cameras are not only surprisingly lightweight but they're also really good quality with a tough, weather-sealed design.
The lens is made up of an LD (Low Dispersion) and (eXtra Low Dispersion) element which help reduce aberrations while the autofocus is almost silent thanks to Tamron's RXD (Rapid eXtra silent stepping Drive) stepping motor.
This lens is compatible with Sony's sensor-shift stabilization which is just as well since it doesn't have any optical image stabilization. The images produced re sharp from corner-to-corner and color fringing and distortions are minimal even without digital corrections in post-production.
At less than half the price and a quarter of the weight of the Sony 16-35mm f/2.6 G Master - it's a bit of a no-brainer as to which one to choose.
Best ultra-wide for APS-C
Whether shooting mouth-watering food or stylist restaurant interiors, the Tokina 11-18mm f/2.8 has some highly desirable features. Firstly, it's the fastest, wide-angle lens you can get and compare to the Sony equivalent (which is only f4) it's just as harp and shows very little distortion and color fringing.
Considering it's much faster aperture isn't too much bigger or heavier but it doesn't have the Optical Image Stabilization that Sony benefits from. Luckily when we're talking about food photography there is usually nothing moving and you will often be working with lights or bright natural light when shooting.
Of course, if you shoot on a full-frame Sony, you won't benefit from the ultra-wide angle lens so this is aimed at people with the Sony A6400 or the Sony ZV-E10.
Best lightweight Sony
Remarkably compact and weighing in at just 225g, the Sony 10-18mm is a perfect match for slim-line A6000-series bodies. The 10-18mm zoom range isn't overly generous at the long end but gives a useful spread of focal lengths, equating to 15-27mm in full-frame terms.
Stepping motor-based autofocus is quick and virtually silent in operation. As usual with this type of system, there's no physical focus distance scale and the manual focus ring is electronically rather than mechanically coupled.
The latter enables very precise adjustments. Despite featuring Super ED (Extra-low Dispersion) glass, sharpness is a little lacklustre when shooting wide-open but improves significantly when stopping down to f/5.6. The 3-stop optical stabilizer is worth having but isn't an overachiever by current standards.
What to look for in the best lenses for landscapes
One important factor to remember with landscape is that an ultra-wide-angle zoom is not necessarily the best choice, because of how important lens filters are in landscape. Ultra-wide angles tend to have a bulbous front element which physically protrudes out from the front of the lens, precluding the ability to attach a front filter like an ND or a polariser.
• Read more: Camera filters explained and why you still need them
Ideally, a good landscape lens should let you fit in as much as possible into the image frame without too much distortion. A close focusing distance can also be more important than you might think, as you may want to place some foreground interest very close to the camera for maximum impact and exaggerating distance between foreground and background.
If you are a little new to the basics of lenses and need to get your head around certain things – don't worry. We have a general guide to the best camera lenses that lays out everything you need to know about which lens to use for which type of shooting.
With all that in mind, here is our pick of the best lenses for landscapes, to suit a wide range of popular cameras.
How we test lenses
We test lenses using both real world sample images and lab tests. Our lab tests are carried out scientifically in controlled conditions using the Imatest testing suite, which consists of custom charts and analysis software that measures resolution in line widths/picture height, a measurement widely used in lens and camera testing. We find the combination of lab and real-word testing works best, as each reveals different qualities and characteristics, and avoids the results being too biased by the reviewer – who may or may not like the "look" of a certain lens.
What is the best focal length for landscape photography?
Wide-angle lenses are generally a landscape photographer's preference as you can capture a dramatic scene easier. However, too wide and you'll risk distortion so be careful. It's also fun to switch things up, sometimes a telephoto zoom can be great for capturing different perspectives with more depth of field.
Do I need to buy filters?
We wouldn't recommend rushing out to buy filters straight away - they're not cheap and it's a good idea to get to grips with shooting landscapes forst. Once you do, a set of ND filters and graduated ND filters are great to have in your arsenal.