In some ways, a fast standard prime such as the Sigma 30mm f/1.4 DC DN | C lens can be more versatile than a standard zoom kit lens that most of us buy with a mirrorless crop-sensor camera body. Sure, you lack the flexibility of sweeping through a range of viewing angles, but the fixed focal length of around 45mm (APS-C) or 60mm (MFT) gives a very natural perspective, while the wider aperture opens the door to a tighter depth of field.
Indeed, with an aperture rating of f/1.4, this lens is about four f/stops faster than Canon's 15-45mm kit lens, when used at the latter's 30mm focal length. You'll also be far more able to freeze action under dull lighting conditions, without the need to really push your camera's ISO setting.
Read more: Best wide-angle lenses for Canon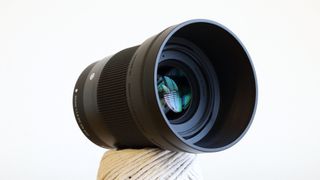 Specifications
Mount: Canon M, Sony E, MFT
Elements/groups: 9/7
Angle of view: 48 degrees
Diaphragm blades: 9
Minimum aperture: f/16
Minimum focusing distance: 0.3m
Maximum magnification ratio: 0.14x
Filter size: 52mm
Dimensions: 65x73mm
Weight: 270g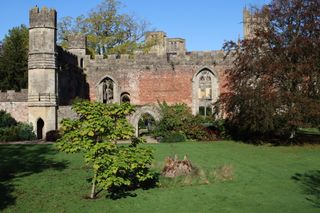 Build & Handling
When launched, this 'DN' Contemporary lens for mirrorless cameras became a counterpart to Sigma's existing 'DC' Art lens for crop-sensor SLRs. Physically, the new lens is 10mm longer but 10mm narrower, has a smaller 52mm filter thread and, tipping the scales at 265g, is little more than half the weight. Overall, it feels supremely well matched to slim, compact mirrorless bodies from the Canon EOS M, Olympus Pen and OM-D, and Sony A6xxx series of camera systems.
Typical of recent and current Sigma lenses, this one is based on TSC (Thermally Stable Composite) material for its barrel and many of its internal components. This helps to enable a robust and sturdy build which retains its integrity during temperature variations, thanks to very little thermal expansion. The lens also comes complete with a high-quality hood that has an anti-slip finish, whereas you need to buy the hood as a pricey optional extra for the Canon EF-M 32mm lens.
As with most lenses for mirrorless cameras, the Sigma 30mm has an autofocus system based on a virtually silent stepping motor. This naturally requires power from the host camera battery for operation of both autofocus and manual focusing, via the comfortably wide 'fly by wire' focus ring. It's very smooth in operation and enables excellent precision for manual focusing.
The optical path includes nine elements in seven groups. Two of the elements are aspherical but the lens features neither FLD (Fluorite-grade Low Dispersion) nor SLD (Special Low Dispersion) elements, often used in Sigma lenses to boost sharpness and contrast, while reducing chromatic aberrations.
Unlike some lightweight lenses for mirrorless cameras, the Sigma features a durable metal rather than plastic mounting plate. However, it's not a weather-sealed lens. There's no optical stabilizer but that's less of an issue for Olympus shooters and owners of late-generation Sony cameras.
Performance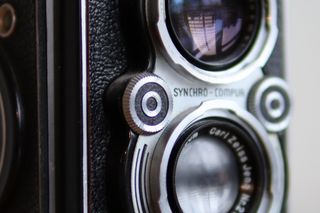 Sharpness is impressive even when shooting wide-open at f/1.4. At this aperture, you can get a really tight depth of field when shooting at fairly short focus distances. Bokeh (the quality of defocused areas) is pleasantly smooth and remains so when stopping down a little, helped by a well-rounded 9-blade diaphragm.
The only downside is that axial or 'longitudinal' chromatic aberration is sometimes visible when shooting at very wide apertures. Also referred to as 'bokeh fringing', this shows up as purple and green fringes around high-contrast transitions, in front of or behind the point of focus. Unlike lateral chromatic aberration, which generally only occurs towards the edges and corners of the frame, axial chromatic aberration can occur anywhere in the frame. Even so, the Sigma isn't an underachiever in this respect, matching or beating many other fast primes including the Canon EF-M 32mm f/1.4. Reduce the aperture by a single f/stop and the fringing virtually disappears.
Overall performance is highly impressive. Lateral chromatic aberration and barrel distortion are of a low order, and there's good resistance to ghosting and flare. Contrast remains very good even when shooting wide-open, and colour rendition is excellent.
Lab tests
We run a range of lab tests under controlled conditions, using the Imatest Master testing suite. Photos of test charts are taken across the range of apertures and zooms (where available), then analyzed for sharpness, distortion and chromatic aberrations.
We use Imatest SFR (spatial frequency response) charts and analysis software to plot lens resolution at the centre of the image frame, corners and mid-point distances, across the range of aperture settings and, with zoom lenses, at four different focal lengths. The tests also measure distortion and color fringing (chromatic aberration).
Sharpness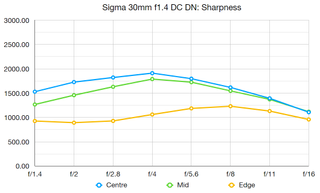 Sharpness is very good overall but, typically for such a 'fast' lens, drops off towards the corners of the frame at very wide apertures.
Fringing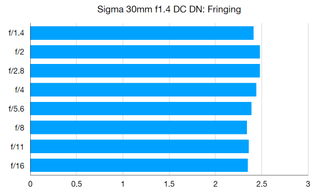 There's only fairly minor lateral chromatic aberration, which only tends to be visible towards the extreme corners of the frame.
Distortion: -2.39
Barrel distortion is of a fairly low order and it's very uniform and easy to correct, when necessary.
Verdict
Lightweight in build and selling price, this is a high-performance standard prime that combines very good build quality and nice handling characteristics with solid all-round performance. Autofocus is fast and accurate, yet smooth and virtually silent for movie capture. Image quality is excellent overall although, as is usually the case with fast prime lenses, axial chromatic aberration can be noticeable when shooting wide-open. All things considered, this Sigma is terrific value at the price.
Read more
Best lenses for astrophotography: fast ultra-wide lenses for the night sky
Best point and shoot camera in 2020: easy to use cameras to fit every pocket
Best travel cameras: see the world and capture amazing images