One of the biggest advantages of the best Micro Four Thirds lenses is their versatility. Whether you shoot with an Olympus / OM System camera, a Panasonic, a Blackmagic Pocket Cinema Camera or any of the other bodies that employ this open-source mount, all the lenses can be used interchangeably – which means you have a huge number to choose from.
The best Micro Four Thirds lenses are small, lightweight and incredibly compact compared to full-frame and APS-C glass. Even the biggest super-telephoto lenses are small enough to keep in a rucksack without breaking your back. Whether you're after a budget lens or a pro optic that'll give you the highest quality images, there are loads to choose from.
To make this guide easy to digest we've divided it into three sections: Panasonic lenses, Olympus / OM system lenses and third-party lenses made by manufacturers such as Sigma or Samyang. Different brands excel in different areas, so it's a good idea to decide what you want the lens for and see which would suit you best.
Just remember that Micro Four Thirds sensors possess a 2x crop factor, which means that you need to double the focal length on all these lenses to get their effective 35mm / full frame focal length. So, for example, a 25mm lens becomes a 50mm equivalent – making it a standard rather than a wide-angle.
That being said, let's dive into the best Micro Four Thirds lenses available today…
Best Micro Four Thirds lenses
Why you can trust Digital Camera World Our expert reviewers spend hours testing and comparing products and services so you can choose the best for you. Find out how we test.
Best Micro Four Thirds lenses: top picks
I may catch some heat from Panasonic fans, as my top pics are all made by OM System (Olympus). However, in addition to finding them superior to their Lumix counterparts, there is a good reason for this; Panasonic lenses sometimes suffer performance deficits on non-Panasonic cameras (such as slower AF), but this is never the case when OM lenses are used on non-OM bodies.
So then, my first recommendation is the Olympus M.Zuiko 12-40mm f/2.8 Pro. This professional trinity lens is a 24-80mm in full-frame terms, but is so much smaller and lighter! It's an absolute all-purpose workhorse, with weather sealing, razor-sharp rendering, great close-focusing and a beautiful manual clutch for precision work. An absolutely essential lens – and the one that converted me to zooms!
As a portrait photographer, the Olympus M.Zuiko 75mm f/1.8 is a lens I simply can't be without. The 150mm effective focal length is not only a classic for portraiture, but between that and the fast f/1.8 aperture it enables you to effortlessly achieve that elusive depth of field on a Micro Four Thirds camera.
My final recommendation is the Olympus M.Zuiko 25mm f/1.8 – although really, you could also choose either of its siblings, the 17mm f/1.8 or 45mm f/1.8. These three primes (50mm, 35mm and 90mm equivalents respectively) are roughly the same size – which is about as big as a mini jar of jam you get at the hotel breakfast bar – meaning you can fit all three in your pocket and have super fast, super sharp primes ready to roll whenever you need them.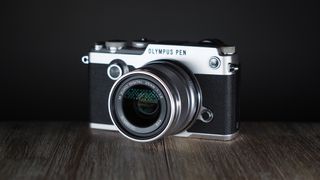 Best Micro Four Thirds lenses: Panasonic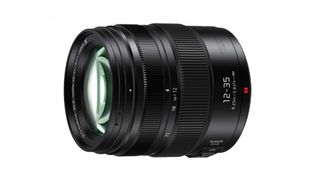 The Panasonic Lumix G X Vario 12-35mm f/2.8 II Asph Power OIS is a standard zoom that gives the same kind of performance and versatility as a pro-grade 24-70mm f/2.8 lens on a full-frame camera body – but, typically for an MFT lens, it comes in a much more compact, lightweight package. Indeed, at 305g, it's only about a third of the weight of a comparable full-frame optic.
Even so, the lens is no lightweight in terms of build quality, with a robust and weather-sealed construction. Center sharpness is excellent throughout the zoom range, even when shooting wide open at f/2.8, and corner sharpness also becomes impressive at f/4 and narrower apertures. It's Panasonic's best Micro Four Thirds lens for everyday shooting, with the bonus of effective optical stabilization.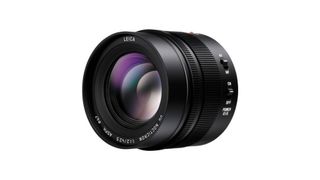 The Leica Nocticron legend is reborn for the MFT format, in this metal-bodied beauty of a lens. It has a well-damped, smooth-action focus ring and useful aperture ring, both of which boost the overall handling characteristics. The 2x crop factor gives the lens an effective focal length of 85mm, which is perfect for portrait photography. The flip side is that, because depth of field is linked more closely to 'actual' rather than 'effective' focal length, the MFT system struggles to give a really tight depth of field, compared with full-frame and even APS-C systems.
This lens fights back with a super-fast f/1.2 aperture, which helps to reduce the depth of field and give soft, creamy background blur in portraiture, as well as enabling fast shutter speeds even under dull lighting. And when you want to use narrower apertures, there's also optical stabilization – which is almost unheard of in f/1.2 lenses. Image quality is absolutely sumptuous, and this is one of the best optics for portraiture on MFT cameras – though it's seriously expensive (but, then again, the Canon RF 85mm f/1.2 portrait lens is well over twice the price!).
Read our full Panasonic Leica DG Nocticron 42.5mm f1.2 Asph Power OIS review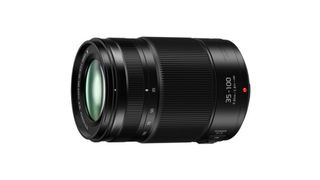 This lens is perfect for use alongside our first choice Panasonic lens, the 12-35mm f/2.8, as it's equivalent to a 70-200mm trinity lens if you were shooting on a full-frame camera. It's a versatile optic that's great for portraits, landscapes or even wildlife photography. Better still, its robust weather-sealing makes it ideal for use on outdoor adventures – and it weighs about a third of a full-frame equivalent, so even if you're hiking long distances it shouldn't slow you down.
To get super-sharp images from corner to corner you'll have to stop it down to f/4, but overall it's a brilliant lens offering high-quality images with minimal lens flare, aberration or color casts.
Read our full Panasonic Lumix G X Vario 35-100mm f2.8 II Power OIS review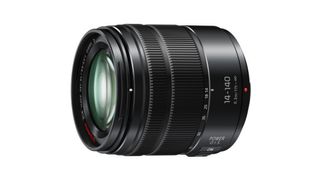 Superzoom lenses are often favored for travel photography, as you get everything from pretty generous wide-angle coverage to long telephoto reach, without the need to carry multiple lenses. Superzooms are also useful when you need to react quickly to different shooting scenarios, or you don't want to swap lenses on your camera in dusty conditions.
The Panasonic 14-140mm has a powerful 10x zoom range and an effective 28-280mm focal length. Unlike similar lenses for full-frame cameras, it's wonderfully compact and lightweight, yet retains optical image stabilization that's commonly found in superzooms. Better still, while most superzooms compromise image quality in favor of a big zoom factor, the Panasonic delivers very good sharpness and contrast throughout its entire zoom range – even when shooting wide open.
Read our full Panasonic Lumix G Vario 14-140mm f3.5-5.6 II ASPH Power OIS review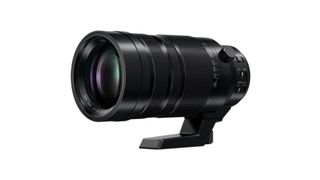 A zoom range of 100-400mm would give a powerful telephoto reach on a full-frame camera but, thanks to the magic of MFT, you get a whopping maximum equivalent focal length of 800mm. As we've come to expect from Panasonic's upmarket lenses, the 100-400mm is sturdy, robust and meticulously engineered. Highlights include a locking mechanism for the zoom ring and an autofocus range limiter switch. The effective optical image stabilizer is very worthwhile, given the enormous effective focal lengths on tap.
Even though the lens weighs nearly a kilogram, it's still sufficiently lightweight for prolonged periods of handheld shooting. For added comfort and stability it comes complete with a mounting foot, for well-balanced use on a tripod or monopod. Image quality is superb, with excellent sharpness right up to the maximum 400mm zoom setting. The f/6.3 aperture rating at the long end of the zoom range is relatively slow but quite typical for this class of super-telephoto lens.
Best Micro Four Thirds lenses: Olympus / OM System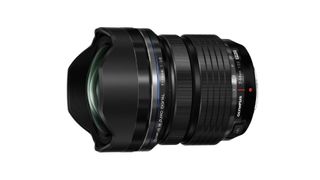 While the crop factor of MFT format cameras boosts the telephoto abilities of lenses, it makes the design of ultra-wide optics more of a challenge. Which makes the M.Zuiko 7‑14mm quite remarkable, with a minimum focal length of just 7mm, delivering an astonishing 114° viewing angle – similar to using a 14mm lens on full-frame cameras.
Like other lenses in the M.Zuiko Pro line-up, it's immaculately designed and boasts fabulous build quality. Contrast and sharpness are outstanding, while color fringing and distortions are negligible. As with many ultra-wide lenses, however, the hood is built-in – so there's no filter attachment thread.
Read our full Olympus M.Zuiko 7-14mm f/2.8 Pro review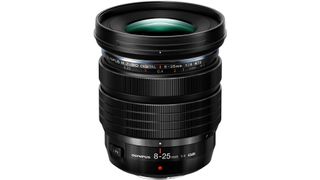 While standard zooms are commonplace, it's rarer to see one that goes as wide as 16mm equivalent. This is a big tick for the M.Zuiko 8‑25mm f/4.0 Pro, as it means that MFT photographers don't have to carry a standard zoom and a wide zoom, and can potentially get by with just this single lens. That's enough to forgive a little bulk, which the lens definitely does have, especially when affixed to one of the smaller OM-D cameras.
But overall we can't complain too much. The sharpness is excellent, the constant aperture is welcome, the overall performance is generally very good, edge-to-edge sharpness across the frame and right through the zoom range… really it seems churlish to ask for more than that!
Read our full Olympus M.Zuiko 8-25mm f/4.0 Pro review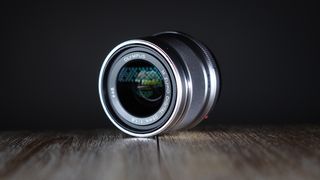 Measuring a mere 58x42mm and tipping the scales at just 137g, this diminutive lens feels right at home on even the most compact body. Naturally, the 2x crop factor of MFT cameras gives this lens an effective 50mm focal length, delivering a classic 'standard' viewing angle with a fairly fast f/1.8 aperture rating – and this nifty fifty is one that I leave pretty much glued to one of my cameras at all times.
Image quality is impressive in all respects, with exceptional sharpness and virtually no aberrations. On top of that you have snappy autofocus, and that fast f/1.8 aperture enables you to shoot in even tricky lighting conditions. Everyone who owns a camera should have a 50mm – and this is one of the very best out there.
Read our full Olympus M.Zuiko 25mm f/1.8 review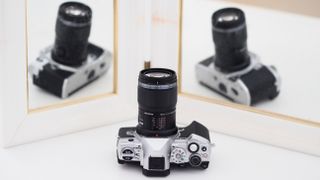 Macro is a genre where Micro Four Thirds truly excels, with its 2x crop factor doubling the magnification and its deeper depth of field (traditionally considered a weakness of the format) enabling you to keep more of your subject in focus. With those advantages already in your favor, the M.Zuiko 60mm Macro makes the art of the close-up even better.
Everyone who uses this lens has to learn the "rhythm" of the slightly slow autofocus – though the focus limiter switch and the fact you'll be doing a lot of manual focusing certainly make up for this. Once you're got your head around it, though, the 60mm Macro's 2:1 reproduction ratio gives you double life-size shots that will blow you away.
Image quality is absolutely phenomenal, with real bite in the detail, and the lens is weather sealed – so it's great for shooting out in nature. Its equivalent 120mm focal length also makes it a capable portrait lens, though it renders so much detail that your subjects may not thank you for showing all the blemishes on their faces!
Read our full Olympus M.Zuiko 60mm f/2.8 Macro review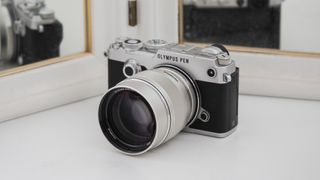 This lens has garnered a reputation as being one of the absolute best lenses for Micro Four Thirds – and with good reason! The M.Zuiko 75mm f/1.8 is a stunning prime lens with an equivalent 150mm focal length that is absolutely perfect for portraits. And it really provides a premium handling experience, thanks to its all-metal construction and smooth focusing ring.
Sharpness is absolutely outstanding from corner to corner, delivering surgical precision in your shots. The manufacturer employed some of its best coatings in the construction of this lens, ensuring smooth images free from reflection and stray light, while that f/1.8 maximum aperture gives tremendous leeway in low light – and of course, it helps obliterate the background in your portraits. This is one lens I will never, ever sell. If you want the full-frame depth of field look on an MFT camera, look no further.
Read our full Olympus M.Zuiko 75mm f/1.8 review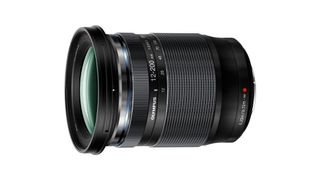 Sick of changing lenses? Want an all-in-one solution? This impressive 16x optic, encompassing an equivalent 24mm wide angle to a 400mm telephoto, covers all the bases. It's great to use, too, delivering impressive results from a body that's not only lightweight and easy to carry, but is also sturdy and impeccably weather-sealed – which is great, as it means I can just keep it out rather than having to put it away all the time.
It's not perfect of course, with a narrow-ish maximum aperture and a few sharpness issues (all but unavoidable with a lens of this type), but it's a tremendously impressive achievement of optical engineering and one that any Micro Four Thirds user will get a great deal of value out of.
Read our full Olympus M.Zuiko 12-200mm f/3.5-6.3 review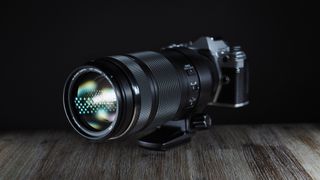 The M.Zuiko 100-400mm f/5.0-6.3 IS perfectly illustrates some of the key advantages of the Micro Four Thirds format – namely a compact and lightweight design that offers an incredible amount of reach for its size. With a focal length equivalent to 800mm at the long end, the M.Zuiko 100-400mm is also compatible with the Olympus M.Zuiko Digital 2x Teleconverter MC-20 and 1.4x Teleconverter MC-14 – which means that you can extend the maximum focal length to an enormous 1600mm if you want or need to!
The downside is it's not at its sharpest when shooting at its maximum focal length, though you can't expect an f/6.3 lens to achieve the same results as faster and more expensive optics. Curiously, too, it doesn't feature OM's fantastic Sync IS technology (which works in tandem with the camera's in-body stabilization to deliver up to 6.5 stops of correction), instead offering 3 stops of lens-only compensation. If you're prepared to make a few sacrifices, though, this is a decent lens if you're looking for a portable lens that'll hit 800mm.
Read our full Olympus M.Zuiko 100-400mm f/5.0-6.3 IS review
Best Micro Four Thirds lenses: Third-party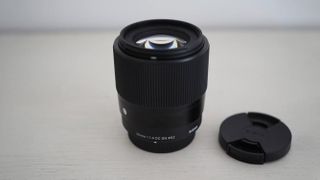 With its 60mm equivalent focal length, Sigma's 30mm f/1.4 Contemporary is a highly effective standard lens for all-purpose shooting. The fact that it has an f/1.4 maximum aperture makes it hugely useful in low light, and arguably more useful than a kit lens with a narrower aperture.
Image quality is really impressive, especially for a lens of this price. There's excellent resistance to ghosting and flare, and most types of aberration and distortion are not present; the only exception is a little axial or 'longitudinal' chromatic aberration, also known as bokeh fringing, which shows up as purple or green fringing around high-contrast transitions (though it's not enough to be a serious issue). This a highly effective and versatile lens, especially for a prime.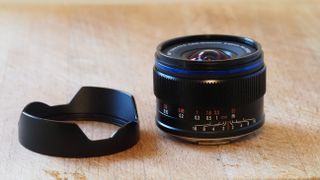 Third-party lenses can be useful for filling a gap in the market that the main manufacturers have neglected. The Laowa 10mm f/2 Zero-D is the widest non-fisheye prime for the format, giving MFT users a handy 20mm effective focal length that's great for landscapes and other expansive shots.
Laowa lenses come with their own quirks, well known to those who have used them; there's no autofocus on this lens, for instance, though it does have a chip that can automatically activate the camera's manual focusing aid. It also has an aperture drive motor, meaning the aperture can be controlled from the camera, enabling the use of modes like shutter priority and program.
It's a small, portable lens that's a lot of fun to use, and the images it produces are hugely impressive. "Zero-D" stands for zero distortion, and it does impressively manage that. An inexpensive purchase, the Laowa 10mm f/2 Zero-D is a great way to add another string to your bow as an MFT shooter.
Read our full Laowa 10mm f/2 Zero-D review
How we test lenses
We test lenses using both real world sample images and lab tests. Our lab tests are carried out scientifically in controlled conditions using the Imatest testing suite, which consists of custom charts and analysis software that measures resolution in line widths/picture height, a measurement widely used in lens and camera testing. We find the combination of lab and real-word testing works best, as each reveals different qualities and characteristics.