The atx-m 85mm joins the FíRIN 20mm F2 FE AF, FíRIN 20mm F2 FE MF and FíRIN 100mm F2.8 FE Macro in Tokina's rapidly expanding range of lenses for Sony FE-mount cameras. It flies the time-honoured atx (advanced technology) flag of numerous SLR-compatible lenses that have come before, while adding an 'm' to the moniker for 'mirrorless'.
Solid performance and build quality at affordable prices always seems to be high on Tokina's agenda and, while the new lens has 'only' an f/1.8 aperture rating, it's nevertheless just a third of the price of Sony's faster, top-flight FE 85mm f/1.4 G Master. Stiffer competition with more similar price tags comes from the Sony FE 85mm f/1.8 and the Samyang AF 85mm f/1.4 FE, the latter of which is two-thirds of an f/stop faster.
Specifications
Mount: Sony E
Full frame: yes
Autofocus: yes
Lens construction: 10 elements in 7 groups
Angle of view: 28.5 degrees
Diaphragm blades: 9
Minimum aperture: f/16
Minimum focusing distance: 0.8m
Maximum magnification ratio: 0.125x
Filter size: 72mm
Dimensions: 80x93mm
Weight: 645g
Key features
The optical design isn't overly elaborate, based on ten elements and featuring a single SD (Low Dispersion) elements. Tokina claims the overall aim is for excellent sharpness across the entire frame along with high contrast and natural colour rendition, plus effective suppression of distortion and chromatic aberrations.
Helping to enhance bokeh and reduce vignetting, the front element is fairly large for an 85mm f/1.8 lens. Similarly, the nine-blade diaphragm is well-rounded, theoretically maintaining attractive bokeh when stopping down a little, especially when it comes to the appearance of defocused light points. Meanwhile, the application of Tokina's proprietary 'Super Low Reflection Coating' reduces ghosting and flare as well as repelling water and grease.
The stepping motor-based autofocus system is fully compatible with Sony's Fast Hybrid AF system. It can also take full advantage of portrait-friendly face/eye-recognition options, both in single and continuous AF modes, where available in the host camera body. Similarly, the built-in electronics enable automatic in-camera corrections for shading, distortion and lateral chromatic aberrations, as well as ensuring compatibility with the 5-axis in-camera stabilization of current and recent Sony E-mount bodies.
Build and handling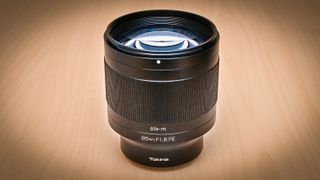 As with pretty much all Tokina lenses, build quality feels solid and sturdy. Typical of many Sony E-mount lenses, this one looks deceptively simple with no on-board switches or buttons, nor a physical focus distance scale. Even so, it's certainly no lightweight for an 85mm f/1.8 lens at 645g.
Apart from the cylindrical, bayonet-fit plastic hood that's supplied with the lens, the only exterior moving part is the manual focus ring. As usual with stepping motor autofocus systems, the focus ring is electronically rather than mechanically coupled and enables 'fly-by-wire' autofocus override and fully manual focusing.
Again, electronic compatibility enables Sony's MF Assist function to come into play, bringing advantages like an enlarged preview area, a focus distance bar and focus peaking, if selected in the menu system. However, while fly-by-wire focus rings often turn very freely and give no mechanical feedback, the Tokina's feels a little overly stiff for our liking.
Although the front element has a water-repellent coating, the lens itself isn't weather-sealed and doesn't even feature a rubber gasket on its mounting plate to reduce the ingress of dust and moisture.
Performance & image quality
There's always much debate over how much the reduced depth of field of an f/1.4 lens improves the quality of bokeh, compared with an f/1.8 lens. Ultimately, it generally has a lot more to do with the optical design of the lens rather than the two-thirds of an f/stop difference in aperture rating. In practice, the Tokina manages to isolate in-focus regions of a scene with perfectly adequate sharpness, while giving a delightfully soft and creamy appearance to defocused areas. The transition between focused and defocused areas also has an impressively smooth and glitch-free graduation.
Fast prime lenses often suffer from very noticeable axial/longitudinal chromatic aberration, also referred to as 'bokeh fringing'. At very wide apertures, this can typically manifest itself anywhere in the image frame as red, green or blue fringes around objects that are in front of or behind the plane of focus. The Tokina does an excellent job in keeping both longitudinal and the more general lateral chromatic aberrations to a minimum.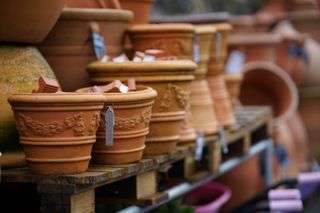 Actually nailing the point of focus can sometimes be a bit hit and miss. We found that the Tokina was a little more prone to autofocus hunting than a number of other lenses that we've tested on Sony E-mount cameras. Autofocus confirmation in the viewfinder or rear screen was also sometimes activated during our testing, when the AF point used was noticeably out of focus.
When correctly focused, sharpness at the centre of the frame is excellent throughout almost the entire aperture range and drops off very little when shooting wide-open at f1/8. Sharpness away from the centre of the frame is more mediocre and falls off more towards the edges and corners. That might be an issue in some scenarios but it could be regarded as a plus point for portraiture, helping to further isolate the main subject. Shading (darkened image corners) is quite minimal for this type of lens, and there's fairly minimal pincushion distortion, even when uncorrected in-camera.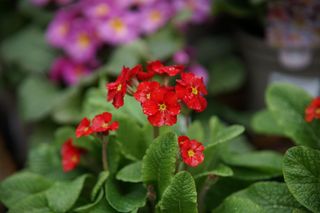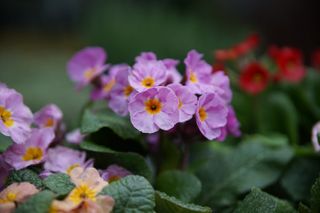 Lab data
We run a range of lab tests under controlled conditions, using the Imatest Master testing suite. Photos of test charts are taken across the range of apertures and zooms (where available), then analyzed for sharpness, distortion and chromatic aberrations.
We use Imatest SFR (spatial frequency response) charts and analysis software to plot lens resolution at the centre of the image frame, corners and mid-point distances, across the range of aperture settings and, with zoom lenses, at four different focal lengths. The tests also measure distortion and color fringing (chromatic aberration).
Sharpness: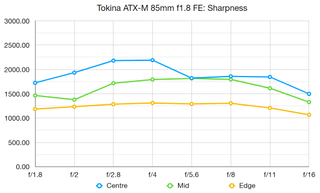 There's plenty of sharpness at the centre of the frame but it drops off towards the edges and corners.
Fringing: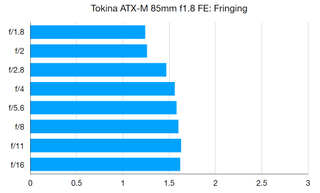 Lateral chromatic aberration is minimal even in the extreme corners of the frame and axial chromatic aberration is very minor, even when shooting wide-open at f/1.8.
Distortion: 1.7
There's a touch of pincushion distortion but it's easily corrected in-camera or at the editing stage.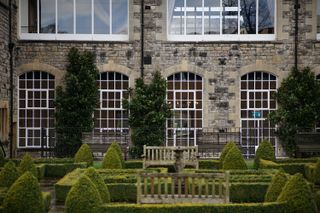 Verdict
There's a lot to love about Tokina's 85mm lens. It's capable of impressive sharpness, at least in the central region of the frame, while delivering really beautiful bokeh for defocused areas. Indeed, the quality of bokeh is rather better than in many 85mm f/1.4 lenses that we've seen in the past. It's well-engineered and, while not weather-sealed, feels very solid and sturdy, even if the focus ring might feel a little stiff for everybody's liking. Overall, it's a very good buy for the money and well matched to Sony E-mount bodies, especially newer models that feature sensor-shift image stabilization.
Read more
Best 85mm portrait lenses