The widest-angle prime that Sony makes for its full-frame E-mount cameras is the chunky and very pricey 24mm f/1.4 G Master lens. For little more than a quarter of the price, this new Tamron gives a considerably wider viewing angle, shoehorned into a much smaller and more lightweight package, partly thanks to the more modest f/2.8 aperture rating. Despite being small and light, however, build quality is very good throughout. The Tamron comes with a bayonet-fit petal shaped hood and enables the easy attachment of filters, via a 67mm attachment thread.
• Read more: Tamron 28-75mm f/2.8 Di III RXD review
Specs
Mount: Sony E (full-frame)
Lens construction: 10 elements in 9 groups
Angle of view: 94.5 degrees
Diaphragm blades: 7
Minimum aperture: f/22
Minimum focusing distance: 0.11m
Maximum magnification ratio: 0.5x
Filter size: 67mm
Dimensions: 72x64mm
Weight: 220g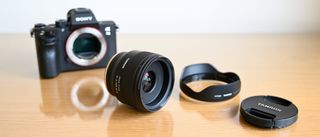 Key features
As is often the case with ultra-wide-angle primes, this lens has no optical stabilizer built-in. However, the lens can certainly take advantage of in-body stabilization featured in Sony's more recent full-frame mirrorless cameras. It also aims to make the most of Fast Hybrid AF and Eye AF, with an autofocus system that's powered by an OSD (Optimized Silent Drive) DC motor.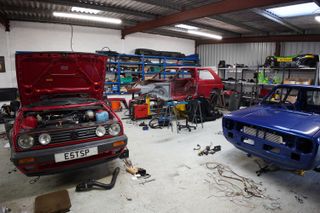 The 'biggest' feature of this 20mm lens is its generous 94.5-degree viewing angle. It's ideal for seeing the bigger picture, in sweeping landscape photography, as well as for capturing architectural interiors where space is limited. Another bonus of the short focal length is that you can exaggerate perspective, getting in really close to foreground objects and making them stand out against rapidly receding backgrounds. Better still for this kind of shooting, the Tamron has an uncommonly short minimum focus distance for such a wide-angle lens, at just 0.11m, delivering an impressive maximum magnification ratio of 0.5x.
Optical finery includes an aspherical element and three LD (Low Dispersion) elements. Overall, there are ten optical elements in total, arranged in nine groups.
Build and handling
Typical of Sony E-mount lenses, the design is sleek and simple. Indeed, there are no physical switches on the barrel whatsoever, nor a focus distance scale or depth of field markers. The only external moving part is the focus ring, which is electronically coupled and works with silky smoothness and excellent precision.
The physical length of the lens remains fixed and the filter thread doesn't rotate during focusing. However, while the internal barrel is quite deeply recessed at long focus settings, it moves forward and nears the front of the outer barrel at short focus distances. This makes the use of the supplied petal shaped hood more of a necessity.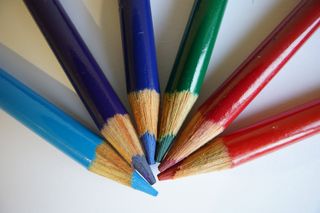 Although refreshingly small and lightweight, the lens feels solid and well built. The construction incorporates weather-seals and there's also a fluorine coating on the fairly small front element, to repel moisture and grease and to aid easy cleaning.
Performance
The autofocus system is very quiet but not completely silent, and it's not particularly quick either, due in part to the transit of the inner barrel. Even so, you're not likely to notice any real delay in achieving autofocus, unless the system needs to cover the distance from one end of the focus distance range to the other.
In-camera corrections are made available for shading, lateral chromatic aberration and distortion. With all of these switched off, the lens still performs very well. Colour fringing is quite negligible even in the extreme corners of the frame, while vignetting is merely moderate, especially for such a compact ultra-wide-angle f/2.8 lens. However, barrel distortion can be very noticeable unless corrected in-camera or with subsequent editing. Sharpness is really excellent, not just in the centre but into the extreme edges and corners of the frame, which is also remarkable for such a wide-angle lens. There's also good resistance to ghosting and flare.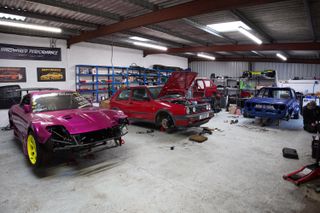 Lab tests
We run a range of lab tests under controlled conditions, using the Imatest Master testing suite. Photos of test charts are taken across the range of apertures and zooms (where available), then analyzed for sharpness, distortion and chromatic aberrations.
We use Imatest SFR (spatial frequency response) charts and analysis software to plot lens resolution at the centre of the image frame, corners and mid-point distances, across the range of aperture settings and, with zoom lenses, at four different focal lengths. The tests also measure distortion and color fringing (chromatic aberration).
Sharpness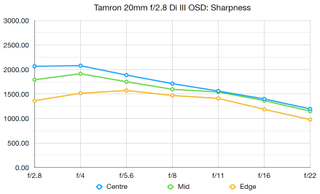 Levels of sharpness are outstanding, even when shooting wide-open at f/2.8. Lab scores for edge/corner-sharpness don't truly reflect how good the lens is in real-world shooting, as the standard sized test chart has to be shot from very close range with such a wide-angle lens.
Fringing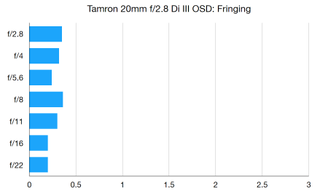 Lateral chromatic aberration is entirely negligible, even at the extreme corners of the frame. And that's when uncorrected in-camera or during subsequent editing.
Distortion: -8.25
A negative score indicates barrel distortion, a positive number signifies pincushion distortion. A score of zero means the lens doesn't produce any distortion.
Barrel distortion is very heavy here, but, if you're going to build such a wide viewing angle into such a compact lens, something has to give. Even so, Sony's automatic in-camera correction is available and the regular nature of the distortion also makes it easy to correct in software.
Verdict
If you've already got a 28-70mm or even a 24-70mm zoom lens for your full-frame Sony E-mount camera, and want something that gives a greater viewing angle without bulking up your kit or weighing you down, this Tamron 20mm f/2.8 Di III OSD M 1:2 should prove the perfect fit.
At just 72x64mm and 220g, it's easy to pop into a spare corner of your bag, yet delivers big-time performance with excellent image quality.
Overall, it's a cracking lens and a real bargain at the price.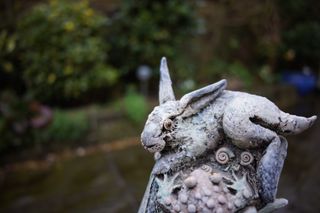 Read more: