Think 'portrait lens' and you might be thinking of a brooding hulk like Sigma's 85mm f/1.4 Art optic for full-frame SLRs. That lens weighs in at over a kilogram and has a similarly hefty price tag. By contrast, the Sigma 56mm f/1.4 DC DN | C lens is less than half the physical length, a quarter of the weight and about a third of the price. Nevertheless it has exactly the same aperture rating and gives a similar effective focal length.
Read more: Best lens for portraits
Specifications
Mount: Canon M, Sony E, MFT
Elements/groups: 10/6
Angle of view: 27 degrees
Diaphragm blades: 9
Minimum aperture: f/16
Minimum focusing distance: 0.5m
Maximum magnification ratio: 0.14x
Filter size: 55mm
Dimensions: 67x60mm
Weight: 280g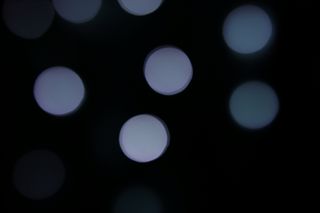 Build and Handling
As with Sigma's companion 16mm and 30mm f/1.4 Contemporary lenses for mirrorless crop-sensor cameras, the 56mm is very smartly turned out. Measuring 67x60mm, it's physically the smallest of the three and is only 10g heavier than the 30mm lens, at 280g. Like the others, it feels a perfect size and weight to match a compact mirrorless system camera. Indeed, it gives something of a reality check, considering the enormity of some lenses that have recently been designed to partner slimline mirrorless full-frame bodies.
We tested the new Canon M-mount version of the lens, which raises another issue. While Canon has persevered with its EOS M series of cameras for a number of years, there are currently only eight native own-brand lenses available, none of which has an ideal focal length and aperture rating for portraiture. You could argue that Canon's existing range of EF and EF-S lenses for SLRs can be mounted on EOS M bodies but adding a mount adaptor as well as using a lens that's bigger and heavier than it needs to be is rather missing the point of a 'compact system camera'.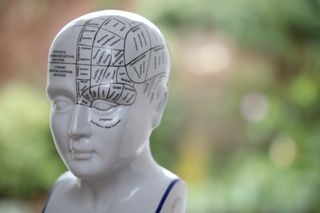 Although lightweight and compact, the lens feels beautifully built, solid and robust. It's not weather-sealed but does have a durable metal mounting plate and uses high-quality TSC (Thermally Stable Composite) material for its barrel and critical internal parts. The wide focus ring operates with smooth precision, enabling extremely small adjustments, and the lens comes complete with a bayonet-fit hood.
Further similarities with the companion Sigma 16mm and 30mm Contemporary lenses include a stepping motor-based autofocus system which is quick for stills, while smooth and near-silent for movie capture. Again, manual focusing and manual override of autofocus is courtesy of a fly-by-wire focus ring.
The optical path is based on ten elements arranged in six groups. Two aspherical lenses are featured in the line-up, along with a single SLD (Special Low Dispersion) element. Unlike in the sibling 16mm Contemporary lens, there are no FLD ('Fluorite' Low Dispersion) elements. Even so, the design aims for optimum sharpness and contrast along with minimal chromatic aberrations and distortion.
Performance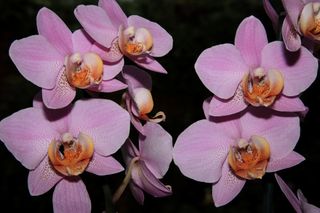 The focal length of this lens doesn't really take you far beyond the telephoto reach of a standard kit zoom, at least for Canon EOS M and Sony A6xxx series cameras. The big performance boost is not only that the Sigma delivers great sharpness and contrast, but also that it maintains superb levels of sharpness and contrast at much wider aperture settings. In the case of our Canon-fit test sample versus the Canon 14-45mm kit zoom lens, the Sigma is more than four f/stops faster as well as giving a slightly longer focal length.
Naturally, it's not all about sharpness. When using a wide aperture to gain a tight depth of field, the bokeh, or quality of defocused areas, can be equally important. The Sigma excels here again, with a wonderfully soft bokeh and a nicely smooth transition between focused and defocused areas. An added bonus is that there's extremely little axial chromatic aberration, even when shooting wide-open. In this respect, it performs rather better than the Sigma 30mm f/1.4 Contemporary lens.
Lab tests
We run a range of lab tests under controlled conditions, using the Imatest Master testing suite. Photos of test charts are taken across the range of apertures and zooms (where available), then analyzed for sharpness, distortion and chromatic aberrations.
We use Imatest SFR (spatial frequency response) charts and analysis software to plot lens resolution at the centre of the image frame, corners and mid-point distances, across the range of aperture settings and, with zoom lenses, at four different focal lengths. The tests also measure distortion and color fringing (chromatic aberration).
Sharpness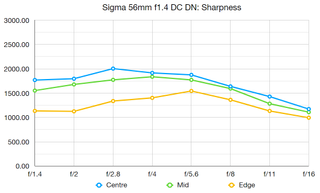 There's plenty of sharpness on tap, even when shooting wide-open at f/1.4.
Fringing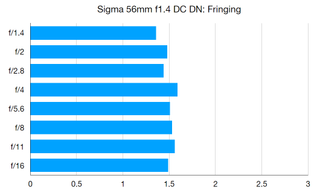 Color fringing remains of a very low order throughout the aperture range, even in the extreme corners of the frame.
Distortion: 3.26
There's a little pincushion distortion but not enough to cause any concern.
Verdict
It's another winner from Sigma's Contemporary line-up of f/1.4 primes for mirrorless crop-sensor cameras. Like the 16mm and 30mm lenses, it's well-built but small and light, and feels right at home on a compact mirrorless body. Even so, it goes large on performance, with rapid autofocus and superb image quality. And it does all this at a very affordable price, making it standout value for money.
Read more
Best budget telephoto lenses: for Canon, Nikon, Sony and more
Best Sony lenses: top lenses for Sony mirrorless and Alpha cameras
Best Canon lenses in 2020: go longer, wider and closer with your Canon camera