When launched in early 2018, Sigma's 14-24mm Art lens for full-frame Canon and Nikon SLRs was very well received, not only for its exceptional build and image qualities, but also because it was remarkably free of distortions for a super-wide-angle zoom.
Two years down the line, Sigma has reinvented the lens for full-frame Sony E-mount and Lecia L-mount mirrorless cameras, the latter being an attractive option for Panasonic Lumix S series shooters. A far cry from being the same lens with a different mount, the new 'DN' edition is different from the ground up. It can't claim to be a 'zero distortion' lens but there are improvements elsewhere.
Specifications
Mounts: Sony E, L-mount
Full frame: yes
Autofocus: yes
Lens construction: 18 elements in 13 groups
Angle of view: 114-84 degrees
Diaphragm blades: 11
Minimum aperture: f/22
Minimum focusing distance: 0.28m
Maximum magnification ratio: 0.14x
Filter size: Rear holder
Dimensions: 85x131mm
Weight: 795g
Key features
Starting at the bottom, or at least the rear of the lens, the DN mirrorless edition of Sigma's 14-24mm lens naturally has a different mounting plate to its DG HSM sibling for SLRs. It's not just the size and shape that's different, however, as the DN mount includes a slot for inserting gel filters, complete with a locking mechanism to keep it in place. As with the SLR-style lens, the newcomer features a brass mounting plate complete with a weather-seal gasket, plus numerous weather-seals around other joints and switches.
The optical path of the older lens has three top-grade FLD ('Fluorite' Low Dispersion) elements and three SLD (Special Low Dispersion) elements, along with three aspherical elements. The newcomer retains the line-up of triple aspherical elements, including a high-precision, large-diameter one at the front, while reducing the number of FLD elements to one and bumping up the SLD count to five. A significant addition is the use of NPC (Nano Porous Coating) as well as Sigma's more conventional Multi-Layer Coating, in a bid to further reduce ghosting and flare.
Build and handling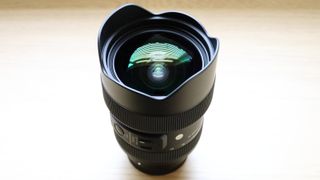 It's no surprise that the 'HSM' HyperSonic Motor autofocus system of the older lens is replaced with a stepping motor in the DN version, which is much more common in lenses for mirrorless cameras. As usual, this comes at the expense of losing the physical focus distance scale, and the manual focus ring is electronically rather than mechanically coupled. That's no bad thing in this case, as the focus ring is nicely damped and enables ultra-precise adjustments with a silky-smooth action. The rear-mounted zoom ring naturally has a mechanical linkage but works with similar smoothness.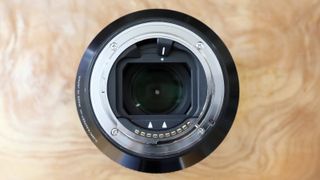 Another handling bonus of the new lens is the addition of an AF-L (autofocus lock) button on the side of the barrel, the action of which can be customised for alternative functions, via in-camera menu options. At 85x131mm and 795g, the new lens is a little smaller and noticeably lighter than the 1,150g SLR edition. That enables a better balance on Sony's comparatively slim-line and lightweight A7 and A9 bodies, but it's a bit of a moot point if you're shooting with a Panasonic S series camera.
Performance & image quality
As we've come to expect from Sigma Art lenses, image quality is excellent in all respects. Sharpness and contrast are superb throughout the entire zoom range, even when shooting wide-open at f/2.8. Autofocus is fast and unerringly accurate, although the stepping motor isn't completely silent.
There's fairly little vignetting, especially for a super-wide-angle zoom with such a fast aperture rating. Chromatic aberrations are entirely negligible and the additional nano-structure coating lives up to its claim of further reducing ghosting and flare.
One slight disappointment is that, while the SLR-based 14-24mm Art is essentially a 'zero distortion' lens, this one certainly isn't. Barrel distortion can be quite noticeable in the 14-16mm sector of the zoom range, although there's very minimal distortion at longer settings. Even so, in-camera corrections can effectively remove any visible distortions.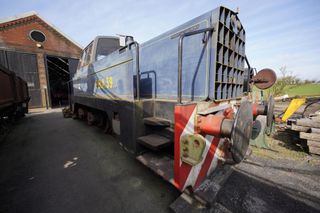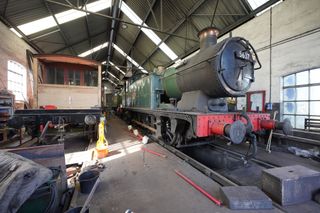 Lab data
We run a range of lab tests under controlled conditions, using the Imatest Master testing suite. Photos of test charts are taken across the range of apertures and zooms (where available), then analyzed for sharpness, distortion and chromatic aberrations.
We use Imatest SFR (spatial frequency response) charts and analysis software to plot lens resolution at the centre of the image frame, corners and mid-point distances, across the range of aperture settings and, with zoom lenses, at four different focal lengths. The tests also measure distortion and color fringing (chromatic aberration).
Sharpness: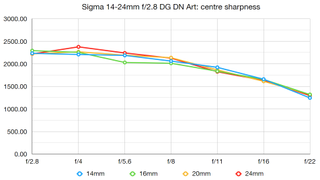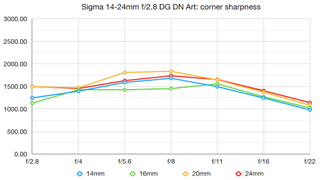 Even shooting wide-open, sharpness is spectacular in the central region of the frame and remains excellent right out to the extreme corners. As usual, relatively small test charts that need to be shot from a very close distance don't tell the whole story for super-wide-angle lenses.
Fringing: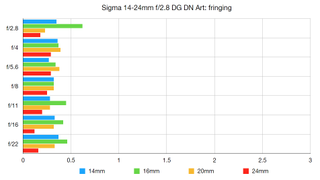 Even in the extreme corners of the image frame, levels of colour fringing are entirely negligible, throughout the entire zoom range and at every aperture setting.
Distortion: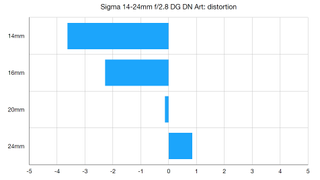 Whereas the SLR-format edition of Sigma's 14-24mm Art lens is practically a 'distortion free' lens, the DN version exhibits noticeable barrel distortion in the 14-16mm sector of its zoom range, when in-camera corrections are switched off.
Verdict
With its pro-grade, weather-sealed build quality, refined handling, fast autofocus and superb image quality, the Sigma 14-24mm DG DN Art is a top choice of super-wide-angle zoom for Sony and Panasonic mirrorless full-frame cameras. It's also reasonably compact and lightweight, considering the generous maximum viewing angle and fast, constant aperture rating. At launch, it was generally a little more expensive than the older SLR-mount edition, but still great value at the price.
Read more