The Sony E 16-55mm f/2.8 G is designed to give owners of one of the Sony A6000-series of mirrorless cameras a high-quality kit lens option – including a wide, constant maximum aperture of f/2.8 throughout of the range. It is one of two new lenses specifically designed for Sony's APS-C family of mirrorless cameras, which currently includes the A6000, A6100, A6300 , A6500 and A6600.
Just like the Sony E 70-350mm f/4.5-6.3 G OSS, which was released at the same time, the Sony E 16-55mm f/2.8 G (model number SEL1655G) helps to fill out a lens range that has up until now lacked any real choice for those that don't want unnecessarily-bulky lenses that are designed for use with full-frame cameras.
Thanks to the crop factor added by the APS-C sensor, the 16-55mm gives an effective focal length range of 24-82.5mm, enabling wide-angle shooting for architecture and landscapes, as well as a mid-telephoto setting that is pretty perfect for shooting portraits. This is therefore the ideal lens for those looking to maximize the value from their small-sized A6000-series mirrorless cameras, while also having a fast aperture to enable much more control over depth of field than the 16-50mm f/3.5-5.6 lens that many will have bought with their camera.
Build and handling
The wide maximum aperture, however, does mean that this is a relatively chunky lens. It weighs 494g - that's four times more than the Sony E PZ 16-50mm F3.5-5.6 OSS. But this is the price you pay for having a maximum aperture at the telephoto end that is a full two stops faster.
Constructed from 17 lens elements in 12 groups, the zoom benefits from a diaphragm that has nine aperture blades, which should produce near-circular out-of-focus highlights. Measuring, 73x100mm, at the front there is a 67mm filter ring, and the minimum focusing distance is 0.33m (1.09ft).
As well as boasting dust and moisture resistance, the front element has a fluorine coating that is designed to make fingerprints easier to wipe off, and will help to repel water.
Unlike Sony's bigger 24-70mm G Master lens, this one lacks a zoom lock switch, although we experienced absolutely no hint of zoom creep even when shooting vertically upwards or downwards with the camera mounted on a tripod. The lens comes complete with a lens hood and, although it a locking button, that's no real problem. One thing it shares with its big brother is a focus-hold button on the side of the barrel. You can customise the action of the button for alternative functions via in-camera menus.
Performance
True to Sony's claims, autofocus performance is excellent in terms of both speed and accuracy.
Sharpness across the whole image frame is epic, even when shooting wide-open at f/2.8, throughout the shorter half of the zoom range. It remains excellent at longer zoom settings, although corner-sharpness drops off a little at the long end.
Contrast and colour rendition are superb, while resistance to ghosting and flare is very good indeed.
The quality of bokeh is very pleasant when shooting wide-open, and remains good when stopping down a little, helped by the well-rounded nine-blade diaphragm.
One minus point is that the lens lacks optical stabilization, which can be an issue for handheld shooting on all current A6xxx series cameras apart from the top-end A6500 and A6600, the only ones to feature in-body stabilization. Our only other criticism is that barrel distortion is very heavy at the short end of the zoom range. It's automatically corrected in the latest cameras where distortion correction can't actually be switched off for this lens. Even so, the degree of distortion at 16mm is pretty poor from a purely optical point of view.
Sample images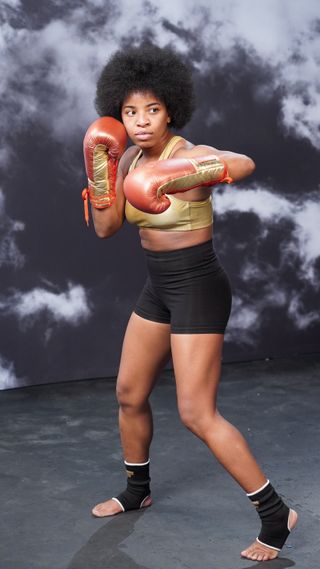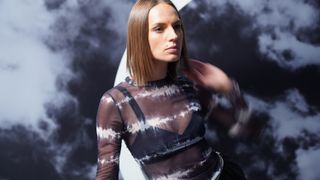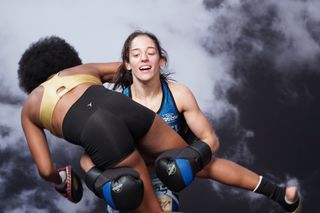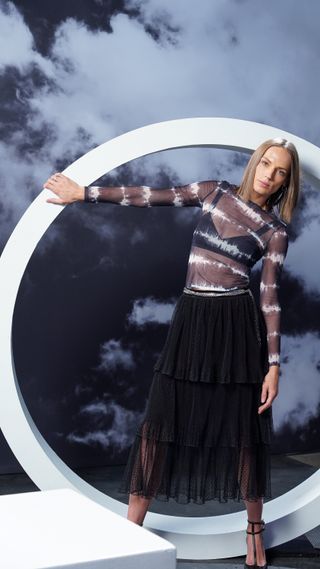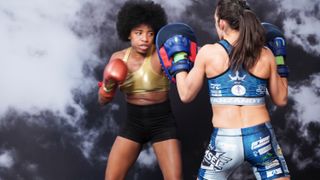 Lab data
We run a range of lab tests under controlled conditions, using the Imatest Master testing suite. Photos of test charts are taken across the range of apertures and zooms (where available), then analyzed for sharpness, distortion and chromatic aberrations.
We use Imatest SFR (spatial frequency response) charts and analysis software to plot lens resolution at the centre of the image frame, corners and mid-point distances, across the range of aperture settings and, with zoom lenses, at four different focal lengths. The tests also measure distortion and color fringing (chromatic aberration).
Sharpness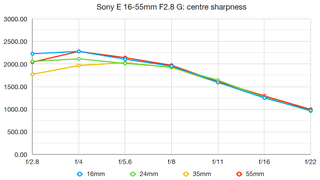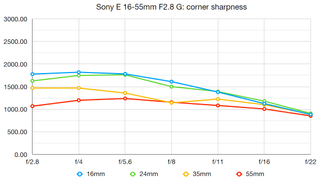 Centre-frame sharpness is excellent at all focal lengths, even when shooting at f/2.8. Only at f/16 and narrower does sharpness in the central region fall off.
Moving to the corners of frame, sharpness remains high at shorter focal lengths, but is mediocre at 35mm, and relatively disappointing at 55mm.
Fringing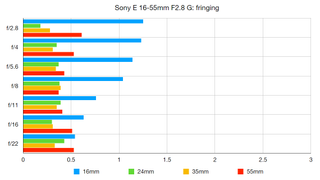 Fringing is only noticeable when shooting at 16mm and at larger apertures. At all other focal lengths/apertures, you're very unlikely to spot an aberrations in real-world shooting. What's more, these results are obtained with in-camera aberration correction disabled, so you're looking at a worst-case scenario.
Distortion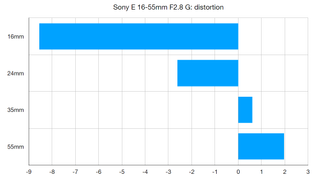 We tested the lens on an a6400 body, which forces automatic in-camera distortion correction. However, when converting the raw test shots to uncompressed TIFF images for analysis, we were able to cancel the a6400's automatic corrections to see the true degree of distortion at each tested focal length.
This reveals significant and very obvious barrel distortion at 16mm, though by 24mm it's already reduced to an acceptable degree, and the lens is distortion-free at around 33mm. Zoom in to 55mm and there's moderate but acceptable pincushion distortion.
However, you'll invariably want to leave automatic distortion correction enabled when processing your raw files, and this almost perfectly corrects all distortion from the 16-55mm throughout the focal range.
Verdict
As a standard lens with a classic zoom range, the Sony E 16-55mm f/2.8 G ticks nearly all the right boxes. It delivers sumptuous image quality with fabulous sharpness and contrast, along with pleasant bokeh. Handling is very refined, with the addition of a customisable focus hold button, strong build quality and weather-seals. Autofocus is super-fast and deadly-accurate.
The only downsides are the lack of optical stabilization and the extreme barrel distortion at the short end of the zoom range, if uncorrected in-camera or with raw processing.
However, these are relatively minor shortcomings with what is otherwise a superb lens for Sony A6000-series cameras.
Read more:
• The best Sony lenses in 2020
• These are the best Sony cameras to buy right now
• The best lenses for Sony A6000