Fujifilm has announced the Fujinon GF 45-100mm f/4 R LM OIS WR, bringing a medium-range zoom lens to its medium format GFX cameras - the GFX 50R, GFX 50S, and GFX 100.
The high performance optic – with an equivalent 36-79mm range in 35mm terms – serves a broadly similar function to the standard 24-70mm zooms seen for full-frame cameras. So the Fujinon GF 45-100mm f/4 R LM OIS WR affords GFX users a versatile lens for landscapes, nature, street and portrait photography.
While it's hardly a small lens in conventional terms, it's compact for a medium format zoom at 144.5mm long with a 93mm diameter, and weighs a comparatively svelte 1,005g.
That kilogram of weight accounts for a whole lot of glass: 16 elements in 12 groups, to be precise, 3 of which are aspherical elements with a Super ED and an ED element to suppress spherical aberration, curvature and chromatic aberration. The lens is also weather sealed and operates down to -10°C / 14°F.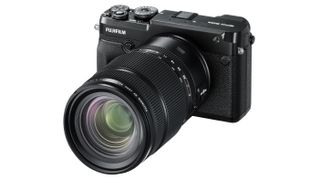 Pleasingly, the Fujinon GF 45-100mm f/4 R LM OIS WR is equipped with optical image stabilization good for five stops of stability – very welcome at the longer end, and especially when shooting handheld or with slower shutter speeds to make the most of the f/4 aperture.
Fujifilm also promises fast and near-silent AF, thanks to an internal focusing system that reduces the size and weight of the focusing group, driven by a linear motor for quick, quiet and accurate AF. All of which should make this a valuable video lens for medium format cinematographers.
The Fujinon GF 45-100mm f/4 R LM OIS WR will be available from 27 February at a price of $2,299.95 / £2,049.
Read more:
Fujifilm GFX 100 review
Fujifilm GFX 100 vs GFX 50S: key differences between the two cameras
Fujifilm in 2019: what happened, and was this really just in the last 12 months?