The Sony E 70-350mm f/4.5-6.3 G OSS is a really welcome addition to the Sony lens line-up. Despite the popularity of the Sony A6000 and its family of APS-S sensored mirrorless cameras, Sony has not produced very many lenses specifically designed to pair with these smaller cameras. Most of its lens line-up have been full-frame compatible - which naturally makes them bigger than they need be when used on the current five-model APS-C range - the A6000, A6100, A6300 , A6500 and A6600.
This 70-350mm lens is designed specifically for APS-C format Sony E-mount cameras, where it has a 'super-telephoto' 5x zoom range equating to 105-525mm on a full-frame body, along with a modest f/4.5-6.3 aperture rating that enables a much more compact, lightweight build, at a more affordable price.
This super-telephoto range makes this lens an obvious choice for those who want to photograph garden birds, go on safari, shoot airshows – or to get in close to the action with field sports such as soccer, baseball or rugby.
Specifications
Mount: Sony E (APS-C)
Full frame: No
Autofocus: Yes
Image stabilization: Yes
Lens construction: 19 elements, 13 groups
Angle of view: 22-4.5 degrees
Diaphragm blades: 7
Minimum aperture: f/22-32
Minimum focusing distance: 1.1-1.5m
Maximum magnification ratio: 0.23x
Filter size: 67mm
Dimensions: 77x142mm
Weight: 625g
Key features
The generous 5x zoom range is the leading feature of this lens, stretching all the way to a mighty 525mm effective focal length in full-frame terms. The flip side is that, towards the long end of the zoom range, the aperture rating narrows to a sluggish f/6.3. That can result in slow shutter speeds under dull lighting conditions, but built-in OSS (Optical SteadyShot) helps to fend off camera-shake. On the A6600, currently the only Sony A6000-series camera with sensor-shift in-body stabilization, both systems can work together to further enhance stabilization. And if you need faster shutter speeds to freeze the movement of subjects you're shooting, the latest A6000-series models deliver superior image quality at high ISO settings.
Late-generation A6000 cameras also boast super-fast hybrid phase/contrast detection autofocus systems. To take full advantage of this, the lens boasts an XD (eXtreme Dynamic) linear motor, which teams up with the latest camera technology to give really rapid autofocus performance. Accuracy is consistently excellent, not only for static subjects but also for tracking even erratically moving objects. It's also virtually silent in operation, which is a bonus for candid photography as well as for video capture.
• Sony A6000 vs A6100 vs A6300 vs A6400 vs A6500 vs A6600
The optical path includes 19 elements in 13 groups, so the design is rather more complex than in the existing budget Sony E 55-210mm lens, which has just 13 elements in nine groups. Furthermore, the design includes one aspherical element and three ED (Extra-low Dispersion) elements.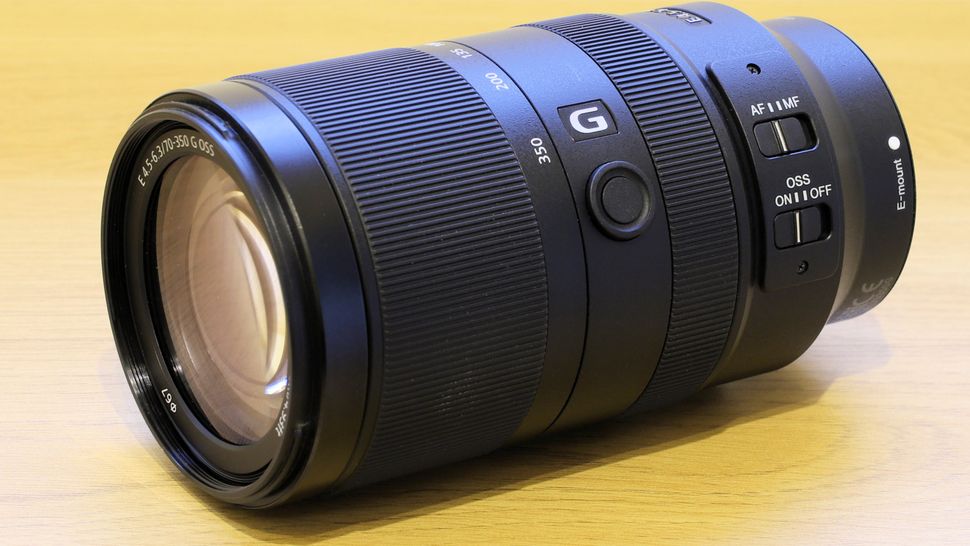 Build and handling
Large telephoto lenses feel rather at odds with slim-line, compact A6000-series bodies but this relatively small optic (at least for a telephoto zoom) feels right at home. It's reasonably lightweight at 625g yet feels very solid and dependable. Build quality is vastly better than in the cheaper E 55-210mm lens. The zoom ring and 'fly by wire' focus ring operate with smooth precision, and there's also a zoom lock switch for the zoom ring. It's barely necessary however, as our review sample didn't suffer from any zoom creep whatsoever.
Weather-seals are fitted to all of the main joints and switches, as well as on the metal mounting plate. As well as auto/manual focus and OSS on/off switches, the lens features focus-hold button on the side of the barrel. This can be customised via in-camera menus to carry out alternative functions.
Performance
Sharpness and contrast are very good throughout the entire zoom range, even when shooting at the widest available apertures. This is a particularly important facet of performance, considering the fairly narrow aperture rating, especially at longer zoom settings. Optical SteadyShot is helpful for handheld shooting but, with the rest of the current A6000-series bodies that lack the boost of in-body stabilization, we found the effectiveness to be pretty mediocre, equating to about three f/stops.
Autofocus performance is particularly good, in both speed and accuracy. There's good resistance to ghosting and flare, while colour fringing remains minimal right out to the extreme corners of the image frame. However, pincushion distortion can be quite noticeable at all zoom settings, unless corrected with automatic in-camera lens compensation. The lens has good resistance to ghosting and flare, while colour fringing remains minimal right out to the extreme corners of the image frame. However, pincushion distortion can be quite noticeable at all zoom settings, unless corrected with automatic in-camera lens compensation.
Lab tests
We run a range of lab tests under controlled conditions, using the Imatest Master testing suite. Photos of test charts are taken across the range of apertures and zooms (where available), then analyzed for sharpness, distortion and chromatic aberrations.
We use Imatest SFR (spatial frequency response) charts and analysis software to plot lens resolution at the centre of the image frame, corners and mid-point distances, across the range of aperture settings and, with zoom lenses, at four different focal lengths. The tests also measure distortion and color fringing (chromatic aberration).
Sharpness
Centre-frame sharpness is above average for an APS-C zoom lens, at least up to 200mm. At 350mm sharpness is a little more average, but still perfectly acceptable.
Sharpness inevitably drops off a little at the corners of frame, but only at 350mm does corner sharpness become noticeably soft. However, this is likely to be less of an issue given that your subject's background will usually be out of focus at this focal length.
Fringing
Chromatic aberration (purple fringing on high-contrast boundaries) is only noticable at 350mm and is barely visible at shorter focal lengths.
Distortion
We tested the lens on a Sony A6400 body, which applies automatic in-camera distortion correction. However, when converting the raw test shots to uncompressed TIFF images for analysis, we were able to cancel the corrections to see the true degree of distortion at each tested focal length.
This reveals noticeable barrel distortion at 70mm, which quickly transitions to the same degree of pincushion distortion at 135mm. This then progressively diminishes as you continue to zoom in, but the pincushion effect still remains visible.
However, you'll invariably want to leave automatic distortion correction enabled when processing your raw files, and this almost perfectly corrects all distortion from the 70-350mm throughout the focal range.
Verdict
Though it has a relatively modest aperture rating of f/4.5-6.3, this is nonetheless a well built lens with a strong, weather-resistant construction and a very fast autofocus system that's well able to track action, especially with Sony's more recent A6000-series cameras.
Image quality is very impressive overall, and the maximum 'effective' focal length of 525mm is truly remarkable for such a compact and lightweight lens, making it a perfect match for Sony's mirrorless APS-C camera bodies. It doesn't have the world's most effective optical stabilizer, but you can still expect a good hit rate of sharp handheld shots down to shutter speeds of around 1/100sec.
All in all, this is a very desirable lens.
Read more:
• The best Sony lenses in 2020
• These are the best Sony cameras to buy right now
• The best lenses for Sony A6000
• The best 150-600mm lenses for Canon and Nikon DSLRs