Choosing the best Nikon lenses means answering one easy question and one slightly harder one! First, which Nikon do you have – is it a Nikon Z mirrorless model or a Nikon DSLR. They use two different lens mounts and, on top of that, come in two sensor sizes – full frame (FX) and APS-C (DX) – which affects the lenses available. The second question is... what do you want to shoot?
First, is lens compatibility. You can fit Nikon DSLR lenses to Nikon Z cameras with Nikon's FTZ adapter, but it's not ideal as a long-term solution. You can't fit Nikon Z lenses to a Nikon DSLR.
Both Nikon Z and Nikon DSLR cameras come in two sizes: full frame or APS-C (DX). You can use any full frame lens on a DX camera, but there will be a 'crop factor' which makes the lens's angle of view look narrower. This doesn't matter much with telephoto, portrait, or macro lenses, but with smaller DX-format cameras you need ultra-wide lenses and standard zooms designed for the smaller format. You can use DX lenses on a full frame camera, but they will automatically crop to the smaller sensor size.
Now let's look at the second question more closely – which lenses to get. Some photographers have a very clear idea about their favorite subject matter and it's pretty easy to recommend lenses. Other photographers like to experiment with all kinds of subjects – so if that sounds like you, then you might need a few different lenses, not just one!
There are many, many types of lenses out there, but we've picked five key types that are universally popular:
1) Ultra-wide zoom: For when you need to get more into the frame. Most people imagine a telephoto zoom to be the most useful extra lens you can have, but actually, a wide-angle zoom can be even more useful, especially if you are interested in travel photography and capturing cramped interiors, big landmarks, or narrow city streets. Read more: Best wide-angle lenses for Nikon
2) Standard zoom: These offer a versatile focal range, allowing you to shoot anything from landscapes to portraits and chances are, you've already got one as these are bundled with Nikon cameras to get you started. While these are good all-rounders that are designed to be compact and affordable before anything else, in time you might decide you need a replacement that offers a longer focal range, a constant maximum aperture or just better all-round picture quality. Read more: Best standard zoom upgrades for Nikon
3) Telephoto zoom: Most people pick one of these to go with the standard zoom that came with their camera. They are the obvious choice for anyone interested in sports and wildlife photography, or any other time when you can't get close enough to your subject.
Read more: Best telephoto lenses for Nikon
4) Macro lens: For subjects so close they're right under your nose. Regular lenses can focus quite close, but not close enough to fill the frame with tiny insects and other close-up subjects. But macro lenses are designed to get much closer and are optically optimized to give crystal-clear close-ups.
Read more: Best macro lenses
5) Portrait lens: For flattering features and background blur. The best portrait shots combine an undistorted perspective with a soft background blur. A regular zoom lens might give you the right perspective, but only a dedicated portrait lens with a wide maximum aperture can give those atmospheric blurred backgrounds.
Read more: Best portrait lenses
Best Nikon lenses in 2023
Why you can trust Digital Camera World Our expert reviewers spend hours testing and comparing products and services so you can choose the best for you. Find out how we test.
Ultra-wide-angle zooms
For everyday photography, a standard zoom (or 'kit') lens offers excellent versatility but often won't go as 'wide' as you need for interior shots, tall buildings, and sweeping landscapes. For this, you'll need a wide-angle zoom, typically kicking off with a 10mm focal length for DX-format lenses, or 14mm for full-frame FX lenses. Naturally, a wider viewing angle enables you to get more into the frame. With wide-angle zooms, you have to get the right one for your camera's sensor size. You CAN fit full-frame wide-angles on a DX-format Nikon, but the 1.5x crop factor means you are paying for a more expensive lens and losing much of that wider angle of view, so it's just not worth doing. Annoyingly, there are no ultra-wide lenses for DX-format Nikon Z cameras yet.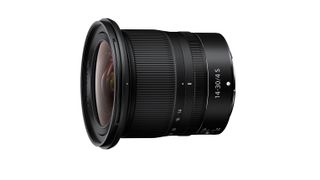 Ultra-wide-angle zooms for full-frame cameras tend to be big and heavy, as well as lack an attachment thread for easily fitting filters or filter holders. This Z-mount lens manages to shoehorn an epic maximum viewing angle into a relatively compact and lightweight build, thanks to a similar retractable design and modest f/4 aperture rating as its sibling Z 24-70mm f/4 S-line standard zoom. It also has a removable hood, enabling the inclusion of an 82mm filter thread. Sharpness across the whole image frame is superb, even when shooting wide-open at the shortest zoom setting, while color fringing and distortion are effectively eliminated in-camera. It's a high-performance lens that's a bit pricey for an f/4 zoom, but worth every cent. There is an even better Nikkor Z 14-24mm f/2.8 S, but that's a big, heavy, and expensive lens.
Read our full Nikkor Z 14-30mm f/4 S review for more details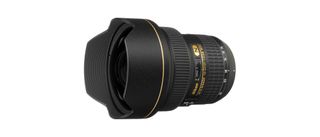 Own-brand Nikon lenses are often relatively expensive compared with third-party equivalents from the likes of Sigma and Tamron. That's certainly the case with this lens, which is much pricier than the likes of the Sigma 14-24mm f/2.8 DG HSM Art and the Tamron SP 15-30mm f/2.8 Di VC USD G2, the latter boasting the bonus of optical image stabilization. The Nikon is solidly built and delivers good all-round performance but loses out slightly to the Sigma for outright image quality..
Read our full Nikon AF-S 14-24mm f/2.8 ED reviewfor more details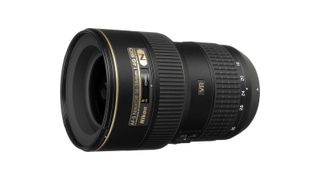 The mighty Nikon AF-S 14-24mm f/2.8G ED(seen above) might seem the most obvious contender for an ultra-wide landscape zoom for Nikon's FX-format DSLRs, but we actually prefer the equivalent Sigma 14-24mm f/2.8 DG HSM Art. Compared with both of those, Nikon's 16-35mm lens naturally has a less generous maximum viewing angle and aperture rating, but is less expensive to buy and has the advantages of featuring a filter attachment thread and optical stabilization. For landscape photographers, it's the most sensible option.
Read our full Nikon AF-S 16-35mm f/4G ED VR review for more details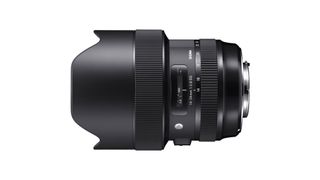 Nikon's own-brand AF-S 14-24mm f/2.8G ED is legendary as a pro-grade ultra-wide zoom for FX-format cameras, but the Sigma 14-24mm delivers equally stellar sharpness and contrast. Better still, it beats the Nikon for control over color fringing and distortions, both being incredibly well controlled for a zoom lens as wide as this. In fact, this is probably the best Nikon lens for landscape and architecture fans. The top-performance optics are wrapped up in a superbly well-engineered and fully weather-sealed barrel. The maximum viewing angle isn't quite as extreme as in Sigma's 12-24mm Art lens, but the image quality is better. More importantly, the new Sigma 14-24mm outperforms the equivalent Nikon lens and is less expensive to buy.
Read our full Sigma 14-24mm f/2.8 DG HSM review for more details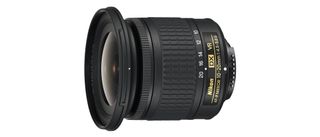 There's a lot to be said for the Nikon AF-P DX 10-20mm f/4.5-5.6G VR as a 'landscape' lens. When you're clambering over tricky terrain in pursuit of landscape photo opportunities, the last thing you need is a bag of heavyweight camera kit. This remarkably compact ultra-wide zooms weighs just 230g, but it still packs in some useful features like 3.5-stop VR and stepping motor-based autofocus which gives quick performance for stills and smooth, near-silent transitions while shooting movies. Image sharpness is also good, though fringing and distortion are pronounced if you don't enable in-camera corrections. Even so, this is still a great value ultrawide zoom at the price.
Read our full Nikon AF-P DX 10-20mm f/4.5-5.6G VR review for more details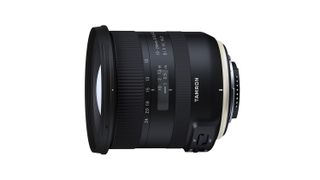 A major upgrade over Tamron's original 10-24mm ultra-wide zoom for APS-C format cameras, this one has improved optics, 4-stop VC (Vibration Compensation) stabilization, and a new HLD (High/Low toque-modulated Drive) autofocus system. Weather-seals are also added, plus a fluorine coating on the front element to repel moisture and aid cleaning. The image quality is very good and, overall, it's simply the best Nikon-fit DX format ultra-wide zoom. It beats Nikon's long-standing AF-S DX 10-24mm f/3.5-4.5G ED lens for performance and image quality, and is much less expensive to buy, although it's twice the price of Nikon's budget 10-20mm VR zoom (which you also might like to consider if you're on a budget).
Read our full Tamron 10-24mm f/3.5-4.5 Di II VC HLD review for more details
Standard zooms
Nikon's 'kit' zooms supplied with its DX and FX format bodies offer pretty good performance and image quality, along with big savings when you buy the camera and lens as a complete package. However, they have limitations in zoom range, maximum aperture and overall quality, and since this is lens you'll be using for much of your everyday photography, you might want to think about getting a better one. More up-market standard zooms may have a faster, constant aperture of f/2.8 to enable faster shutter speeds in poor light and better background separation (defocus). Alternatively you might want a standard zoom with a longer focal range than your kit lens to cope with a wider range of shooting situations.
This is another time when you have to get a lens to match your camera's sensor size – so get a DX size standard zoom if you have a DX format Nikon, or FX for a full frame Nikon. If you use a full frame FX standard zoom on a DX Nikon, the effective focal length will be too long and you won't get a wide enough angle of view.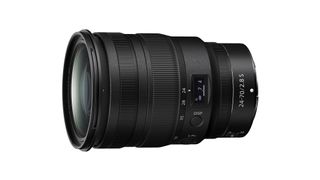 Nikon's retractable 24-70mm f/4 Z is available separately or as part of a kit with Z 6 and Z 7 cameras. It's such an excellent lens that you barely need to consider an upgrade. However, for those that demand a faster f/2.8 aperture rating for quicker shutter speeds and a tighter depth of field, this is the lens to go for. Like the Z 70-200mm f/2.8, it features a suitably high-grade optical path, this time including four aspherical elements and two ED (Extra-low Dispersion) elements, along with the same mix of ARNEO and Nano Crystal Coat. Further similarities include a customizable Lens Function button and info display. A notable difference is that this lens lacks the optical VR of its telephoto partner, but the shorter focal length range makes it unnecessary, taking the in-body stabilization of Z 6 and Z 7 cameras into account. All-round performance and image quality are absolutely top-drawer.
Read our full Nikkor Z 24-70mm f/2.8 S review for more details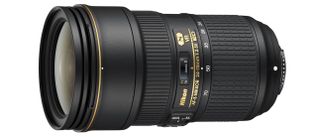 Nikon's latest and greatest F-mount 'trinity' standard zoom for DSLRs is built like a tank and is relatively large for this class of lens. Image quality and overall performance are the key aspects of the design, with no concession to keeping the size and weight down. It's certainly super-sharp but relatively uninspiring in terms of color fringing and distortions.
Read our full Nikon AF-S 24-70mm f/2.8E ED VR review for more details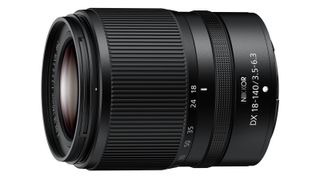 Bridging the gap between standard zoom and 'superzoom', this is the Z DX mirrorless makeover of Nikon's popular Nikkor AF-S DX 18-140mm VR lens, originally created for APS-C format DSLRs. As such, it features the same generous zoom range, equating to 27-210mm in full-frame terms, but is physically smaller and only about two-thirds of the weight. Part of the weight-saving is down to the mounting plate being made from plastic rather than metal, and there's no weather-seal gasket. Even so, it makes a conveniently compact travel lens and is good for everyday shooting with a Nikon Z30, Z50 or Z fc body, with good image quality and nice handling, enhanced by a 5-stop optical stabilizer and customizable control ring. It's decent value at the price, costing just a little more than a pair of Nikon Z DX 16-50mm f/3.5-6.3 VR and Z DX 50-250mm f/4.5-6.3 VR lenses.
Read our full Nikon AF-S DX Nikkor 18-140mm f/3.5-5.6G ED VR review for more details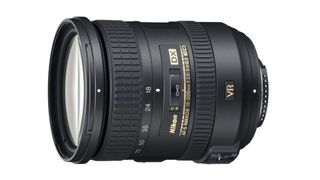 we have to admit that this lens was our personal favorite 'superzoom' and go-lens for a walkabout and travel photography for many years, until Nikon's Z system cameras came along, accompanied by the Z 24-200mm f/4-6.3 VR. Built for DX-format DSLRs, the 18-200mm is more refined than the AF-S DX 18-300mm f/3.5-6.3G ED VR and more manageable than the oversized AF-S DX 18-300mm f/3.5-5.6 VR, while still giving a highly useful 'effective' zoom range of 27-300mm in full-frame terms.
Read our full Nikon AF-S DX 18-200mm f/3.5-5.6G ED VR II review for more details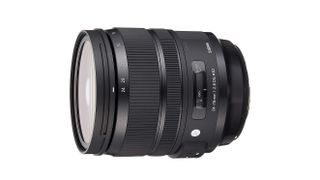 Nikon's latest AF-S 24-70mm f/2.8E ED VR might look like a top choice for full-frame Nikon DSLRs, but it's a beast of a lens and hugely expensive to buy. This Sigma lens isn't as fully weather-sealed as the Nikon, but it's still immaculately well-engineered. It's physically shorter and marginally lighter but matches the Nikon for all-around performance and image quality. Sharpness and contrast are spectacular, while bokeh is lusciously smooth. Colour fringing, distortions, and vignetting are very well controlled. Autofocus is very quick and extremely quiet, while the 4-stop stabilizer is just as effective as the Nikon lens's VR system. At around half the price of the Nikon lens, the Sigma is vastly better value.
Read our full Sigma 24-70mm f/2.8 DG OS HSM | A review for more details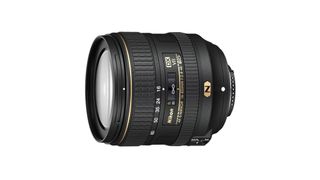 With class-leading wide-angle coverage and a generous zoom range, this lens is equivalent to using a 24-120mm lens in 35mm camera terms. The widest available aperture shrinks from f/2.8 to f/4 at longer zoom settings but the upside is that the lens is smaller and lighter than constant-aperture f/2.8 zooms and has a longer zoom range. High-tech attractions include an electromagnetically controlled diaphragm, ring-type ultrasonic autofocus, a focus distance scale beneath a viewing panel, four ED (Extra-low Dispersion) elements, and Nano Crystal Coat. Keep-clean fluorine coatings are also applied to the front and rear elements. We think this is a better choice than Nikon's old and unstabilized 17-55mm f/2.8 zoom and the best Nikon lens for anyone who wants to upgrade their standard zoom.
Read our full Nikon AF-S DX 16-80mm f/2.8-4E ED VR review for more details
Telephoto zooms
Once you've got a Nikon camera and a kit lens, a telephoto zoom is a good first additional purchase. In fact, it's probably the best Nikon lens for beginners to get. With telephoto, we often recommend getting a full-frame (FX) lens even if you've got a smaller DX format Nikon DSLR. That's because there's no penalty in focal range and magnification – the 'crop factor' of the smaller sensor increases the effective focal length of the lens, which is just what you want from a telephoto! The other advantage is that if you do upgrade to a full-frame Nikon in the future, you can carry on using your telephoto lens.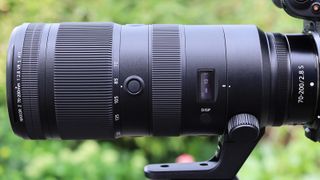 70-200mm f/2.8 zooms are often the preferred telephoto choice for the most demanding photographers, and this new Nikon Z-mount optic is one of the very best. Optical finery includes two aspherical elements, a top-quality fluorite element, a short-wave refractive element, and no less than six ED (Extra-low Dispersion) elements. ARNEO and Nano Crystal Coat are also on hand to minimize ghosting and flare. Advanced handling characteristics include two customizable Lens Function buttons, a customizable control ring, and a multi-mode info display. Autofocus is super-fast and unerringly accurate, while VR has mighty 5-stop effectiveness. Build quality is rock solid and image quality is simply stunning.
Read our full Nikon Z 70-200mm f/2.8 VR S review for more details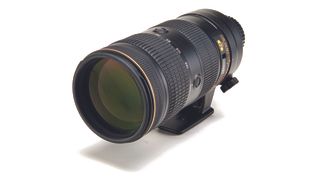 With an epic feature set matched by the top-notch build quality, all-around performance, and image quality, this is a stunning 70-200mm f/2.8 zoom lens. It builds on the success of previous editions, bringing a raft of new features including fluorite glass, uprated optical stabilization, and an electromagnetically controlled aperture diaphragm, although the last of these makes it incompatible with some older Nikon DSLRs. The only catch is that the Sigma 70-200mm f/2.8 DG OS HSM Sports lens performs every bit as well and is much less expensive to buy.
Read our full Nikon AF-S 70-200mm f/2.8E FL ED VR review for more details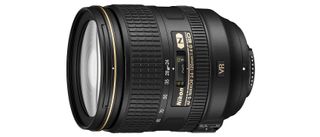 A perennially popular kit lens option with cameras like the Nikon D750 and D780, it's also a wise buy in its own right. The generous 5x zoom range stretches from a wide maximum viewing angle to useful telephoto reach and image quality remains impressive throughout, boosted in handheld shooting by 3.5-stop optical stabilization. Considerably more compact and lightweight than the latest Nikon AF-S 24-70mm lens and at only half the purchase price, it's a good choice if you don't need the faster f/2.8 aperture
Read our full Nikon AF-S 24-120mm f/4G ED VR review for more details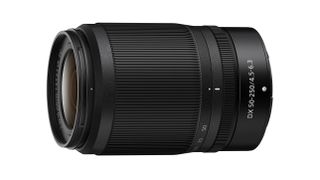 Like its smaller sibling, the Z DX 16-50mm VR zoom, this is a compact and lightweight lens created for the Z 50. The small size is enabled by a retractable design and modest f/4.5-6.3 aperture rating, while a plastic rather than metal mounting plate helps to keep the weight off. Although small and light, the build quality feels nice and solid, but the lens doesn't feature any weather seals. Highlights include an ED (Extra-low Dispersion) element in the optical path, a speedy and ultra-quiet stepping motor autofocus system, and a highly effective 5-stop VR. Image quality is impressive although, as with most budget telephoto zooms, sharpness drops off a little at the long end of the zoom range.
Read our full Nikon Z DX 50-250mm f/4.5-6.3 VR review for more details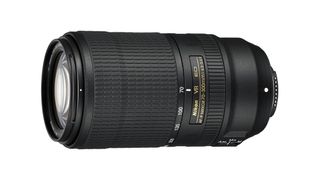 This is the ideal focal range for a telephoto zoom, and there are lots of similar 70-300mm lenses on the market. But although this Nikon lens costs more, it's well worth the extra outlay. It has an AF-P (Pulse motor) autofocus system that's super-fast and basically inaudible in operation, along with an electromagnetically controlled diaphragm. New-generation VR (Vibration Reduction) gives enhanced 4.5-stop performance and adds a 'Sport VR' mode. This enables easier tracking of erratically moving objects in the viewfinder, as well as avoiding any slowdown in rapid continuous shooting. The lens has a tough, weather-resistant build although, as with the vast majority of stepping-motor lenses, there's no focus distance scale. All-round performance is excellent and image quality is absolutely top-drawer. It might seem expensive right now, but this lens will prove its worth in the future.
Read our full Nikon AF-P 70-300mm f/4.5-5.6E ED VR review for more details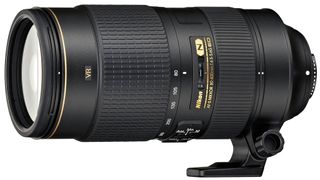 This pro-grade Nikon super-telephoto zoom is massively improved over the original 'AF' lens which had dreadfully slow autofocus and relatively ineffective optical stabilization. The 'AF-S' edition puts that to rights with speedy ring-type ultrasonic autofocus and 4-stop VR. However, its telephoto reach is a little limited by the latest standards and it's very pricey to buy. On balance, we prefer the much less expensive Nikon AF-S 200-500mm f/5.6E ED VR.
Read our full Nikon AF-S 80-400mm f/4.5-5.6G ED VR review for more details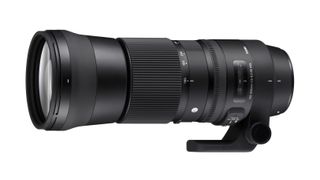 For some subjects, you need more magnification than a regular 70-200mm or 70-300mm lens can provide. This is where you need a super-telephoto of up to 600mm focal length, and this is where the new breed of 150-600mm zooms is ideal. This is the best Nikon lens for wildlife and long-range sports fans and could be especially good for aviation nuts. For outright image quality, the more expensive Sigma 150-600mm f/5-6.3 DG OS HSM | Sports lens is our top choice, but this 'C' lens offers a better cost and weight compromise for most people while covering the same focal range. This 'C' (Contemporary) lens is almost a full kilogram lighter in weight than Sigma's 'S' (Sports) version. It's not quite as extensively weather-sealed but still very well made, almost as sharp, and has the same range of up-market features and controls. Overall, it's the more sensible buy if you need a lens like this occasionally rather than all the time. It's designed for full-frame FX Nikons, and on a DX-format Nikon with the 1.5x 'crop factor, it gives an amazing 225-900mm effective focal range.
Read our full Sigma 150-600mm f/5-6.3 DG OS HSM | C review for more details
Macro lenses
The 'macro' badge is plastered over many zoom lenses but they only tend to offer a maximum magnification ratio of 0.2x to 0.5x at best, which isn't 'real' macro photography at all. Most dedicated macro prime lenses, however, deliver a full 1.0x magnification. Basically, an object will be reproduced at full life size on the camera's image sensor so, on a DX format body, a standard postage stamp would practically fill the entire frame. Just like with telephoto lenses, it can pay to buy an FX format macro lens, even if you're shooting with a DX format body. The 1.5x crop factor won't hurt, and you'll have a lens that will work on a full frame camera too if you decide to upgrade in the future.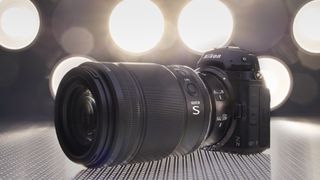 Nikon's MC 105mm is one of two new Z-mount macro lenses. There's also the cheaper Z MC 50mm f/2.8 which is a good lens and a more affordable choice for the DX format Nikon Z50 and Z fc, but this MC 105mm has a more practical focal length for macro photography and is a properly pro-grade lens – it's well worth the extra cost. Sublime image quality for both general shooting and extreme close-ups is backed up by a super-fast and highly accurate autofocus system, along with highly effective optical VR (Vibration Reduction) that can work in tandem with the in-body stabilizers of Nikon's full-frame Z-series cameras. Handling exotica includes a multi-function OLED display, a customizable Lens-function button and control ring, plus an autofocus range limiter, along with an electronically coupled focus ring that enables ultra-fine adjustments. Everything's wrapped up in a tough, weather-sealed construction. Image quality, all-round performance, and handling are simply sensational.
Read our full Nikkor Z MC 105mm f/2.8 VR S review for more details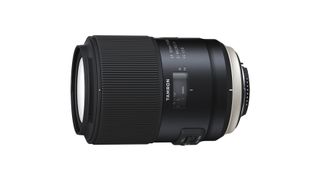 Like Tamron's other recent 'G2' lenses, this is the second generation of the company's 90mm VC USD macro lens. This means it features a host of upgrades including improved optical performance, nano-structure coatings, weather-seals, and a fluorine coating on the front element. It also adds a new 'hybrid' image stabilizer that counteracts horizontal and vertical shift, as well as the more usual angular vibration or 'wobble'. This makes stabilization much more effective in close-up shooting, especially compared with the regular stabilizer in Nikon's competing 105mm VR macro lens. It matches the Nikon for build quality and image quality as well, making the Tamron the best Nikon-fit lens for extreme close-ups.
Read our full Tamron SP 90mm f/2.8 Di VC USD Macro review for more details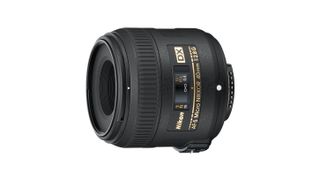 This little lens is only about half the length and a third of the weight of a 'pro' lens like Nikon's 105mm macro lens for FX-format cameras, so it's easy to squeeze into a spare corner of your camera bag. With an 'effective' focal length of 60mm, it's ideal as a standard prime lens for general shooting too, combining a fairly fast aperture rating with the excellent optical performance. Sharpness is excellent across the entire image frame, from f/2.8 all the way to f/16. Colour fringing is absolutely negligible and there's virtually zero distortion. The only catch is that, for full 1.0x magnification, the minimum focus distance from the focal plane is a mere 16cm and, because the inner barrel extends, the working distance from the front of the lens to the subject shrinks to just 35mm, which is a bit close for comfort. Nevertheless, if you own a DX Nikon and shoot macros only occasionally, this is the best Nikon lens for the job.
Read our full Nikon AF-S DX 40mm f/2.8G Micro review for more details
Prime lenses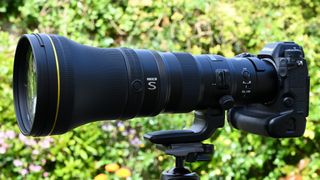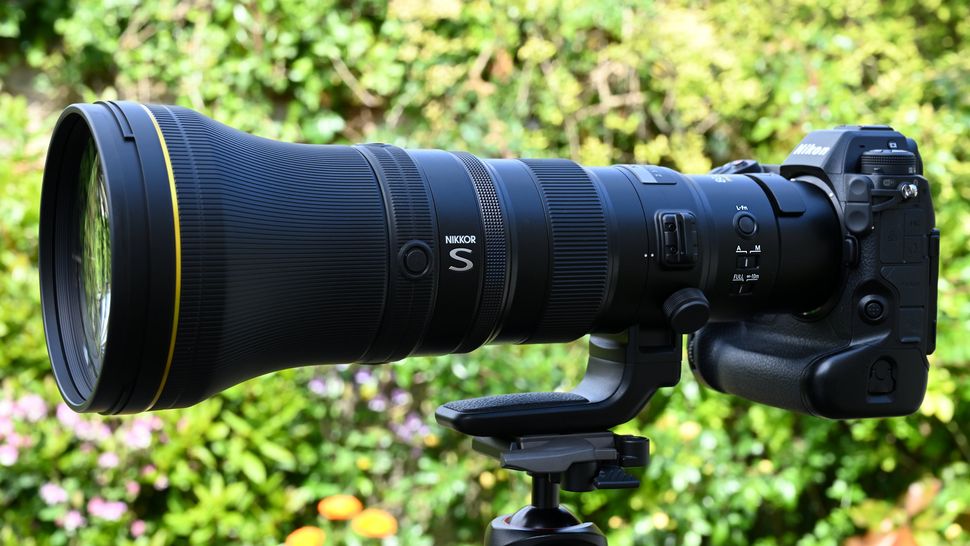 This lens gives you telephoto superpowers in a relatively lightweight package. The downsized build comes courtesy of a modest f/6.3 aperture rating and a Phase Fresnel optical element, a technology that's commonly used to focus the beam in a lighthouse. The addition of highly effective optical VR that works in tandem with IBIS in Z system full-frame cameras, plus a useful range of handling extras, ensure top-quality results time after time, with excellent consistency even in handheld shooting. When you need to nail the definitive moment in action, sports, and wildlife photography,