The best cheap lenses prove that you don't have to spend mega-bucks in order to create fantastic images. After all, not everyone has a huge budget to spend on their photography, and manufacturers know it. So, whatever camera system you're using, you can be confident that there will be a good cheap lens out there for you – it's just a matter of finding it. And that's where we come in.
It does take some navigating – some lenses are cheap for a reason, some are famous for offering great value, and some are hidden gems that don't get as much press as they should. While cheap lenses will never rival the expensive ones for optical quality, they can still be effective designs, and what's more, they tend to be considerably more lightweight, making them ideal for travel (which makes sense anyway, as you'll be a lot less heartbroken if you drop or lose a cheap lens).
The best cheap lenses tend to be primes, and that's what we've focused on for this guide. Affordable zooms are out there, but cheap primes will offer considerably better optical quality and faster maximum apertures, giving you more creative freedom and opening up possibilities. Cheap lenses have a reputation for being plasticky, rather than the rugged metal build that's associated with pro optics. But, well, that's why they're cheap. Just be careful with them.
With that in mined, here's a choice selection of the best cheap lenses that add value to your camera outfit – and definitely with the emphasis on value! We've picked out lenses for all the major camera systems, so whatever model you use, there should be a cheap lens or two here to tempt you.
The best cheap lenses
Why you can trust Digital Camera World Our expert reviewers spend hours testing and comparing products and services so you can choose the best for you. Find out how we test.
Canon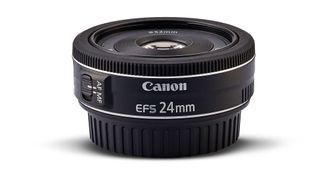 This is a 'pancake' lenses that's about an inch thick and a real lightweight at just 125g. It's brilliant for street photography with a Canon APS-C format SLR, where it gives an effective focal length of just over 38mm in full-frame terms – so it's a handy all-round standard lens, in face. The f/2.8 aperture rating is also useful, and rather faster than in a kit zoom lens. It's inexpensive for an own-brand Canon lens but still features an aspherical element, Super Spectra coatings and a fairly well-rounded seven-blade diaphragm. Autofocus is taken care of by a stepping motor, with an electronically coupled manual focus ring.
The small build means the STM autofocus is gear-type rather than linear. When we reviewed the lens, we noticed that it's audible and not particularly quick in operation, but gets the job done. The more important thing is image quality, and that is very good indeed, making you wonder why some prime lenses need to be quite so big.
Read more: Canon EF-S 24mm f/2.8 STM review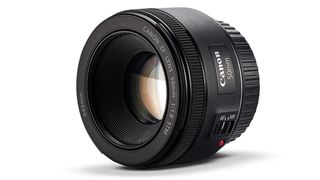 The so-called 'nifty fifty' is one of the most popular types of prime lens on the market, and with good reason. You can get a much tighter depth of field than with a kit zoom lens, for blurring the background and focusing all of the attention on the main subject. You can use it as a 50mm lens on full frame Canons, while on APS-C Canon's you get an 80mm effective focal length – perfect for portraiture.
This lens uses a gear-type autofocus stepping motor which is audible but much quieter than the more basic electric motor of previous Canon 50mm f/1.8. Handling is also improved, as the manual focus ring no longer rotates during autofocus. Apart from in the extreme corners, sharpness remains impressive even at the widest aperture, and barrel distortion is negligible. There's some noticeable axial (or longitudinal) colour fringing when shooting wide-open at f/1.8 but overall image quality is very good.
Read more: Canon EF 50mm f/1.8 STM review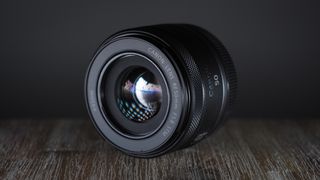 Most Canon RF-mount lenses are far from cheap, but the RF 50mm f/1.8 is a rare exception. It costs a fraction of the price of Canon's stunning RF 50mm f/1.2L USM, and while it is a little slower, an f/1.8 aperture will still deliver nicely defocused backgrounds, and our tests show it's a match for the f/1.2 version in some areas. Focusing speeds are also very good, with the stepping motor (STM) used offering quick and quiet focus. It's also better made than the EF equivalent, making this a must-buy for EOS R-series photographers.
Nikon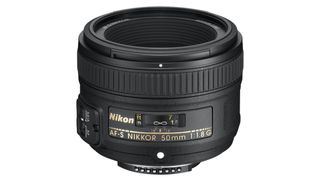 This Nikon lens is ideal any time you need a wider aperture than is available from your kit zoom lens, either for letting in more light to increase shutter speeds, or to get a tighter depth of field. It's equally useful for portraiture on DX format Nikons, where the 1.5x crop factor gives a longer effective focal length of 75mm. You get seven diaphragm blades, ring-type ultrasonic autofocus with full-time manual override, and an optical path that features one aspherical element. There's also a weather-seal ring on the mounting plate, and a focus distance scale. The sharpness and contrast are impressive even when shooting wide-open at f/1.8. Bokeh is nice and smooth as well although, typical of seven-blade diaphragms, defocused lights take on a heptagonal shape when stopping down a little.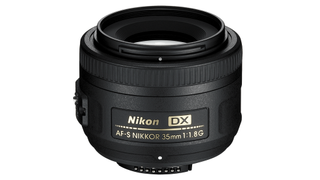 Unlike Canon, Nikon makes a 'standard' prime for its DX (or APS-C) format SLRs, in the shape of this 35mm lens, which gives an effective focal length of 52.5mm. You a hood and carrying pouch (unlike Canon). Inside the lens barrel are eight optical elements, including one aspherical element. Build quality is pretty good for such an inexpensive lens, with a metal rather than plastic mounting plate, ring-type ultrasonic autofocus system and a fairly well-rounded seven-blade diaphragm. However, there's no focus distance scale nor the weather-seal ring that's often featured on the mounting plates of Nikon lenses. Autofocus is reasonably quick and whisper-quiet and image quality is mostly good, although corner-sharpness is a little disappointing throughout the entire aperture range. Even so, this lens is compact and lightweight, and well worth the asking price.
Fujifilm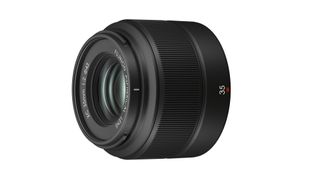 Fujifilm loves a 35mm prime lens, with this being the third variant available for the company's X-mount cameras. However, while there's a fast (but ageing) f/1.4 version and another f/2 variant in the shape of the XF35mm f/2, this is the most affordable of the three.
Designed to appeal to photographers starting out or on a tighter budget, it offers the equivalent of a 50mm focal length in full frame camera terms, and has a pretty fast f/2 maximum aperture. It is missing an aperture control ring (you'll want the XF35mm f/2 if that's the case) and isn't weather-sealed, but for the price you wouldn't expect these kind of luxuries.
If you're a Fujifilm shooter looking for a 'nifty fifty' to supplement the standard zoom on their new camera, this is definitely worth consideration.
• Read our hands-on Fujinon XC35mm f/2 review
Olympus and Panasonic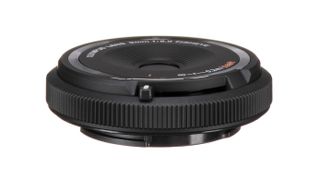 Inch-thick 'pancake' lenses have become quite common, but this Olympus lens is even thinner, at about half an inch thick, literally about the size of a body cap. Olympus also makes a similarly priced 15mm lens, but it's not that great and doesn't really give you anything that's not covered by a standard zoom. The 9mm fisheye gives a completely different shooting experience, producing the trademark extreme barrel distortion, while still utilizing the entire image sensor. This lens has no adjustable diaphragm, just a fixed aperture of f/8. There's also no autofocus but the depth of field is so enormous that the two-position focus lever is all you need. The viewing angle of 140-degrees is not as wide as the 180-degrees of most diagonal fisheye lenses, and the fisheye effect itself looks less extreme. Sharpness is pretty reasonable but drops off quite a bit towards the corners, where colour fringing can be very noticeable – but its performance/price ratio is brilliant.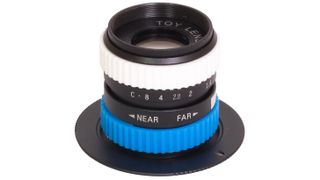 The 26mm Toy is designed to blur off-centre areas of the frame, giving a 'toy camera' effect. Unlike SLR Magic's 35mm f/1.7 lens, it's only available for Micro Four Thirds cameras, so there's no Sony E-mount option. This is a strictly manual lens, with a manually controlled aperture marked between f/1.4 and f/8. A conventional focus distance scale is replaced by basic near/far directional arrows. To add a bit of flourish to the control rings, the lens comes with a range of black, white and brightly coloured rubber grip rings. The blurring effect away from the central region of the frame lives up to its billing, and can produce an almost swirly look. Another trick for focusing attention on the central attraction is that the lens produces fairly heavy vignetting. All in all, it's a fun lens to use, as any 'toy' should be. Just remember this lens is all about the 'look' not serious optical quality.
Pentax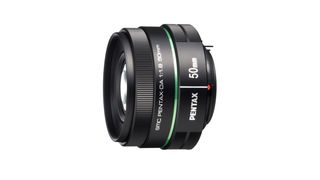 This lens may have a typical 50mm standard prime focal length, but it's designed exclusively for use with APS-C format SLRs, rather than being full-frame compatible, so really it's a short telephoto prime with an effective focal length of 75mm. That's often ideal for still life, portraiture and any time you want a bit more reach than a standard focal length will deliver. This is a little smaller than most 50mm lenses and is noticeably lighter, at 122g. That's mostly due to it having a plastic rather than metal mounting plate, and no autofocus motor. Instead, autofocus is driven by a motor in the camera body via a helical thread. The autofocusing is reasonably quick but is very noisy compared to any comparable lens with an in-built AF motor. There's also no focus distance scale. Sharpness is mostly very respectable, but underwhelming when shooting wide-open at f/1.8. The seven-blade diaphragm is fairly well-rounded, helping to maintain decent bokeh when stopping down a little.
Sony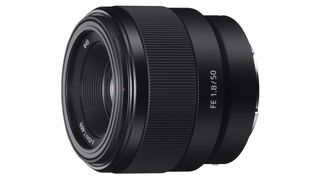 Every brand should have its own affordable nifty-fifty, and Sony is no exception – though its Sony FE 50mm f1.8 Lens was a little more expensive out of the gate than Canon or Nikon's offerings, prices have come down over the years and these days it can be picked up quite reasonably. Compatible with Sony's full-frame and APS-C mirrorless cameras, the lens is a good all-purpose prime, with an f/1.8 maximum aperture that means it acquits itself well in low-light.
The autofocus is a little disappointing. It's a little slow for one, and noticeably noisy for two. Neither of these issues are bad enough to be ruinous, but are worth being aware of before you plunge, especially since the lens is still generally a touch more expensive than comparable lenses from other systems.
How we test lenses
We use a mix of both real world sample images and lab tests. When we're able to call lenses in for full-one lab tests, these are carried out scientifically in controlled conditions using the Imatest testing suite, which consists of custom charts and analysis software that measures resolution in line widths/picture height, a measurement widely used in lens and camera testing. We find the combination of lab and real-word testing works best, as each reveals different qualities and characteristics.
More lens buying guides
The best 150-600mm lenses
The best 100-400mm lenses
The best 50mm lenses
The best 70-200mm lenses
The best budget telephoto lenses
The best macro lenses
The best fisheye lenses

The best Canon lenses
The best Nikon lenses
The best Fujifilm lenses
The best Sony lenses
The best Micro Four Thirds lenses for Olympus or Panasonic cameras
The best Pentax lenses
The best lenses for astrophotography
Best portrait lenses
Best lens for street photography: best 35mm lenses