The final two lenses in Samyang's new Xeen CF range of lightweight cine lenses is here. Joining the 24mm T1.5, 50mm T1.5 and 85mm T1.5 which were introduced last year, the new Xeen CF 35mm T1.5 and Xeen CF 16mm T2.6 complete the five prime set. The quintet is designed to offer a lightweight, and affordable, range of optics for professional video shooters. The lenses will be available in Sony FE, Canon EF and Arri PL mounts. As is usual, the lenses will be sold under the Rokinon brand in North America.
CF stands for "Compact and Flexible" - highlighting the compact size and versatility of the lenses. The Xeen CF 16mm weighs 0.9kg (2.0lbs) and measures 82.3mm (3.24in) height. This compact size has been produced to meet the trend in cinematography and videography, where lenses are not just used in large cinematography camera setups, but also with drones and gimbals setups which require a more compact and lighter lens. The Xeen CF 35mm T1.5 still weighs only 2.4lbs (1088g) and measures 3.24in (113.7mm) in length.
The use of carbon fiber in the XEEN CF lens barrel makes it lighter, but sturdier than others with metal barrels.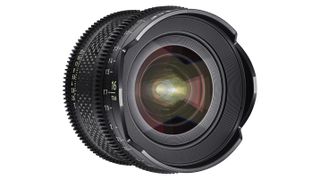 Key features of the lenses include:
• 43.3mm image circle designed to ensure compatibility with large sensor cameras
• 11 aperture blades for creating beautiful, circular bokeh.
• Luminous paint used for model and distance markings for use in low-light environments
• 200° of manual focus ring rotation enables fine focus adjustment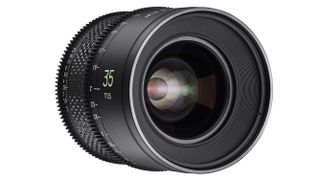 Xeen CF 35mm T1.5 and Xeen CF 16mm T2.6 and will be available for $2499 / £1999 a piece. Kits with all five CF lenses will also be available.
Read more
Best cinema cameras in 2020