Those waiting for super telephoto glass for the EOS R system have finally had their patience rewarded. Sure to please sports and wildlife shooters, the Canon RF 100-500mm f/4.5-7.1 L IS USM, Extender RF 1.4x and Extender RF 2x have just been announced.
In addition to the Canon RF 100-500mm f/4.5-7.1 L IS USM, and the also-announced Canon RF 24-105mm f/4-7.1 IS STM, the manufacturer further confirmed that five additional RF lenses will be released this year – adding a total of seven lenses and two extenders to the Canon RF lens roadmap in 2020.
It's not just sports and wildlife enthusiasts who will be pleased by this news. Professional shooters have been waiting patiently for the EOS R to become a viable pro system. So just as the company revealed its high end Canon EOS R5 – with IBIS, dual card slots, 8K video and 20fps burst shooting – it also started filling the super telephoto gap in its RF lens lineup, giving the R system tools to tackle any assignment.
• Read more: Canon EOS R review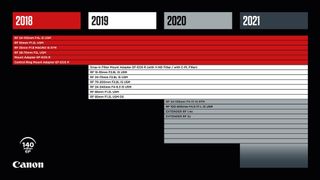 Since the three new optics were only revealed in a development announcement, there is precious little information on them. We do know, however, that the RF 100-500mm is a stabilized lens – which you would expect, of an L lens of this focal length.
However, given Canon's statement that the in-body stabilization in the R5 will work in conjunction with lens stabilization, it will be interesting to know whether that includes any lens with IS or – as we suspect – it will only be compatible with specific lenses, designed with synchronized stabilization in mind.
What's peculiar about the lens, though, is the aperture: f/4-7.1. For non fixed-aperture lenses, Canon (and other manufacturers) typically limits the minimum opening to f/5.6 or f/6.3 – so why the highly unusual f/7.1, and won't this have an adverse effect on image quality?
As is the case with the new RF 24-105mm f/4-7.1, Canon insists that the R-system's advanced autofocus and ability to shoot at higher ISO sensitivities means that this limitation really doesn't apply any more. Of course, better ISO performance is one thing – but f/7.1 is still going to severely limit the kind of depth of field you're able to achieve, especially used with one of the extenders.
Still, we're excited to see the RF mount growing into a fully fledged system – and we can't wait to find out what those other five lenses will be on the updated roadmap…
Read more:
Canon goes 8K! New Canon EOS R5 has 8K video, IBIS, 20fps + dual card slots
Canon EOS R review
Canon RF lens roadmap: current and future lenses for the Canon EOS R