UPDATE: If you've been waiting for another macro lens option for your mirrorless Nikon, the wait it over! Venus Optics has brought the rather good Laowa 65mm f/2.8 2x Ultra Macro APO to the Z mount.
Until now the best Nikon Z lenses were almost entirely absent of macro lenses, but the Laowa 65mm f/2.8 2x Ultra Macro APO is the second native option for the system (after the Meike MK-85mm f/2.8 Macro). What's more, it features a 2:1 reproduction ratio – meaning that it will make objects appear twice as large as their real-life size.
• Read more: Laowa 65mm f/2.8 2x Ultra Macro APO review
Already available for Canon EF-M, Sony E and Fujifilm X mounts, this lens is designed for the APS-C format – which means it will be most at home on the Nikon Z50, but will work with the Nikon Z6 II and Nikon Z7 II in crop mode. In both cases, the crop factor gives it an equivalent 99.45mm field of view, similar to the popular 100mm macro focal length.
We rank the Laowa as one of the best macro lenses available, and it's also one of the cheapest – available now for just $399 / £409 for all mounts.
ORIGINAL STORY (24 Jan 2020): Venus Optics has done it again... introducing yet another unusual lens to add to its line-up of optical oddities. The Chinese company is developing a reputation for producing lenses that others wouldn't dare to make, which it markets under the Laowa brand.
The latest example is the Laowa 65mm f/2.8 2X Macro APO – a low-cost manual-focus macro lens for APS-C-sensored mirrorless cameras.
With an effective focal length around 100mm, this is the perfect lens for shooting ultra-close-ups of insects, coins and flowers. But it is also a great lens for portraiture.
What makes this macro lens unusual is that it provides a two-times-life-size maximum magnification, allowing you to focus down to just 17cm. What's more, unlike many of its rivals has a metal casing.
Laowa has made macro lenses something of a speciality, with previous highlights including the proposterous Laowa 24mm f/14 2x Macro Probe and the Laowa 25mm f/2.8 2.5-5x.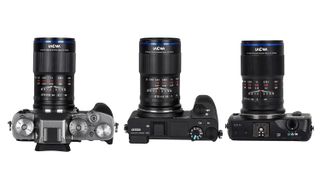 Specifications
Focal length: 65mm
Aperture range: f/2.8 – f22
Angle of view: 24.4°
Lens construction: 14 elements in 10 groups
Aperture blades: 9
Minimum focusing distance: 17cm
Maximum magnification: 2x
Autofocus: no
Full frame: no
Dimensions: 57x100mm
Filter thread: 52mm
Weight: 335g
Mounts: Sony E, Fujifilm X, Canon EF-M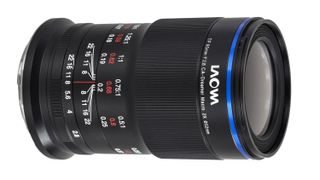 Pricing and availability
The Laowa 65mm f/2.8 2X Macro APO is available immediately in Sony E, Canon EF-M and Fujifilm X mounts, and will retail for $399.
Read more:
The best macro lenses in 2020