The Photography Show is the UK's biggest and best event for photographers of all abilities, and this year's show is just weeks away.
Returning once again to Birmingham's NEC in March, the show will be packed full of manufacturers and other exhibitors keen to show off their latest products, together with talks from professional photographers, live demonstrations, shooting opportunities and much more.
Here's a look at what to expect at this year's show.
Exhibitors
With over 250 exhibitors at the show, you're bound to come away inspired, educated and wanting to take your photography to the next level.
Whether you want to get your hands on the most recently announced cameras from the likes of Canon, Nikon and Fujifilm, or a lens from Sigma, Tamron, Zeiss or Hasselblad, The Photography Show 2018 is the place to do it. Even if you just want to quiz the experts on the best gear for your needs, come along and get asking.
Not in the market for a new camera or lens? There's still plenty to see, from top-quality paper from Hahnemühle through to super-sturdy tripods from Gitzo and stylish bags from Lowepro. And if you fancy taking it home, you'll be able to stop by some of the biggest photo retailers, where you'll find great deals and some exclusive show offers.
Beginner and Turning Pro Masterclasses
Whether you're just getting started or you're moving into full-time professional shooting, you'll want to check out one of the many masterclasses that will be taking place over the four days.
For the benefit of photographic novices, masterclasses will include what kind of kit to buy to how to process your images, while those turning professional will be able to learn essential marketing skills and better understand how to make video work for them. You can book your masterclass when you book your tickets.
Super Stage
The Super Stage has previously played host to some of the world's most famous and respected photographers, such as David Bailey, Sebastião Salgado, Martin Parr and Don McCullin.
This year, the show will feature legendary nature photographer Art Wolfe, Magnum icon Bruce Davidson, Pulitzer Prize-winning photographer Daniel Berehulak and top fashion photographer Miles Aldridge among many others, each imparting their wisdom and letting you into their world.
Live Stage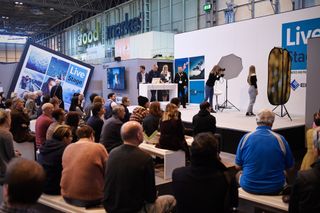 The Live Stage is the place to get inspired and educated by a range of professional photographers working across various genres. Whether you dabble in light painting or you want to get some pointers to help your portraiture, or if you just want to see professionals getting creative results using flour and liquids, there'll be something there for you. The best bit? Every single talk is completely free.
The Great Outdoors stage
New for this year is the Great Outdoors Stage, which will welcome the likes of landscape photographer Joe Cornish, Lumix ambassador Tania Esteban and Fujifilm X-Photographer Ben Cherry. Between them and many other speakers, topics will include everything from weddings to wildlife, 360º video and shooting for social media, and even something for dog lovers. Once again, all talks are free but make sure to get there early to get the best spot.
Drone Zone
Back very much by popular demand, the Drone Zone will once again allow everyone from experienced drone users to curious potential purchasers to learn more about what's new in quadcopter, together with how to fly a drone safely and the necessary regulations.
Mobile & Social Stage
The Mobile and Social stage returns to The Photography Show in 2018, and this year it's set to be bigger than before. Whether you want to use your phone to capture top-quality video or gain new clients from Instagram, or just brush up your mobile picture-taking skills, this is the place to do it.
Video stage
Over at the Video Stage, you can join top video experts such as Phillip Bloom, Jim Marks and Nick Driftwood to get the lowdown on essential filmmaking techniques and HDR video shooting, as well as how to capture excellent audio to accompany your masterpieces.
... and more
On top of all of the above, the Adobe Theatre will once again be the place to be if you want to hone your editing skills, while the Behind The Lens stage will have the likes of Tom Mason, Kevin Mullins and Ben Bentley revealing the secrets behind their images.
When is The Photography Show 2018?
The Photography Show 2018 will take place between 17-20 March 2018, at Birmingham's NEC. Doors will open at 10:00am and will close at 17:00 on each day.
The NEC is just a short walk away from Birmingham International Railway station and Birmingham Airport.
For more information on getting to the NEC and parking, click here
How can I get tickets to The Photography Show 2018?
To reserve tickets for The Photography Show 2018, simply head over to the official website and click on Get Tickets
What if I can't make it to The Photography Show 2018?
Although there's no substitute for being at the show itself, you can stay up to date with what's going on by following the official Facebook, Twitter and Instagram channels of The Photography Show.
Digital Camera World will also be there, so make sure to keep us bookmarked, and stay up to date by following us on Twitter and Instagram, or liking our Facebook page.