Fuji camera rumors 2018
Fujifilm has just updated its X-T2 with X-T3 high-end mirrorless camera. This model increases the number of pixels on this APS-C format flagship model, and provides a faster, wider-coverage autofocus system.
Read more: Fujifilm X-T3 review
But what else can we expect from Fujifilm this year? The rumors are that it will use Photokina to strengthen its position in the medium-format camera market, following the launch of the GFX 50S at the beginning of last year.
Fujifilm GFX 50R
The big rumor for Fujifilm is the arrival of the GFX 50R – a baby medium-format mirrorless brother for the GFX 50S. With an increased number of manufacturers producing full-frame mirrorless models, a lower-cost camera with an even larger sensor would be a serious temptation for serious photographers. If the rumors are true, we would expect this camera to have a 50 megapixel sensor, and use the same lenses as the GFX 50S.
The big attraction though will be the price, which is said to be over $1,000 lower than the GFX 50S - at around $4,500 body only. Exactly which features that you will lose with the budget model, we will just have to wait and see... probably until Fujifilm's Photokina press conferences on September 25.
Fujifilm GFX 100S
The other rumor doing the rounds is a new 100 megapixel version of the GFX 50S. With Hasselblad already marketing a 100-megapixel sensor in its H6D range, this would be an obvious addition to this medium format range.
We expect his camera to go on sale some time in 2019, but expect to see a prototype at Photokina.
Fujifilm X-Pro3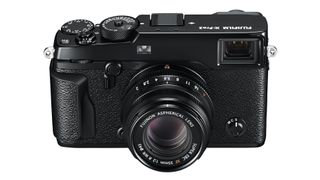 Fujifilm's hybrid rangefinder X-Pro2 went on sale in 2016, replacing the X-Pro1 which had been launched in 2012. We don't expect the interchangeable-lens X-Pro3 to be announced this year... but there it may make an appearance in 2019.