From the idea of Nikon and Fujifilm tying the knot to Canon extending its mirrorless line into full-frame territory, there's no shortage of rumours as to what we'll see next from manufacturers.
Here, we've collated the ones the most likely to come true and offered our own predictions as to what we may be seeing before long.
Canon camera rumors 2017
Canon has done a brilliant job to revamp its entire DSLR line over the past year or so, from the baby Rebel SL2/EOS 200D and EOS 77D through to the full-frame EOS 6D Mark II and 5D Mark IV models.
Because of this, it seems unlikely that we'll see any new DSLRs soon, which makes it all the more likely that the company's focus is currently on its EOS M line of mirrorless models.
With the recent EOS M6 and last year's EOS M5, the company hasn't exactly been inactive here, but a new entry-level camera may well be on the way. There is currently talk of an EOS M20, which many imagine would replace the EOS M10 at the budget end of the spectrum. [Update: Canon has now released the EOS M100]
Rumours of a full-frame Canon EOS M mirrorless camera continue, although these seem to be based more on hope than on any credible information. Such a camera would also require a new line of accompanying optics, which makes it seem even less likely. Of course, it's possible Canon could use its existing EF lens mount, but there are many reasons why this wouldn't be a very good idea.
Read more: 10 tips on getting the best out of your Canon camera
One glimmer of hope here is the fact that Canon has developed a new full-frame sensor, the 26MP unit found inside the EOS 6D Mark II DSLR. There's a possibility it may choose to use this elsewhere, although the company hasn't traditionally used the same full-frame sensor across many models in the way that other manufacturers have.
Click here to read our Canon EOS 6D Mark II review
What we think: Given how recently Canon has refreshed its DSLR line from top to bottom, it would be surprising to see any new additions here soon. The next logical addition would be a replacement for the EOS-1D X Mark II, although there is no great demand for an update here just yet.
Read more: The complete guide to Canon's lens terms
Nikon camera rumours 2017
Nikon recently released the D850, so what else could we see from Nikon before long? Well, there are some rumblings of a D5x model, whose name suggests a D5 body with a high-resolution sensor. The development of a new sensor for the D850 would lend this particular rumour more credibility, but such a strategy normally sees the more advanced, pricier model released first, which makes it seems somewhat less likely.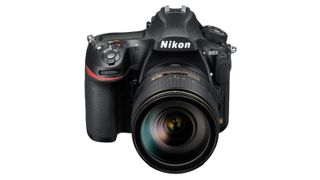 Nikon admitted earlier in the year that it would be focusing more on the premium end of the mirrorless market, and admitted that it's developing a new mirrorless camera. As with most announcements of these kind, the language used here is deliberately obscure; surely at any one point, the likelihood is that a manufacturer will be developing its next model anyway?
Read more: 10 tips on getting the best out of your Nikon camera
Nevertheless, this has been enough to give longstanding rumours about a full-frame mirrorless model a significant boost. Given the lacklustre reception to its 1 series – which some have speculated have already been killed off by the company – this would make sense, although we would again have the issue of what lens mount such a camera would use. A new lens mount would be ideal, but this presents its own challenges.
What we think: A full-frame mirrorless camera is certainly possible, but an APS-C based offering is perhaps more likely. We reckon something designed to compete with the likes of Fujifilm's X-series of cameras would be the smartest move.
Read more: The 8 best portrait lenses for Nikon users