Vloggers and content creators wanting to put themselves in the picture have so far been short-changed by expensive mainstream action cameras. Look at our best camera for vlogging and you'll see it's dominated by mirrorless cameras and smartphones equipped with front 'selfie screens'. In fact, the only action cameras with front-facing screen options are the GoPro Hero9 Black, DJI Osmo Action and Sony RX0 Mark II.
Cue this new offering from Akaso, which tries to bridge the gap with a dual-screen design that allows users to see themselves on a second 'selfie screen' that's placed beside the lens. Add some image stabilization and 4K resolution and the Akaso Brave 7 LE could just be both the best camera for vlogging and the best budget action camera. So, is it?
Design & handling
Right out of the blocks know that there is one thing that the Akaso Brave 7 LE lacks. Its 4K video at 30 frames per second (fps) is going to please most users – and surely almost all vloggers – though the action camera market has moved on to bigger and better things; the GoPro HERO8 Black, GoPro HERO7 Black and DJI Osmo Action all feature 4K video at 60 frames per second.
However, the Akaso Brave 7 LE is unique among action cameras in two other areas; it boasts 6-axis stabilization across all resolutions and captures still images using a 20MP sensor.
In the nicely compartmentalized box is plenty of accessories and mounts. The most pleasing is the provision of two 1,350mAh batteries (good for at least an hour) and a charger, but there's plenty more to play with; everything from mounts for handlebars and helmets to a wrist-watch remote, sticky pads and even cable ties for one-time attachments.
Also in the box is an underwater housing; the IPX7-rated Akaso Brave 7 LE is natively waterproof only down to 3 feet/1 meter, so you'll need the bulky plastic housing if you want to take it diving (it maxes-out at 131 feet / 30 meters).
Performance
Used as an outdoor stills camera, the Akaso Brave 7 LE impresses. Not only is it toughly made and completely weatherproof, but there's a standard tripod thread on its undercarriage, with an HDMI output under a flap on the side. The fixed focus means you need to keep subjects at least 20 inches / 50 cm away, and the fish-eyes lens ensures that straight lines look more curved the closer they are to the edge of the frame. However, with superwide, wide, medium and narrow modes, you can easily lessen the effect. Though the geometry might change, all images have plenty of color, contrast and detail (unless the digital zoom-in onscreen controls are used). There's also a self-timer mode and a continuous shooting that stretches to 30 photos. Meanwhile, white balance and exposure compensation settings can be tweaked for both photos and videos.
The onscreen menus are easy to use and the touchscreen sensitivity is fine. There are plenty of gestures and swipes to bring-up menus and one-touch tweaks. Most settings can also be tweaked using the Akaso GO app, which sets up a WiFi connection between camera and phones for real-time views.
However, what the Akaso Brave 7 LE is really all about is video and that front-facing selfie screen. A long press of the 'M' button activates the front-facing screen. While the rear screen measures 2-inches in diameter, the front's manages just 1.5 inches, so this is pretty basic stuff. It's also square-shaped, so you get a slightly untrue preview, and unlike the rear-screen, it's not touch-sensitive. However, it's enough to frame piece to camera; you just keep yourself in the centre of the frame.
Second screens aside, this action camera captures reasonably detailed 4K video if you stick to high quality capture and 30fps, but we don't recommend dipping below into the vast array of other resolutions on offer here; 4K/30fps, 2.7K/60fps, 2.7K/30fps, 1080p/120fps (no image stabilization), 1080p/60fps , 1080p/30fps, 720p/240fps (no image stabilization), 720p/120fps (no image stabilization) and 720p/60fps. A simple swipe-up gives one-touch tweaks to resolutions, shooting quality and a toggle for image stabilization.
Sample footage and stills
Akaso Brave 7 LE video sample shot at 4k 30fps
Akaso Brave 7 LE video sample shot at 4k 30fps with 6-axis Image Stabilization
Conclusion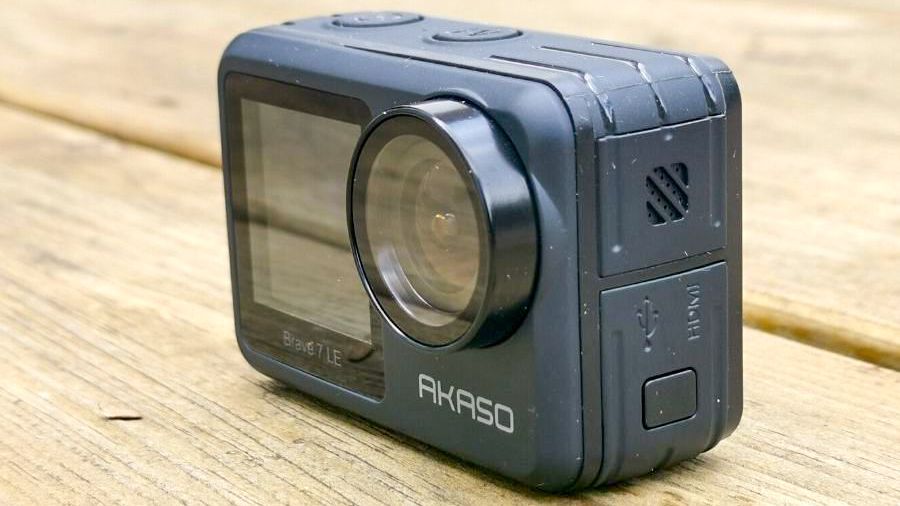 In use the Akaso Brave 7 LE's 6-axis stabilization introduces a nice, smooth video without going too crazy. It's not as powerful a system as you'll find on a GoPro, but nor does it produce a woozy-looking dream sequence. Instead, it knocks the wobbly edges off a video and makes it watchable, which is what image stabilization should do. There's really no reason not to use it off a tripod.
Overall, this a great value action camera for all-round use, but especially for vloggers trying to put themselves in the picture.