Looking for the best camera for vlogging? You're in the right place. An interchangeable lens camera is the obvious choice for anyone serious about taking their video to the next level, and we pick out the ones we think offer the best combination of features, performance and value on the market right now. (And with lots of cheap camera deals right now, this great time to invest as well.)
But there are other options too. A compact camera may give you all the video features you need in a smaller, lighter package, and we've chosen two great compact cameras for vlogging. And with all the advances in smartphone camera and video technology, we choose our favourite three smartphones for vloggers too.
The best action cameras can also shoot great video and in theory you could use their smartphone apps to watch yourself speaking to the camera, but they're not really designed for the quality or ease of use that most vloggers will be looking for so we'll stick to cameras and smartphones here.
The best cameras for vlogging have features that may not seem too important for regular stills photography. One of the most critical is an LCD screen that can flip round to the front so that you see yourself while you're filming. You always get this with a smartphone but there aren't that many mainstream cameras that do this.
An effective autofocus system that can also keep track of you while you're recording yourself is also important, as you won't be able to adjust the camera while you're filming and eye AF can be a big advantage here.
Audio quality is more important for video than most folk realise, so ideally you need a camera with a microphone port so that you can plug in external microphones for better sound quality.It's a little easier with camera phones as small lavalier-type microphones can often be attached through the headphone port.
So what about 4K? Even now, most vloggers will record and upload in full HD rather than 4K, but most of us would feel happier with a little future-proofing, and 4K does offer more scope for editing and cropping your video later, so we've prioritised 4K video as a key feature for any vlogging camera. (If you are looking for a software, check out our guides to free video editing software and to paid-for video editing software).
Finally, we want to stick to cameras that can also take great stills as most vloggers will want to capture content of all types, not just video, and who wants to carry two cameras around when you can get one that does both jobs?
So here are the best cameras for vloggers on the market right now, ranging from smartphones and compacts for everyday vlogging through to interchangeable-lens cameras for broader control and more professional results.
Mirrorless cameras
Interchangeable lens mirrorless cameras are best for serious vlogging. They have more powerful video features and the versatility of interchangeable lenses. We don't rule out DSLRs (especially with the upcoming new Canon EOS Rebel 3 / 250D), but for now mirrorless cameras have the lead for vlogging.
Image 1 of 6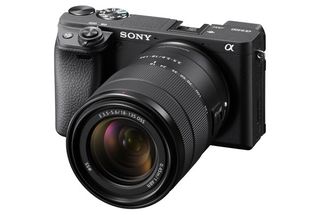 Image 2 of 6
Image 3 of 6
Image 4 of 6
Image 5 of 6
Image 6 of 6
1. Sony A6400
Brilliant for vloggers, the A6400 has 4K video and a front-facing screen
Type: Mirrorless | Sensor: APS-C | Megapixels: 24.2MP | Lens mount: Sony E | Screen: 3-inch tilting touchscreen, 921,000 dots | Viewfinder: Electronic | Continuous shooting speed: 11fps | Max video resolution: 4K
Image quality and resolution
4K video performance
Sophisticated autofocus
Design feels dated
Not so long ago, any camera with a 180-degree front-facing screen was instantly dismissed as a 'selfie' camera, but the rise of blogging, vlogging and Instagram has brought video to the fore, and the A6400's front-facing screen sets it apart from many of its rivals and makes it a powerful and desirable tool for single-handed video shooters who want to talk directly to the camera. The A6400 is also a great camera for stills. We're not so keen on the design, which is largely unchanged since the original A6000 model, but it's not a deal-breaker given that the Sony is so good at video. It's not just the 4K video that makes this camera stand out as a vlogging tool, but its state of the art autofocus system, and especially its Eye-AF performance. It's sold body only (handy if you already have Sony lenses), but if you intend buying it with a kit lens we'd recommend paying the extra for the Sony 18-135mm f/3.5-5.6 lens, which has much longer reach and better optical quality than the standard 16-50mm f/3.5-5.6 PZ lens.
Read more: Sony A6400 review, the best Sony cameras
Image 1 of 4
Image 2 of 4
Image 3 of 4
Image 4 of 4
2. Panasonic Lumix G85 / G80
The 4K video, flip-out screen and mic port are great for vloggers
Type: Mirrorless | Sensor: Micro Four Thirds | Megapixels: 16MP | Lens mount: Micro Four Thirds | Screen type: 3in tilting touchscreen, 1.04million dots | Max video resolution: 4K | User level: Beginner/enthusiast
Good continuous AF in video
Mic port included
2x crop hampers wide framing
Some softness in full HD
With masses of features, a weather-sealed body and crisp image quality thanks to the lack of an optical low-pass filter, the Lumix G85, which also goes by the name Lumix G80, is one of our favourite budget mirrorless cameras even before we get to its video capabilities. And yet, even here it shines, with 4K recording, a mic input, flip-out touchscreen and fast focusing to recommend it even further. The camera is capable of using face detection to keep a lock on subjects as they move, and while it lacks on-sensor phase-detect AF, focus changes happen nice and smoothly while you're recording. You also benefit from effective image stabilisation from both the sensor and the lens (assuming you're using a lens with OIS), which is great if you're planning on moving while you shoot. Panasonic has just announced a newer G90 / G95 model with a 20MP sensor, but it's not available for review yet, and the G80 / G85 will remain on sale at a lower price anyway.
Read more: The best Panasonic cameras
Image 1 of 5
Image 2 of 5
Image 3 of 5
Image 4 of 5
Image 5 of 5
3. Panasonic Lumix GX800 / GX850
Panasonic's cheapest mirrorless model is such a bargain for vloggers!
Type: Mirrorless | Sensor: Micro Four Thirds | Megapixels: 16.0MP | Screen: 3.0-inch, 1,040k tilt touch | Viewfinder: None | Lens: Micro Four Thirds | Continuous shooting speed: 5.8fps (4k 30fps)
Cheap to buy
4k video and burst shooting for stills
No viewfinder
Only 16MP
If the first two cameras in our guide are a little pricey for your budget, you can't complain at this one! Not only is the Panasonic Lumix DC-GX800 the least expensive model in Panasonic's line of interchangeable-lens cameras, it's also great on the go. It's particularly small and lightweight, especially when paired with the 12-32mm zoom that's available as a kit option. The lack of a viewfinder is a drawback but it helps to keep the camera's size to a minimum and you don't need it for vlogging anyway. The screen has a 180-degree tilt facility, which works well with smart selfie modes as well as video, complete with 'beautifying functions' and the options of face shutter and buddy shutter. It's a capable performer too, with Light Speed AF, 4K UHD for video and rapid-drive stills, and even a Creative Panorama mode. It makes a smart budget all-round travel camera, enabling you to put yourself in both pictures and videos, as well as one of the best cameras for beginners.
Image 1 of 6
Image 2 of 6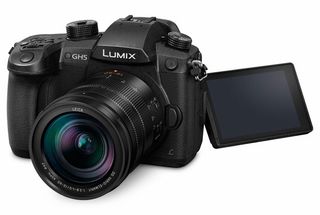 Image 3 of 6
Image 4 of 6
Image 5 of 6
Image 6 of 6
4. Panasonic Lumix GH5
With in-body stabilisation and 60/50p 4K, this is for serious vloggers
Type: Mirrorless | Sensor: Micro Four Thirds | Megapixels: 20.3MP | Lens mount: Micro Four Thirds | Screen: 3.2in tilting touchscreen, 1.62m dots | Max video resolution: 4K (DCI) | Mic port: 3.5mm | User level: Professional
Superb, pro-level video specs
Broad range of compatible lenses
Less ideal in low light
Bulky body
If you're serious about a vlogging professionally, you'll need to set your sights higher up the Panasonic range. The newer GH5S is even more video-centric but doesn't have the GH5's still image quality, sof for many vloggers the GH5 is still the best option. It offers huge control over video recording settings, including the ability to capture 4K at up to 60/50fps for a smooth 2x slow motion effect, and also includes an in-body sensor-based image stabilisation system, which you don't get with the GH5S. This is great if you need to move around while filming, and the further advantage of a 20.3MP sensor gives you great resolution for stills too. The GH5 is a big camera, though, that's pretty much the same size as an enthusiast DSLR, and its high-end video features are designed for experts rather than vlogging novices.
Read more: The best cameras for professionals
Image 1 of 6
Image 2 of 6
Image 3 of 6
Image 4 of 6
Image 5 of 6
Image 6 of 6
5. Olympus PEN E-PL9
A super-stylish take-anywhere camera perfect for vlogging and Instagram
Type: Compact-shape CSC | Sensor: Four Thirds | Megapixels: 16.1MP | Screen: 3.0-inch 1,040k tilt touch | Viewfinder: None | Lens: Micro Four Thirds | Continuous shooting speed: : 8.6fps | Max video resolution: 4K | User level: Beginner/intermediate
Stylish design
4K video
No viewfinder
Same 16.1MP count as E-PL8
Quite possibly the best Olympus camera of all for travel, the E-PL9 is perfect for anyone who wants to concentrate on the moment rather than the camera settings, and who would prefer a camera with a bit of style that isn't just an ugly black box. There are a couple of downsides which might make more serious photographers a bit sniffy, such as the lack of a viewfinder and the fact that this camera has only the same 16-megapixel resolution of the older E-PL8 it replaces, but if you've been brought up on a smartphone and you share your images digitally rather than via big enlargements, that won't matter. The E-PL9 maintains the PEN tradition of being very intuitive to use and easy to live with. It also has excellent build quality despite its compact, lightweight construction. Better still, this camera can capture 4K movies rather than just 1080p and even has in-body-stabilisation. The ideally suited to travel photography, especially when the body is paired with the remarkably small Olympus 14-42mm EZ 'pancake' zoom, available as a money-saving kit lens option.
Read more: Olympus PEN E-PL9 hands on review, the best cameras for travel
Image 1 of 5
Image 2 of 5
Image 3 of 5
Image 4 of 5
Image 5 of 5
6. Canon EOS M50
Canon's mirrorless EOS M50 brings 4K video at an affordable price
Type: Mirrorless | Sensor: APS-C size | Megapixels: 24.1MP | Screen type: 3.2in vari-angle touchscreen LCD, 1.04million dots | Viewfinder: EVF, 2,36million dots | Maximum continuous shooting speed: 7fps | Max video resolution: 4K | User level: Beginner
Vari-angle touchscreen
Built-in electronic viewfinder
Limited lens range
Some 4K limitations
Canon's mirrorless EOS M range has been a bit of a mixed bag in the past, as users try to figure out how it fits in with Canon's DSLR range and which type to go for. With the EOS M50, though, we think Canon has hit the sweet spot, with a camera that's easy to use for beginners but has an electronic viewfinder (so that you're not just reliant on the rear screen for composing pictures) and is being offered at an affordable price. The EF-M 15-45mm f/3.5-6.3 IS STM kit lens has a retracting mechanism to make the camera smaller to carry around when it's not in use, and there is a small but handy selection of other EOS M lenses you can use with this camera. Hobbyists might want a wider lens choice, but if travel is your thing and a couple of lenses is all you need, the EOS M50 is great. It even captures 4K video – which is a first in a Canon at this price – but there is a crop factor which cuts down the image area and, annoyingly, you can't use the excellent Dual Pixel CMOS AF system when shooting 4K, only if you drop to full HD. Hmm.
Read more: Canon EOS M50 review, the best Canon cameras
Image 1 of 5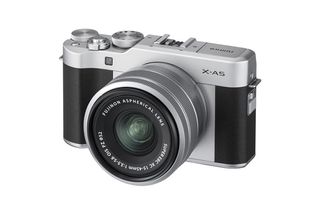 Image 2 of 5
Image 3 of 5
Image 4 of 5
Image 5 of 5
7. Fujifilm X-A5
It's perfect for beginners, but the X-A5's 4K video has a drawback
Type: Mirrorless | Sensor: APS-C | Megapixels: 24.2MP | Lens mount: Fujifilm X | Screen: 3in tilting touchscreen, 1,040k dots | Viewfinder: No | Max continuous shooting speed: 6fps | Max video resolution: 4K | User level: Beginner
Smart selfie mode
Eye AF feature
No viewfinder
4K video limited to 15fps
A thing of beauty, the Fujifilm X-A5 has a gorgeous retro design with some really clever touches, like its 180-degree tilting touchscreen and Portrait Enhancer for selfies, as well as an advanced autofocus mode that finds the subject's eye. As we've come to expect in X-series cameras, there's 4K movie capture but it's hamstrung by a 15fps frame rate, which doesn't deliver smooth video. In reality, this is a 4K camera in name only, and you'll be better off shooting video at full HD resolution. The megapixel count for stills is pretty impressive at 24.2MP but, in keeping with the compact lightweight design, there's no viewfinder, so you have to rely on the LCD for composing shots. With more stamina than various other X-series cameras, this one has a battery life of around 450 shots.
Read more: The best Fujifilm cameras
Compact cameras
Generally, we'd recommend a mirrorless camera for any serious kind of vlogging, but there are a couple of compact cameras which are especially interesting thanks to their smaller size, front-facing screens and video capability. Lots of compact cameras shoot 4K now, but these two have larger 1-inch sensors which make a big difference to the quality.
Read more: The best compact digital cameras
Image 1 of 3
Image 2 of 3
Image 3 of 3
8. Canon PowerShot G7 X Mark II
A flip-up screen, large sensor and a compact body – ideal for vloggers
Type: Compact | Sensor: 1in | Lens: 24-100mm (equiv.) f/1.8-2.8, | Screen: 3in tilting touchscreen, 1.04million dots | Max video resolution: Full HD | Mic port: No | User level: Beginner
Small form
Healthy range of control over video
Video limited to Full HD
No mic port
The original PowerShot G7 X was something of a hit-and-miss affair among photographers, but it certainly became popular among vloggers. And now, this second-generation update appears to be just as much of a smash. While it maintains a 1in-type sensor from the previous model, you now get a 24p and 60p recording option, better battery life and a touchscreen that's arguably easier to see thanks to the hinge now being placed along the bottom of the camera. The newer DIGIC 7 processor also speeds up performance overall, and the fact that you can slip this into a roomy pocket makes it a more portable option for recording on the fly, where a DSLR would be impractical.
Image 1 of 5
Image 2 of 5
Image 3 of 5
Image 4 of 5
Image 5 of 5
9. Sony RX100 Mark V
Sony's high-end RX100 model brings 4K video and fast phase-detect AF
Type: Compact | Sensor: 1in | Megapixels: 20.1MP | Lens: 24-70mm f/1.8-2.8 | Screen: 3in tilt-angle display, 1.22million dots | Max video resolution: 4K | Mic port: No | User level: Enthusiast
4K video from oversampled footage
Phase-detect AF pixels on sensor
Five-minute recording limit
No mic port
While the previous RX100 Mark IV was already equipped for excellent-quality 4K video recording, the pocketable Mark V made some important strides for the videographer. Perhaps the most important addition is phase-detect AF pixels on the sensor, which allow the camera to keep a better lock on the subject while recording. Furthermore, face detection is also effective here, which further helps the camera to understand what it's focusing on. You also get an SLog2 option and far better rolling-shutter performance than the Mark IV, although there's no mic port, so you'll have to use a mic and an external recorder (or your phone) if you want to improve on the quality of the camera's microphones.
Read more: Sony RX100 III vs RX100 IV vs RX100 V: Features compared
Smartphones
Why not use a smartphone for vlogging? They're small, unobtrusive and always with you, and with high-quality front facing cameras and video capabilities, they also let you share your vlogs instantly. You don't get the video quality and interchangeable lenses of a mirrorless camera, but not everyone needs those things.
10. Samsung S9+ / S9
A wide angle of view with its front-facing cameras make these flagships great for vlogging
Type: Smartphone | Sensor (front camera): 1/3.6in | Megapixels (front camera): 8MP | Lens (front camera): f/1.7 | Screen: 5.8in OLED, 2960x1440 dots (S9); 6.2in OLED, 2960x1440 dots (S9+) | Max video resolution: 4K | Mic port: via headphone port | User level: Beginner/enthusiast
Great-quality 4K video
60p option
No OIS on front camera
Battery life not as strong as P20 Pro
The latest pair of Galaxy smartphones from the Korean giant, the S9 and S9+ naturally have most of their most impressive tech confined to their respective primary, rear-facing cameras with the main lens offering a variable aperture: f/1.5 or f/2.4. The S9+ differs from its smaller sibling by introducing a dual-camera setup here, with the secondary camera featuring a 2x zoom. Fancy tricks on both include 4K video to 60fps and even 960fps slow-motion capture at 720p, although the company hasn't overlooked the front camera on each. This packs an 8MP sensor that's fronted by an f/1.7-aperture lens, with its 25mm-equivalent focal length giving a respectably wide 80º field of view. While the camera on the front lacks OIS, it does provide a digital alternative, and is capable of autofocus.
Read more: Samsung Galaxy S9 and S9+ - New smartphones boast f/1.5 maximum aperture
11. Huawei P20 Pro
Four separate cameras and a helping hand from Leica make the P20 Pro a serious imaging tool
Type: Smartphone | Sensor (front camera): na | Megapixels (front camera): 24.8MP | Lens (front camera): f/2 | Screen: 6.1 OLED screen, 2240x1080 dots | Max video resolution: 4K | Mic port: via USB-C port | User level: Beginner
Great OLED screen
Excellent battery life
Front camera beauty mode only to 720p
No OIS for video
Huawei has spent the last couple of years battling Apple, Samsung and other smartphone rivals, with its partnership with Leica helping to lend its most recent models extra credibility in photographic circles. The Huawei P20 Pro has been one of our favourite camera phones with its rear-facing triple camera system that does some pretty impressive things, but the company hasn't skimped on making it suitable as a vlogging camera too. While the rear camera system is capable of 4K output, the front camera boasts a 24.8MP sensor and a f/2 aperture, recording Full HD footage. It's also capable of applying its skin-softening Beauty mode to footage as it's being recorded, although only to a maximum 720p mode resolution. There is now the more advanced Huawei P30 Pro to consider - but the arrival of the new flagship has made the P20 Pro has dropped in price.
Read more: Huawei P20 Pro camera review
12. LG V30
This left-field option has an ace card that might just sway you
Type: Smartphone | Sensor (front camera): na | Megapixels (front camera): 5MP | Lens (front camera): f/2.2 | Screen: 6in OLED screen, 2880x1440 dots | Max video resolution: 4K | Mic port: Via headphone port | User level: Beginner/Enthusiast
LG-Cine Log option
Ultra-wide-angle lens
Weaker front camera
Rivals have better video quality
Thanks to a relatively weak 5MP front camera the V30 might seem like a surprising option in this list, but there is good reasons why it has made the cut – and why a number of vloggers have plumped for this as their device of choice. Here's it's all about the rear dual-camera system, which combines a 16MP sensor with a stabilised f/1.6-aperture lens and 13MP sensor an f/1.9-aperture optic, the latter boasting a 120-degree angle of view that allows more dramatic compositions than you'd otherwise be able to achieve. That's roughly the same as using a 13mm lens on a full-frame camera. This in itself makes it easier to makes framing blind easier, although the rear's shiny finish gives you a good idea of what you're shooting. As you'll be using the device's primary camera system, you'll also benefit from recording in glorious 4K quality, with the further option of an LG-Cine Log mode to give you better starting point when grading (though the parameters have to be set before shooting), and control over frame rate and bit-rate at your disposal too.
Read more: Why do some phones have two cameras on the rear? Dual-camera designs explained
Read more:
• Best mirrorless camera
• The best laptop for video editing
• Best 4K camera for filmmaking
• Best travel camera
• Best camera for beginners
• Best camera for professionals
• The best free video editing software