You may have already got a lot of love out your GoPro camera, but you may not be aware that there's a world of great GoPro accessories that can really make a difference to your experience. We've picked out the 25 best GoPro accessories to help you out with a few ideas.
GoPros are among the best action camera options on the market, that much is for sure, but picking up a few accessories is one of the most reliable ways to make them even better.
Tripods, harnesses, memory cards, grips, protectors and more – there's a huge range of accessories designed for all sorts of different purposes, all of which can augment your GoPro shooting in different ways – especially with GoPros proving one of the best travel camera choices. But which are the best to buy? We've put together this guide to help you figure this out, featuring the very best GoPro accessories.
If GoPros float your boat, you might also be interested in our guide to the best underwater cameras, as well as the best dash cams on the market right now.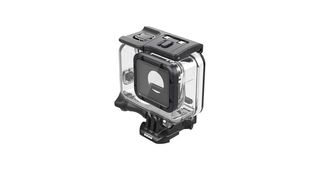 1. GoPro Super Suit
The best waterproof housing for deep diving
Compatible with: Hero 7 Black, Hero 6 Black, Hero 5 Black, HERO (2018)
Can dive to 60m
Fits well
Bulks out camera
Speaking of waterproof camera models, while GoPro has started adding native waterproofing to its more recent Hero cameras, the deepest they'll go is 10m. If you plan on diving and shooting deeper than that, you'll want to get hold of a waterproof housing, and currently your best bet is GoPro's own Super Suit. Its included Waterproof Backdoors allow for diving down to up to 60m (196ft), and it has a flat glass lens to deliver maximum sharpness. The case also serves as protection against dust and flying debris. The Waterproof Doors can be swapped out for Skeleton Doors to allow for use of the touchscreen, though this will make the case no longer waterproof.
2. SanDisk Extreme 64GB microSDXC Memory Card
A tough SD card for your tough camera
Card type: microSD (with SD adapter) | Capacity: 64GB | Read speed: Up to 160MB/s | Write speed: Up to 60MB/s | Compatible with: all
Hardy and waterproof
4K-ready
Cheaper cards available
SanDisk's reputation for high-quality SD cards is well-deserved. The Extreme series pair lightning fast read/write speeds with a hardy build that's waterproof, temperature-proof, shock-proof and X-ray proof. Among the best memory card options on the market, these are 4K-ready, with UHS Speed Class 3 (U3) and Video Speed Class 30 (V30) ratings, so you can be confident in capturing even the highest quality of footage.
3. GoPro Casey
The universal GoPro case, with space for extra accessories
Capacity: 2 or more Hero cameras, mounts and accessories | Colour: Black | Dimensions: 6.5 x 3.5 x 8.7 inches | Weight: 10.1 ounces | Compatible with: all
Handy, customisable case
Durable hard shell
Not fully waterproof
Better with additional backpack
Casey is a simple, straightforward semi-hard case designed to keep your GoPro and all its ancillary accessories safe in one place. It's got a customisable interior with adjustable dividers, so you can make the space your own, and there's also a removable pouch insert that's great for small bits like SD cards. The hard shell protects against shocks, while the weather-resistant design adds a layer of protection for inclement weather.
4. GoPro Quik Key
An easy way to keep a card reader with you at all times
Compatible with: All Hero camera
Fast file transfers
Attaches to keys
Cheaper alternatives available
Here's an easy way to transfer your files from card to smart device: the GoPro Quik Key, which as the name implies, attaches to your keys and specialises in fast transfers. Simply stick the card in the reader, plug it into your device via micro USB, and you're away, able to quickly share your creations via the Capture app. It's also got a weather-resistant cover, ensuring you can take it anywhere you need to go.
5. GoPro Screen Protector
Keep your screens smudge- and scratch-free
Compatible with: Hero 7 Black, Hero 7 Silver, Hero 7 White, Hero 6 Black, Hero 5 Black, HERO (2018)
Reliable screen protection
Reduces glare when sunny
Incomplete back compatibility
It was an extremely welcome move when GoPro started introducing touchscreens into its Hero cameras, but screens of course do need to be looked after, and this is doubly true for action cameras that are thrown into tough situations. GoPro's screen protector set is a simple, inexpensive solution, not only safeguarding your screens from scratches and smudges but also reducing glare on sunny days, making the screen easier to see and use.
6. GoPro Dual Battery Charger + Battery
Grab a spare and keep it charged
Compatible with: Hero 7 Black, Hero 6 Black, Hero 5 Black, HERO (2018)
Useful, fast charger
Charges two batteries at same time
Pricey for what it is
Spare batteries are a must for any serious shooter – you don't want to take your GoPro out for a day only to discover you forgot to charge it the previous night and are now toting a stylish but functionless brick to the beach. The Dual Battery Charger from GoPro allows you to charge two batteries at the same time, and comes with a spare in the box, meaning it's easy to make sure you're gassed up and ready to go.
7. OUTXE IP67 Waterproof Solar Charger
A power pack that's as weatherproof as your GoPro
Compatible with: all
10,000mAh capacity
LED flashlight for emergencies
Not completely waterproof
If you're using a GoPro regularly, you're likely to find yourself outdoors a lot more often, and it's worth making sure that your entire accessory setup reflects that. This power pack is not only a great way to provide your GoPro with a little extra juice in a pinch, but it's also thoroughly weatherproofed and will be able to cope in even the most inclement of weather conditions. A handy extra feature is the built-in LED flashlight, which could prove very useful in an unexpected emergency.
8. Manfrotto Off Road Stunt Backpack
Manfrotto quality, specialised for action cameras
Compatible with: all
Durable and weatherproof
Less cost-effective if you only have one GoPro camera
There are so many camera backpacks to choose from, but this bag from Manfrotto is specifically designed for users of GoPros and other action cameras. While it's small enough to take as carry-on luggage, it can hold up to three action cameras with accessories, and even comes with its own GoPro mount on one of its straps, making it great for recording your travels. There's also space for a tablet and a holder for a tripod, making it one of the best camera bags for the adventurous photographer.
Best GoPro mounts
9. GoPro Chesty
The padded chest mount for capturing your adventures
Compatible with: all Hero cameras (not Fusion)
Lightweight, flexible, fully adjustable
Can be a little bulky on smaller body types
If you're planning to take your GoPro biking, hiking or on a similar adventure, you'd do well to get yourself the hands-free Chesty mount, allowing you to fully immerse your viewers in the action. Made from lightweight, breathable fabric, the Chesty also sports a quick-release buckle that allows it to be slipped on and off very easily. Its adjustable straps ensure it fits over the vast majority of body types, and even heavy jackets if you're taking it into the cold.
10. GoPro Head Strap + QuickClip
Meet your adventures head-on
Compatible with: all Hero cameras (not Fusion)
Versatile combination strap and clip
Head strap not compatible with larger helmets
Sometimes, you want that perfect first-person perspective. The Head Strap + QuickClip is a useful double package that includes both a fully adjustable head strap and a clip designed for quick attachment to caps, belts and similar items of apparel. It's a useful pairing, especially for the price.
11. GoPro Helmet Front + Side Mount
Because it's important to protect your head
Compatible with: all Hero cameras (not Fusion)
Versatile
Some other helmet mounts are more specialised
GoPro offers a few helmet mounts for different types of protective headwear, but the Front + Side Mount is the most versatile. As the name implied, you can stick it on the front or side of your headgear depending on what suits you best, and it comes with an included Swivel Mount assembly that makes it easy to adjust the angle.
12. GoPro 3-Way
A tripod, an extension arm and a grip all in one
Compatible with: all Hero cameras (not Fusion)
Huge variety of uses
Folds up for easy transportation
Not as stable as dedicated tripods
The impressive 3-Way is an amazingly versatile piece of kit – you can fully extend it to 20in to use it as an extension arm or selfie stick, or collapse it down to 7.5in and use it as a secure camera grip, or erect it as a tripod to provide static camera support. It isn't quite as stable as a dedicated tripod, so if you're likely to be in high winds or on particularly tricky surfaces you'll want to look elsewhere. For the light traveller, however, this is a fantastic space-saving accessory.
13. GoPro Karma Grip
The gimbal that does it all
Compatible with: Hero 7 Black, Hero 6 Black, Hero 5 Black, Hero 4 Black (Hero 4 Harness required), Hero 4 Silver (Hero 4 Harness required)
Built-in camera controls
Impressively smooth video
Somewhat redundant with Hero 7
Cheaper options available
Though GoPro's Karma may not have flown quite as high as very best drones, the Karma Grip gimbal that formed part of it is still a useful addition to any GoPro setup. It creates smooth footage with a 3-axis stabilisation system that works well even in extreme situations, and the integrated buttons on the grip make it easy to control your camera. It's worth noting that a lot of the technology in the Karma Grip made it into the new Hero 7 Black, so while it's compatible with that camera, you very likely don't need to shell out for it if you're springing for the latest model.
14. GoPro Jaws Flex Clamp
Compatible with: Hero 7 Black, Hero 7 Silver, Hero 7 White, Fusion, HERO (2018), Hero 6 Black, Hero 5 Black, Hero 5 Session
Clamps to wide range of objects
Detachable munt
Bulky
With the Jaws Flex Clamp, you can securely attach your GoPro camera to objects ranging in size from 0.25 to 2in (0.6 to 5cm) in diameter. The malleable neck allows you to position the camera exactly as you want to best capture what you want it to see, though if you want a lower shooting profile then you can remove the neck and attach the camera directly to the clamp itself. The Jaws are designed to grip irregular shapes and even extremely thin objects of less than a centimetre, meaning you can be sure of a secure on practically anything.
15. Joby GorillaPod Action Tripod
The legendary grippy tripod, optimised for action cameras
Compatible with: all
Flexible, compact tripod
Not as ultra-stable on flat surfaces as high-end models
With its many-jointed legs and grippy, rubberised feet, the Gorillapod from Joby has long been a favourite among photographers looking for a versatile camera support. Wrap it around a tree branch, hook it to a car door, or just rest it on a rough surface, and you'll have yourself a reliable base. Its sheer versatility makes the Gorillapod the best tripod for many run-and-gun shooter, and the Action Tripod is specially optimized for GoPro cameras – its compact form factor makes it a great addition to a GoPro-focused kit bag.
16. Manfrotto PIXI EVO 2-Section Mini Tripod
A straightforward but reliable miniature support
Compatible with: all
Travel-friendly
Less versatile than others
If all you need is a straight support, Manfrotto's PIXI Evo 2 will more than fit the bill. This mini tripod even manages to pack in two leg angles, meaning you've get extra support on uneven ground, and its aluminium build combines portability with strength.
17. GoPro Fusion Grip
A grip for the family's odd one out
Compatible with: Fusion
Can be used in three configurations
Fusion only
In the GoPro family, the 360° Fusion sticks out a little (hence why it doesn't bear the 'Hero' moniker). The reason some of the products on this list specify compatibility with 'all Hero cameras' and not the Fusion is because it has noticeably different dimensions to the rest (not to mention lenses on both sides). The Fusion Grip works similarly to the 3-Way – able to function as a grip, tripod and extension pole, with magnetic legs that can lock onto a range of different surfaces – only it's specifically made for the Fusion.
18. GoPro Suction Cup
The classic suction mount, tested at ultra-high speeds
Compatible with: all
Impressive holding strength
Broad compatibility
Needs a clean surface to work best
The classic suction cup. Mount your GoPro onto a car, boat, dirt bike – anything with enough flat surface to make the attachment. The cup's grip has been tested at speeds of more than 150mph, so feel free to open up that throttle and let rip, safe in the knowledge your adventures will be captured.
19. GoPro Handlebar / Seatpost / Pole Mount
A mount for a range of applications
Compatible with: all Hero cameras (not Fusion)
Secure, non-slip hold
Specialised and expensive
Useful for bike handlebars, ski poles and other similar applications, this secure mount uses a hinged, non-slip design to clamp on securely. Its 360° base allows for easy changes of angle, and if you're using it in combination with other mounts like a helmet mount, the mounting buckle allows you to quickly swap the camera on and off.
19. GoPro Fetch
Compatible with: all
See the world from your dog's point of view
There are no downsides to this
The Fetch can be mounted on your dog's back or chest, providing two different perspectives. It's comfortable, breathable and also machine-washable, which is useful if (/when) your dog decides to roll in something unpleasant with the camera attached. It's adjustable to fit dogs weighing 15 to 120 lbs, though if you've got an extra-tiny puppy, you can reduce the size by removing the chest mount.
Best GoPro extras
21. RØDE VideoMic GO
Enable better sound for your videos
Compatible with: Hero 7 Black, Hero 6 Black, Hero 5 Black, Hero 5 Session, Hero 4 Black, Hero 3+, Hero 3
Dramatically improves sound quality
Reasonably priced
Compromises waterproofing
Some models require adapter
Though GoPro on-board sound recording is getting better and better, if you want maximum quality you're going to want to spring for a dedicated microphone. One of the most cost-effective is the RØDE VideoMic GO, an eminently capable, high-quality directional video microphone that will dramatically improve the audio you're capturing. Be aware that some older models won't have the appropriate jack so you may need an adapter.
22. Lume Cube
A portable video light, built to take a few knocks
Compatible with: all
Rugged and waterproof
Limited physical controls
If you need extra illumination for your shoots then the Lume Cube is a great choice as it's built from a tough metal shell and waterproof down to 30m, meaning it can take the same kind of punishment as your GoPro camera. It puts out a generous amount of light, especially at short distances, and while its size means it only has one control button (which allows you to power it up and cycle through brightness settings), it also offers Bluetooth control via mobile.
23. MagiDeal Floating Hand Grip
FYI, GoPro cameras do not float…
Compatible with: All
Keeps GoPro safe in water
Easy to spot
Not compatible with some accessories/mounts
If you're taking your GoPro into water, and you lose your grip on it, you very possibly won't ever see it again. Many users have found out the hard way that these little cameras do not float, at all, and if this is something that worries you then it's worth picking up the MagiDeal floating handgrip, which not only keeps your GoPro camera buoyant but also provides an easy way to aim your shots and capture stable footage, even while engaging in watersports like windsurfing or wakeboarding.
24. GoPro El Grande
The ultimate selfie stick
Compatible with: all, including Karma Grip
Waterproof
Highly extendable and collapsible
Cheaper options available
Extending to an impressive 38in and collapsing to just 15in, El Grande is a great choice to take on your travels for capturing unique perspectives and getting selfies. It's got an integrated ball and socket design at the end of the pole for easy camera swivelling, there's an oversized grip for secure purchase, and what's more, it's waterproof.
25. GoPro Smart Remote
Compatible with: Fusion, Hero 7 Black, Hero 6 Black, Hero 5 Black, Hero 5 Session, Hero 4 Black, Hero 4 Silver, Hero Session, Hero 3+, Hero 3 (Settings/Tag button not compatible), Hero+ LCD, Hero+
Waterproof
Control multiple cameras at a time
Expensive
A phone can work just as well
While many GoPro cameras are controllable with your phone, many phones aren't equipped for the kinds of challenges you might put your GoPro through. That's where the waterproof (10m) Smart Remote comes in. It's wearable, waterproof and can control up to 50 GoPro cameras at the same time from up to 180m away. Its built-in LCD can also mirror the camera's screen for quick confirmation of status and settings.
Read more:
The best GoPro camera in 2019
The best 360 cameras in 2019
The 37 best photography and camera accessories
The best helmet camera for motorcycles, cycling and adrenaline junkies