The best budget action cameras are a fantastic way to get a GoPro-like experience without paying a hefty price. Action cameras are getting more popular than ever among vloggers and adventurers, and plenty of manufacturers have rushed to come out with inexpensive models to tempt those with smaller budgets. If that's you, then read on, as we've picked out the best ones here.
Going in, it's important to temper your expectations and remember that there will be a compromise involved with budget action cameras. You're not going to get the latest and best GoPro camera for $100 or less; you just need to make sure you get something with decent stills and video resolution.
From there, it's just a matter of figuring out which features are important to you – do you want dual screens for vlogging? Or Wi-Fi for connection to a smartphone? Or slow-motion video? Different budget cameras will generally offer some of these, but not all, so it's worth considering your options.
Having a budget action camera can offer peace of mind when you're out on your wild adventures, affixing it to the top of a bike helmet or taking it into the depths of the ocean. After all, it's a bit less stressful if you break a $100 camera than a $500 camera!
The cameras we've included in this list all come in at around $100 – some a bit more, some a bit less. While they have different strengths and weaknesses, one thing they have in common is that they are all worth their price tag, and offer a compelling alternative to a more expensive action camera.
So, without further ado, let's cast our eye over the best budget action camera options that won't break the bank…
The best budget action cameras you can buy right now
Why you can trust Digital Camera World Our expert reviewers spend hours testing and comparing products and services so you can choose the best for you. Find out how we test.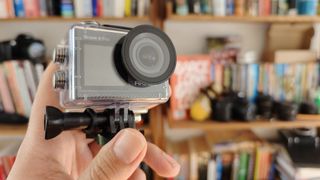 The Akaso Brave 4 Pro may not be the most recent Akaso Brave camera, but it's still widely available, and the release of subsequent models means the price has come down. This is why it gets our pick for the best budget action camera you can buy right now – for a street price around the $100 mark, you get 4K 30p video, decent stabilization, an extra front-facing screen for vlogging, and a whole lot more.
In our full review of the Brave 4 Pro, we appreciated how feature-packed the camera is. With improved stabilization compared to cheaper Akaso cameras, you've got a solid platform for run-and-gun vlogging, and the footage looks good across the resolution spectrum. It's also handy to have a selection of photo features, including burst modes and shake reduction. The controls can be oblique sometimes, and there's a lot of menu-hunting, but this is somewhat part and parcel of cameras of this type.
Like most Akaso cameras, the Brave 4 Pro comes with a raft of accessories and mounts in the box, including an underwater housing, as well as helmet mounts, handlebar mounts, remote control, and more.
Read more: Akaso Brave 4 Pro review for more details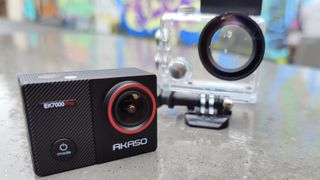 This upgrade of the 2016 EK7000 model sticks a 'Pro' suffix on the name and shoehorns in 4K shooting. Still deliriously cheap, possibly one of the cheapest action cameras out there, it's a camera you could be forgiven for approaching with trepidation. Is it possible for a camera to be any good at this price point?
We investigated further in our full review, and the answer is: yes... just about. The Akaso EK7000 is a somewhat compromised experience; the app didn't work for us, and the stabilization caused some severe noise problems with the footage.
However, in terms of the fundamentals, capturing still images and video, it does what you need it to. You have 20MP of stills resolution to work with, and video-wide, the Full HD at 60p probably looks the best and is more than good enough for social media sharing.
As long as you manage your expectations and are realistic about what you're going to get out of a $70 action camera, the Akaso EK7000 Pro is a credible budget option.
Read more: Akaso EK7000 Pro review for more details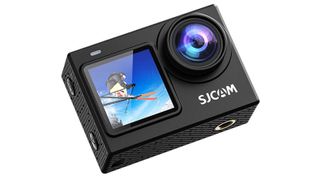 This is a really-well specified action camera for the price - offering you a front screen for framing, as well as a touch-sensitive 2in rear LCD. The camera has an impressive 24 megapixel chip that can shoot 4K video at up to 60fps with six-axis stabilization, and at 120fps in 1080P - making it a capable slow-motion shooter.
The connectivity option is useful, as there is also a downloadable SJCAM app that allows photos and videos to be edited via smartphone and immediately shared via social media. As with others of its ilk, the device boasts waterproofing to depths of 100 feet (30 metres) if using the supplied housing. Power comes courtesy of a 1000 mAh battery, which offer improved performance over previous models.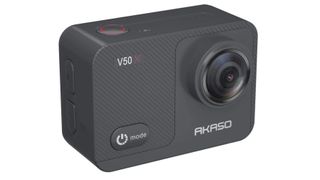 You might think that 4K 30p video and good stabilization is a lot to ask for in a sub-$100 action camera, but Akaso has pulled it off! This is a slick little action camera, with an intuitive UI, and useful slow-motion video options at lower resolution settings.
The image stabilization is buttery-smooth, outperforming other cameras at this price point – okay it's not going to trouble the likes of GoPro's premium cameras, but it does a good job! The built-in mic is a little disappointing – though the option to attach an external mic does help – and the 4K video can be a little soft, this is still a really solid buy for anyone looking for a dependable little action camera for a budget price.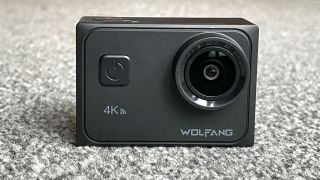 Wolfang makes a range of budget action cameras, and this one is in the middle of that range, coming in just under our $100 price mark. It impresses on paper with its wide range of resolutions and frame rates, allowing you to shoot 4K at either 60fps or the standard 30fps; and for slo-mo fans.
The option of a 240 frame-per-second option at 720p is highly desirable. The camera is supplied with a whole box of mounts and accessories - with the 40m underwater housing being a particularly useful freebie.
See our full Wolfang GA300 full review for more details
• Best microSD card deals right now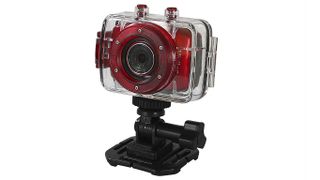 Available in various body colors, this more conventional looking action camera from Vivitar ticks most of the boxes despite offering a fairly pedestrian level of specification that includes 5.1 megapixel images, video recording at a high definition 720P, plus waterproofing to a so-so depth of 10ft or three metres.
Keeping things simple, this unit comes with a lithium ion battery and charger, as well as a helmet and bike mount for capturing footage while on the move. While this camera may be fairly basic, it does manage to squeeze in a 1.8-inch LCD screen, while, like most in its class, images are written to microSD card.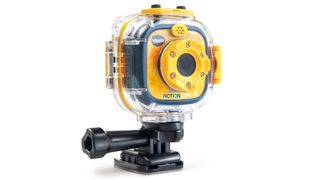 Get the kids into moviemaking young with this fun action cam that is designed for use by kids as young as five years old. The basic camera specification is not much to write home about - shooting 720p video which just about qualifies as HD. And stills are a disappointing one-megapixel.
But this camera is all about the fun... and it makes getting action footage easy by being supplied with a waterproof housing, a floating handle, and a clamp to attach the camera to a bike. The camera has 128MB internal memory - but benefits from an investment in a microSD card so that you have plenty of room for clips.
How we test cameras
We test cameras in real-world shooting scenarios. We look at photo and video quality, and test out the features listed on the back of the box to get an idea of whether a camera is everything a manufacturer says it is. We look at the accessories bundled with a camera, as well as its additional features like app connectivity. We use our findings to inform our comments in reviews and buying guides.
Read more:

The best action cameras
The 30 best GoPro accessories
The best waterproof cameras
The best camcorders
The best travel camera
The best helmet camera for motorcycles, cycling and adrenaline junkies