The best 360 cameras are a unique and exciting way to capture images. Though they passingly resemble the best action cameras in appearance, the reality is much more complex and interesting.
If you're having trouble understanding exactly how 360-degree cameras work, it's best to look at it like this: imagine the scene captured not as a rectangle but on the inside of a sphere. When you're viewing a 360-degree image or video, you're effectively positioned in the middle of this sphere, navigating either by physically moving your smart device, by dragging across a touchscreen or moving a window in your browser.
How 360 imaging works
In 360-degree stills, everything is static, so what you see is what you get. You can navigate the image at will, choosing which portion of it you wish to focus your attention on. However, 360 videos are more complex, as you might expect; while you have the freedom to look where you like, the action in the video will continue regardless of your perspective. This means it's possible to look the "wrong" way when something is happening, and while you might assume you can always rewind, live 360-degree broadcasts are becoming more and more common thanks to the increased sophistication of streaming platforms. 
Read more: How to take 360-degree videos and photos
It's easy enough to consume 360 photos and videos: you can do so directly via a smart devices, or through your browser on websites that have the necessary navigational interactivity. If you're in the business of making them yourself, it's also possible to use the spherical raw material created by the camera to effective crop in and produce smaller, 'flat' windows of the scene, giving yourself a bit more editing control.
This works for both video and stills. If you've got a static 360-degree image, it's not too complicated at all to use it to create rectangular wide-angle shots and panoramas. It's 360 video that offers most potential, however, as it allows you to create pan and moving zoom effects from a shot taken in a static position. Not bad!
Read more: 10 of the best 360-degree videos ever filmed
One important thing to note: when looking at the resolution stats for these cameras, keep in mind that those pixels have to stretch all the way around the inside of a sphere, not just in a rectangle. So 12MP on a 360-degree camera means something considerably different to 12MP on a DSLR. This means that crops and edits may not be able to go as far as you think. It's something to bear in mind.
And now there's 3D VR!
It doesn't stop there. 360 cameras have now become an established thing, but makers are now experimenting with 3D imaging using the same camera. This is a clever adaptation of the existing 360 camera design. With a 360 camera, you have back-to-back lenses covering over 180 degrees each to produce 'hemispherical' images which are then merged to produce a 360 degree 'spherical' image. With these 3D models, the lenses can be rotated so that they face forwards, side by side, to capture twin 'stereoscopic' 180 degree views of the world.
Camera makers have been trying to turn stereoscopic 3D into a commercial product for a long time, and these new camera types certainly make it easy. But while capturing 3D is easy, displaying it is more problematic, requiring special 3D viewers or headsets, or special lenticular screen designs or overlays. 3D display technology is still very much a work in progress.
Broadly, there are two types of consumer 360 cameras: spherical action cams designed to survive hazardous adventures, and lifestyle cameras that are cheaper, smaller and often easier to use. 
Our buying guide has a few of each type, to help you decide which is best for you. We've already made our decision!
And if you're looking for other innovative cameras, take a look at our guide to the best dash cams available at the moment. 
That's enough explanation from us. Let's take a look at the best 360 cameras!
The best 360 camera in 2020
1. GoPro Max
Forget the old GoPro Fusion – the GoPro Max is the new 360 king
Weight: 163g | Dimensions: 64 x 69 x 40mm | Waterproof: 5m | Stills resolution: 16.6MP | Video resolution: 6K/5.6K stitched | Memory: MicroSD | Mount: Flip-out mounting feet | Battery life: 78mins (5.6K)
Creates great-looking, dynamic clips
Multi-function capabilities
Solid app experience
No traditional 4K video capture
No PC editing app (as of Nov 2019)
App experience needs work
The GoPro Max looks like a 360-degree action cam for enthusiasts, but actually anyone could use this camera. The magic of 360 and the GoPro Max is that you can hit record and forget about framing (within reason), then edit your footage in the app. We've put this ahead of our previous favorite, the Insta360 One X's because of its better quality capture and microphones, and the way it can double up as a vlogging cam and an action cam too, though not in 4K. Regular 4K single-camera capture would have been better still, and the app experience could use some work, but given everything the Max can do, it's still a sensational step towards what could genuinely be the future of film making and right now we think it's the best 360 camera around.
Read more: GoPro Max review
2. Insta360 ONE R Twin Edition
A unique proposition of both 4K and 360
Weight: Not specified | Dimensions: 72 x 48 x 32.4 mm | Waterproof: 16 feet (optional housings also supported) | Stills resolution: Not specified | Video resolution: 5.7K | Memory: MicroSD | Mount: Bespoke mounting bracket | Battery life: Not specified
4K and 360º lens options
RAW photos and 100mbps video
New, therefore expensive
Small-ish touchscreen
A fresh announcement from CES 2020, the Insta360 ONE R Twin Edition is a very enticing proposition indeed, and may well be an indication of the future for 360-degree cameras. Essentially it's called "Twin Edition" because it's two cameras in one, coming with two lens modules that are easy to swap between. One turns it into a straight 4K action camera, the other gives it 360º-shooting capability, and it's got loads of extra features too, including 5m of waterproofing (which can be extended with a special housing). AI-powered algorithms also augment the various shooting modes, and particularly impressive Auto Frame  mode, which can automatically find and pick out the action in a 360º video. Right now the Insta360 ONE R Twin Edition is one of a kind, but we wouldn't be surprised if many future 360º cameras look a lot like this.
Read more: Hands on: Insta360 ONE R Twin Edition review
3. Insta360 ONE X
This shirt pocket camera makes 360 imaging and editing so easy
Weight: 115g | Dimensions: 115 x 48 x 28mm | Waterproof: Optional housing | Stills resolution: 18MP | Video resolution: 5.7K | Memory: MicroSD | Mount: Tripod socket | Battery life: 60mins
Slim enough for a shirt pocket
Excellent stills and video quality
Amazing stabilisation
60-minute battery life
Although the Insta360 EVO (below) offers both 360 imaging and 3D, the enduring appeal of of the Insta360 ONE X is undiminished, thanks to its shirt-pocket design, excellent stabilization and an app that offers advanced video editing and subject tracking on your smartphone. Insta360 makes a great play about this camera's 6-axis gyro system and 'FlowState' stabilisation, and it's every bit as good as they say – we got the odd 'shimmer' during low-light shooting indoors, but in decent light it's as smooth as you like, and playback stays level however you angle the camera. Even better, if you get the optional 'invisible' selfie stick, it's hidden in the recorded footage and it looks like you're a bystander in your videos and photos and not actually holding the camera at all. On release the Insta360 ONE X felt like a massive step forward in simplicity, usability and quality for 360 cameras, and it still works brilliantly now. The only reason we say the new GoPro Max (above) is the best 360 camera is because of its waterproofing, mounting options and all-round quality – but for casual 360 experimenters and travel videos, the One X remains superb.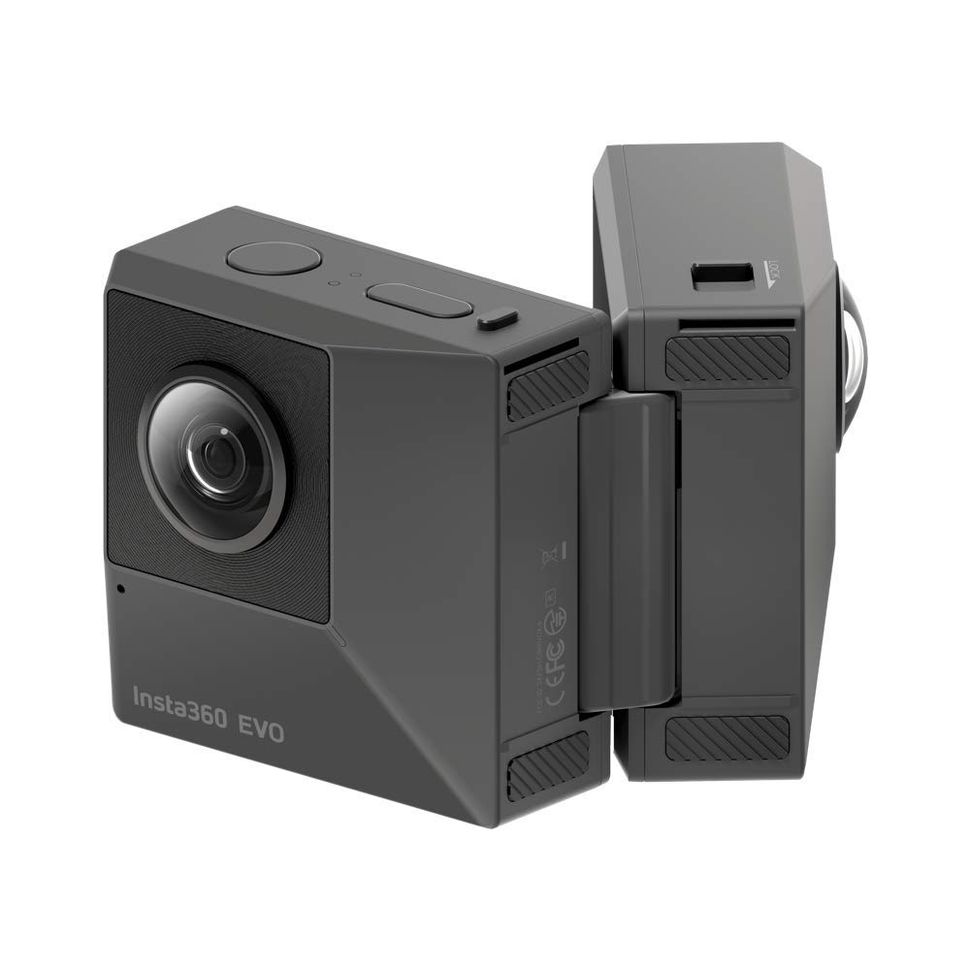 4. Insta360 Evo
A brilliant two-in-one camera combining 3D 180 and 2D 360 filming
Weight: 113g | Dimensions: 98.4 x 49 x 26.27mm | Waterproof: No | Stills resolution: 18MP | Video resolution: 5.7K | Memory: MicroSD | Mount: Tripod socket | Battery life: 1 hour
Versatile multi-mode use
Terrific image/video quality
Unexceptional battery life
Exposed card slot
The next stage in the evolution of 360-degree camera tech, the Insta360 Evo is one of the most ambitious models on the market, offering both 3D 180-degree and 2D 360-degree filming modes, expanding your creative options while producing videos and stills of excellent quality, to a maximum resolution of 5.7K at 30p. It shoots 18MP stills, too, and packs in a 1,200mAh battery that Insta360 says will last around an hour (our testing shows this to be pretty much accurate). Users can take advantage of the plentiful Insta360 mobile and desktop apps for easy stitching and rendering, making the Evo extremely easy to use even for novices in this field. Be aware that even though the Evo looks somewhat like a GoPro, it's certainly not waterproof (and indeed the exposed MicroSD slot might make you think twice before taking it out in poor weather). Otherwise, in terms of versatility, portability and usability, it's one of the most inventive 360 cameras around.
Read more: Insta360 Evo review
5. Vuze XR
Seeing double? Two shooting modes in one easy-to-use camera
Weight: 212g | Dimensions: 152 x 56 x 39mm | Waterproof: Only with case (30m) | Stills resolution: 18MP | Video resolution: 5.7K | Memory: MicroSD | Mount: Tripod socket | Battery life: 1 hour
Quickly switch between modes
Excellent footage quality
Middling battery life
Simplistic mobile app
Designed to make shooting 360-degree and 180-degree photos and videos into an easy and intuitive process, the Vuze XR is effectively two cameras for the price of one. With the press of a single button, switch from 360-degree (2D) and 180-degree (3D) modes, shooting half a sphere or a full sphere of VR footage as you please. The XR also allows for in-camera image stitching as well as live broadcasting, further opening up your creative options, and the useful smartphone app also allows you to better monitor and control what you're doing. The integrated hand grip makes it excellent for casual day-to-day usage – it's not waterproof unless you add a separately sold case, so don't go bringing it on kayaking trips and the like, as you would the GoPro Max. Beautifully designed, and producing excellent footage to match, the Vuze XR is an excellent tool for 360-degree imaging though perhaps a little bulky and offbeat for mainstream users.
Read more: Vuze XR review
6. Garmin VIRB 360
The VIRB 360 has everything: ruggedness, quality and features
Weight: 160g | Dimensions: 39.0 x 59.3 x 69.8mm | Waterproof: 10m | Stills resolution: 15MP | Video resolution: 5.7K | Memory: MicroSD | Mount: Various, via supplied cradles | Battery life: 65mins
Waterproof to 10m
Hyperframe Director editing
Expensive compared to others
Full 5.7K stitching needs computer
The VIRB 360 is a rugged action cam which is waterproof to a depth of 10m and comes with clip-on cradles for both a regular tripod mount and a GoPro mount. You can operate it as a standalone camera via a small mono display and three multi-function buttons, or you can control it via the VIRB app. The VIRB's stills show average sharpness but with very little colour fringing and well-blended seams where the two hemispherical images are stitched. Its 5.7K capture should yield better results, but you need a computer for that. In-app stitching is restricted to 4K, but the app's HyperFrame Director offers simple but efficient tools for adding smooth camera pans and angle of view changes to create separate standalone movies for saving and sharing. The in-built GPS and G-Metrix sensors also offer data overlays for extreme sports fans who want their viewers to see this extra data. If you like your adventures rugged, this is the tool for job, but newer cameras like the GoPro Max and Insta360 models mean the VIRB 360 now feels a little dated.
7. Ricoh Theta V
The classy lifestyle alternative if you don't need action cam toughness
Weight: 121g | Dimensions: 45.2 x 130.6 x 22.9mm | Waterproof: No | Stills resolution: 14MP | Video resolution: 4K | Memory: 19GB internal | Mount: Tripod: | Battery life: 80mins
Beautiful design and simple controls
Easy viewing and editing apps
Fixed 19GB internal memory
Not a rugged action cam
The Theta V is instantly likeable. Its tall, slim shape is perfect for holding in one hand without obscuring either lens, and you have easy access to the controls. These are very simple and you don't need the smartphone app to start shooting. You set the Theta V to stills or video mode and press the shutter-release button to capture the image – and that's all there is to know. The smartphone app is equally simple. You can browse images both on the camera and already transferred to the app, and simply tapping on a file on the camera to view it initiates the transfer and deletes the image from the camera's memory – and as it's fixed at 19GB, that's probably just as well. The app has basic but effective VR viewing options and there's a separate Theta+ app for editing your images. The still image quality is very good, and the video isn't bad either, though there is strong purple fringing where the two hemispheres blend. It's good, but it's no longer among the best 360 cameras, having been completely upstaged now by the similar looking but much more powerful Insta360 ONE X (above).
8. GoPro Fusion
Powerful, tough and smart, but the dual card slots can be annoying
Weight: 220g | Dimensions: 74 x 75 x 40mm | Waterproof: 5m | Stills resolution: 18MP | Video resolution: 5.2K | Memory: 2x MicroSD | Mount: GoPro | Battery life: Not quoted
Simple control on a slim body
Reliable app and connectivity
Twin card media storage
Not the toughest action cam
The GoPro Fusion is slimmer than the Garmin VIRB 360 and, like its other  action cam rivals, it's waterproof, though only down to a depth of 5m. With a maximum video resolution of 5.2K, the Fusion uses a feature called OverCapture to allow the extraction of regular 'flat' Full HD movies from its spherical footage. The extra resolution can be exploited either by the companion smartphone app or by the free-to-download GoPro Fusion Studio software. The QuickCapture button starts recording with a single press, even if the camera is switched off, and there's a Photo button which does the same. You can also use voice commands to start and stop recordings and add Highlight Tags to find key moments later. Like other 360 cameras, the Fusion is effectively two cameras back to back. Oddly, though, it requires two matched microSD cards to go with them, which makes image transfer to a computer more fiddly later on. This alone makes it too complex and fiddly to rank amongst the best 360 cameras any more.
9. Insta360 One
It's iPhone-specific, but the Insta360 One is neat, easy and effective
Weight: 82g | Dimensions: 96 x 36.5 x 25mm | Waterproof: No | Stills resolution: 24MP | Video resolution: 4K | Memory: MicroSD | Mount: Tripod, Lightning port | Battery life: 70mins
Image quality and editing tools
Fuss-free wired connection
iPhone/iPad specific
Mounting not fully secure
The Insta360 One is designed solely for use with an iPhone (or iPad). It has a flip-out Lightning connector that plugs straight into the iPhone's Lightning socket and also fixes it to the phone. It feels reasonably secure but would feel even better if there was some kind of additional fixing point. But this direct connection offers fast, reliable and fuss-free communication. The accompanying app launches automatically and provides an instant, lag-free live view of what the camera sees. If you to use the camera independently, you can use its single power button to capture stills or video, or fire the camera remotely via Bluetooth. There's no Wi-Fi so there's no live view, and your iPhone now simply acts as a remote release. The image quality is great and the editing tools in the app are second to none at rendering 'flat' video from your 360 images, with a Viewfinder mode for panning and zooming in real time, a SmartTrack mode for tracking moving subjects and a PivotPoints to create smooth panning movements. It's not as good as the newer Insta360 Evo or even the ONE X, but you should be able to find it a lot cheaper than either.
More best camera buying guides