With the best 360 cameras, you can capture images and videos that are quite unlike anything else. You can capture video which can be explored edited down to "flat" 2D or explored in full by dragging on a screen or deep diving using AR glasses. Understanding it fully can be a little technical, but most of the cameras and apps side-step this.
360-Degree Cameras - Quick List
The files created by 360-degree cameras record the whole scene. They're a bit big and look unwieldy laid flat as 360-degree cameras are nearly always multiple camera images in one, capturing different perspectives that are stitched together in software.
Many cameras will also allow you to identify a flat "slice" of a scene and record only that, and most also offer the tools to pick out a slice retrospectively as you edit into a more traditional framing. Plugins for leading editing programs can do this, or separate apps. This means you have tremendous versatility with a 360-degree camera; it almost doesn't matter where you point it.
If you're feeling lost, already, don't worry – jump to our section on how 360 imaging works, where we've given you the information you need to get your head around the basics.
So, which is the best 360 camera you can buy? We've included all the best options here, including cameras from Insta360 – establishing themselves as leaders in this space – and GoPro (both offer good software, too). We've also got some budget-friendly options from less well-known manufacturers, as it's perfectly possible to capture 360-degree imagery on a budget – as long as you know where to look. And on that note, let's dive in and count off the best 360 cameras you can buy right now.
Best 360 camera: our top picks
The best 360 camera in 2023
Why you can trust Digital Camera World Our expert reviewers spend hours testing and comparing products and services so you can choose the best for you. Find out how we test.
Best overall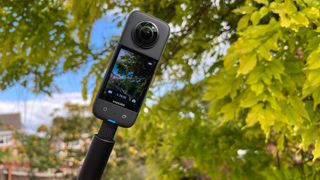 The Insta360 X3 is the ultimate immersive and versatile video camera. It very literally captures everything around you, enabling you to create 3D VR content easily or use its software-based reframing tools to edit your scenes as regular 'flat' video, where you can track subjects, create panning shots, and basically point the camera where you like AFTER you've shot your video.
Having said that, and despite all its great new features, the Insta360 X3 does feel like an evolution of the concept rather than a giant leap forward. For us, that's only likely to come with 12K capture and the ability to reframe and export 4K movies. Most of the time, though, 360 is more about action than ultra-resolution (which might prove challenging to process for most).
In that regard, the X3 is still just about the best, friendliest, and most exciting 360 camera on the market, and the software tools on phone, Mac & PC (as well as plugins for the likes of FCPX) have come a long way. We tried the X3 on a real vacation successfully, and another benefit of this camera's dominance is the range of accessories, including dive cases and more.
Read our full Insta360 X3 review
Best for simplicity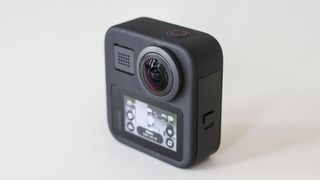 This 360-degree action camera is a great piece of hardware. The image and video quality of the GoPro Max are good enough that they could get it here by themselves, but the GoPro Max also offers a swathe of intuitive features that mean pretty much anyone gets loads out of it, even if they have little interest in 360-degree imaging.
The smooth app lets you edit clips from 360 footage pretty much seamlessly, meaning you can get great images no matter where the camera is pointed, and swap effortlessly between them. As we noted in our full review, the Max also has impressive specs elsewhere – with a six-mic setup, it's a highly credible vlogging camera, and the 1600mAh battery means you'll have enough charge for a day's shooting.
It's a fairly pricey option and lacks a dedicated 4K video capture that you'll find on some rivals like those from Insta360. However, the Max just has that GoPro polish that makes it the best 360-degree camera experience you can buy right now – sadly the software hasn't received much attention since launch.
Read our full GoPro Max review for more details
Best for stills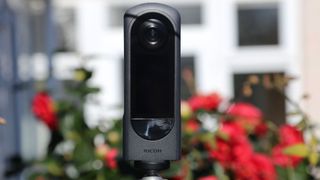 Whether the Ricoh Theta X is going to appeal to you will depend on what kind of content creator you are. If you're looking at this 360° camera as an alternative to a GoPro action camera, then bear in mind that its image stabilization – despite working on higher resolutions than on a GoPro – just isn't as good. Vloggers should also look at the Theta X with suspicion purely because you can't use an external microphone with it.
So who is the Theta X actually for? With so many built-in and convenient features we're sure the Theta X will be a good purchase for anyone after an easy-to-use, versatile, and high-quality 360º camera, though at this high price, it's a serious investment.
However, we think photographers looking for a 360° camera with core quality will love the Theta X. When combined with its excellent coloring and low-light abilities the Theta X's ability to shoot stills in 11K resolution lifts it above the competition, but its lack of RAW capture slightly undermines that option.
Read our full Ricoh Theta X review for more details
Best for Sensor Size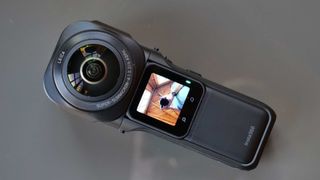 The Insta360 ONE RS 1-inch 360 edition is aimed at the serious filmmaker who is after the best image quality and low-light performance. It might be twice the price of the regular Insta360 One X2 but we think considering how much better it is in terms of low-light performance, dynamic range, and clarity it's definitely worth it.
As we noted in our hands-on review, It feels very well made, uses a 6-gyro FlowState stabilization for super-smooth video, and has a touchscreen which is great for previewing footage but not so easy to use if you have big hands. It's considerably cheaper than the Ricoh Theta Z1 and offers a big step-up in quality so perfect for those needing really professional-looking content.
Read our hands-on Insta360 ONE RS 1-inch 360 Edition review for more details
Best Action-cam alternative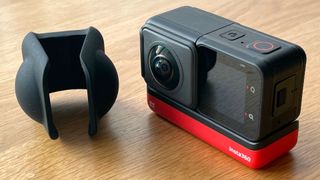 Unique in the market, the ONE RS is designed to appeal to anyone who would normally consider a GoPro yet yearns to at least have a go at 360º.
The fact that its 360º lens is unchanged from the first-gen version does indicate that the format has settled in as a nice option for occasional use but one that lacks much more development, which chimes with us. That lens does allow a lot of creative options and we love how the Insta360 app provides templates to create natty 360º sequences from clips, but most users will rely on its 4K Boost Lens.
This is more capable than the first-gen version, but we're not convinced how useful the 6K widescreen feature really is. Much more useful is the ability to record in great-looking 4K, which was always pin-sharp and ultra-smooth.
Read our full Insta360 ONE RS Twin Edition review for more details
Best budget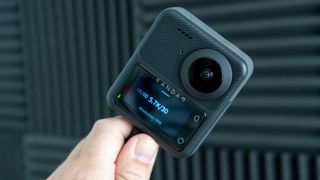 I'm still working on our full review as I update this guide, but it's safe to say that this new camera, which I've already tried, will be in it. Boasting dual 1/1.55-inch sensors with ƒ1.6 aperture it collects a good amount of light and not only captures good-looking 5.7K video but up to 62 megapixel stills.
It looks and feels good, and can be held on a selfie stick for vlogging or capturing immersive panoramas. Hardware quality extends inside too – the image sensors are bigger than the leading Insta 360 X3 and there are no issues like early overheating.
Pricing, too, is very appealing compared to the leading brands, though we've not had time to be sure whether Kandao's new software suite quite matches up to the others. There have been blips in the company's 360 progress, but it is on a good trajectory and it also owns a good chunk of the 360-degree conference room camera market so should not be discounted.
Best for Virtual Tours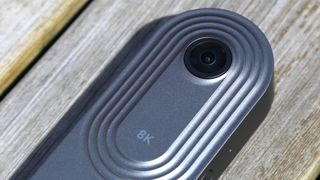 Designed for businesses that have a need to produce a lot of static virtual tours, the Trisio Lite2 is a very simple device that's incredibly easy to use. Its 360º photos are excellent and easily good enough for use on virtual tours and for showing off event spaces and hotel rooms online.
The 8K boast is less impressive than its ability with HDR, which helps create vibrant and dynamic spherical images that excel in high contrast environments, but also in low light.
It's no 360º action camera, with VR-style video off the table. Patience is required, too, since it takes the Trisio Lite2 30 seconds just to light-meter and take a single 360º photo. However, used slowly and carefully the Trisio Lite2 is one of the most limited, and yet the most capable, 360º cameras around that does one thing very well indeed.
Read our full Trisio Lite2 review for more details
Best for 8K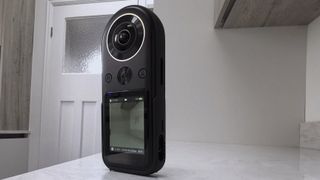 The QooCam 8K is the best 360 camera right now for image quality. A massive (by 360 standards) 1/1.7-inch CMOS sensor, 10-bit color, and, of course, that 8K resolution make sure of that. When it comes to the quality of its photos and videos, the QooCam 8K is peerless in the 360º market. Photos have plenty of colors and contrast like nothing we've seen before from a camera like this.
The ability to spit out a great-looking photo from a 360º video is welcome, while the detail, sharpness, and smoothness of video – whether in 360º or cut down to widescreen – itself makes the QooCam 8K a giant leap forward for creative filmmakers.

We did list some negative points in our review, most notably that it does have an audible fan, however, the battery life isn't great and it's not waterproof without a housing. It was also pretty expensive.
Read our full Kandao QooCam 8K 360 camera review for more details
How we test cameras
How we test 360-degree cameras
We test cameras both in real-world shooting scenarios and in carefully controlled lab conditions. Our lab tests measure resolution, dynamic range, and signal-to-noise ratio. Resolution is measured using ISO resolution charts and quoted in line widths/picture height, which is independent of sensor size. Dynamic range is measured using DxO Analyzer test equipment and the results are expressed as EV values. DxO Analyzer is also used for noise analysis across the camera's ISO range, with results quoted as a signal-to-noise ratio. We typically choose three competing cameras to offer a performance comparison and some context.
We also test significant accessories – for example 360-degree cameras require special cases for underwater photography, so we did a full real-world review on the Insta360 X3 Insvisible Dive Case.
FAQs
How 360 imaging works
When visualizing how 360-degree images are captured, imagine someone photographing a sphere from the inside, making sure they get every contour of its inner surface. That's essentially what 360-degree cameras do – place you in the centre of a sphere, and use extremely wide-angle lenses to capture everything around that point.
The sensors are ordinary 'flat' types, but the key is in the lenses, which are extreme fisheyes capable of capturing a 180-degree view, placed back to back. This captures two hemispherical images, which are then merged to produce the final 360-degree image. A viewer can then explore this image with a mouse, touchpad, touchscreen, or VR headset, depending on how they're viewing the image.
Taking 360-degree videos is, naturally, more complex than stills, as the action all around the viewer will continue even if they're not looking at the portion of the image where it's happening. As streaming platforms get more sophisticated, live 360-degree broadcasts are also becoming more common, which is an unparalleled way to immerse yourself in an unfolding event (short of, y'know, actually being there).
Editing 360-degree imagery can be a daunting task, though it is possible to divide them up into smaller 'windows' to handle individually, giving yourself a bit more control. In stills, you can crop out one of these windows entirely and export it as a 'flat' image. In the video, this flexibility allows you to essentially simulate camera movements like tracking, panning, and zooming, even though your shot was captured from a fixed position. Handy!
There is one thing to be aware of when dealing with 360-degree imagery, which specifically is resolution. As the surface area of a 360 image is much larger than a conventional one, 12MP on a 360-degree camera means something pretty different than 12MP does on a DSLR, and you can't crop in as close expecting the same level of detail.