Looking for something that's rugged and waterproof and you'll be able to use for shooting stills and taking videos where you'd not otherwise risk a smartphone or dedicated digital camera? If you're considering an action camera, then you've probably already checked out what's available from the GoPro camera range. This a brand synonymous with any rough 'n' tumble image-capture antics that you can throw at it, with rugged, rubberized cameras can be placed more or less anywhere – think bike helmet or surfboard tip – in order to provide a unique visual perspective on proceedings.
• See also: GoPro Hero 7 vs 8 • GoPro Hero 8 vs 9
Here we're looking at GoPro's latest line up of action cameras in its older Hero 7 series, which are offered up to potential purchasers in Black, Silver and White varieties. But, unlike most digital cameras, it isn't just the colors that superficially differentiate these shooting options – unusually the specifications and features vary between the different shades too. Which makes closely comparing each particularly important if you're in the market for buying one.
While the GoPro Hero 7 Black is now outsmarted by the newer GoPro Hero 8 Black - the 7 is still on sale, and is better value. But if you want a bargain also look for the Hero7 Silver and White editions, which are essentially more affordable versions of the GoPro Hero 7 Black, save for a few features omitted and specifications pared back. It could alternatively be argued the most affordable option in the GoPro Hero 7 White is essentially the best for those new to action cameras, with the GoPro Hero 7 Silver sitting in the middle of the three.
So, with all that in mind what's so magnificent about the Hero 7 Black, Silver or White? Read on to find out…
GoPro Hero 7 Black vs Hero 7 Silver vs Hero 7 White: Sensor and processor
Why you can trust Digital Camera World Our expert reviewers spend hours testing and comparing products and services so you can choose the best for you. Find out how we test.
Diminutive cameras mean small sensors – here that's a measly 1/2.3-inches for each – so we're not expecting results from any of the three examples on offer here to be a match for interchangeable lens DSLRs, or mirrorless models.
Despite such 'limitations', the GoPro Hero 7 Black offers users the useful double whammy of 4K video and 12 megapixel stills in both Raw and JPEG, with the addition of a timelapse mode – more on which later. What makes everything possible is the combination of its 12MP CMOS sensor and GP1 processor. Photographers also get the advantage of a SuperPhoto mode, new on this model, which claims to provide intelligent scene analysis and therefore optimized shots. It achieves this by automatically deploying the likes of high dynamic range (HDR), tone mapping and noise reduction. This has a noticeable effect, regaining highlight detail that's otherwise lost, while lifting shadows a tad. Selfie fans also get a Portrait Mode designed for sharing to Instagram Stories or Snapchat, while further Face, Smile and Scene Detection modes also work with GoPro's QuikStories app that assembles clips and montages – again, for easier sharing on social media.
Opt for the GoPro Hero 7 Silver version instead, and, along with less bells and whistles overall than premium 'Black' model, we get a lower headline resolution of a still useful 10 megapixels – with the same being true of the GoPro Hero 7 White edition. While the Silver version doesn't have a SuperPhoto mode, it does have a Wide Dynamic Range function that can be used to push shots a little further. Our own tests found this feature did well in balancing high contrast shots, retaining details in both shadows and highlights. Given the size of the sensor here, noise and artefacts can be seen when examining images at 100% however.
By contrast the bottom-of-the-range GoPro Hero 7 White doesn't have the Wide Dynamic Range functionality for stills shooting. Neither does it have some of the other functions of the mid range Silver alternative, such as on-board GPS.
• The 30 best GoPro accessories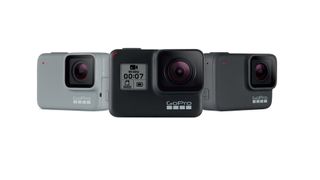 GoPro Hero 7 Black vs Silver vs White: Video
The GoPro Hero 7 Black offers up the must have of 4K video and, commendably here, the ability to capture up to a cinematic 60fps. Alternatively its users can shoot slow motion footage at up to 240fps if opting for Full HD video mode. That's 8x slower than normal speed. One of the action camera's additional selling points for videographers is the introduction of what it calls its 'HyperSmooth' image stabilisation function – a combination of hardware and software fix. This 3-axis system is said to function underwater and in high shock, high wind shooting scenarios. On the same model we also get what's called a 'TimeWarp' mode, distilling long time-lapse video sequences into conveniently shareable clips of a few seconds duration. Talking of short clips, as well as live streaming capabilities for the first time on this model – there is a dedicated Short Clips mode, which limits capture to short 15 or 30 second bursts. The thinking here obviously is that such files will be easier to drop into the likes of a Twitter timeline and share on social media. For those seeking to record sound with their footage, the unit processes the sound from three built-in microphones to provide stereo audio. It's also the only unit of the three to capture top quality WAV format audio.
On the GoPro Hero 7 White we get a resolution drop to Full HD clips, when compared with the Black flagship version. While it may not offer the full majesty of 4K-resolution video, we've previously described its 1080P footage as looking 'glorious' nonetheless, as we get up to 60P capture, and this level of spec will no doubt suit most users. Add in a slow motion feature of half normal speed plus on-board video stabilisation, and what more could most everyday users want?
Sitting between them is the GoPro Hero 7 Silver, which also offers 4K video clips, albeit at a respectable 30fps, rather than the more cinematic 60fps of the range topping GoPro Hero 7 Black. It also records sound via a two-microphone set up rather than three microphones of that premium model, but, while there is some image stabilization functionality on board, we don't get the full 'fat' 3-axis HyperSmooth anti shake functionality of its Black brethren. There is slow motion footage offered here, but on the Silver option it's at half normal speed, rather than eight times slower. We however found video quality to be very good, while it does well to maintain stability while it's moving, even if it can't obviously 'iron out' bumps and knocks.
It's very much the case here that 'you pays your money and you makes your choice' when it comes to video capture on the Hero 7 series. In short, there's no point in paying extra for features you may never use. But on the other hand, it's sometimes nice to know they're there and there's a degree of future proofing built-in, if and when needed. For example, while all of the trio offers USB-C connectivity, the GoPro Hero 7 Black is also the only one of the three to offer an HDMI port.
GoPro Hero 7 Black vs Hero 7 Silver vs Hero 7 White: burst shooting (fps)
Impressively, the premium GoPro Hero 7 Black model can attain bursts of 12 megapixel stills at up to 30fps, and can capture RAW format images to. It also has the greatest number of user selectable burst rates of the three, as well as offering the ability to shoot time-lapse photos – a feature missing from the other two.
On the middle and lower end models, the GoPro Hero 7 Silver and White respectively, for which maximum stills resolution is 10 megapixels, maximum shooting speed is a still very useful 15fps continuous sequential frame rate.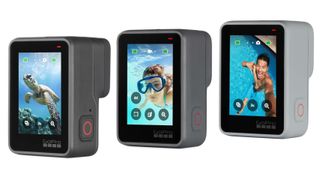 GoPro Hero 7 Black vs Hero 7 Silver vs Hero 7 White: LCD screen
The GoPro Hero 7 Black offers 2-inch LCD screen in 16:9 format as well as an overhauled user interface (or UI) when compared to its Hero 6 forebear. The fact that it is also a touch screen means that navigating available features is fairly intuitive. It also differs from the other two options here in additionally offering a front mounted display panel with key settings.
The 2-inch touchscreen on the Black version's backplate enables Touch Zoom functionality, which therefore allows for more precise framing of subjects and shooting scenarios. It does act like a digital zoom, however, degrading image quality.
Even the most accessible model of the three in the GoPro Hero 7 White provides an innovative touchscreen with features including touch zoom. As it sounds, sliding your finger up or down the screen zooms into the scene for alternative framing.
Sitting in the middle is the GoPro Hero 7 Silver, which again provides a 2-inch screen. Like on the mother models, we found the LCD could be a little unresponsive at times and required a firmer press or swipe here and there to get it to respond. Because it's small, it inevitably also isn't the easiest LCD for those with larger fingers to navigate.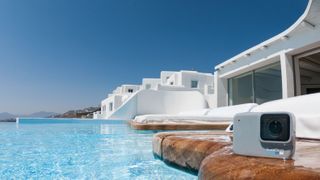 GoPro Hero 7 Black vs Hero 7 Silver vs Hero 7 White: Build & waterproofing
All three of our GoPro options here feature a toughened build that makes them fit for their rough and tumble image-taking purpose. While that means that GoPro Hero 7 range isn't the sleekest looking image capture device around – in fact it's distinctly boxy and functional – here practicality takes preferences over good looks.
Take for example the build of the GoPro Hero 7 Black, that allows for it to be submerged for up to 10 metres deep without the need for any additional housing (though additional housing can indeed be purchased for this model, if desired).
The same is true of the GoPro Hero 7 White, which, even though it was the most affordable of the three series 7 options on launch, still also affords waterproofed usage at 10 metre depths, as does the Silver version which sits between the two in terms of pricing and overall feature set. Balancing its features and build with the price, the White version is a great 'everyday' action camera option for general use.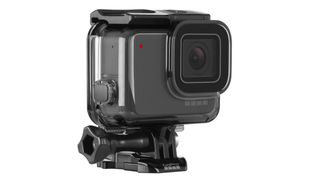 GoPro Hero 7 Black vs Hero 7 Silver vs Hero 7 White: additional features
As you'll probably have gathered by now, out of the trio of options the GoPro Hero 7 Black is the one with all the bells and whistles. It features the expected connectivity options of Wi-Fi, NFC and Bluetooth, with the added facility of GPS. It can also be controlled via voice command, thus allowing for hands-free usage, with 14 languages being supported. Since you might be mounting the device on a helmet or handlebars, where it will rattle around, built-in image stabilization feels like a must and that's what the GoPro Hero 7 Black delivers via a mix of hardware and software fixes collectively dubbed 'HyperSmooth', along with image capture functions including face, smile and scene detection.
YouTube-rs and Facebook Live fans will also love the GoPro Hero 7 Black's live streaming capabilities with 720p output – being the first GoPro camera to feature such live-streaming facilities – said footage being backed up to the camera's provided microSD card slot. Also worth a mention is its SuperPhoto feature which claims to reduce instances of image noise in shots.
Sitting in the middle of the series 7 options, the GoPro Hero 7 Silver also features the option of GPS tagging, plus a Wide Dynamic Range feature that is claimed to improve the look and feel of the entire image, while maintaining a natural look overall. Like the Black model the Silver edition offers Voice Control, which started out on the earlier Hero 5 model, but while you can use this facility to deactivate the camera, you can't actually use it to activate it in the first place. That option is reserved for the range topping GoPro Hero 7 Black.
The least expensive option in the GoPro Hero 7 White is no slouch either, offering not only Full HD resolution 'movies', 10 megapixel snapshots and waterproofing to 10 metres as discussed, but also the convenience of functions such as a photo timer.
GoPro Hero 7 Black vs Hero 7 Silver vs Hero 7 White: battery
The chief difference when it comes to the rechargeable battery in the three models is that on the Hero 7 Black it's removable, whereas on the other two it is built in.
This means that on the GoPro Hero 7 Silver and White versions it's therefore charged through a USB-C port, which is located next to its microSD slot on the camera's side. We have to assume it's the same battery in each, which its manufacturer reveals is a 1220mAh lithium ion rechargeable cell.
Verdict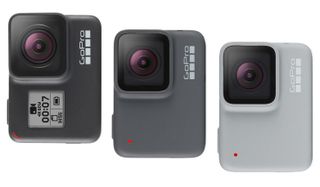 GoPro's three-pronged attack here on the action camera market is a clear attempt to provide something for everyone, at varying price points too.
While it's clear that the GoPro Hero 7 Black is the top dog amongst its siblings, the White and Silver versions of the same are also well worth checking out. Particularly if you don't mind resolution dropping by a couple of million pixels and are happy with Full HD video rather than all-singing, all-dancing 4K in the case of the most affordable White option. Just to confuse things, GoPro was at one point also offering a 'Dusk White' version of the GoPro Hero 7 Black earlier this year as a limited edition. Which throws up a fourth option, if you can find one still available.
However, you may baulk at the fact that it's priced the same as an entry level DSLR and also consider the fact that it's not worth paying extras for features you'll possibly never use, which means that the GoPro Hero 7 Silver and GoPro Hero 7 White are very sound second and third choices, respectively, with the latter being a perfectly respectable choice for an 'everyday' action camera. The GoPro Hero 7 Silver would also make a sensible option for someone looking to upgrade from an older GoPro – perhaps because they want the facility to shoot 4K footage. But the good news is that with a significant price difference between each of these current models, that there is a GoPro Hero 7 to suit everyone's budget!
Category
Back to Action Cameras
Colour
Condition
Price
Read more: