DJI may be best known for making camera drones, gimbals, and cameras wedged onto gimbals, but it's latest gadget, the Osmo Action is an action cam that pulls out all the stops to deliver everything you need to document your best action-packed life.
Rather than be subtle about it, the DJI Osmo Action takes on GoPro's most premium offering, the Hero7 Black, head-on, with a strikingly similar design and feature-set.
Two things Osmo Action does do though, are undercut the Hero7 Black with a signifiantly lower price, and pack a front color display. But can DJI's first attempt really compete with a line that's been trailblazing for over a decade?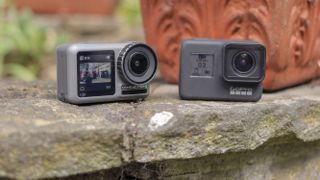 Design and build
The Osmo Action is a really well put together gadget. Its waterproof metal frame is coupled with grippy, textured rubberised sides for a great in-hand feel. The Action's buttons are also easy to press, and deliver a satisfactory amount of click feedback, so even if you're wearing gloves, you can fire it up and start recording without much faffing.
Slide down the flap on the left side of the Action to unveil a water-sealed section containing the USB-C port and a microSD card slot. At the base is a battery component, on the front is the camera, which is accompanied by a small, square 1.4in display. Around the back, it's all screen, with a 16:9, 2.4in LCD display, featuring a pixel density of over 300PPI - nice and sharp.
The Osmo Action ships with one housing and an adhesive mount, so out of the box can easily be affixed to a car, helmet or anything else you can tack it onto, though you'll have to pick up a microSD card separately if you want to get recording.
Features
The Action's camera features a 12MP sensor combined with an ultra-wide angle lens. With its 148-degree field-of-view and an f/2.8 aperture, it competes with the Hero7 Black head-on, and with its slightly larger 1300mAh battery, lasts that bit longer.
Video is captured at resolutions ranging from 720p through to 4K, and at either 4:3 or 16:9 aspect ratio, and at up to 60fps. All but the 4K, 4:3, 60fps setting also support DJI's proprietary image stabilization system, RockSteady.
The Action also offers 8x slow motion video, 12MP photo support with manual exposure control, timelapse video and more. The camera's party trick has got to be the front screen. Activated by a double tap of the main touch screen, it means you can vlog to your heart's content and get your framing just right.
Performance
Video sample: footage shot on the DJI Osmo Action
When it comes to video quality, the DJI Osmo Action impresses on most fronts, though its forte is definitely vlogging. Unlike the GoPro, across resolutions, it meters everything for faces by default, and this makes them the focal point from an exposure point of view. It also produces more vibrant skin tones and colors in general, so you won't need to edit your footage to get the best from it.
4K footage captured on the Osmo Action packs a good amount of detail, and in good light, can be cropped in on in post-processing by about 20-40% for Full HD content without breaking down too much. Dynamic range is fair, and we found ourselves totally ignoring the HDR mode as a result - especially given the fact it deactivates EIS. Low light performance is grainy and noisy, very similar in quality to that of the Hero7 Black, so when the lights drop, pick up your smartphone.
From an ergonomic point of view, the front touch screen is also incredibly handy for self-shooters. Despite the fact the lens is super wide - so you're almost guaranteed to get your face in the shot, the selfie screen means you can frame up background elements, and with strong brightness, outdoor visibility impresses too.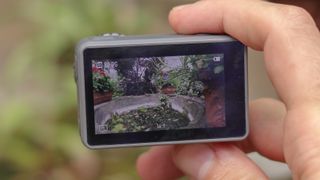 As for the main touch screen, it's nice and responsive, and DJI's touch interface, Action OS is as comprehensive as it needs to be. The inclusion of a Quick Select button on the right of the camera makes switching between modes a doddle too.
As for RockSteady, DJI's electronic image stabilization, it's nothing short of gravity-defying, producing footage that looks like it was shot on a gimbal. It even betters the Hero7 out of the camera, holding things a fraction more together, though it's worth noting, RockSteady doesn't come without a cost.
If activated when shooting at full resolution - 4K 4:3 - RockSteady EIS results in a delay between real life and the viewfinder displaying it of roughly half a second. This is something that could be fixed in a software update, and might not be detrimental for certain use-cases. Any action footage that involves tracking a moving object though will be hampered by this shortcoming.
If you need an action cam with a great app, the Osmo Action isn't it. Connecting with the app across iOS and Android was more miss than hit for us, with about one out of twenty attempts to pair proving successful.
It's also worth noting that the Osmo Action doesn't support the range of GoPro accessories supported by GoPros - the two can't share housings for example. Having said that, they do support the same mounting system, so some accessories that play nicely with GoPro housing could well work with the Osmo Action.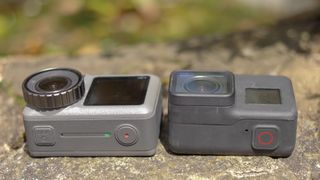 Verdict
DJI has managed to create an action cam that stacks up to the best out there when it comes to stabilization and picture quality. Despite being the first of its line, the Osmo Action is an ideal GoPro Hero7 Black alternative for vloggers and self shooters.
While video captured on GoPros is a touch flatter, lending itself to being edited - so video professionals could well prefer it, the Action's footage is a bit more Instagram ready, and accessible from a price point of view. It isn't perfect - there are live view lag issues at max resolution and the app experience was nothing short of terrible, but if you're looking for an action cam that's going to give you maximum bang for buck, the Osmo Action delivers.
Read more:
• The best action cameras in 2019
• The 24 best GoPro accessories
• The best waterproof cameras
• The best drones for beginners