Quick Links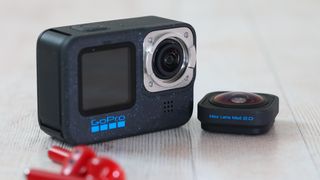 1. Best Overall
2. Latest GoPro model
3. Best Tiny GoPro
4. Best for 360
5. Cheaper vlogging
6. Cheap 4K GoPro
7. Another option
GoPros are amazing, durable cameras for sports and action. Some say the best GoPro is the latest edition – the GoPro Hero 12 Black – but that camera actually removed one of our favourite features, onboard GPS. There was a bit of debate in the office, but we decided that the newest isn't now our top pick for most people.
In fact there are a good few reasons for picking your GoPro carefully. Chief among these is price; the annual release cycle means prices of older versions go down even though features remain quite new. GoPro also offers cameras with alternative sizes and even one of the best 360-degree cameras, both of which have different uses.
Some of the money you save might have a better effect on your overall creative output if you spend a little of it on some of the best GoPro accessories, such as a chest mount, a 3-way arm, or even the GoPro Fetch which you can attach to your pet.
By the way, before we get into the full list, we'll let you into a little secret: You are allowed to doubt the name these days. "GoPro" may mean "action camera" (like Xerox and copier), but you could check our guide to the best GoPro alternatives. Just saying!
That said, GoPro's are without a doubt some of the best waterproof and underwater cameras you can buy and – while GoPro's are mostly aimed at sports and action – they are also great cameras for vloggers, content creators, or even just recording your holiday hands-free using the various mounts. We've also included one in our best YouTube cameras guide which goes to show how versatile they really are.
Now, without further ado, let's get to the cameras...
Top Picks
The best GoPro camera in 2023
Why you can trust Digital Camera World Our expert reviewers spend hours testing and comparing products and services so you can choose the best for you. Find out how we test.
Best overall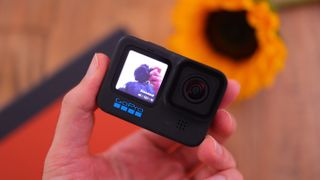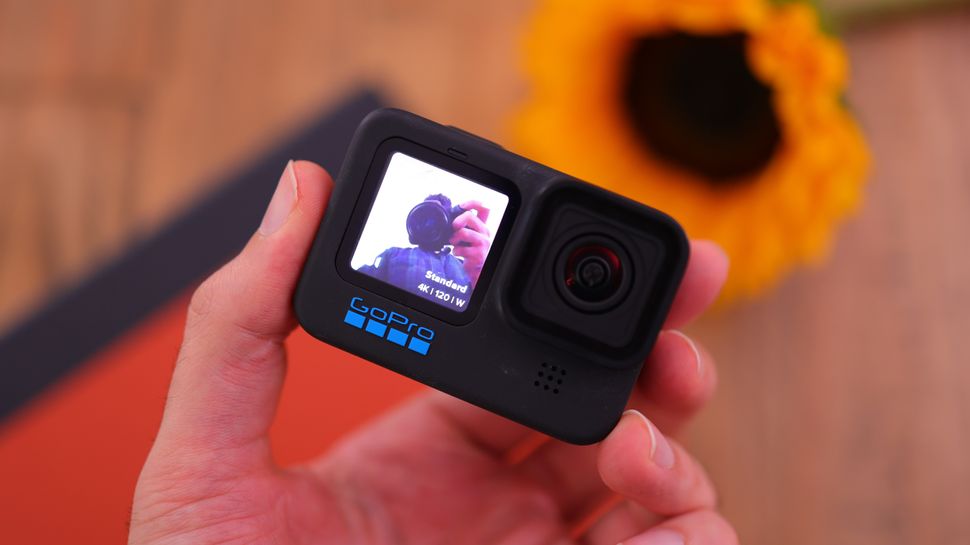 Despite the Hero 11 Black not being the newest model, GoPro dropped the GPS functionality in the newest model which is something of a shame. looking like every other GoPro since 2019, the steadily upgraded hardware and software are unarguably impressive. The new, almost square sensor is supremely versatile, the camera's software has been simplified successfully, and GoPro's companion app, Quik has also been improved.
With best-in-class stabilization, great-looking video (until things get dimly lit or dark), and some fun new modes like light painting, the Hero 11 Black is an excellent addition to the line. The Hero 11 Black's 8:7 aspect ratio is also a standout highlight for content creators. Able to shoot in 5.3K resolution, 8:7 video at up to 30fps, its footage can be losslessly cropped to create new 4K portrait, landscape, and square clips from a single video.
On top of 8:7 video, the Hero 11 Black captures 5.3K resolution video at 60 fps, 4K resolution video at 120 fps, or 2.7K resolution at 240 fps. You can also grab 27MP stills from 5.3K video. Overall this is particularly appealing to folks who use multiple social platforms.
Read our full GoPro Hero 11 Black review for more details and GoPro Subscription explained: what you get, and is it worth it?
Latest GoPro model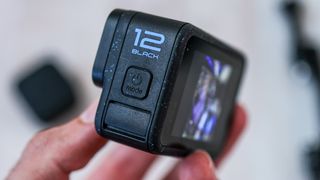 Despite the Hero 12 Black looking like every other GoPro this side of 2019 (exactly what we said about the 11, by the way...) there are upgrades to the software and a new Max Lens mod.
The almost square sensor is supremely versatile, and GoPro's companion app, Quik has got better. The stabilization is top-notch, creating great-looking video. Dimly lit seens might not be the GoPro's forte, but there are some fun low light effects on offer and the flip-out feet and tripod mount mean there are a lot of mounting options – you don't need to stick to GoPro's own now.
The Hero 12 Black's 8:7 aspect ratio is also a standout highlight for content creators. Able to shoot in 5.3K resolution, 8:7 video at up to 30fps, its footage can be losslessly cropped to create new 4K portrait, landscape, and square clips from a single video.
On top of 8:7 video, the Hero 12 Black captures 5.3K resolution video at 60 fps, 4K resolution video at 120 fps, or 2.7K resolution at 240 fps. You can also grab 27MP stills from 5.3K video. For practical (if not quality) purposes you can connect Bluetooth headphones with mics, like Airpods, and record the audio – handy for describing the action!
The Hero 12 Black might not have wildly improved the line's lowlight performance, but it has added timecode sync, a handy touch for editors. The appeal for social-focused creators remains from the previous iteration, however a small niche of users will mourn the sacrifice made to bolster battery – ditching the built-in GPS which recorded data used for graphing speed.
Read our full GoPro Hero 12 Black review for more details
Best tiny GoPro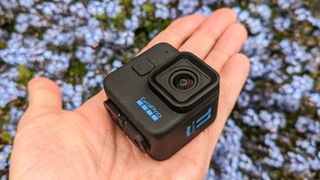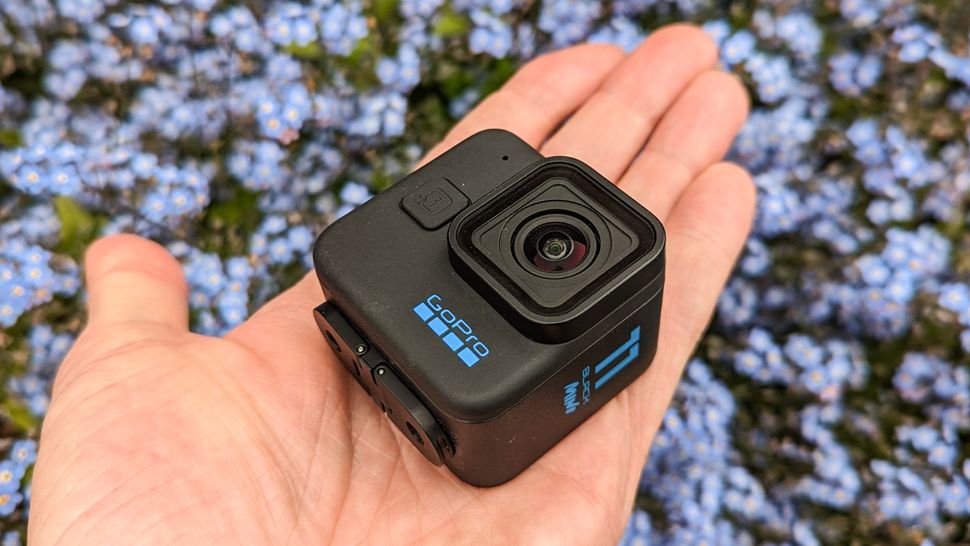 Like the GoPro Hero11 Black, but smaller. Yes, you probably got that from the name, but we have to do our duty. This camera has the same optical components and processing as its bigger, heavier cousin but in a casing which should be easier to pick up for extreme action sports fans and FPV drones. If you're a long-time GoPro fan, this is the successor of the Hero Session, but with better attachments.
The sacrifice you make is that there are no on-device displays. Settings are instead operated using the phone-based Quick app, so if you're doing something "fire and forget" like mountain biking, why not? You still get excellent image stabilization of the action (I mean, is it really 'action' if you have time to watch the screen of your camera?)
There is still a start/stop shutter button – it is only other settings you'll need the app for granular control over. We think you're unlikely – certainly unwise – to be partaking of the action sport you're attempting to document and tweaking settings on any camera! The tiny housing also has brackets for the usual GoPro / sports camera accessories, so for many this might be the better choice.
Best for 360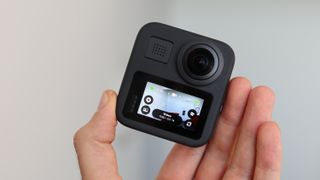 Unfortunately for GoPro, the Hero Max has been slightly eclipsed by the options from Insta360, despite the fact it's actually a really good bit of kit. The GoPro Fusion was the original GoPro 360 camera but the Max benefits from some significant improvements such as 5.6K video in all directions making it a professional movie-making tool. It has four digital focal lengths, horizon levelling, HyperSmooth stabilization, and ProTune video editing software.
If you've never tried 360-degree video, it isn't just for VR; you can drag on screen, or track subjects, to re-point your camera after the fact, meaning nothing is ever missed again.
It doesn't have the same raw resolution as the Hero 8 but since it has so many other things going for it, we can let it slide. The GoPro Hero Max could even change how people Vlog and create YouTube videos – we just need more people to know about it first!
Read our full GoPro MAX review for more details
Cheaper Vlogging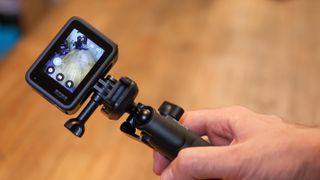 We like it as a vlogging camera because even though it's not the latest model it still has a front-facing screen to line up shots with. It features the G2 processor which makes the interface super responsive compared to its predecessor, doubles the frame rates, and fuels the best image stabilization tech available in action cameras.
The stand-out feature is its ability to record 5.3K 60p using GoPro's new HyperSmooth 4.0 video stabilization. It also has the ability to shoot 23-megapixel photos. There is, of course, a wealth of accessories separately so as well as mounting it on your helmet, you could attach it to your chest, your head, or even onto one of the best selfie sticks.
The GoPro Hero 10 might still be a little more than you need if you just want a helmet cam for safety purposes, but if you're looking for a camera that's going to record super-smooth high-quality video it's a good choice at the right discount.
Read more: GoPro Hero 10 Black review for more details
Cheap 4K GoPro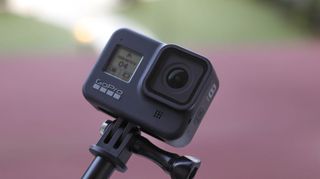 All GoPros since this have included a front-facing screen for vlogging, but if you don't need one, then this might be a wise financial move. There is still decent image stabilization (though not up to the latest standards as image processing power has improved) and video maxes out at 4K but (for most of us) that is enough. Hands up who has a 5.3K TV? Thought not!
Actually, you can get a Media Mod to improve the production value of your videos, or a Display Mod to add a second monitor that's perfect for vloggers, and even a Light Mod LED light adds illumination, though of course this might eat into your savings. The point of looking at this GoPro is that, in most cases, you'll find you can save nearly half the money of the latest model by sacrificing the extra resolution that you probably don't need and the front-facing screen. Oh, and unlike the GoPro 12 Hero Black, this does have built-in GPS!
Read our full GoPro Hero8 review for more details
Another option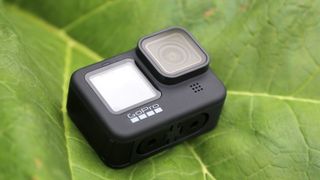 The most obvious difference between the GoPro Hero 8 and GoPro Hero 9 is the addition of a front-facing LCD screen. So, somewhere between the 10 and the 8 (and therefore down here in our list) is this choice.
It also boasts a 20-megapixel sensor and can shoot up to 5K video which might be a bit overkill but it's certainly nice to have! You can also capture 14.7-megapixel still grabs from the video which is ideal for sharing on social media.
The 2.27-inch rear screen is larger than that found on the Hero 8 black (though occasionally a little laggy) and its Hypersmooth 3.0 video stabilization has also benefitted from improvements. Thanks to its removable lens over, there's also the option to add a Max Lens Mod accessory to the GoPro Hero 9 Black which adds a few GoPro Max-style features such as 360-degree horizon lock and ultra-wide 155-degree Max SuperView mode. It's a fantastic bit of kit that will help you capture moments to remember in high definition.
Read our full GoPro Hero 9 review for more details
FAQs
Are there any alternatives to GoPro?
Yes! GoPro, like Walkman before it, has become the de facto name for a product category, but others offer good alternatives. GoPro is especially vulnerable in the area of 360 cameras (see our 360-degree cameras guide), while DJI has interesting premium action cameras. Check our whole best action camera guide to see comparisons. I'd say that the DJI Osmo Action 4 Pro is now the best action camera because it has a bigger sensor which is better in low light (if you're surfing in the sun, however, that advantage might be moot).
What is the point of having GPS in a GoPro?
By including a GPS sensor in a GoPro (or any) camera, it can record its exact location all the time while it records video. This can be used to work out how quickly the camera is moving and even to create cool animated effects you can add to your videos like speedometers, which are an easy for viewers to understand your speed.
How do you test GoPros and other action cameras
Since testing an action camera is a lot more about the action than measuring lens specifics, we like to take them out and try some activities. Using them while cycling, on location for capturing video (in varying lighting), and even on drones. We think it is important to use the device in real world scenarios to experience how easy the GoPro is to use and see how features like image stabilization cope with different tasks. Our expert reviewers include Jamie Carter and Adam Juniper who both have many years of experience with these devices (Adam once owned a GoPro Hero 2, and has experimented with a lot of GoPro alternative action cameras too).