The best camera drones are far more than the simple toys they used to be. Theyr'e now used widely by both amateur and professional photographers because they can reach areas and shoot from angles that regular cameras can't.
Just as the the best camera phones are challenging our ideas about what a camera can be, the best camera drones have changed our ideas about what we can photograph. Camera drones enable amateur photographers, videographers and enthusiasts to capture footage that was once only possible for professional production teams.
A drone – also known as a quadcopter or multicopter – has four or more propellers which provide vertical lift from each corner, and an on-board processor to coontrol the lift from each rotor and keep the machine broadly level. They are surprisingly quick and agile, with quick direction changes achieved by leaning the drone slightly off the horizontal, so a proportion of the props' energy is directed sideways.
Camera drones have become extremely popular. They bring the ability to shoot from anywhere (aviation authorities permitting), get any angle on your subject and add slick aerial reveals to your videos.
Another way to get a new angle on the world is via your car, so check out our list of the best dash cams as well, or for wild adventures and travel take a look at the best action cameras you can buy right now.
How to choose the best camera drone for you
There are some features to keep in mind compared to shopping for a regular camera.
Sensor and lenses: You will probably have to accept a smaller sensor size, and no zoom lens. Less glass means less weight, which means a longer flight time.
Vibration: this can be issue too; the fast turning props and sudden movements are not ideal for still or video photography.
Control: this is either via your phone's limited Wi-Fi range or a separate controller using radio frequency (but probably your phone, too, to view the live video).
Collision detection: drone makers have sought to combat the risk of collision using sensors – partly to help you out, but also to head off criticism from governing bodies keen to avoid serious accidents.
Regulations: while it's not yet compulsory to register a drone in the UK, the regulations surrounding ownership and use are set to change in November 2019. New drone pilots in the UK should check out the Drone Code. Regulations are much tighter in the US, full details of which can be found via the Federal Aviation Administration website.
Read on for our pick of the best camera drones money can buy.
1. DJI Mavic 2 Zoom
The Mavic 2 Zoom is portable, powerful and creative kit
Weight: 905g | Dimensions (folded): 214×91×84mm | Dimensions (unfolded): 322×242×84mm | Controller: Yes | Video resolution: 4K HDR 30fps | Camera resolution: 12MP (Pro is 20MP) | Battery life: 31 minutes (3850mAh) | Max Range: 8km / 5mi) | Max Speed: 72kph / 44.7mph
Very portable
Optical Zoom (on the Zoom model)
Great software features
Expensive
No 60fps for 4K
DJI's Mavic Pro (2016) changed the perception of what was possible with the best camera drones, making it possible to fold and carry a decent-quality lens without putting too much of a dent in either the volume or weight of your carry-on. It sold so well that perhaps the appeal of simple aerial imagery is waning, so DJI has added clever software features. One of the most stunning (on both the Mavic 2 Pro and the Zoom model) is Hyperlapse – an aerial time-lapse which can include motion and is processed in moments onboard. The Zoom model also gains a dolly zoom effect (ask a horror movie geek), which is great fun.
The airframe feels beefy for something that folds up so small, but it brings with it powerful motors and speed control systems, capped with surprisingly quiet propellers. This makes it nearly as capable as heavier drones in the wind – with a high maximum speed and very responsive controls (which can be softened for cinematic work). The omnidirectional sensors also make it very hard to crash at normal speeds, and even play a part in the excellent object tracking.
The only downside to the Mavic 2 is the choice you need to make between the pricier 'Pro' and the 'Zoom'. The Pro has a 1-inch image sensor (20 megapixel) at a fixed 28mm effective focal length but with adjustable aperture, 10-bit (HDR) video, and up to 12,800 ISO – great for sunsets and stills. The Zoom retains the still very decent 12 megapixels of its predecessor but has a zoom lens (24-48mm effective focal length) which is more useful for cinematic effects. Sometime soon it'll be possible to have DJI swap them for you, but for now you need to know what kind of photography or filmmaking you want to tackle.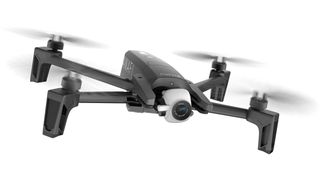 2. Parrot Anafi
This drone is light, foldable, and able to turn its 4K camera anywhere
Weight: 310g | Dimensions (folded): 244×67×65mm | Dimensions (unfolded): 240×175×65mm | Controller: Yes | Video resolution: 4K HDR 30fps | Camera resolution: 21MP | Battery life: 25 minutes (2700mAh) | Max Range: 4km / 2.5mi) | Max Speed: 55kph / 35mph
Very portable
4K @ 100Mbps with HDR
180° vertical-turn gimbal and zoom
Only 2-axis control
Some features are in-app purchases
Parrot wasn't really a contender in the high-end aerial video market until the Anafi arrived in mid-2018, but it was definitely worth the wait. Rather than push up prices and weight with sensors of questionable use (and the processing power to handle their data), Parrot leave the business of avoiding obstacles very much to the customer. In exchange, though, it's managed to keep the portability and price manageable, helped by the fact a great hard-fabric zip case is included so you'll be able to shoot just about anywhere.
The carbon-fibre elements of the body can feel a little cheap, but in reality this is one of the best built frames on the market, and very easy to operate thanks to automatic take-off, landing, GPS-based return-to-home, and an exceptionally well-built folding controller with a hinged phone-grip, one that seems so much easier to operate, and so much more logical, than recent contenders from DJI.
The only niggles are that the gimbal is only powered on two axes, relying on software to handle sharp turns, which it only does quite well, and that for some reason Parrot charge extra for in-app features like follow-me modes that DJI include as standard. On the plus side, that gimbal can be turned all the way up for an unobstructed angle most drones can't manage and the system even features zoom, unheard of at its price point.
03. DJI Spark
HD video shooting selfie-drone you can control with hand gestures
Weight: 300g | Dimensions (folded): 143×143×55mm | Controller: Optional | Video resolution: 1080p 30fps | Camera resolution: 12MP | Battery life: 16 minutes (mAh) | Max Range: 100m | Max Range with controller: 2km / 1.2mi | Max Speed: 50kph / 31mph
Lives up to portability
Gesture controls
Quickshot modes
Flight time disappointing
Wi-Fi keeps the range very limited
No controller
In terms of value for money, the Spark is one of the best camera drones of all. It doesn't actually fold, but this means it has a reassuringly rugged body, and the propellors do fold, so it isn't actually that chunky. Videographers have to settle for 1080p full HD video, but that is certainly more than adequate to share your exploits on YouTube. The ability to track subjects works well too.
Where the Spark really shines is its gesture recognition. You can launch the drone from the palm of your hand, and have it capture a few predefined shots of you with simple gestures. It's not perfect, still surprisingly good.
For once, DJI's tendency to make the initial offer a bare bones model doesn't seem quite as frustrating – you're clearly getting a lot of tech here for your investment – and it's nice to know you can pick up a controller later if the range doesn't feel sufficient. For many it won't though, so perhaps look for a machine with the controller built in if you can.
4. DJI Mavic Air
If it's a foldable drone you want in 2019, this is the best
Weight: 430g | Dimensions (folded): 168×83×49mm | Dimensions (unfolded): 168×184×64mm | Controller: Yes | Video resolution: 4K 60fps | Camera resolution: 12MP | Battery life: 21 minutes (2375mAh) | Max Range: 10km / 6.2mi) | Max Speed: 68kph / 43mph
Portable
4K @ 100Mbps
Object avoidance with course correction
Flight time could be better
Need to spend extra to get case
The Mavic Air is a stunning technical achievement, an incredibly capable drone that – for most people – might look like the only flying camera they'd ever need. With front, downward and rear-facing distance sensors, the drone is capable of identifying obstacles and not just warning the pilot, but also plotting a course to avoid, say, a wall or a tree if needed.
All this computing power does come with a downside. The battery life is a quoted 21 minutes, and is somewhat less in real-world conditions. Unfolding the thing is also surprisingly fiddly. As with other DJI drones an extra "fly more" pack is available which bundles stuff you really need (case, spare batteries) but, of course, is even harder on the wallet.
The controller folds away beautifully (you can even unscrew the sticks), but it is actually a little fiddly, especially if you are using an iPhone X, as the grips that hold your phone in place also make it hard to swipe up to activate the phone. It's also something of a compromise to put the screen below your hands (bigger RCs put it above), but the range is certainly impressive, and DJI's app includes some cool effects.
5. DJI Phantom 4 Pro V2.0
Evolutionary not revolutionary, this is still a high-end camera drone
Weight: 1375g | Dimensions: 350x350xmm | Controller: Yes | Video resolution: 4K @ 60fps | Camera resolution: 20MP | Battery life: 25 minutes (5870mAh) | Max Range: 7km / 4.1mi) | Max Speed: 72kph / 44.7mph
Large image sensor
Design classic
Subject tracking
Size feels a little clunky
The Phantom was a revolutionary product, its earlier versions including the first drone to feature a gimbal-stabilised camera rather than requiring the user to supply their own. Its rugged body design means that while it's no longer the obvious choice for beginners or consumers (for whom folding products offer at least the same practicality), there is a strong use-case for an occasional professional.
If you're going to be putting the drone in the back of your car, and don't mind it taking up most of a specialist rucksack (rather than just a side pocket like the Mavic Air), then the Phantom Pro 4's latest update is very tempting. Redesigned props for quieter flight are definitely pleasing, and the new OcuSync radio system that makes 1080p video possible on the monitors is a plus (though it won't work with the older controllers).
If you've already got a Phantom Pro 4, then there's little reason to upgrade, to be honest – but it's definitely a contender, especially if you have truly professional photographic ambitions.
6. DJI Inspire 2
The camera drone to buy when the optics are your priority
Weight: 4000g | Dimensions: 605 diagonal mm | Controller: Yes | Video resolution: 5.2k @ 24fps | Camera resolution: 20.8MP | Battery life: 23-27 minutes (4280mAh dual battery) | Max Range: 7km / 4.1mi) | Max Speed: 94kph / 58mph
Interchangeable lens system available
Solid build quality & backup systems
Capable of live 1080i broadcast
High purchase cost
Dual battery makes getting spares expensive
Props need to be locked into place
The Inspire 1 brought with it a jaw-dropping (and obviously Klingon-inspired) design that keeps the props comfortably out of most shots while allowing for a big, stable frame. The Inspire 2 cements that professional quality with a magnesium hull (careful where you grip it) and lots of dual redundancy for safer flight.
One of those duplicated parts is the battery; you need both to fly and they buy you about 25 minutes of power depending on the camera you choose. That's great, but a spare pair of batteries is an eye-watering £360, and the X4S camera is comparable to the Phantom. The X5S (to which you can attach a zoom lens from a Micro 4/3rds camera) is rather better with its big image sensor, but flight times come down, making the phenomenally expensive Zenmuse X7 more appealing.
The Inspire 2 also has sophisticated object tracking, (optional) multi-user operation and other pro features and isn't really for casual use. It only lacks redundancy on the motors (six would be safer).
7. Ryze Tello
A great drone that proves size isn't everything!
Weight: 80g | Dimensions: 98x93x41 diagonal mm | Controller: No | Video resolution: 720p | Camera resolution: 5MP | Battery life: 13 minutes (1100mAh) | Max Range: 100m | Max Speed: 29kph / 18mph
Bargain price for the features
Brilliant indoors
Great way to start learning coding
Relying on phone to record captures interference too
Range rarely reaches 100m
Can't tilt camera
This microdrone – well below the likely minimum weight for registration – proudly proclaims that it's "powered by DJI." To back that up, it has a great array of software features and positioning sensors. With surprisingly good image quality and straight-to-phone saving it could give your Instagram channel a new perspective.
The price has been kept down; there is no GPS, you have to charge the battery inside the drone via USB, and you fly with your phone (a charging station and add-on game controllers can be used – Ryze offers its own). Images are recorded directly to your phone, not a memory card. The camera is stabilised in software only, but the 720p video looks good given that handicap.
If you want to look cool flying, you can launch it from your hand, or even throw it into flight. Other modes let you record 360-degree videos, and the software includes some clever swipe-directed flips. Geekier pilots can even program it.
8. Skydio R1
The ultimate selfie drone and flying supercomputer!
Weight: 4000g | Dimensions: 330x406x38mm (unfolded) | Controller: Phone App | Video resolution: 4K @ 30fps | Camera resolution: 8MP | Battery life: 23-27 minutes (4280mAh dual battery) | Max Range: 100m (300ft) | Max Speed: 40kph / 25mph
Incredible tracking tech
Full range of shooting modes/angles
Software very straightforward
Supply patchy (not meeting demand)
Very, very expensive
Cannot track pets
Object tracking and collision avoidance systems are a nice boost to most drones, but are just a fall-back. The R1, on the other hand, features two cameras on each corner, two pointing up, two more down and the main 4K camera. These combine to give its NVIDIA TX1 256-core processor a very full view of its surroundings.
The R1 uses this data to build a detailed 3D map of its environment, and even to predict the movement of the subject it is tracking (probably you), so that it's able to get the best shot while avoiding lampposts, trees, leaves, and more. The system is of a similar standard of a self-driving car.
Video is recorded to built in 64Gb storage, and you can get it – and stills from that video – straight from the app. If you're doing something awesome, this is the automatic selfie-drone to beat and, right now, no one is close.
09. PowerVision PowerEye
A monster camera drone that takes interchangeable cameras...
Weight: 3950g | Dimensions (folded): 340×285×296mm | Dimensions (unfolded): 513×513×310mm | Controller: Yes | Video resolution: 4K @ 30fps | Camera resolution: 16.1MP | Battery life: 29 minutes (9000mAh) | Max Range: 5km / 3.1mi) | Max Speed: 65kph / 40mph
Cheaper way of interchangeable zoom lenses
3-year 24-hour no-question guarantee
High-quality case bundled
Software a little lacking
Control perhaps a little too soft
The PowerEye is a great example of the benefits to consumers of being in a market dominated by one brand (DJI, in case you were in any doubt). It really makes new contenders look for ways to impress, and by carrying a Micro-4/3rds camera this drone is firmly putting itself against the Inspire 2 with a Zenmuse X5S.
It makes it case well; there's no showy 5k mode but the 4k is good, the two batteries supplied each split into two for shipping (so it's not too big for carry-on rules), and the manually folding down arms allow for a surprisingly compact traveling position in the (included) travel case.
I was only able to test the drone on a very gusty day, and the system struggled to hold position at first, but it won out. The control app and remote are less complex than DJI's, so there are fewer software features, but the FPV camera is of a high standard and dual-pilot flight is there for pros.
10. Yuneec Typhoon H Plus
Six rotors and generous extras make this a capable camera drone
Weight: 1995g | Dimensions: 520×310mm | Controller: Yes | Video resolution: 4K @ 60fps | Camera resolution: 20MP | Battery life: 28 minutes (5250mAh) | Max Range: 1.6km / 1mi) | Max Speed: 49kph / 30mph
6-rotor S
Intel-powered sensors
Sun shade, extra battery and more supplied
Control range
Controller grip not natural for some
Batteries lack a built-in monitor
With a one-inch sensor the Typhoon H Plus has a camera that can take on the Phantom. Better still it is supported by a big and stable six-rotor frame, which is capable of returning if one motor is lost. The retractable landing legs allow for 360-degree lens rotation, unlike the Phantom.
Add into the bargain features like Intel-powered collision avoidance and object tracking software (including Follow Me, Point of Interest and Curve Cable Cam), the 7-inch screen on the controller, and the extra battery that Yuneec bundle and it feels like a great deal.
The transmission distance is not as far as you might expect, though, and the construction and especially the controller might be felt to have an off-puttingly pro or RC-enthusiast aesthetic in comparison to the very consumer-friendly approach of Parrot or DJI.
Adam Juniper is the author of the bestselling Complete Guide to Drones, now in its second edition, and The Drone Pilot's Handbook.
Read more: