Sony announced the A6400 APS-C format mirrorless camera only in 2019, but there's already two newer models available – the A6100 and the A6600. Meaning, if you shop around, you can get the A6400 for much lesser than its launch price of AU$1,499.
Since then, though, Sony Australia has cheekily increased the RRP of the A6400 to AU$1,799 but you don't need to spend that much on snagging yourself one of the best cameras for vlogging.
Aussie retailer CameraPro has the body only listed at just AU$1,259 – a very sweet 30% discount on Sony's current price tag.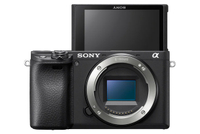 Sony Alpha A6400 (body only) | AU$1,259 (RRP AU$1,799; save AU$540)
It's our top choice for the best camera for vlogging and was the second-highest selling mirrorless model in Japan in June last year. It's a feature-packed snapper with support for S-log3 and S-log2, a flip-up 16:9 rear touch display and, of course, Sony's superb autofocus tracking. So grab this compact mirrorless marvel now and save AU$540.
What makes the Sony A6400 one of the best APS-C mirrorless cameras around is its superb video quality. While its stills prowess is great, its 4K video capture is even better, recorded as downsampled 6K footage. And its 3-inch touchscreen flips up a full 180 degrees to become a forward-facing display – perfect for vloggers.
We don't need to tell you how good Sony's eye autofocus is – it's been tried and tested innumerable times and performs brilliantly here as well, even if you're shooting single-handed.
For those keen on post-production, the editing formats of HLG and S-Log are onboard, as is an HDMI output if you're planning on using an external recorder.
With lockdown laws now easing, we're now allowed to go out and about, perhaps armed with a great camera. So if you've found yourself in need of a new snapper, you can't go wrong with the Sony A6400 – not at this great price.
Read more:
The best Sony lenses
Sony A6000 vs A6100 vs A6300 vs A6400 vs A6500 vs A6600
The best Sony cameras in 2020
Top mirrorless cameras available right now
Best cameras for beginners