Best Sony camera: Quick List
The range of best Sony cameras just keeps getting bigger as Sony expands its camera offerings to more types of photographers, from high-end professional photography and video production to travel photographers, content creators, and vloggers, there is a Sony camera for everyone.
Sony's range revolves around its Alpha series of cameras, a series of full-frame mirrorless cameras loved by vloggers, enthusiasts, and professionals alike. These are the most traditionally styled cameras in Sony's range, with mirrorless bodies reminiscent of SLRs, and utilizing some of the best Sony lenses available. This is where you'll find the most exciting cameras in Sony's lineup, often the first to receive the latest cutting-edge technology coming out of Sony R&D.
Right at the top end, you've got the mighty but pricey Sony A1, the camera that does EVERYTHING, the sports-orientated Sony A9 Mark II, and the highly specialized (so not in this guide) Sony A7S III.
Next, Sony's APS-C mirrorless cameras are a favorite of countless travelers, vloggers, and content creators. These are much smaller and cheaper alternatives to the full-frame Sony models, however, as Sony fans will know, that doesn't mean Sony doesn't pack some powerful features into these more compact forms, the current highlight is Sony's compact but powerful Sony A6600.
Lastly, Sony's latest line of cameras is its ZV roster of cameras aimed at vloggers and social content creators. With super compact and simplified designs, these cameras are meant to go anywhere and shoot great instantly usable footage with minimal effort. We've been especially impressed by the clever and affordable little Sony ZV-1F.
We've used and reviewed and rated them all, and we think these are the best Sony cameras you can get right now.
The best Sony cameras in 2023
Why you can trust Digital Camera World Our expert reviewers spend hours testing and comparing products and services so you can choose the best for you. Find out how we test.
The best Sony camera overall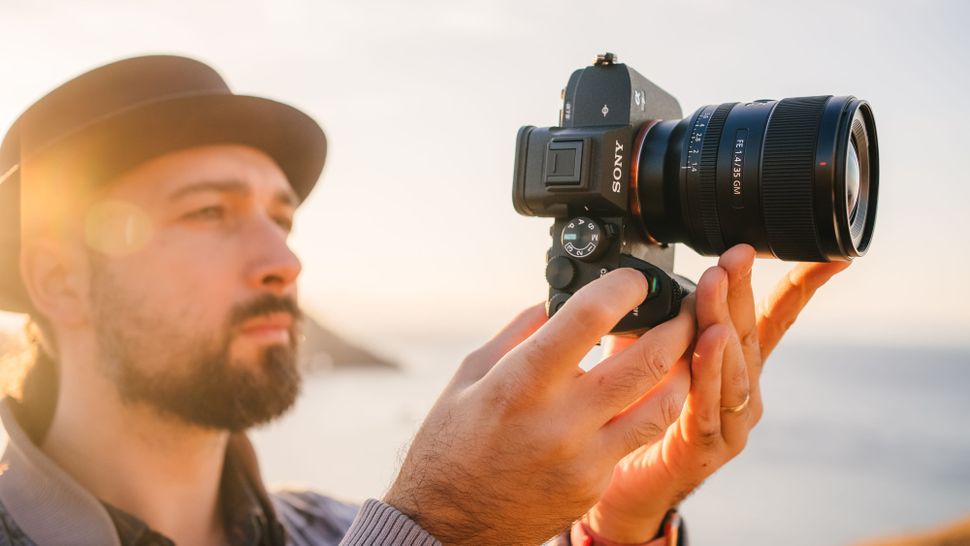 The Sony A7 IV signals a step up in ambition for Sony's 'vanilla' A7 model. Traditionally, the Sony A7 has been the range's entry-level camera, with the 'R' models adding resolution and the 'S' models adding speed/sensitivity.
But there's nothing ordinary about the Sony A7 IV, and while it does technically supersede the A7 III, it's an altogether more advanced camera that, we think, targets a higher-level audience. Compared to the A7 III, the A7 IV is a major step up – but in price as well as features. The A7 III will keep going for now, so it makes for a tricky buying decision, not helped by the A7 IV's patchy availability. If you see one, get it!
Read our full Sony A7 IV review for more details
The best Sony camera for resolution
Technically overwhelming, physically underwhelming – that's how the A7R V feels. The camera body feels too small – or not tall enough in the body – for the big pro lenses you'll be using with it, and the controls follow a generic layout rather than being adapted to this camera's strengths. You can customize the buttons endlessly to suit the way you work, but that takes time and also a good memory for which button you've customized to do what.
Technically, the A7R V is stunning. With 61 megapixels paired with new AI subject recognition AF is remarkable, both for its rapid identification and acquisition and its very sticky 'tracking'.
The image quality is every bit as good as that of the A7R IV before it (Sony says it's better), and the bigger buffer makes the A7R V much more effective for prolonged burst shooting.
Read our full Sony A7R V review for more details
The best Sony full frame camera on a budget
It might not have the blinding speed of Sony's top-flight A9 II or the ultra-high-resolution of the A7R IV, but the Sony A7 III grabs many of the best bits from these pricier models and delivers them in a more affordable package. Headline features include a highly effective 696-point AF system and a 5-axis image stabilization system that promises 5EV of compensation.
There's a 24.2MP back-illuminated image sensor, coupled with the latest generation of the image processor, and the two deliver excellent tonal range and make super-high ISO settings possible.
Handling is good, though some may find the body a little small when paired with pro lenses, which applies across the Alpha range. For the top performance at a sensible price, we think it's the best-priced Sony camera out there – though for stills photographers the older Sony A7 II is also very tempting, and cheaper!
Read our full Sony A7 III review for more details
The best Sony camera for sports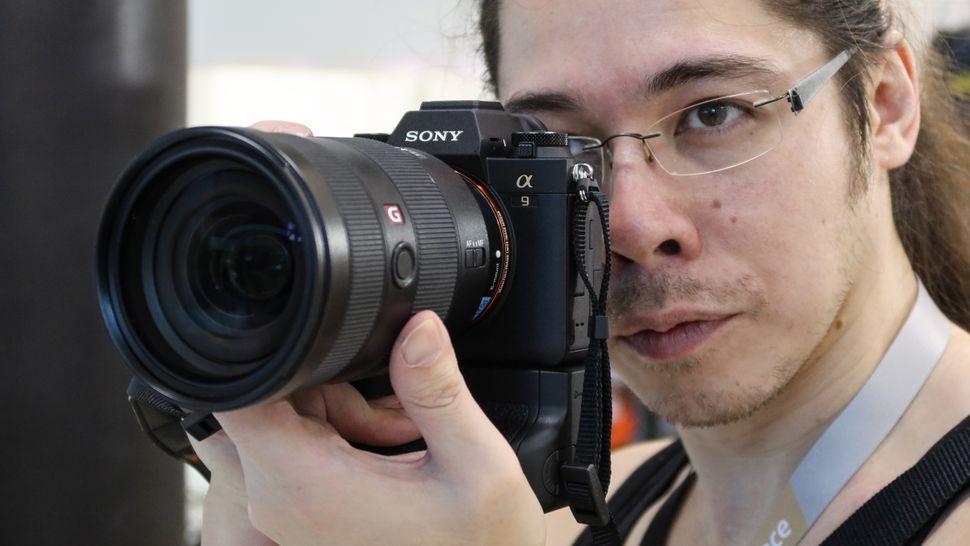 To quote from our review, the Sony A9 II is the fastest, most ferocious full-frame sports camera we've ever used. This camera's blistering speed and autofocus performance are impressive and matched only by its phenomenal connectivity, which promises to be a game-changer for pro shooters.
We would love to have seen Sony implement something akin to Olympus' Pro Capture feature so that you never miss the critical moment. However, if our most damning criticism is that the A9 II is too fast for us to keep up with, surely that's nothing but a mission accomplished for Sony! For professionals who need more than speed, however, the new Sony A1, which edges ahead of the A9 II for sports photography, throws in 8K video and 50MP stills.
Read our full Sony A9 Mark II review for more details
The best Sony camera for all-around performance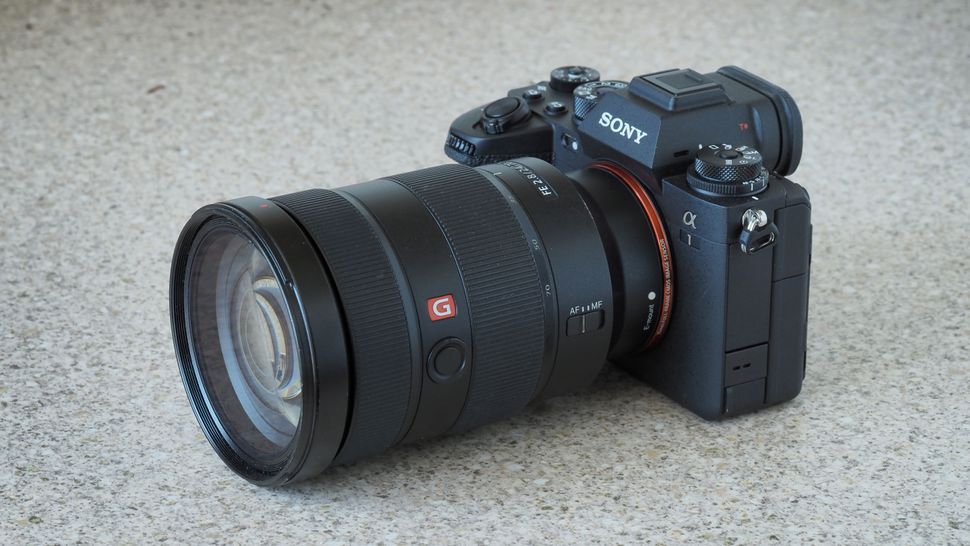 The Sony A1 is everything that Sony says it is. It's a technological triumph, a camera that really can do everything and one of the best cameras for professionals. Previously, cameras might offer speed, resolution, or video capability, but the A1 offers all three, and even beats dedicated sports and video cameras at their own game. So is this the perfect camera? Not quite.
The price is and will remain, a significant obstacle, and its appeal is limited to photographers who need everything it does, not just one or two of those things. This, together with its vast price, prevents it from being further up our list.
We couldn't have an article about the best Sony cameras without mentioning the A1, but would we recommend it as the best one to buy? Realistically, for 99 photographers out of a hundred, probably not. More recently, the Sony A1's position has been eroded by the arrival of the Nikon Z9 and Canon EOS R5 C, both of which are cheaper.
Read our full Sony A1 review for more details
The best Sony camera for video
The ZV-E1 is an excellent vlogging camera, it is small, compact, and lightweight while packing in some incredible features like an image-stabilized full frame sensor, and subject recognition and auto tracking straight out of the Sony A7R V. The camera is also incredibly simple and intuitive to use, so is perfect for anyone wanting professional looking footage without knowing a lot about cameras.
Video footage is excellent, sharp, clear, and with good color direct from the camera, stills are also fantastic quality, although are limited by the 12MP sensor. The latest autofocus tracking from Sony is a sight to behold, especially for human subjects, it is incredibly fast and accurate, with its AI powers meaning you don't have to worry about focus and can think about other aspects of filming.
Read our full Sony ZV-E1 review for more details.
Best compact full frame Sony camera
The Sony A7C II is a sum of parts we have already seen in other Sony cameras, and while it is an incremental upgrade over the original version, it packs in some very welcome big improvements to autofocus and a bump in resolution to 33MP. The camera still is one of the best options for content creators looking for the smallest and most compact camera, while still getting pro-level features.
As with Sony's other recent cameras, Sony has offered up the very best of its video capabilities, but the A7C II is also the body for hybrid creators who care just as much about stills photography, with its rangefinder-style EVF.
Despite some improvement in the camera ergonomics, it is still a difficult camera to handhold with larger Sony lenses, which the inclusion of a full frame sensor suggests it is designed for.
Read our full Sony A7C II review for more details
The best Sony APS-C camera
The Sony a6700 is a logical step forward from the a6600 that came before it, it doesn't reinvent the wheel, still offering a compact rangefinder-style APS-C camera, but some design refinements and hops forward in technology make this a compelling upgrade. Although the starting price has increased since the previous generation, and marks this camera as precariously more expensive than some rivals.
However, the biggest selling points for buying the a6700 are for hybrid shooters who want a compact camera but still want a viewfinder, as the a6700 has become the new Sony APS-C camera to buy for the best stills experience. While the leaps forward in 4K video recording combined with the latest in AI autofocus from Sony's ZV and FX lineup making its way into the a6700 make this a compelling alternative to Sony's ZV lineup. Overall, the a6700 is one of the best options for hybrid travel photographers or content creators who crave professional features in a small package.
Read our full Sony a6700 review for more details.
The best Sony APS-C camera for price and features
The Sony A6400 is effectively Sony's 'middle' A6000-series camera, fitting in above the A6100 model and below the top-of-the-range A6600. But it still packs a super-fast, super-high-tech autofocus system, and great 4K video capabilities. Its still image quality is very good, but this camera's strength is as a blogging/vlogging tool for single-handed content creation.
Its 180-degree screen is the key here, flipping up and over to face you to help your framing, facial expressions, and delivery as you present video pieces to the camera. The specs of the top-of-the-range A6600 are better, but you have to be careful with any camera (and with Sony models in particular) not to pay for high-tech features you don't need, such as cutting-edge AF or unnecessarily fast burst modes.
Read our full Sony A6400 review for more details
The best Sony APS-C camera for price
The A6100 includes a 180-degree touchscreen for selfies and vlogging, 4K video, and a faster and more advanced autofocus system. We weren't bowled over by the A6100 when it first came out because it cost far more than the A6000, but a couple of years on, the A6100 is almost down to A6000 prices (which have crept up) and it is, without a doubt, a much better camera.
Having said that, we also hear that Sony has ceased production of the A6100 against a backdrop of chip supply issues and the disruption caused by the global pandemic, so while the A6100 is still on sale right now, its longer-term future looks in doubt.
Read our full Sony A6100 review for more details
The best budget Sony vlogging camera
During our review, It was hard to look at the Sony ZV-1F in isolation and not immediately compare it to the latest camera phone sitting next to me. After using it for a week, it is hard not to think that I already own a device that does a lot of what this camera does. However, there is still a lot to be said for having a dedicated camera, especially with an articulating screen, an edge on the quality of 4K footage, and it being this easy to use.
If you are a keen amateur vlogger, and you want a dedicated camera to record on, a run-and-gun camera that you can set up quickly and get shooting, and something you can toss in a bag or pass around among friends. This is the camera for you.
This is a no-frills vlogging camera that will give you just what you need, a 4K video that is ready for social media, all contained in a tiny compact package, and at a hard-to-beat price.
Read our full Sony ZV-1F reivew for more details
The best Sony camera for vlogging
The ZV-1 II is a bit of a strange release for Sony, it doesn't do nearly enough to separate itself from the model that came before, although Apple somehow gets away with the same thing every year, so maybe I should cut them a break. The ZV-1 II is more of an alternative model to the ZV-1 than an outright upgrade. Some people will prefer the wider zoom, now starting at 18mm, while others will prefer the extra focal length of the 24-70mm zoom on the original, which also has a wider aperture throughout the range, and I think this is where the decision will be made.
Sony has also decided to up the price by around $150 from the ZV-1 release, which puts it in the territory of also being just a little too expensive for what this camera is capable of. Sony seems to be banking on the compactness and simplicity of this camera convincing people to spend, however, there are similar spec'd cameras out there for less money that offer more room to grow your creativity, if you are willing to compromise on size.
Read our full Sony ZV-1 II review for more details
The best Sony APS-C vlogging camera
The Sony ZV-E10 is not going to win any awards on the photography front, where its specs are good but completely mainstream – but it is a great option for content creators cutting their teeth in vlogging and videography. While Sony hasn't moved its APS-C 4K video tech along much in recent years, the ZV-E10 is the manufacturer's first APS-C body to feature an articulating touchscreen (which is vital for vlogging).
It packs a large and well-performing internal microphone (with clip-on muffler), Sony's excellent autofocus, and an appealing price tag. It's a shame that there is no in-body image stabilization, and the menus can't be touch-controlled (a rather glaring omission for a vlogging camera), but for a very specific YouTube-era audience, this camera hits the nail on the head.
Read our full Sony ZV-E10 review for more details
How we test cameras
We test mirrorless cameras both in real-world shooting scenarios and in carefully-controlled lab conditions. Our lab tests measure resolution, dynamic range, and signal-to-noise ratio. Resolution is measured using ISO resolution charts, dynamic range is measured using DxO Analyzer test equipment and DxO Analyzer is also used for noise analysis across the camera's ISO range. We use both real-world testing and our lab results to inform the comments in buying guides.