Lomography has unveiled the latest of its Simple Use film cameras, which combine the design of the best disposable cameras, but with the added benefit is that you can reload the plastic camera for re-use afterwards.
The Lomography Simple Use Camera LomoChrome Metropolis, to give its rather long name, comes preloaded with a 27-exposure roll of the company's new Metropolis color print film. Lomochrome Metropolis went on sale earlier this year and offers a retro grungy look to your pictures – characterized by muted colors, gritty grain, and .
The camera has a fixed 31mm wide-angle lens, with a fixed exposure of 1/120sec at f/9. Focusing is also fixed with a depth of field range stretching from 1m to infinity.
There is a built-in flash unit however, which is powered by a single AA battery – and this has three colored filters which can be slotted over the flash to create psychedelic effects.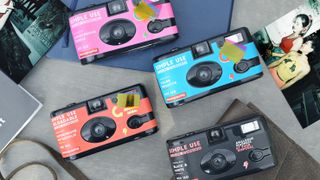 Other products in the Lomography Simple Use camera range include models preloaded with black-and white or LomoChrome Purple films.
The Lomography Simple Use Camera LomoChrome Metropolis is available now for $22.90 / £21.90 / AUS$39.99.
Read more:
The best film cameras in 2020