There used to be a lot more choice when it came to the best cameras under $200, but sadly everything is going up in price at the moment. Even so, if you know where to look (and this guide will show you!), there are still some great deals to be had.
One of the reasons camera prices can drop so much is that as new models are released, the older ones get cheaper. Manufacturers often won't discontinue a line straight away, especially if it was really popular which means there's an opportunity to grab yourself a bargain.
If you're looking for an even cheaper camera, we've also got a guide on the best camera under $100 and you'll be surprised by how many there are on the list. For now though, we're looking at the slightly more advanced instant film cameras that include different shooting modes and compact cameras that offer great image quality and a few very useful features.
Most of the cameras below don't feature the most up-to-date technology and have smallish sensors but that doesn't mean they can't still take good photos. On the plus side, they're all pretty compact (except for perhaps the Polaroid OneStep+ but it's such a nice design we can allow it.)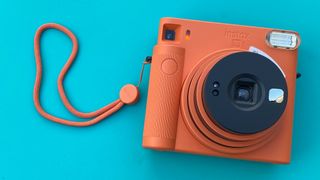 Instant film cameras are always a hit at parties, and the Fujifilm Instax Square SQ1 is a fine example available at a great price. With a click of the shutter button, it'll create 6.2cm square prints that look fantastic, with punchy colours and less of the tendency towards overexposure that has plagued previous Instax cameras.
The thing to remember about instant film is that it is of course an ongoing cost, so while you're paying $120 or so for the camera, you'll have to keep buying refills every time you run out. Also, this is a very basic point-and-shoot model, which is arguably all you need in an instant camera, though some users may lament the lack of basic quality-of-life features like a self-timer. Still, for the price this is loads of fun, and a wonderfully inexpensive way to make physical images that last.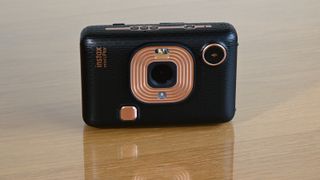 Not only can you take photos using the Instax Hybrid Mini LiPlay but it can also print photos from your phone. Small enough to fit in your pocket its compact design makes it perfect for having on you at all times. Featuring an LCD screen and a selfie mirror on the front so you can make sure you're looking your best, Fujifilm really has thought of it all. Connect it to the LiPlay app on your phone so you can edit your photos and add things such as colored frames or apply a filter for a bit of fun. Even though the photos print out onto Instax Mini film, you can also choose to just keep the pictures stored on a micro SD card. Choose from Blush Gold, Elegant Black or Stone White depending on your style and it's time to get snapping. It has a rechargeable battery, a built-in flash and three shortcut buttons so you can save your favorite settings. We haven't had a chance to test one yet, but with all it's nifty features we're sure it will find its way onto our best instant film camera guide.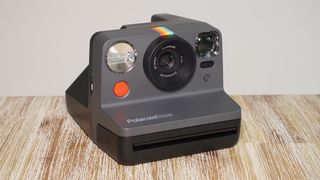 The Polaroid Now is a welcome arrival to the Polaroid product line, and a worthy addition to the increasingly crowded instant camera world. It boasts superior image quality to the OneStep2, thanks to its dual-lens autofocus system and improved flash, though it lacks the additional features (such as Bluetooth connectivity and remote trigger) found in the slightly pricier OneStep+. For pure point-and-shoot simplicity, though, the Polaroid Now is hard to beat – and while the Instax Mini 11 does have it beaten on price, we definitely prefer the full-size square prints that Polaroid delivers. And much as we love the Instax line, when you're shooting old school instant film there's nothing quite like the tactility of holding a big, boxy Polaroid. If you don't need the extra bells and whistles of the OneStep+, the Polaroid Now is sure to wow. Technically this camera would also belong in out best cameras under $100 guide but only as it's currently on offer.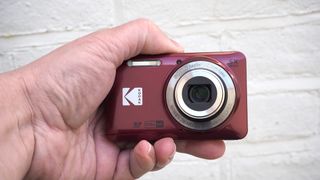 This no-nonsense, pocket-sized point-and-shoot is perfect for beginners or anyone looking for a phone camera upgrade. It features a 16.15-megapixel 1/2.3-inch sensor so you won't be able to print your images very big but they're still perfect for sharing on social media. It has a zoom range equivalent to 28-140mm on a full-frame camera and a 6x digital zoom if you need to get that little bit closer. One of the downsides is it doesn't come with a viewfinder and the screen is hard to see on a sunny day but otherwise, it's a great buy for the price.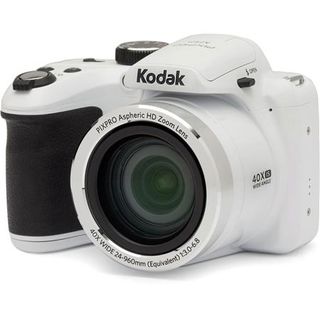 The Kodak PIZPRO AZ401 is a fantastic entry-level camera that is easy to use and very affordable. It has several handy features you might not expect on such a budget camera such as detection settings for face, smile, blink, cat and dog, it has a built-in 180° panorama mode and it can shoot video up to 720p which might not sound like much but it's fine for sharing on social media.
Unfortunately it can't shoot Raw photos so if you're looking for a camera than might last you past being a beginner you might want to look for something that can shoot in Raw. It has a massive zoom and while it might not be the clearest image when you're zoomed right in at least the option to do so is there. It would be a great but of kit to take on holiday as it's small and light weight but has a built-in flash and a zoom that'll allow you to take photos of things far in the distance.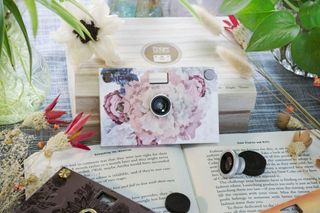 Let's begin by saying, the Paper Shoot camera is definitely something you would buy as a bit of fun rather than a camera to take serious photos on. The first thing you'll notice is it's devoid of almost everything you would want in a compact camera - the ability to zoom, a built-in flash and it doesn't have a viewfinder. That being said, all those things sort of add to its strange charm, it makes picture taking more risky and maybe that's exciting. It comes in a range of designs from beautiful floral patterns as pictured to a more classic looking analog design. You'll have to be an SD card and rechargeable AAA batteries separately and we would recommend getting rechargeable ones over standard AAA batteries as they lasted so much longer.
Read more:
Best cameras under $100
Best cameras under $500
Best burner phones
Best budget action cameras
Best cameras for kids