The best instant cameras are more popular than ever. In fact, they are more popular than digital cameras! While the traditional camera market has long been trending downward, Polaroids and Instaxes have experienced huge growth and revenue!
It's the simplicity of the best instant cameras that makes them so appealing. After all, they're so straightforward that they make some of the best cameras for kids as well as the best cameras for beginners.
That said, Polaroid is trying something different; it has just released its first manual control camera, the Polaroid I-2, at a whopping 600 bucks! Instax, however, is at the opposite end of the scale, having just launched the tiny Instax Pal for 80 bucks (though it's only a digital camera, and doesn't actually print its own photos).
There's also a new breed of digital instant cameras that combine the thrill of instant photography with the convenience of modern-day technology. These hybrid instants combine a digital camera with a built-in printer, so you can choose which shots you print – and when you print them. Some can even print photos from your phone!
We've divided our guide to the best instant cameras into sections for film and digital. If you pick the former, don't forget to check what kind of instant film you need, and check out the best Instax photo albums to display your finished prints.
Best instant cameras: Our top picks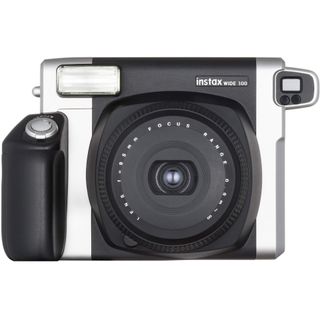 Best for big photos
If you want to shoot polaroid, but think the standard size is too small the Instax Wide 300 shots the biggest, and widest image on Instax Wide film packs, making it much better for group shots.
Read more below
The best instant cameras in 2023
Why you can trust Digital Camera World Our expert reviewers spend hours testing and comparing products and services so you can choose the best for you. Find out how we test.
Best overall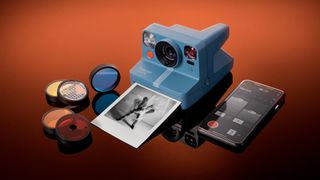 If you're after full-size instant photos that possess quality and that elusive 'vintage look', the Polaroid Now+ is the obvious choice. My personal favorite instant camera, it combines the same image quality and shooting experience of the base Polaroid Now with the modern-day features of the OneStep+, giving you the best of both worlds.
It has several creative modes such as light painting, aperture priority, double exposure, portrait mode and many more, which are available through the app. There are also several physical lens filters that create natty in-camera effects (the red vignette filter is the pick of the bunch). It even has a tripod mount so you can take old-school group selfies and really take advantage of its long exposure modes.
Read our full Polaroid Now+ review for more details
Best budget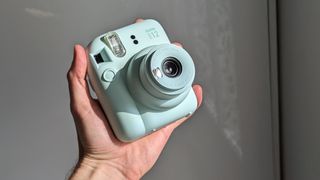 The Instax Mini just goes from strength to strength. Like me, you probably own one already – and like me, you probably won't be able to resist buying the Mini 12, because it's so dang cute with its soap-bubble redesign and new pastel colors.
Technologically it offers a few minor improvements on the Instax Mini 11, with a more sophisticated lens deployment and retraction mechanism along with a degree of parallax correction to make it easier to accurately frame your shots. It's a shame that the flash still can't be disabled, though.
The Mini 12 is definitely the one you should go for but, since the older version is only going to go down in price, the 11 is still worth considering. Check out our Instax Mini 12 vs 11 comparison to see if a few pennies saved is worth missing out on the new features.
Read our full Instax Mini 12 review for more details
Best pocket-sized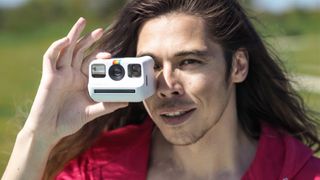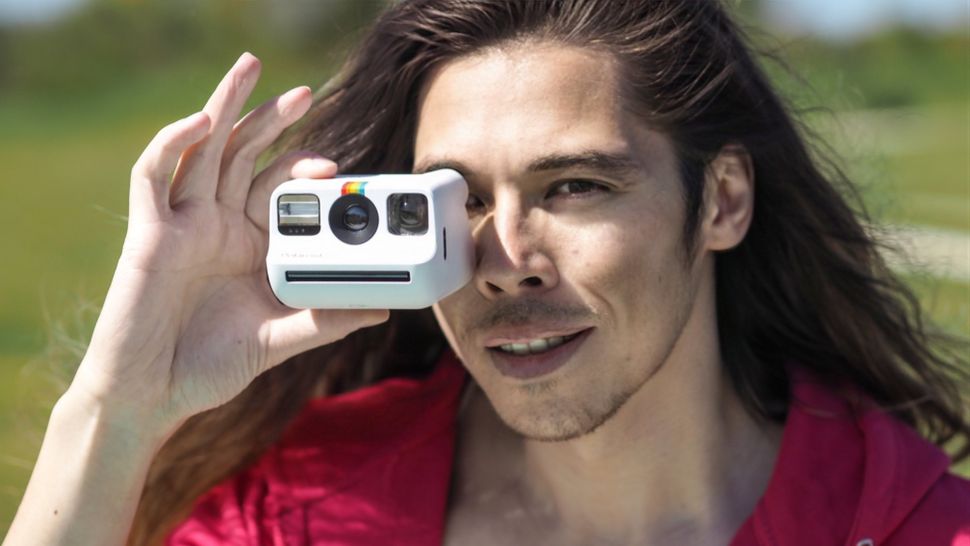 I fell in love with this palm-sized camera faster than it took a photo to develop – and so does everyone I show it to. It's the world's smallest analog instant camera, and it produces fittingly tiny instant photos, too. In terms of quality, the Polaroid Now cameras balance exposures better while rival Instax Mini cameras deliver slightly better image quality indoors.
Neither are as joyous to use, though, nor will they make you as many friends as the Go – which still takes very pleasing pics. Instax Mini film does work out cheaper than Polaroid Go film, but then you'll also need to replace AA batteries on a Mini whereas the Go just needs a USB connection to top up the power. And the Go boasts double exposures, which you won't get unless you opt for pricier options like the Instax Mini 90 Neo Classic (below).
A fun and funky little camera, the Polaroid Go will be the star of your next party and will deposit an endless amount of memories in your pocket or wallet. And if you've got kids, this could be the ideal camera for little hands to get started with.
Read our full Polaroid Go review for more details
Best hybrid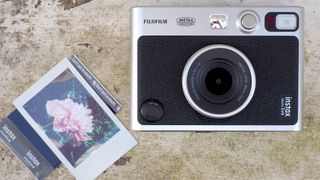 This is my favorite hybrid digital instant camera, outclassing the Instax Mini LiPlay. It's like an Instax Mini that enables you to edit your photos before you print them – and it also enables you to turn images from your phone into real Instax photos. Ever wanted to produce an instant print of a phone selfie, or a shot you took on a "proper camera"? Now you can!
On top of that, the Mini Evo boasts a beautiful vintage design. My favorite part of the camera is the physical lever on the back; designed to mimic the film advance lever on old cameras, here you use it to print photos when you're ready (and the image on the rear LCD even slowly "ejects" from the screen as it emerges from the side of the camera).
The Mini Evo has been a monster hit, marrying the fun of analog photography with filters and effects familiar to the Instagram generation. The ability to pair it with your phone for use as an instant printer seals the deal. If you're anything like me and you love sharing instant photos with friends, here you can give them the one you've just taken or transform a phone selfie into a sweet Instax print.
Read our full Instax Mini Evo review for more details
Best all-rounder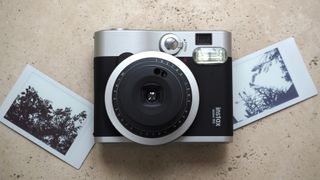 Available in brown or black, the Mini 90 Neo Classic is the only analog Instax with a rechargeable battery, which the company claims will last as long as 10 (credit card-sized) film packs. With retro styling, it feels like it's pitched at the photo enthusiast, with some manual control over exposure and even the option to disable the built-in flash if you feel pictures are too bright.
A double exposure mode extends creativity options for the curious (although the results were a bit hit-and-miss for us), as does a shutter button above its lens, which doubles as a selfie mirror (another shutter is in the usual top-plate location). The advantage here over a cheaper instant-print camera is an LCD display strip at the back revealing your chosen settings. The viewfinder is small but adequate for its purpose, while the faux leather finish adds a splash of style.
Read our full Fujifilm Instax Mini 90 review for more details
Best for simplicity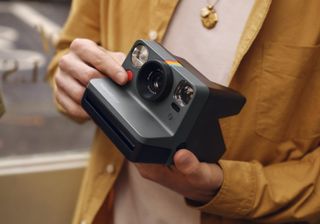 Want to shoot classic square prints, but don't need (or want) all the bells and whistles of the Now+? Then this is the one I recommend you go for. The base Polaroid Now is a much more straightforward shooter – no apps, no lens filters, no messing around; just point, press, and out pops an iconic Polaroid.
Given the mirrors inside Polaroid cameras, they are much bulkier than their Instax counterparts (which are technically mirrorless cameras!). However, while the Instax Square cameras may be slimmer, to me there's nothing like the tactility of holding a big, boxy Polaroid when you're shooting old-school instant film. If you want images imbued with the same quality as the ones your parents and grandparents took, the Now is sure to Wow.
Read our full Polaroid Now review for more details
Best for style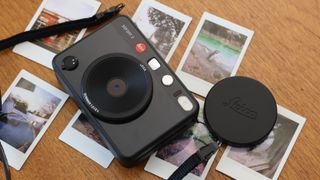 Our reviewer has used most instant cameras, but they named the Leica Sofort 2 are the best-looking instant camera to date, and it is hard not to agree. Leica is renowned for its fantastic and premium style, and the Sofort 2 has it in buckets, with a small and compact shape ready to slip into a pocket, and smooth glass finishes to the front and the back of the camera that look very chic.
Instead of its own proprietary film, the Leica Sofort 2 uses Instax Mini prints, which can be bought pretty much everywhere around the world, so you won't ever have to look far to create a few more memories.
Leica being a Leica, its premium design of course adds to its cost, and it does come at a price beyond the Instax Mini Evo, although fundamentally the two share the same technology, so you might need to decide how much that red dot is worth.
Unfortunately like other hybrid cameras, when it comes to digital image quality, it's not great with only a 4.9MP sensor. Although you can argue that is the point, as for snapping and printing Instax Mini prints, it is perfect. Like other hybrid cameras, the fun factor is the main selling point, something to be passed around at parties for making prints, and for that, the Leica Sofort 2 is a class act.
Read more: Leica Sofort 2 review
Best for big photos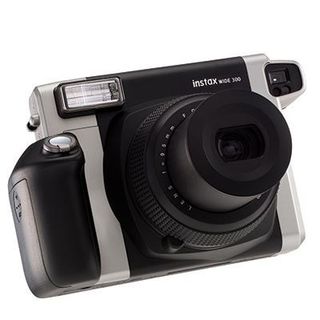 The Wide 300 is the daddy of the Instax family. It's powered by four AA batteries rather than the usual two, making this chunky camera not far off the size of a medium format system. That said, replaceable AAs will make the camera last longer than one with an integrated battery that stops holding its charge after a few years. And it's able to deliver much larger prints using the Instax Wide film packs, making it much better for group shots.
It's not a camera to take selfies with, though, between its bulky design, the lack of mirror, and a close focus distance that's a bit too long for most arms. And while it has a tripod mount, there's no self-timer (nor any other creative modes). So it's great for group photos, but only if there's someone behind the camera.
I still love it, though. It's got the most powerful flash on this list (thanks to all those batteries) and it produces the largest photos with great image quality. So if you want sheer scale with no frills, this is your best bet.
Read our full Fujifilm Instax Wide 300 review for more details
Best square images
Where Polaroids have that "dreamy" vintage look that's not to everyone's taste, Instaxes have a much more "modern" kind of image quality. So if you're looking for square instant photos that have punchy contrast and crisp sharpness, the SQ40 is the way to go. It steps away from the cute, showy, Instagram logo-inspired design of the Instax Square SQ1 and adds a sleeker and more sophisticated camera to the Square lineup. (Check out our Instax SQ1 vs SQ40 comparison for more info.)
As you'd expect, it takes pristine photographs whether you're indoors or outdoors – though I'm still sad that it lacks many of the features from the discontinued Instax Square SQ6 (such as a self-timer, tripod mount, and double exposures). So the Polaroid Now+ trumps it if you want advanced and creative tools, but the Instax takes it for conventional image quality. It's a shame that it still takes disposable batteries, though – and not even AAs like the Instax Mini, but trickier-to-find CR2s. Can we have USB batteries please, Fujifilm?
Read our full Fujifilm Instax Square SQ40 review for more details
Best Zink photos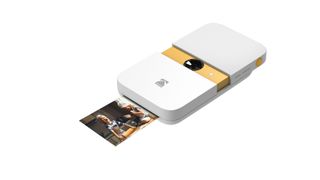 This slim-as-a-smartphone camera sports a sleek Polaroid-like design and uses Zink (zero ink) technology – it's essentially a miniature printer with a lens, producing 2x3-inch sticky-backed prints. Inside the camera is a relatively humble 5MP sensor (up to 10MP through interpolation), though for images this size you don't need all the resolution in the world. Ultimately the pictures it produces look more like printer images than they do instant photographs – not necessarily a bad thing, but for me they don't possess quite the same magic as instant film.
The ability to add up to 256GB of microSD memory means that you can snap to your heart's content, then cherry-pick the images that you want to print. The integrated battery keeps the camera nice and svelte, though you only get around 40 prints per charge – a far cry from the 120-160 shots you get from Polaroids. The LCD screen is definitely on the basic side, too, so don't go expecting the same kind of fidelity as in your traditional DSLR or mirrorless screen.
Read our full Kodak Smile Instant Print review for more details
Best compact Zink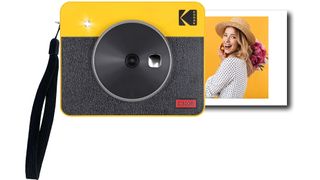 Kodak's Mini Shot 3 is a tidy little instant print camera that's great for anyone who doesn't want anything too complicated. It doesn't use Zink, like the Kodak Smile, above but houses a proper little printer that uses Kodak's 4PASS all-in-one cartridges to spit out little square prints, 3x3 inches. The colors pop a good deal better than Zink, and they are also rated to be long-lasting.
The camera overall is pretty cheap and running it isn't too expensive either, making it a good option if you want to shoot instant on a budget. It also produces 10MP digital photos that you can save via Bluetooth on the app (and you do have to do it this way; there's no internal storage). A cheap option that's good fun for anyone, especially those who aren't too confident with using a camera.
Best instant cameras: How we test
We don't test instant cameras using the same scientific lab tests we do on the latest mirrorless cameras and lenses – but our evaluation is no less exhaustive! When we get an instant camera, we take it to an actual shooting environment and run a few packs of film through it, seeing how it performs in a variety of lighting and environmental conditions. This is especially important with cameras that use a photochemical exposure process, since results can vary greatly even in only subtly different situations.
Factors such as feature sets are taken into consideration, especially as this relates to ease of use – since instant cameras are supposed to take pictures instantly, with minimal messing around. Battery life is a key point as well, given that there's physical printing / exposure and usually a flash being fired. Image quality is quite subjective, here; photochemical prints inherently possess a different set of characteristics, though Zink images can be more fairly evaluated in terms of print quality.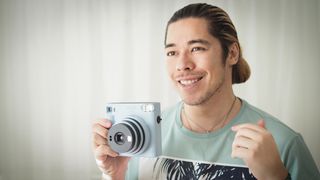 Best instant cameras: FAQs
How easy is an instant camera to use?
In short, very. You don't need to worry about complicated autofocus modes, setting the right white balance, or balancing the exposure triangle – simply load your film (this can be a little fiddly first time, but should soon become a cinch) and press the shutter button. Cameras don't get much simpler than this! Some instant cameras do offer more advanced creative features, but you don't have to use them – and most instant cameras are intentionally basic to be in-keeping with the retro, no-nonsense instant camera ethos.
What's the print quality like?
Polaroid and Instax film each have very different characteristics, due to their respective and unique photochemical exposure processes. Varyingly you can expect subdued or saturated colors, crushed contrast, blown out highlights, ethereal exposures… all 'features' that would kill the success of a DSLR or mirrorless camera! The results, however, are utterly unique, producing a look that even Lightroom presets and Instagram filters can't replicate. They're ideal image traits if you want a vintage, retro, lo-fi aesthetic. Here's your window into life in the Eighties!
Do instant cameras have any extra features?
In ye olden days, a traditional Polaroid instant camera might have a flash, but that was about it. Nowadays you can pick up a modern instant camera with multiple photo modes, plus Bluetooth connectivity to pair with a smartphone app. This can open up extra creative control, as well as enabling you to use your phone as a remote shutter release. LCD info screens and built-in rechargeable batteries can also be found in today's instant cameras. Finally, don't rule out hybrid instant cameras – these are essentially digital cameras, but with a tiny in-built printer to turn your digital snaps into analog prints right at the point of capture.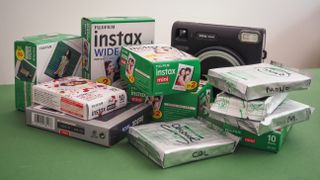 How much will each print cost me?
If there is a downside to instant cameras, it's that each and every shot you take is going to cost you money (remember the days of traditional film photography?). Naturally, the cost of film varies considerably between cameras and depending where you buy it, but as a very rough guide, expect to pay in the region of $0.75-$1.00 per print of Fujifilm Instax film, and between $1 and $2 per print for Polaroid I-Type or Go film.
What is the best printable camera for kids?
The Polaroid Go is the best printable camera for kids, in my opinion, thanks to its simplicity and teeny tiny form factor that's the perfect size for little hands. That said, another option is the new Instax Pal – an even tinier camera which is very much designed for youngsters, though this is not a printable camera (and must be paired with something like the Instax Mini Link 2 to print pictures). Do also check out our separate guide to the best cameras for kids