Amazon UK has slashed over £200 overnight on two of the best-loved Canon compact cameras amongst enthusiast photographers. Both the flagship Powershot G1 X III and the more recent G5 X II have had serious reductions on this zoom cameras, bringing their prices down to just £787.97 and £598.97 respectively.
The key attraction of the Powershot G1 X III is the large 24-megapixel APS-C-format sensor... which puts its quality credentials alongside that of a DSLR. It also offers Dual Pixel CMOS AF, which is usually only found on the camera's system cameras.
And at the front there is a there's a 15-45mm f/2.8-5.6 zoom lens, which offers a focal range equivalent to 24-72mm in 35mm terms.
The camera will shoot in RAW, offers a built-in ND filter, and offers motorwind sequences at up to 9 frames per second.
The Powershot G5 X II, meanwhile, boasts a brand new 5x optical zoom lens (up from 4.2x in the previous camera) with a 24-120mm equivalent focal range and f/1.8-2.8 aperture with 9 blades, to create pleasing background blur.
It has a 20 megapixel one-inch sensor sensor, and (unlike the G1 X III) offers full 4K video shooting.
In addition to burst speeds of 20fps, the Canon PowerShot G5 X Mark II features a brand new fully automatic 30fps mode. This captures full-resolution images in Canon's CR3 format (convertible to jpg in-camera), and similar to Olympus' Pro Capture mode, records from about a second before you press the shutter, so you never miss a moment.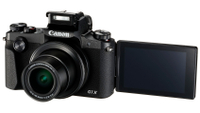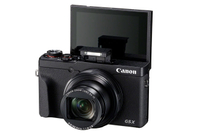 Read more
Best APS-C compact cameras
Best full-frame compact cameras
Best travel cameras
The best Canon cameras in 2020