Canon's PowerShot G-series cameras are aimed at serious photographers who want some of the power, control and image quality of a DSLR, but in a camera they can slip into a jacket pocket – and with the PowerShot G1 X Mark III, Canon has produced what it calls the "ultimate" G-series camera.
Its key selling point is that, for the first time, Canon has squeezed an APS-C sensor into a PowerShot body. The 24MP Dual Pixel CMOS AF sensor is similar, Canon says, to the sensor in its enthusiast EOS 80D DSLR, which is pretty near the top of its APS-C DSLR line-up.
The PowerShot G1 X Mark III is actually lighter and thinner than its Mark II predecessor, despite having a physically larger sensor, which is an impressive feat.
Canon is pitching the new camera as an all-in-one alternative to a DSLR for photographers who want to travel light and leave their DSLR at home. It's unlikely anyone would choose this instead of a DSLR as a main camera, but as a DSLR companion it looks perfect, offering similar levels of quality and control, but in a pocket-sized form. It could also be the best travel camera for Canon fans.
Other popular (and cheaper) Canon PowerShots:
• Canon PowerShot SX740 HS review
• Canon PowerShot SX70 HS review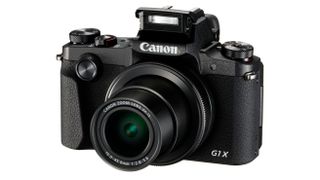 Canon PowerShot G1 X Mark III features
24.2MP APS-C CMOS sensor
24-72mm f/2.8-5.6 lens (35mm equiv)
ISO 100-25,600
Full HD video up to 60p
Dual Pixel CMOS AF system
Touch and Drag AF
9fps (7fps with C-AF)
2.36million-dot EVF with Organic EL panel
Wi-Fi, Dynamic NFC and Bluetooth
Weather-sealed body
Approx. 200-shot battery life (up to 250 in Eco mode)
USB charging
115 x 77.9 x 51.4mm
Approx. 398g (including battery and memory card)
Cramming a DSLR-sized sensor into a compact camera body is only part of the technical challenge, since the size of a camera lens tends to be in proportion to the sensor. So, Canon has done remarkably well to design and manufacturer a 3x optical zoom lens that retracts when the camera's not in use, and adds only a little to the overall thickness. When extended, though, the 15-45mm lens offers an effect 24-72mm zoom range, with a maximum aperture of f/2.8-5.6.
The zoom range is identical to the retracting 15-45mm kit lenses sold with Canon's EOS M-series mirrorless cameras, but this version is much more compact. The PowerShot G1 X Mark III's lens is a non-interchangeable lens, however, so while this presumably gave the designers a little more leeway for miniaturisation, it does make it a little more limited.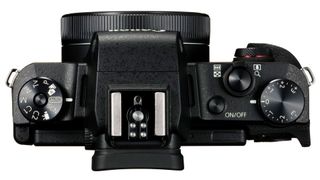 Its 3x zoom is a little brighter than those kit lenses, however, at least at the wide-angle end of the zoom range. At 15mm, the PowerShot G1 X Mark III has a maximum aperture of f/2.8, which is around two-thirds of a stop faster than the average DSLR or mirrorless camera kit lens at that setting, but by the time it zooms to 45mm, the maximum aperture is f/5.6.
Even so, you have to admire the lengths the designers have gone to in order to make a lens with these specs so small, using nine elements in eight groups and including three double-sided aspherical lenses and one single-sided aspherical lens. Canon has also managed to squeeze in a four-stop Image Stabilizer.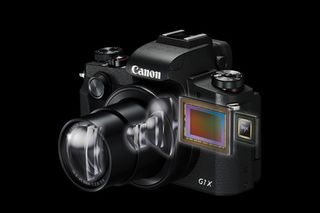 The PowerShot G1 X Mark III's sensor is one of Canon's Dual Pixel CMOS AF designs, which uses a 'split-pixel' system to offer faster phase-detection autofocus. Indeed, Canon claims an AF response of just 0.09 seconds.
You can choose from one of 49 autofocus points or use a broader zone focus mode, and you can move the AF point by 'touch-and-drag' operation on the touch-sensitive LCD display. Manual focus is also available, as are focus peaking and focus bracketing.
You can compose images using either the 3in vari-angle display on the back or via the 2,360k-dot OLED electronic viewfinder. This viewfinder is centrally mounted on the top of the camera, which makes the PowerShot G1 X Mark III look a little like a 'baby' DSLR. It's especially impressive that Canon has managed to incorporate a vari-angle screen without making the body feel chunky.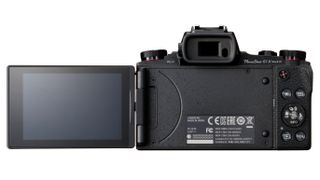 The PowerShot G1 X Mark III isn't really designed for capturing action, but it has a decent turn of speed nonetheless, with a burst mode that can capture images at 7fps with autofocus, or 9fps with focus fixed on the first frame. The fastest shutter speed, however, is 1/2000sec; most DSLRs go to at least 1/4000sec, with many going further to 1/8000sec.
You don't get 4K video either on the PowerShot G1 X Mark III. Instead, the model is restricted to 1080p Full HD, though it can capture footage at up to 60fps at this resolution for a 2x slo-motion effect. You can also call upon Canon's digital 5-axis stabilisation system when capturing videos.
Wireless connectivity is good, with always-on Bluetooth LE for quick image sharing via a smart device, plus full manual control via Canon's Camera Connect app.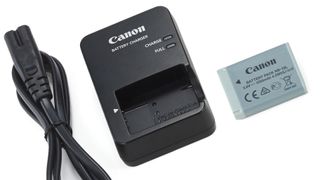 All of this technology and miniaturisation doesn't leave a lot of space for the battery, though. Canon says the PowerShot G1 X Mark III's dinky little NB-13L lithium-ion cell is good for 200 shots per charge, or 250 shots in 'Eco' mode – but it does support in-camera charging via USB, which means you can also give the battery a pick-me-up using the same kind of portable power banks you might use for your smartphone.