If you're passionate about shooting video and you're in the market for a new camera, you might want to cast your eye over this new Panasonic Lumix GH5 deal from Wex Photo Video. The UK-based camera retailer is currently offering the GH5 for £1,199 with an additional £500 worth of accessories completely free!
These accessories include the DMW-BGGH5 Battery Grip, the DMW-BLF19E Battery Pack and, most excitingly of all, the 25mm f/1.7 Lumix G ASPH lens. This Micro Four Thirds lens is the full frame equivalent of a 50mm focal length and has a 0.25m minimum focusing distance, making it perfect for creative portraits.
• Read more: Everything photographers need to work from home
Meanwhile, the Panasonic Lumix GH5 is one of the best cameras for video you can buy, capable of 4K 60p video and with a 20.3MP sensor. The GH5 has a Dual IS Mark II system with up to 5EV stops of compensation and 225 focus points to help you capture the sharpest images possible. It also features dual SD card slots that are UHS-II compatible.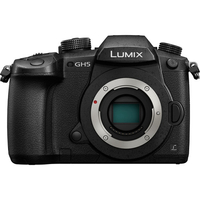 Read more
Best Micro Four Thirds lenses in 2020: lenses for Olympus and Panasonic
Best Panasonic camera in 2020: from long zoom compacts to Lumix mirrorless
Best full frame mirrorless camera in 2020: Sony vs Canon, Nikon & Panasonic