Introduction
The 'old' OM-D E-M10 Mark II comes first in our list of , and Olympus says it will continue for now alongside this , which is really more of an update and a refresh rather than a brand new camera.
It uses a smaller Micro Four Thirds sensor than rival mirrorless cameras and DSLRs, which might put some people off, but this sensor is still way bigger than those in regular compact digital cameras and smartphones, so the quality difference between the little E-M10 and a DSLR is really not that big.
Olympus makes two sets of interchangeable lens cameras that use this sensor size. There's the cheaper PEN E-PL7 and E-PL8 models which don't have viewfinders but do have flip-up selfie screens and will appeal to bloggers and fashionistas, and then there's the OM-D series, which have DSLR styling and an electronic viewfinder on the top – the E-M10 III is the beginner model in this OM-D range, though it's actually a lot more sophisticated than most beginner cameras.
Features
The key new features in the Olympus OM-D E-M10 Mark III are 4K video and a more powerful image processor that brings 121 autofocus points, together with a new Bleach Bypass Art Filter and a modest reworking of the camera's exterior and controls.
Externally, the OM-D E-M10 III looks almost identical to the existing Mark II version, and inside it has the same 16MP Micro Four Thirds sensor. We were wondering if it would get the same 20MP sensor as the more upmarket PEN-F and , but clearly Olympus is keeping that back for now.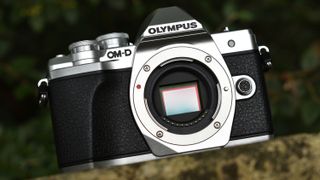 The Micro Four Thirds sensor is about half the size of an APS-C type, which means larger-format mirrorless cameras tend to produce better image quality at high ISO settings. Yet, Olympus holds its own lower down the ISO range and does incorporate a highly effective 5-axis, in-body stabilisation system to help get sharp shots in low light.
The advantage of the smaller sensor format is that the lenses are small too. Lots of APS-C mirrorless bodies are small, but the lenses aren't, so the Olympus does indeed have a clear advantage for travellers.