Sony A6100 APS-C mirrorless camera has a hard act to follow. It's an upgrade on the half-a-million-selling A6000, which can now be had for an astonishingly low price (around $408/£349 body only – see Sony A6000 deals for current best prices).
However, the A6000 has recently started to look a little dated. Image quality is good rather than great, at least by the latest standards, especially at high ISO settings. Video capture tops out at 1080p and the camera doesn't even have a touchscreen.
The A6100 (or the ILCE-6100 as it is sometimes referred to) introduces significant improvements, most notably 4K video. It's not a replacement for the A6000, and that both will be on sale simultaneously for some time. Armed with core quality and even a 1:1 aspect ratio option for Instagram, can the A6100 tempt vloggers and all-rounders after an upgrade?
Specifications
Sony model number: ILCE-6100 (body only), ILCE-6100L (with 16-50mm), ILCE-6100Y (with 16-50mm & 55-200mm)
Sensor: 24.2MP APS-C CMOS
Image processor: BIONZ X
AF points: 425 phase/contrast-detection
ISO range: ISO 100-32,000 (51,000)
Max image size: 6000x4000 pixels
Metering modes: Multi-segment, Center-weighted, Spot
Video: 4K 30/25/24p, 1080 120/60/30/25/24p
Viewfinder: EVF, 1440k dots, 0.39 type
Memory card: 1x Memory Stick/SD/SDHC/SDXC
LCD: 3.0-inch, 922k dots, tilting touchscreen
Max burst: 11fps, 33 raw, 77 JPEG
Connectivity: Wi-Fi, Bluetooth, NFC
Size: 120x67x59mm
Weight: 396g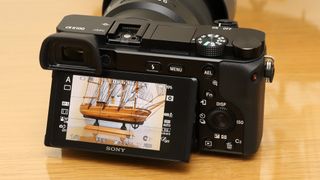 Key features
At the heart of the A6100 sits a new 24.2 megapixel Exmor CMOS image sensor and new-generation BIONZ X processor – the same as in the latest range-topping A6600 camera. It's a potent mix that aims for outstanding performance in everything from autofocus and quick-fire shooting to enhanced image quality even at high ISO settings, along with convincing 4K movie capture.
Starting with autofocus, the A6100 gains Sony's latest hybrid system which combines 425 phase-detection points with 425 contrast-detection points. That's a big numerical boost over the a6000, and the autofocus points cover a larger area of the image frame. New features include 'Eye AF' for animals instead of just for humans, while adding AI-based real-time tracking. This automatically focuses on eyes wherever they move within the frame. Autofocus speed is incredibly quick, rated at 1/50th of a second. That's three times faster than in the A6000.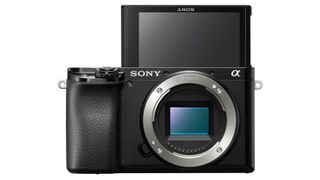 The maximum burst rate is similarly impressive, at 11 frames per second, with sufficient buffer depth for 33 raw files or 77 JPEGs. Switch from the flat-out Hi+ setting to Hi and you'll still get 8fps continuous drive, this time with the offer of silent shooting using an electronic rather than mechanical shutter. At this speed, you'll also gain continuous tracking for autofocus (including real-time Eye AF) and metering, complete with a live preview as you're shooting, instead of the Hi+ mode's instant review of the previous shot in a sequence. Real-time preview in hi-speed shooting is another feature that was unavailable in the A6000.
The A6100 inherits processing algorithms from Sony's latest full-frame mirrorless cameras, aiming to improve colour reproduction, particularly for skin tones. There are several 'creative styles' on offer, including standard, vivid, portrait, landscape, sunset, black and white and sepia, as well as incremental adjustments for saturation and sharpness. On top of that, there's a wealth of 'picture effects' like pop colour, retro photo, toy camera and water colour, plus many more besides.
For video, the A6100 boasts 4K capture with full-pixel readout and no pixel binning. Quick and slow motion movie capture are also available, and the camera gains an external microphone input socket which was lacking in the A6000. The much greater range of the tilt screen enables forward-facing orientation for selfies and vlogging. Compared with the more up-market a6600, video capture in the a6100 lacks real-time Eye AF. S-log gamma profiles for enhanced dynamic range are also unavailable. In-body or sensor-shift stabilization is lacking and, although the viewfinder has the same 0.39 type size as in the A6600, it has a lower resolution of 1440k rather than 2360k dots, just like in the original A6000.
Build and handling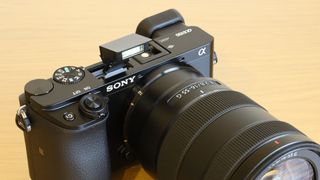 Little has changed on the A6100 compared to other cameras in Sony's Alpha line-up, with the same ergonomic handgrip, battery, SVGA electronic viewfinder and a near-identical button layout compared to the A6000. It weighs 396g to the A6000's 344g and the A6600's 503g. Build quality isn't as impressive as with the A6600, with the body being constructed from plastic rather than metal. It's also the only one of the three to lack weather-seals. Even so, the overall construction feels solid and dependable, and the triple-hinged rear screen enables a good range of movement from 180 degrees upwards to almost 90 degrees downwards.
The layout of buttons and dials is almost identical to that of the original A6000. It's certainly not to everybody's taste. The camera lacks a front-mounted control dial while, around the back, the buttons are fairly tightly packed. Again, the menu system feels rather long-winded and arcane in places. On the plus side, the touchscreen greatly improves handling, especially for autofocus point selection, both in static mode and for initiating autofocus tracking on a moving object. Moreover, eight of the camera's physical buttons can be customised for direct access to any of the 89 shooting and playback functions, and there's also provision for setting up your own custom menu.
The position of the viewfinder on the far left of the rear panel is another factor that will divide opinion in terms of handling. However, at least it helps to avoid any accidental touchscreen operation with the tip of your nose.
A key 'missing' feature for videographers is that the A6100 does not have a headphone jack for monitoring audio levels coming from its built-in microphone. For that, you'll need the pricier Sony A6600.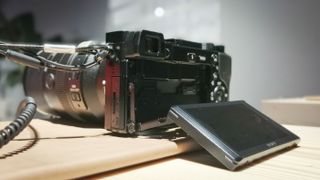 Performance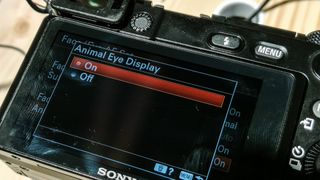 Living up to its billing, autofocus is incredibly fast and extremely consistent. The artificial intelligence engine helps to deliver impressive tracking performance even for erratically moving objects, as well as enabling good real-time Eye AF tracking. This is unavailable during movie capture, though, and you do have to toggle between human and animal in the onscreen menus.
In our tests, we found exposure metering to be rather better than in the A6000, with images being consistently brighter and more appealing, whereas the a6000 often tends to go to the dark side. The Dynamic Range Optimizer works particularly well to retain detail in both highlights and very dark lowlights, with both auto and manual levels available for regular and HDR modes.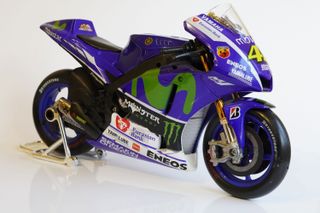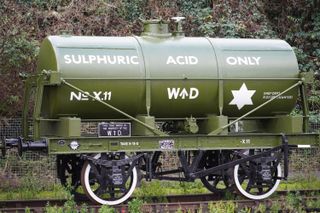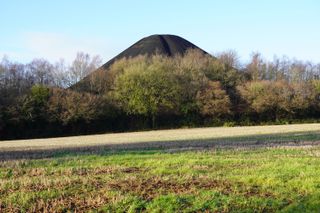 Colour rendition looks very natural in the standard creative style and impressively vibrant in landscape and vivid modes, without going over the top. Image quality is much improved over that of the A6000 when shooting under dull lighting conditions at high ISO settings. Both chroma and luminance noise are less apparent while fine detail and texture are better preserved.
Lab tests
We tested the Sony A6100 against three key rivals: the Fujifilm X-T30, Olympus OM-D E-M5 Mark III and the old Sony A6000. The results show some improvements in image quality over the old model, but Sony's rivals have edged ahead.
Resolution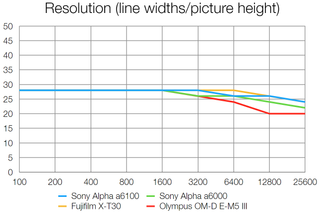 All four cameras are closely matched at lower ISO sensitivities for resolving power - not surprising given the two Sony's and the Fujifilm all pack ~24MP sensors. The 20MP Olympus does well to match the other three, though its lower pixel count does start to show once you pass ISO 3200. At higher sensitivities the A6100 manages to resolve slightly more detail than the old A6000, despite the near-identical megapixel count.
Dynamic range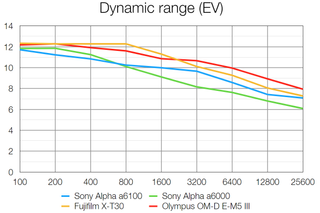 Sony's APS-C mirrorless cameras usually struggle to match competitor cameras in our dynamic range test, and the A6100 is no exception. It trails the X-T30 and OM-D E-M5 III at ISO 400 and beyond, though it does show a healthy improvement over the A6000 throughout the sensitivity range.
Signal to noise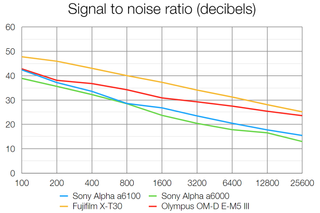 Our signal to noise test measures image clarity, specifically the ratio of the actual image 'data' you want to capture, versus the image noise that you don't want, but will inevitably be visible when shooting at higher ISO sensitivities. The higher the score at a given ISO sensitivity, the better.
As with dynamic range, the A6100 again shows a clear improvement over the old a6000. Sadly it's still not enough to match the competition from Fujifilm and Olympus though.
Verdict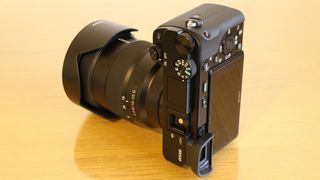 The A6100 has been a long time coming, as the preceding A6000 has been on sale for nearly six years. The new camera makes quite an impact. The pro-level autofocus with its ability to track subjects throughout the frame by locking on to faces and eyes is a genuinely effective way of making photography less arduous and more creative. Metering performance and image quality are also improved, with the latter being more vibrant and lifelike, and far better at high ISO settings. 4K movie capture becomes available, and the addition of a touchscreen is very welcome. The front-facing flip action is a real bonus for selfies and vlogging. Bluetooth is also added to the Wi-Fi and NFC previously featured in the A6000.
There are still some handling issues. The overall control layout feels rather dated and there's no front-mounted command dial. There's no in-body image stabilizer and, although the 16-50mm Power Zoom kit lens features 'Optical SteadyShot', it's not the sharpest tool in the box. The relatively low-resolution 1440k dot electronic viewfinder is another disappointment.
Even so, the A6100 is an appreciable improvement over the highly popular A6000 and delivers a real performance boost in all of the most critical areas. Battery life is pretty respectable for a mirrorless camera, at 380-420 shots for stills and around 125 minutes of video.
Overall, the A6100 is a good choice for vloggers and anyone else wanting to jump up from a smartphone/point-and-shoot to get manual mode, zoom and better images on a serious – and seriously portable – camera. The only significant issue is pricing, which is currently far higher than the A6000, and is also slightly too high for the camera to be considered truly 'entry-level' when compared to its current competition.' It prevents us awarding the A6100 more than 4 stars right now. However, once Sony inevitably cuts the price, it'll doubtless become good value for money.
Read more:

• Sony A6000 vs A6100 vs A6300 vs A6400 vs A6500 vs A6600: how do you choose?
• The best lenses for Sony A6000 family of cameras
•These are the best mirrorless cameras you can buy right now
• How to choose the best Sony camera
• We pick the best cameras for vlogging