Sony has called its new camera the ZV-E10, presumably to distinguish it from its long running series of A6000 cameras. It did the same with its pocket-sized Sony ZV-1, which is essentially a cheaper vlogging version of the rather pricey RX100 series cameras.
It's a smart move. We've (almost) lost count of all the Sony A6000-series cameras has launched, each somewhat more expensive than the last and culminating in the $1,400 Sony A6600. This new model is cheaper than all of them, even the entry level Sony A6100, and yet does everything a vlogger could ask for – which is a market Sony has been targeting all along. Previously, we might have put the mid-range Sony A6400 forward as the best camera for vlogging in the Sony range, but now we're tempted to go with the ZV-E10.
Specifications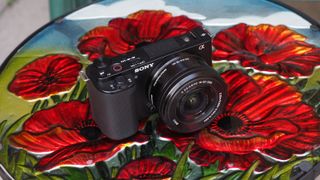 Sensor: 24.2MP APS-C CMOS
AF points: 425 phase detect + 425 contrast detect
ISO range: 100-32,000
Stabilization: EIS, video only
Max image size: 6,000 x 4,000px
Video: 4K UHD up to 30p
Viewfinder: No
Memory card: 1x SD/SDHC/SDXC, UHS-I
LCD: Vari-angle touchscreen
Max burst: 11fps for 116 JPEGs
Size: 113.0 x 64.2 x 44.7mm
Weight: 346g body only
Key features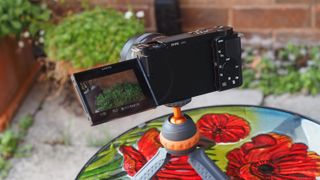 As far as we can tell the 24.2MP CMOS sensor is from the same family used in the A6xxx series all along. This camera is a few millimetres smaller in width than the existing models, though about the same in weight. As an E-mount camera, it takes both Sony APS-C E-mount lenses and full frame Sony FE lenses too.
There are important differences, though. One is that the ZV-E10 has a fully-adjustable variety-angle screen for the first time on a Sony APS-C mirrorless camera – so far, all the rest have had tilting screens only. This is a big advantage for video because it means the screen won't foul on microphones or tripods when it's flipped to face forwards.
Another difference is the inclusion of a 3-capsule directional mic in the top of the camera, which accepts a clip-on wind-muffler included with the camera. It also has a regular mic socket and the accessory shoe also works as a digital audio interface.
The third difference might be less welcome – there's no viewfinder. Vloggers and videographers probably wouldn't use one anyway, but for stills photographers this will be a drawback.
• Best lenses for the Sony ZV-E10
Build and handling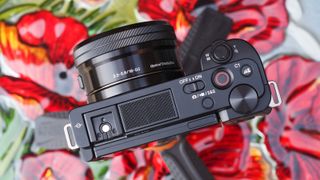 The existing A6xxx cameras are pretty small already, so the ZV-E10 feels especially compact. Even so, the good-sized grip on the front makes it feel pretty secure in your hand.
There's no mode dial on this camera – you have to change modes using the menus – which is another negative point for stills photography – and while the button on the top for toggling between Stills, Video and Slow/Quick mode is straightforward enough, it would have been much, much better to have a physical lever so that you can see at a glance which mode you're in.
Sony's rear screens have always been on the small side, and this one seems no better. It's adequate, no more. It's not very bright, either, so if you intend to use this camera outdoors, you'll probably want to enable the 'Sunny' display mode – and leave it there.
Otherwise, this little camera handles just fine. Sony recommends the 10-18mm F4 wide-angle for self-vlogging at arm's length, just to get in some of the background too, but the familiar Sony 16-50mm power zoom kit lens is especially useful here because it works with the zoom lever set around the ZV-E10's shutter release.
Performance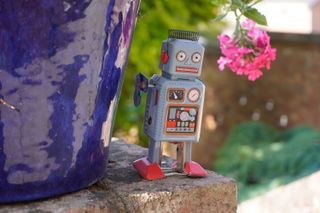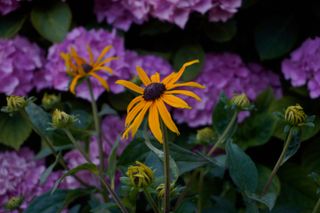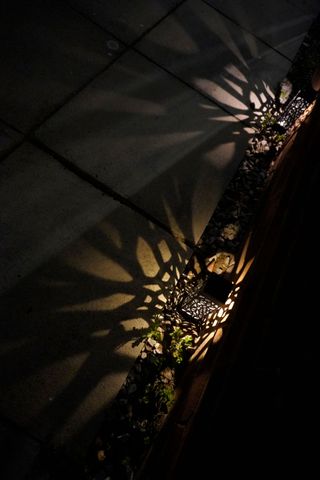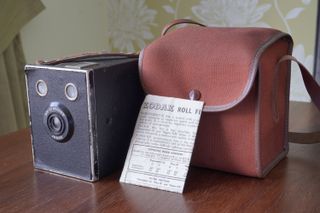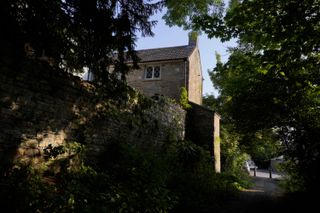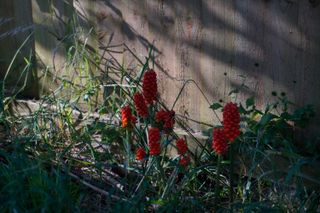 Sony's autofocus system is the best there is amongst APS-C mirrorless cameras. It's fast and positive for stills photography, but excels in video mode. The Face/Eye detect AF is very fast and tracks even rapid movements. The Presentation Mode is equally impressive, rapidly refocusing on objects you hold up in front of the camera – though you can't have Face/Eye AF and Presentation Mode at the same time. Finally, the Tracking mode is activated simply by tapping your subject on the screen, and 'sticks' to them really well, only losing contact if they are momentarily obscured or leave and re-enter the frame.
This still image quality looks very much as we'd expect from Sony's APS-C mirrorless cameras. It's probably best not to expect too much from the Sony 16-50mm lens, though. The lens that came with the ZV-E10 had better edge sharpness than our pretty awful office lens, but it's still not great, even by kit lens standards.
Video
The video quality looks good at first glance, as we've come to expect from Sony's APS-C mirrorless cameras. We couldn't test the wind muffler, alas, because our sample camera didn't come with one in the box – though we did find this really effective on the Sony ZV-1.
Video is a bit of a mixed bag, however. The 4K quality is very good, and we've already mentioned the stellar AF system, but this is a camera that doesn't like sudden movements. It has no in-body stabilization, so it relies on lens stabilization or in-camera digital stabilization, neither of which seems as effective. There is an 'active' stabilization mode for run and gun style video (we presume) but it just adds a heavy crop without appearing to help much.
Worse, like other Sony A6000-series cameras, this one shows a prominent rolling shutter or 'jello' effect if you move it too quickly. This can give handheld video an even more jerky appearance.
The lack of in-body stabilization and the rolling shutter effect are not such an issue if you use a gimbal or a tripod, but they are not really what you want in a camera aimed at novices, whose technique is not likely to be so polished.
This is an issue mirrorless camera makers need to take on board. If they want to pitch an entry level mirrorless model as an 'upgrade' to a phone, action camera or gimbal camera, then it does actually have to be better. With the ZV-E10, the quality is certainly there, but it takes a lot more nursing to get smooth looking shots than camera phone or a GoPro.
Ultimately, you CAN shoot handheld with the ZV-E10, but you have to be very steady, and there may be too many times when you kick yourself for not using a gimbal or a video tripod.
Lab data
For our lab data comparison, we compared the ZV-E10 with three of its key APS-C mirrorless rivals with a focus on vlogging: the Canon EOS M50 Mark II, Fujifilm X-S10, and Nikon Z50.
Resolution: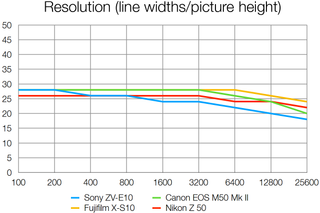 Resolution is measured using standardized text charts which give results in line widths / picture height, which is independent of sensor size.
The ZV-E10 shares a similar sensor resolution as the Canon EOS M50 Mark II, but the Sony's images tend to be noisier at higher ISOs, obscuring some fine detail. It also means the lower megapixel Nikon Z50 actually maintains better detail than the Sony at higher ISOs.
Dynamic range: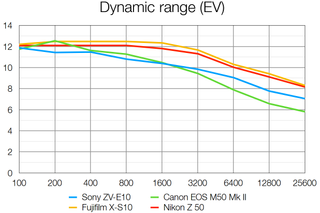 Dynamic range is a measure of a camera's ability to record extreme brightness ranges and still retain detail in the brightest and darkest parts of the scene. It's measured in EV (exposure values, or 'stops').
The ZV-E10 can capture a reasonably wide dynamic range, roughly equivalent to the EOS M50 Mark II at lower sensitivities, and around one stop more at higher ISOs. However, the Sony can't compete with the Fujifilm and Nikon cameras when it comes to capturing extreme highlight and shadow detail. The sensor family used across Sony's APS-C mirrorless cameras is quite old now, and it looks like this is affecting both the noise control and readout speeds.
Signal to noise ratio: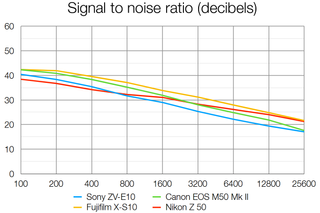 This test compares the amount of random noise generated by the camera at different ISO settings as a proportion of the actual image information (the 'signal'). Higher values are better and we expect to see the signal to ratio fall as the ISO is increased.
The ZV-E10's images show slightly more noise than its main rivals, especially at higher ISOs.
Verdict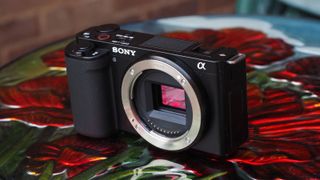 The Sony ZV-E10 is unadventurous in many respects, even a little limited. Sony doesn't seem to have moved on its APS-C 4K video tech very far at all in the past couple of years, and its 4K 30p capture is now the norm. There's no viewfinder, and the controls are less well suited to stills photography than other Sony APS-C mirrorless cameras.
But the vari-angle screen, the in-built mic and muffler and Sony's class-leading video AF make this camera perfect for new vloggers, or smartphone shooters who want to up their game. Best of all, Sony has chosen a realistic price point that makes this camera accessible to novice vloggers yet still gives them everything they need. It's just a pity that handheld video footage isn't more stable, and this might be an unpleasant surprise for vloggers trying their first mirrorless camera.
The ZV-E10 doesn't break new ground technically, but as a product designed to suit a specific audience, it pretty much hits the nail on the head.
Read more:
• Best Sony cameras
• Best vlogging cameras
• Best cameras for video
• Best mirrorless cameras