Quick Menu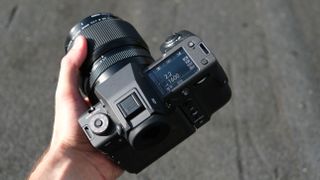 Top picks
1. Best for classic style
2. Best for video
3. Best for pros
4. Best medium format
5. Best for affordable resolution
6. Best for travel
7. Best entry-level medium format
8. Best features for price
9. Best last-gen
10. Best on a budget
How to choose
How we test
The best Fujifilm cameras are perfect for photographers who want a stylish retro body as well as the most up-to-date technical features. Thanks to Fujifilm's latest X-Trans sensors and advanced processors, the best Fujifilm cameras have got style and substance – but which is the right model for you?
When choosing the best Fujifilm cameras, you have two different options to choose from. Firstly, the Fujifilm X Series is made up of APS-C mirrorless cameras, with two of my recent favorites being the Fujifilm X-T5 and Fujifilm X-S20. Fujifilm's APS-C cameras use Fuji's X-mount lenses, and you can find our top picks in our guide for the best Fujifilm lenses.
Then there's the Fujifilm GFX series – high-end medium format cameras that have large sensors and large pixel counts. The latest Fujifilm GFX 100 II was released a few months ago and is the best medium-format camera I have tested to date. GFX cameras use the Fujifilm GF lenses and are ideal for professionals and serious enthusiasts, these are big lenses, but with big image quality!
This list focuses on Fujifilm's digital cameras, but Fujifilm might be best known for its Instax range of instant cameras, check out our best instant camera guide for more on these.
We have tested and reviewed all of the Fujifilm cameras on this list, and I have put together my top recommendations. With a mix of beginner models and those more suited to experts and professionals, you can find the perfect camera for your needs.
Gareth is the Reviews Editor at Digital Camera World, and the person in charge of approving all the latest camera-related tech. With several years of experience as a photographer and videographer, shooting for some household names, he has learned a thing or two about working with cameras and the photography industry. Outside of this, expect to find him cycling around London, or deep in a Netflix binge.
Best Fujifilm Camera: Our Top Picks
The best Fujifilm camera in 2023
Why you can trust Digital Camera World Our expert reviewers spend hours testing and comparing products and services so you can choose the best for you. Find out how we test.
Best Fujifilm camera for style and features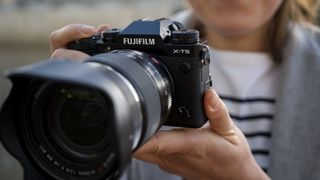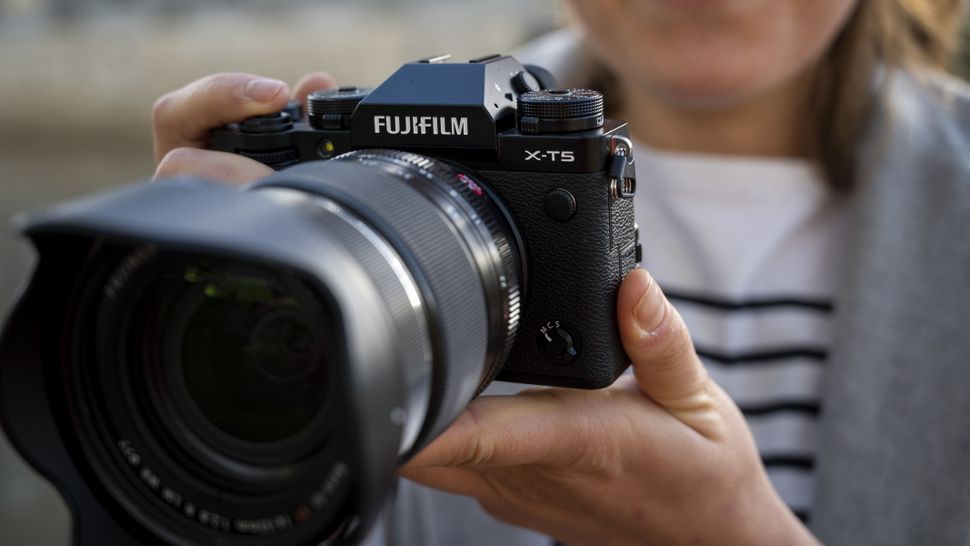 The Fujifilm X-T5 is the company's latest camera in its hugely popular X-T range. I love Fujifilm's X-T range for its incredible blend of classic style, which takes influence from vintage film cameras, with traditional dials on the top of the camera which will help you change ISO and shutter speed settings quickly. But don't let the retro looks fool you, the X-T5 though is also at the cutting edge for digital camera tech.
The X-T5 has an excellent 40.2MP sensor, 10-bit 4:2:2 video at 6.2K/30P, and a 3-way tilting touchscreen for flexible image composition that is ideal for professionals or serious enthusiasts alike. I use the X-T5 as my personal camera, and I am blown away by the image quality of such a compact and lightweight camera. If anyone says that APS-C sensors are fundamentally worse than full-frame, then I would counter with this camera.
If you are not convinced by the classic body and dials, then I would recommend checking out the similarly specced Fujifilm X-H2 (further down this list). It features the same sensor and processor as the X-T5, but a more modern body that might suit busy pros. You can see our Fujifilm X-T5 vs X-H2 if you're not sure which is right for you.
Read more: Fujifilm X-T5 review
Best Fujifilm camera for video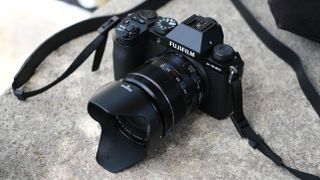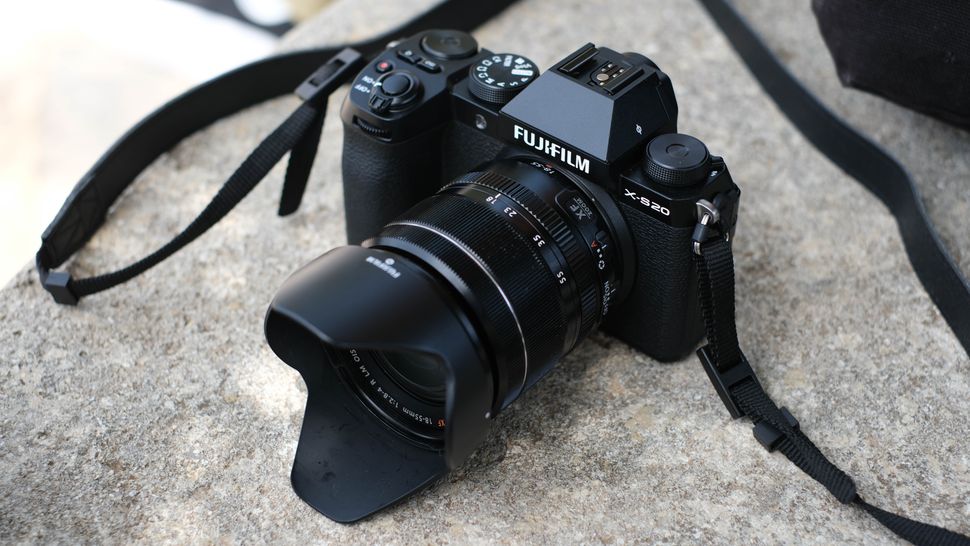 I fell hard for the Fujifilm X-S20 when I tested it, and I think this is probably one of the best cameras on the market right now for most people. The excellent X-Trans IV sensor might be the same as the X-S10, but this is no bad thing, as I am still very impressed with the photos today. However, the X-S20 sets itself apart with a big bump from Fuji's new X-Processor 5, which not only brings the best of Fujifilm's autofocus recognition and tracking but also video that belongs in a more premium-priced camera.
Despite its small and compact size, the X-S20 is a deceptively powerful video camera capable of 6K video with open-gate and numerous codecs for those of us who like to get in-depth with video editing. With subject recognition and tracking in videos including face recognition, and special vlogging features, content creators especially will find a lot to love in the X-S20.
While the camera isn't in Fujifilm's popular classic retro style like the X-T5 or X-T30 II, I think the camera looks awesome, and I found it a joy to use with excellent handling, and it offers more straightforward controls than the two aforementioned cameras with all their manual dials. The X-S20 is compact and lightweight which is perfect for traveling or balancing on a gimbal for vlogging or video.
The introductory price is a little higher than the previous X-S20, which might put some people off, although, I think the price bump is justified as for the cost, you are getting a considerably capable camera that punches above its station.
Read more: Fujifilm X-S20 review
Best Fujifilm camera for professionals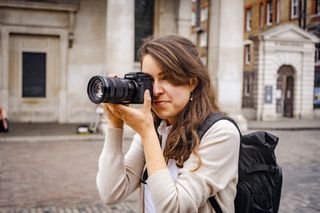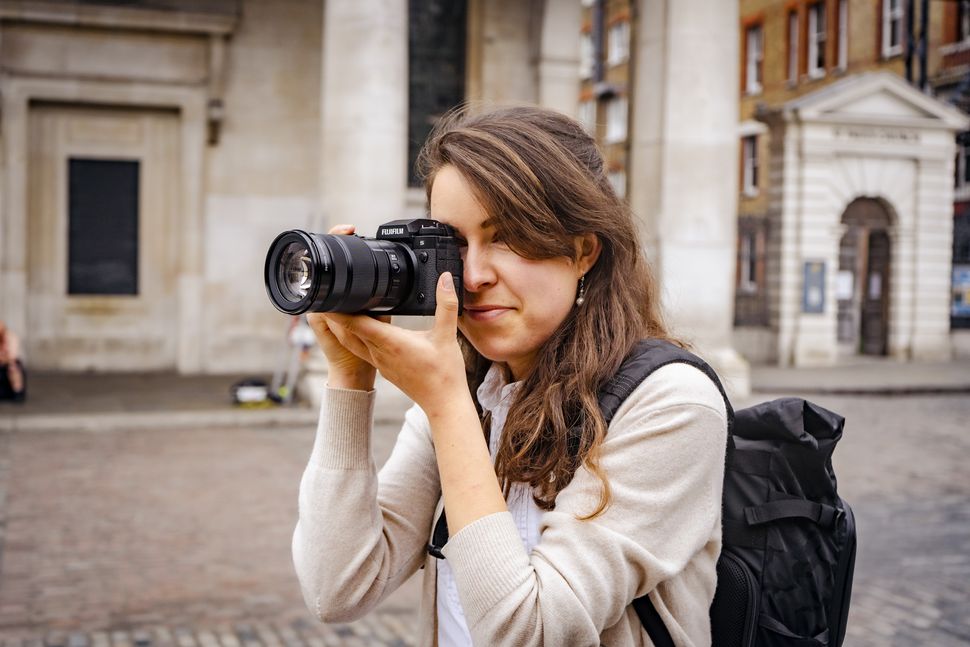 The Fujifilm X-H2S is in our reviewer's opinion "one of the best APS-C hybrid cameras ever made", which is high praise indeed, and an opinion I am inclined to agree with. The X-H2S is the fastest camera in the Fujifilm X-mount range, made for sports and wildlife photographers where keeping up with the action is paramount.
Fujifilm also has a well-built-out lens collection with options for everyone from wide to tell, and I love the 1.5x crop factor of APS-C sensors for their ability to get a little closer to the action with smaller-sized optics. The X-H2S can shoot at 40fps with minimal screen blackout, alongside its in-body image stabilization to keep those telephoto lenses even steadier.
The X-H2S body is also built for professional handling, with a big chunky grip to easily hold on to while shooting with larger lenses, and a comfortable button and dial layout for quick controls.
Rounding out the specs the X-H2S can also capture 6K video or 4K at up to 120p, and has a flip-out vari-angle screen, and a 5.76m dot electronic viewfinder. There's so much power here that I think only a professional photographer or videographer will really need it. The additional power also comes at a price, with the X-H2S being the most expensive camera in Fujifilm's very reasonably priced range.
Read more: Fujifilm X-H2S review
Best Fujifilm medium format camera overall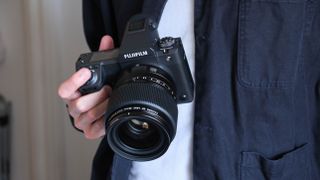 To put it simply, the GFX 100 II is one of my favorite cameras I have reviewed. The image quality from Fujifilm's latest sensor is simply amazing, and I could not stop pixel-peeping my photos, I was continually amazed by the amount of detail the camera could capture.
But what surprised me the most was just how easy the camera is to use, with a body that is the same size as a DSLR or even some larger full-frame mirrorless cameras, yet somehow able to offer up to 8-stops of IBIS, a feature I now struggle to live without. The GFX 100 II should be the catalyst for every full-frame professional portrait, fashion, product, and landscape photographer wavering on jumping to medium format.
The latest X-Processor 5 delivers new autofocus capabilities for a sensor of this size, with the ability to recognize and track faces, eyes, animals, and even vehicles very effectively. In testing this with portraits, I found the eye focus spot on every time. The sensor has undergone a complete redesign to make it the fastest medium-format camera sensor yet at 8fps. And for video, the GFX 100 II can offer a top spec of 8k30p, with compatibility with the image circles of popular cine lenses.
Fujifilm has thrown everything and the kitchen sink into the camera. The Fujifilm GFX 100 II is not just the best medium format camera around right now, but I think it is one of the best cameras full-stop for professional photographers.
Read more: Fujifilm GFX 100 II review
Best Fujifilm camera for affordable resolution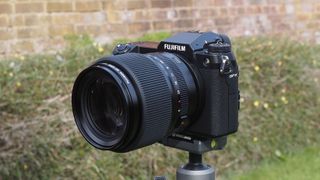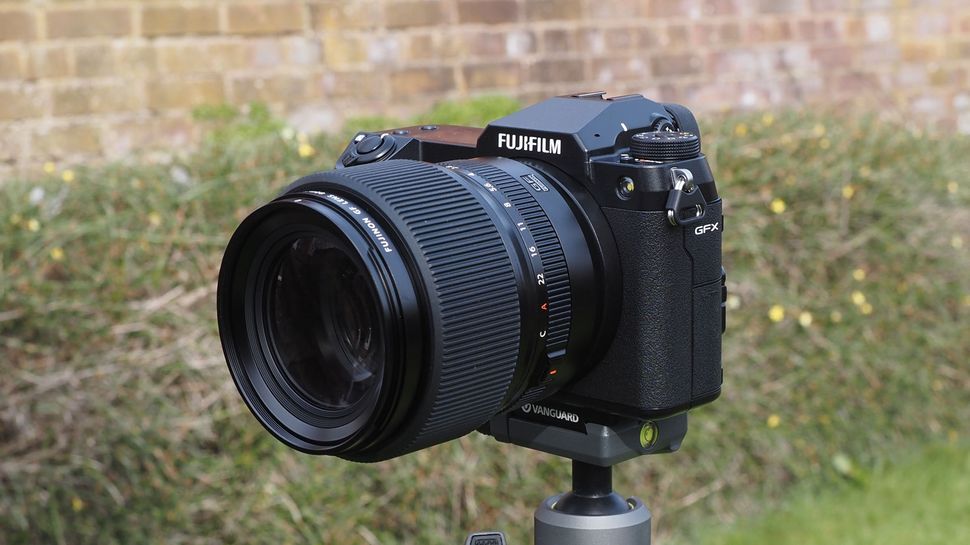 Fujifilm is doing something for medium format photography that no other brand has managed. It's made the luxury of having a 100MP sensor more affordable while maintaining incredible image quality, fast autofocus, and a high-end build.
The GFX 100S comes in a few thousand dollars under the new GFX 100 II, and while you do miss out on a few video specs from the newer model, if you won't use them, then I think the GFX 100S is one of the best value cameras you can currently buy.
Compared to the original GFX 100 model, the GFX100S has a more compact body but doesn't compromise on sensor resolution. Our reviewer was impressed by the dynamic range, tonality and color depth, sensational resolution, and the ability to crop as much as you need. The GFX 100S also manages to squeeze in some in-body stabilization, which enables Pixel-Shift photos of up to 400MP with no false color, which is essential for a lot of professional work.
Somehow, Fujifilm has managed to make a camera that delivers everything the original GFX100 could deliver, only in a smaller body and at not much more than half the price. It's the kind of camera wizardry I live for and there's no surprise it made it into my top picks.
Read more: Fujifilm GFX 100S review
Best Fujifilm camera for travel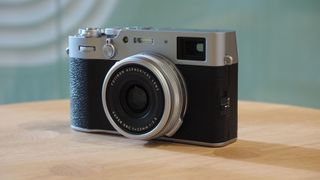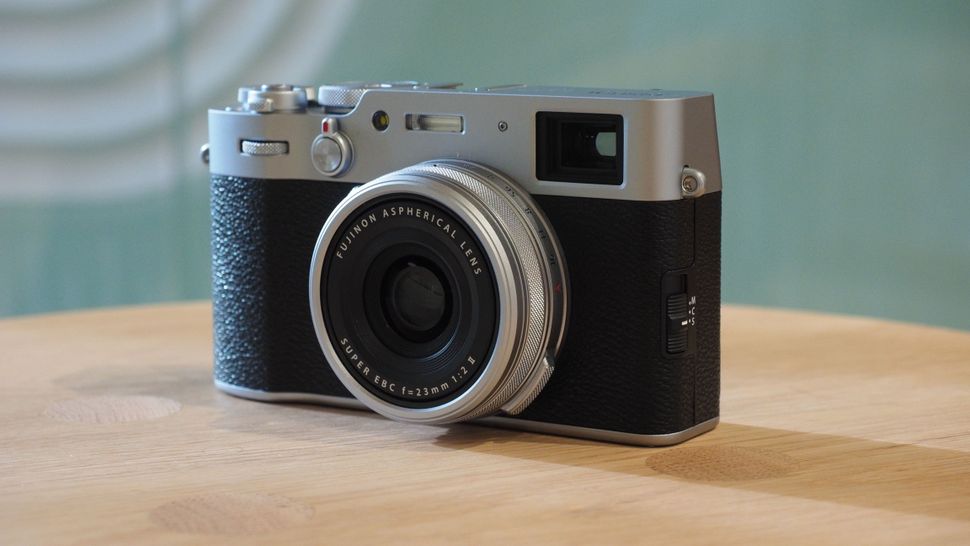 Fujifilm's original X100 was the camera that sparked people's obsession with Fujifilm's retro-styled modern cameras. Five models later, the Fujifilm X100V is still my top choice for anyone who wants a premium compact camera without the faff of changing lenses.
The X100V has a fixed lens that is roughly equivalent to 35mm on a full frame camera, which is my personal focal length of choice for street or travel photography. The X100V has the same exceptional build quality that Fujifilm cameras are known for, and its compact and lightweight build also means that the X100V slips neatly into the pocket of your coat or bag, so it can easily go everywhere with you.
it has the same 26.1MP X-Trans sensor as the previous flagship-level Fujifilm X-T4, and I still love the image quality from the X100V, especially combined with Fujifilm's beloved film simulations and recipes, taking some of the work out of editing. The wonderful hybrid optical viewfinder is also a major highlight and one of the reasons I am still obsessed with rangerinder cameras as I much prefer an optical viewfinder over an EVF.
The downside is Fujifilm X100V's slick design and up-to-date features don't come cheap, and that's if you can get your hands on one in the first place. The Fujifilm X100V is perpetually out of stock around the world, and has a months-long order list so is not the easiest to buy, but that only demonstrates what an incredible camera this is, and I think it is well worth adding your name to the waiting list.
Read more: Fujifilm X100V review
Best entry-level medium format Fujifilm camera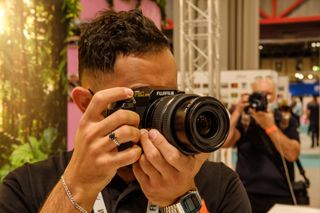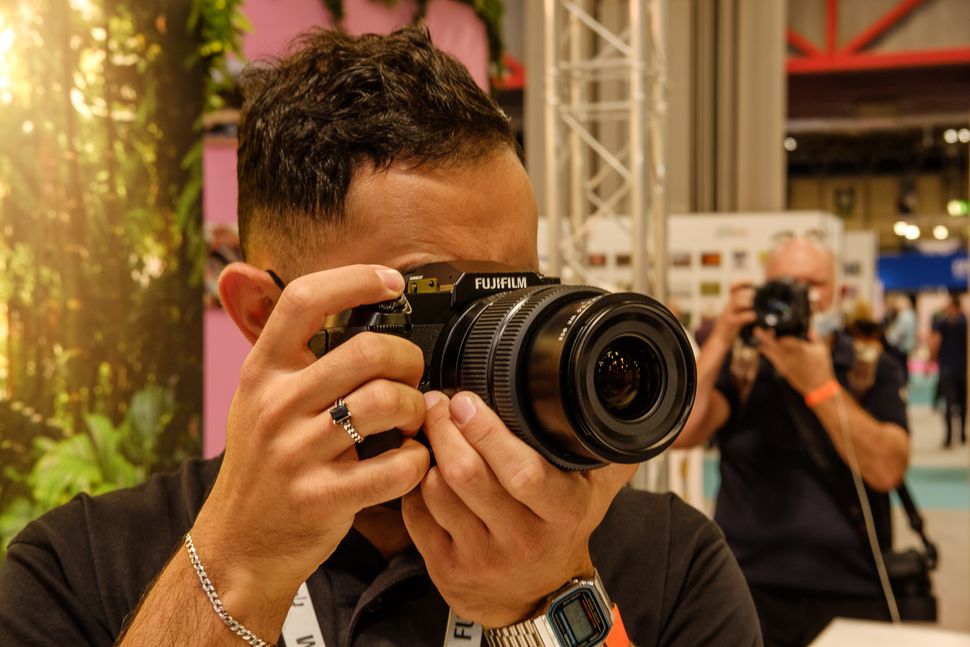 Fujifilm revolutionized the world of medium format with its mirrorless GFX series of comparatively small and relatively affordable large-sensor cameras. The Fujifilm GFX 50S II I think is perhaps the best distillation of the formula yet, cramming a gorgeous 51.4MP sensor into a body that actually rivals the portability of any other professional camera – DSLR or mirrorless. If you are not just content with 51MP, then the GFX 50S II has a Pixel Shift Multi-Shot mode, which combines 16 RAW images to create huge 200MP files.
What's new with this model though is the 6.5-stop image stabilization system, which has been improved over the previous GFX cameras and greatly improves the GFX 50S II's real-world usability, and makes it a real contender against full-frame pro cameras.
The downsides, well the GFX 50S II has a burst rate of just 3fps, and can only shoot Full HD video at 30p, but Fujifilm has correctly divined that nobody is buying this camera for its action-shooting or video capabilities. It does what it's designed to do and does it exceptionally well.
Possibly the thing I find most exciting about the camera is the price. The GFX 50S II undercuts some other big-name professional camera brand's flagship cameras, and sure it can't keep up with them in terms of speed, but with more resolution, it has most of them trumped for image quality.
Read more: Fujifilm GFX 50S II review
Best Fujifilm camera for features and price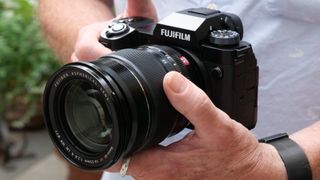 The Fujifilm X-H2 is an extremely compelling camera at an equally compelling price. This camera has the highest resolution yet in an APS-C camera, its 40-megapixel sensor surpassing that of all but a handful of full-frame cameras. With 8K video and 5-axis IBIS to boot, you get impressive performance for an impressive price!
The design and handling are identical to the X-H2S, which is the more powerful of the two cameras, and has an increased price tag to match. However the X-H2 is still an incredibly specced out camera, and we think that the X-H2 offers more than enough bang for your buck that will please most photographers. For any photographer that is passionate about capturing high-speed action or amazing video, it's the best Fujifilm camera yet.
Read more: Fujifilm X-H2 review
Best last-gen Fujifilm camera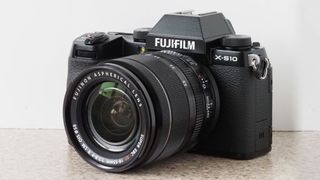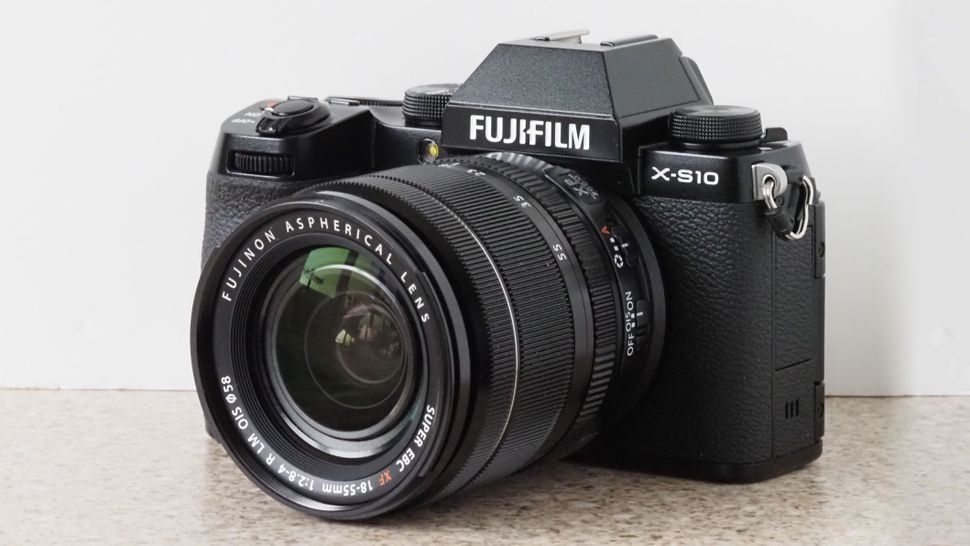 The Fujifilm X-S10 is the best all-around buy in the Fujifilm lineup right now, and it has something for everyone. It's got a full-articulated screen and generally handles very well, despite having fewer external control dials and buttons compared to other cameras in the X-series.
Having IBIS (in-body stabilization) is also a huge bonus, making it easier to shoot hand-held with slower shutter speeds, which is hugely useful for low-light work. In terms of APS-C cameras, we're hard-pressed to think of one that offers a better balance of features, performance, and price than the Fujifilm X-S10, and that's why it's our top pick.
Read more: Fujifilm X-S10 review
Best Fujifilm camera on a budget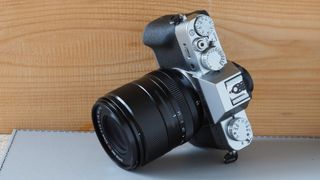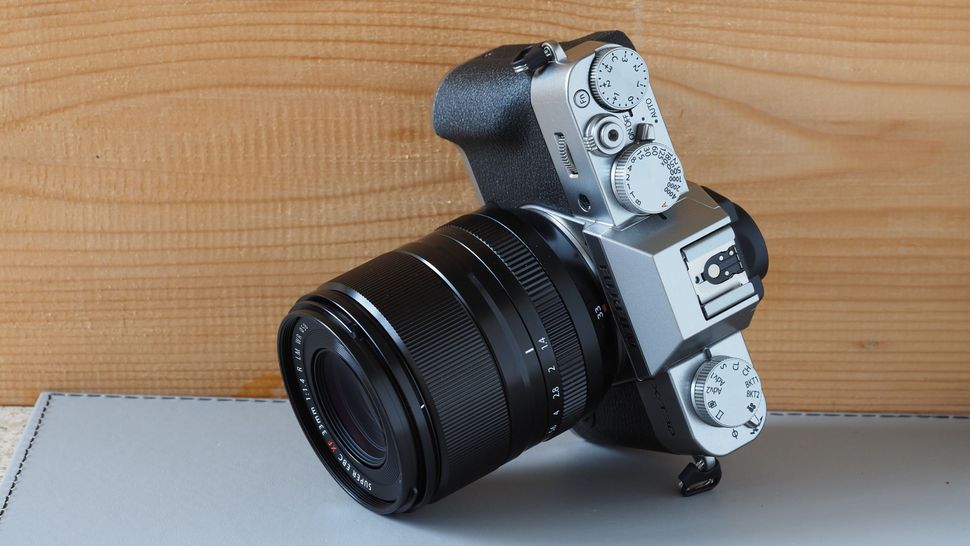 The Fujifilm X-T30 has been one of the firm's most popular cameras for quite some time, packing bits and pieces of pro-level tech into a body that is sized and priced for a more casual user.
This X-T30 II is not a huge upgrade on the original X-T30, instead, it's a minor refresh, with a larger screen and inherited autofocus technology from the flagship X-T4. It's clearly designed to mollify those who have been champing at the bit for an X-T40, and it should just about manage that.
Capable of creating gorgeous-looking images, especially with the various film simulation modes, the X-T30 II is a hugely pleasurable camera to use. It's not much of an upgrade on the original X-T30, which is still widely available, so if it's a little beyond your budget, that camera might be the better option.
Read more: Fujifilm X-T30 II review
How to choose the best Fujifilm camera
Fujifilm cameras come in two distinct varieties, firstly there is the Fujifilm X series, which is Fujifilm's small and compact APS-C sensor series of cameras. These cameras are ideal for anyone looking for the latest groundbreaking technology, but in a package that is easy to move around with. Smaller sensors and more compact bodies, also mean that X series cameras fall more on the affordable side of photography. This range of cameras is often used by street and travel photographers as well as content creators.
Fujifilm also offers its series of GFX series of cameras. These are the cameras to consider if you are a professional or serious enthusiast photographer as they are large and expensive pieces of kit made for the best image resolution. GFX cameras offer medium format sensors with huge megapixel resolutions with the unique properties offered by medium format sensors. Fujifilm's medium format GF lenses are also large and expensive, so getting into the GFX system will be a significant investment.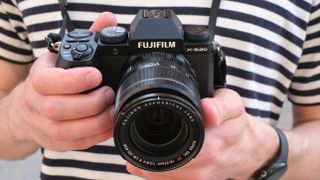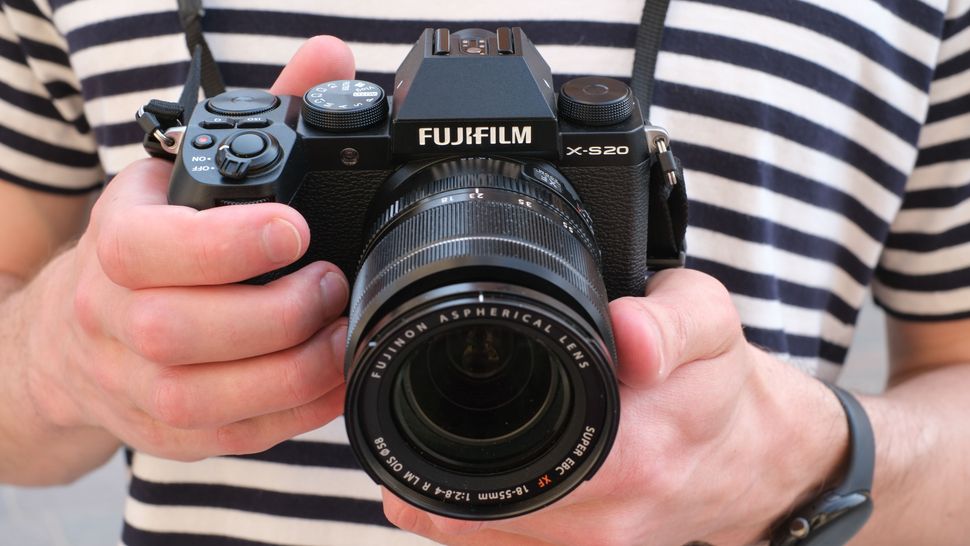 Are Fujifilm cameras good professional cameras?
Absolutely! Don't be put off by an APS-C sensor, the quality of the images from the latest Fujifilm cameras is indistinguishable from the quality from full frame sensors in rival cameras. The latest cameras including the Fujifilm X-T5 and Fujifilm X-H2S have 40MP resolutions which is far beyond many full frame rivals while also offering video specs that best the competition.
Fujifilm also makes medium format GFX cameras, which offer even larger image sizes than what you can get from the best full frame cameras and for not much more money than some of those high-end models. The image quality from Fujifilm's GFX is some of the best professionals can get and is already used by top photographers around the world.
Are Fujifilm cameras good for beginners?
Fujifilm doesn't currently offer the truly entry level cameras that Canon and Sony push, however, don't let that put you off, Fujifilm has plenty of models that are great for beginners who are keen to learn more about photography. The Fujifilm X-T30 II is a great option for beginner photographers who don't want to spend a lot of money, but are keen to get a cutting edge camera with the ability to dip into manual controls when needed.
How we test Fujifilm cameras
We test Fujifilm cameras both in real-world shooting scenarios and in carefully controlled lab conditions.
Our lab tests measure resolution, dynamic range, and signal-to-noise ratio. Resolution is measured using ISO resolution charts, dynamic range is measured using DxO Analyzer test equipment and DxO Analyzer is also used for noise analysis across the camera's ISO range.
We also use real-world testing to see how Fujifilm cameras perform in everyday shooting situations. This is based on our reviewer's own experiences using the camera, how the camera feels and works, any issues they encountered, and their subjective opinion on the camera performance separate from the lab results.
The real work experience and lab results are combined to inform exactly what we select for inclusion in our buying guides.