Buying a camera for a younger user? Whether you're looking for a plaything for a little one or a project for a curious teen, there are lots of different factors to consider when picking the best camera for kids.
Sure, you've got to pick between whether they'll want a film camera or digital, but after that you've got a lot more to think about. For our money, picking the best camera for kids comes down to four factors: price (don't want to spend too much), fun (because otherwise what's the point?), resilience (they'll need to be able to take a knocking)
The price is of course a huge consideration, but the good news is that the price itself doesn't have to be big! Entry-level point-and-shoot cameras can cost very little, with the Canon IXUS, Nikon Coolpix and Sony Cyber-shot lines offering plenty of compact cameras that are perfect for small hands. Some of the best cheap cameras on the market right now are perfect for kids – and if they break it, it isn't the end of the world.
When it comes to fun factor in a camera for kids, it's hard to beat the best instant cameras that come in all many of shapes, sizes and bright candy colours, producing instant physical prints of your child's snaps. The instant results are great for encouraging young photographers, but bear in mind that packs of film do run out quickly, so if you've got a trigger-happy snapper, you'll need to buy a few.
Examples of good instant cameras for kids include the Kodak Smile Classic, which is a brilliantly retro camera that will let your little ones print their pictures instantly or save them to a microSD card. And Fujifilm is hitting a lot of home runs with instant cameras at the moment, like the fun-filled Fujifilm instax SQUARE SQ20 and the Instax Square SQ6, which even comes in a Taylor Swift edition.
It helps everyone's peace of mind if a camera is kid-proof and resilient enough to survive a few dings or a drop in the sea. A rugged action camera is perfect for this – many are drop-proof, crushproof and freezeproof as well as waterproof, so even the most determined little saboteur will have a job damaging them.
Looking further ahead, for older kids who will potentially take a more serious interest in photography, an entry-level DSLR, mirrorless or compact camera will offer much greater long-term value, so these are definitely worth considering too.
We think these are the best cameras for kids right now across a variety of categories, including some that may not feature on our our best camera list but are perfect for the small folk.
1. Fujifilm Instax Square SQ10
Easy instant prints for little party animals, and it won't break the piggy bank
Type: Instant camera | Sensor: 1/4in | Megapixels: 3.7MP | Lens: Fixed 28mm f/2.4 | LCD: 3in, 460,000 dots | Viewfinder: Optical | Flash: Built in | User level: From kids to adults
Easy and fun to use
Unique digital/film hybrid
Expensive for what it is
Limited ISO range in digital images
Aside from the new square-format film pack, the most notable feature of the Fujifilm Instax Square SQ10 is the ability to review and edit your shots via a small LCD display on the camera's back. Previously Instax owners would have to point, shoot and hope that the lighting was right and the subject framed accordingly – now, your children can store up to 50 images in the camera's internal memory or add a microSD card to extend storage space. You get to adjust and edit images in-camera and choose which ones to print, which could save you a bundle on film packs. If your family simply wants instant prints, however, Fujifilm's cheaper Instax Wide, Mini and Mini 90 Neo Classic may do just as good a job.
2. Canon IXUS 185
Smooth, sophisticated and stylish, the Ixux 185 could be ideal for teens
Type: Compact | Sensor: 1/2.3in | Megapixels: 20MP | Lens: 28-224mm f/2.43.2-6.9 | LCD: 2.7in, 230,000 dots | Video: 1280x720 | User level: Beginner
Super-slim
Simple for kids to use
Entry-level specs
LCD screen isn't huge
If you're after a starter camera for your kids that won't cost a fortune, Canon's long-established IXUS range is a sensible place to look. The IXUS 185 is a beginner's model that delivers 20MP via its 1/2.3in sensor. But the 8x optical zoom should offer enough for young photographers who want to shoot a range a subjects. Light sensitivity is limited to ISO 100-ISO 1600 (with auto mode delivering max of ISO 800), but at this price, it's hard to pick faults and it'll likely prove sufficient as a first 'proper' camera for many young snappers. For more ambitious youngsters, the menu options yield some digital filters they'll enjoy experimenting with. And while there's no full HD video recording, the 720p capture is perfectly reasonable for the price. It's available in black, red or silver, and - like any of these cameras for kids - retailers that offer a long guarantee and accidental damage options are to be recommended.
Read more: The best point-and-shoot cameras
3. Sony Cyber-shot WX220
This is a good price for a compact family camera with a 10x optical zoom
Type: Compact | Sensor: 1/2.3in | Megapixels: 18.2 | Lens: 25-250mm f/3.3-5.9 | LCD: 2.7in, 460k dots | Max video resolution: 1920x1080 | User level: From kids to adults
A solid 10x zoom
Good ISO range
Slow burst-shooting
LCD is small
If Canon's IXUS 185 doesn't quite do it in the specs department, then Sony's Cybershot WX220 is a slightly better appointed choice - albeit at around double the price. The main advantage Sony's camera offers in comparison to Canon's is the improved zoom (10x optical), with a focal range spanning 25-250mm and WiFi. Picture quality is impressive though, with good detail and bright, dynamic images, and youngsters will enjoy the 1080p video capture. It's fairly no frills, but a good-looking, small and light choice for budding photographers.
4. Nikon Coolpix W300
A robust choice for bigger kids who want to enjoy underwater adventures
Type: Compact | Sensor: 1/2.3in | Megapixels: 16MP | Lens: 24-120mm f/2.8-4.9 | LCD: 3in, 921,000 dots | Max video resolution: 4K | User level: From kids to adults
Super-deep 30m waterproofing
Wide zoom range
Fiddly, particularly with wet fingers
Somewhat inconsistent exposures
A toughened camera is an obvious image-capture device to place in the hands of less careful members of the family, but Nikon's Coolpix W300 is loaded with an array of other features. With 4K video, built-in GPS, Wi-Fi connectivity plus an altimeter and underwater depth gauge, your youngest can make like James Bond that's just been kitted out by Q. Also impressive is the 921,000-dot OLED monitor, plus the fact that the camera can function down to a depth of 30m underwater, which means it will be more than adequate for use in and around the pool or sea. A wide-ish zoom range from a safely internally stacked lens starting out at 24mm and going up to 120mm acts as a jack of all trades, so this could be the perfect camera for the whole family, not just the kids.
Read more: The 10 best action cameras
5. Olympus Tough TG-5
Strengthened snapper for the rough and tumble of active family life
Type: Compact | Sensor: 1/2.3in | Megapixels: 12MP | Lens: 25-100mm f/2.0-4.9 | LCD: 3in, 460,000 dots | Max video resolution: 4K | User level: From kids to adults
Raw format support
Decent range of accessories
Fiddly zoom control
Image smoothing at high ISOs
In its bright red finish, the TG-5 looks brilliant even when it's just sat on your beach towel, and its high-tech look is sure to be a hit with the kids. You don't need to fret about them wrecking it either, as build quality is exceptional enough to inspire confidence. The camera has a fairly chunky construction, but still manages to be ergonomically designed, which, together with the well-placed controls, makes it simple to use in a variety of shooting scenarios and weather conditions. This little pocket-sized marvel can be dropped from a height of 2.1m and still work perfectly, and the latest-generation TruePic VIII processor and the ability to shoot 4K video clips at 30fps the icing on the cake for the next generation of vloggers.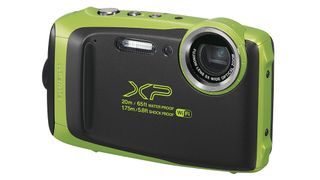 6. Fujifilm FinePix XP130
Rugged camera that's as well suited to the beach as it is the playroom
Type: Compact | Sensor: 1/2.3in | Megapixels: 16.4MP | Lens: 28-140mm f/3.9-4.9 | LCD: 3in, 920,000 dots | Max video resolution: 1920x1080 | User level: From kids to adults
Inexpensive next to ruggedised rivals
Advanced filters
Image quality could be better
No GPS, which many rivals offer
It may not have the broad set of specs offered by several of its rugged rivals, but younger members of the family are hardly going to care as long as it is simple to use (it is) and does the job (it does). There are a range of fun filters included to keep the family happy and Wi-Fi connectivity for the transfer of images too, the latter an important, but perhaps overlooked, feature when most kids can't wait to share their adventures with their friends. You don't get some of the more advanced features to be found on competitors' models, such as on-board GPS, although this Fujifilm camera is more reasonably priced than most. Incidentally those considering this model may also want to take a look at the newly announced Fujifilm XP140.
7. Ricoh WG-50
The Transformer-like design of the WG-50 is bound to appeal to kids
Type: Compact | Sensor: 1/2.3in | Megapixels: 16MP | Lens: 28-140mm f/3.5-4.2 | LCD: 2.7in, 230,000 dots | Max video resolution: 1920x1080 | User level: From kids to adults
Useful built-in LED lights
14m waterproofing
No 4K video capture
Sensor 'only' 16MP
We're spoilt for choice when it comes to toughened cameras suitable for handing to the children and not having to worry about them getting trashed (the camera that is). The 16MP Ricoh WG-50 has a distinctively sporty and angular design, it's waterproof to a depth of 14m, and it's shock-proofed against a fall of up to 1.6m. Not only that, but it can even withstand a force of up to 100kg bearing down on it. Add dustproofing and the ability to keep shooting in temperatures as low as -10°C, along with an internally stacked 5x optical zoom lens, and the basic boxes are ticked, although video is capped at Full HD quality rather than 4K. What we love most about it, though, are the six LED lights arranged around the lens for illuminating close-up subjects, whether on land or submerged in a rock pool.
8. Canon EOS 200D / Rebel SL2
Great introduction to proper photography for bigger kids and students
Type: DSLR | Sensor: APS-C | Megapixels: 24.2MP | Lens: via Canon EF mount | LCD: 3in touchscreen, vari-angle 1.04m dots | Viewfinder: Optical | Maximum continuous shooting speed: 5fps | Max video resolution: 1920x1080 | User level: Teenager to adult
Easy to use with a polished interface
Great Live View AF performance
9-point AF system is slightly basic
Plasticky finish
OK, so you may not initially think of a DSLR when considering a camera for the kids, but this recent option from Canon certainly ticks three key boxes in being small, light and easy to use for school age children and students. This also features some grown-up specs to get them hooked, namely 24.2MP sensor and a 3in vari-angle touch screen. Canon sees this as a way to tempt smartphone photographers to step up to their first proper camera. Its proportions make it perfect for smaller hands while the menus are nice and clear. The picture quality is very good too, with accurate white balance and well-saturated colours. It's not the cheapest Canon DSLR but it's our favourite for size, features and long-term usefulness.
9. Lomography Konstruktor F
A build-your-own camera kit perfect for budding engineers
Type: 35mm SLR | Lens: 50mm f/10 | Viewfinder: Twin-lens reflex viewfinder | Focus modes: Zone focusing | Flash: Optional (sold separately) | Self timer: No | User level: Teenagers and up
Fun DIY project
No batteries needed
Viewfinder awkwardly placed
Challenging to build
For those who are looking for a little more of a project, it's worth looking at the Lomography Konstruktor F, a fun build-it-yourself kit that gives you all the parts you need to assemble a fully functional 35mm SLR film camera in a matter of hours. There's no need for glue or anything else – like an Ikea table, everything's in the box, and there are a few extra screws for the inevitable moment one disappears through a gap in the floorboards. Worth being aware – this is not a Meccano kit. It's pretty complicated and will take a good long time, and we wouldn't recommend it as a project for kids younger than mid-teens.
The Konstruktor F also comes with stickers, allowing it to be customised as the user pleases, and once it's ready it functions by and large pretty well – though the controls are a little fiddly and the top-placed viewfinder might give you a crick in the neck. The finished SLR is hardly going to rival something like the Nikon FM2, but the Konstruktor is a fun project that's great for giving budding photographers a look into the nuts and bolts of how a camera comes together – quite literally!
10. Polaroid OneStep 2
One for kids both big and small, with plenty of retro charm
Type: Instant camera | Lens: 106mm | Viewfinder: Optical | Focus modes: Macro, Normal and Landscape | Flash: Built in | Self timer: Yes | User level: From kids to adults
Charming retro design and layout
Easy to use, with big buttons
Controls could be better laid out
Film is pricey per shot
Most of us adults can recall the ubiquity of the Polaroid brand in our own childhoods. So, for those former kids, who are now big kids, the OneStep 2 should be an easy sell. With the famous brand now under the ownership of the group of instant film enthusiasts who stepped in to continue producing Polaroid film once the brand collapsed (aka The Impossible Project), the OneStep 2 embraces a retro design inspired by the original OneStep from the 1970s, and it's just as easy to use too. Producing large, square-format instant prints (using Polaroid I-Type film), it does mean you'll be paying quite a bit more per print compared to its Instax rivals, but if you're happy to pay for that luxury and keep a tight set of reins on more trigger-happy children, then both you and they will love the OneStep 2.
11. VTech KidiZoom Duo
Aka 'My First Digital Camera', the KidiZoom Duo is aimed at the very young
Type: Compact | Sensor: 1/2.3in | Megapixels: 0.3MP | Lens: Not specified | LCD: 1.8in | Max video resolution: 160x120 pixels | User level: Age 3+
Rubberised build absorbs shocks
Easy to use
Image quality secondary to playability
Small, low-resolution LCD screen
VTech makes a range of brightly coloured, big-buttoned, entry-level tech gadgets for kids, and this is its current digital camera offering. Build quality is great, with its oversized rubbery build absorbing the shock of occasional drops, with big meaty grips on either side of the recessed lens for small hands to get enough purchase. While the camera and its controls may be relatively big for the average intended user, the specs aren't anything to get a photo enthusiast hot under the collar, with 640x480 (VGA)-quality stills and 160x120 video. On the back is a 1.8in LCD for composing and reviewing shots, through which you can also play five built-in games, so you've got a backup if the novelty of taking pictures wears off.
12. Fujifilm Instax Mini 70
Cheerful and cheap way to share the thrill of instant analog photography
Type: Instant camera | Lens: 60mm f/12.7 | Viewfinder: Optical | Focus modes: Macro, Normal and Landscape | Flash: Built in | Self timer: Yes | User level: From kids to adults
Point-and-shoot operation
Selfie mode
Stray fingers can obscure the flash
Limited controls
Another firm favourite, and a cost-effective way to get the family into instant photography via this strictly analogue device, which is a little more advanced than Fujifilm's Instax Mini 9, but not quite as sophisticated as the same manufacturer's Instax Square SQ10 (above). Aside from the fact that little ones will need to be supervised so that their fingers don't obscure the built-in flash when taking shots vertically, it's an ideal option for kids because just about everything is fully automatic, including the essentials of focusing, exposure and flash. There's even a mirror on the front to help your kids get their selfie face on. For kids parties and more, this could prove a winner – as long as the little ones don't go too mad with the packs of instant film, that is.
Read more: