The Sony A1 has a list of features that would read like those of a fantasy camera if it hadn't actually happened. It's not the first full frame mirrorless camera to shoot 8K video, it's not the first to offer 50MP resolution and it's not the first to offer high-speed burst modes – but it's the first to do ALL of these things.
We're used to professional cameras with outlandish specifications, but usually they specialise in specific areas at the expense of others, for example sacrificing resolution for burst speeds or video features. The Sony A1 makes no such compromises. It's actually better than the video-centric Sony A7S III for video, better than the sports-orientated Sony A9 II for sports, and only a whisker behind the Sony A7R IV for resolution.
• Read more: Sony A7R IV vs A7R III vs A7R II
The only trouble is, it cost as much as any of these other two cameras put together. This means that while the Sony A1 is technically better than the A7S III and A9 II at what these cameras were designed for – and that's quite an achievement – its price only really makes sense if you need everything that it does.
And while there will be countless amateur photographers that will lust after the Sony A1 and its capabilities, most professional photographers will take a more cautious look at what they actually need and whether this camera is worth its asking price. It costs more than a Leica (the Leica SL2), for example, and even the 100-megapixel Fujifilm GFX 100S.
Specifications
Sensor: 50.1MP full-frame EXMOR RS CMOS
Image processor: BIONZ XR
AF points: 759 phase detect, 425 contrast detect
ISO range: 100-32,000 (expandable to 50-102,400)
Stabilization: 5-axis, up to 5.5 stops
Max image size: 8640 x 5760px (199MP with multi-shot mode)
Video: 8K 30p (XAVC HS 8K), 4K (XAVC HS 4K or XAVC S 4K) up to 120p, 10-bit 4:2:0 internal, 16-bit raw via HDMI
Viewfinder: 9.44m dots, 100% coverage, 0.9x magnification, 240fps refresh rate
Memory card: 2x CFexpress Type A/UHS-II SD/SDHC/SDXC
LCD: 3-in tilting touchscreen, 1.44m dots
Max burst: 10fps mechanical shutter, 30fps electronic shutter
Connectivity: Wi-Fi 5Ghz and 2.4GHz, Bluetooth
Size: 128.9 x 96.9 x 80.8mm
Weight: 737g body only, including battery and memory card
Key features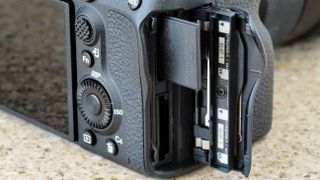 If we were to list every key feature of the Sony A1, it would be a book, not a camera review, so we will try to keep this brief.
First, it has a 50.1-megapixel stacked CMOS back-illuminated gapless sensor with separate pixel and circuit layers hooked up to a BIONZ XR processor with 8x the power of the previous version. This doesn't just improve the performance and the image quality, but the responsiveness of the camera itself.
If 50.1 megapixels isn't enough, there is also a 199MP pixel shift Multi Shooting mode that merges up to 16 separate images taken in succession – this is for static subjects with the camera mounted on a tripod.
The Sony A1 has a sensitivity range of ISO 100-32,000, expandable to ISO 50-102,400, and Sony says it can capture a dynamic range of up to 15 stops.
The resolution may not be the highest for a full frame camera (it's beaten by Sony's own A7R IV), but it is the second-highest, and it's all the more impressive in light of this camera's formidable video and continuous shooting capabilities.
Video-wise, this is the first consumer mirrorless camera after the Canon EOS R5 to capture 8K video; not only that, it can capture 4K video at up to 120fps. Footage can be saved internally to the A1's dual CFexpress Type A/SDXC card slots as 10-bit 4:2:0 footage or saved as 16-bit raw via HDMI.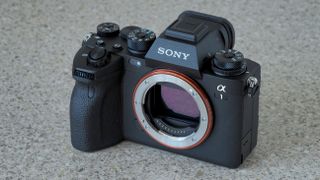 So what about heat build-up? Sony says the A1's passive heat dissipation system allows up to 30 minutes of 8K 30p recording, which is a big improvement over the Canon EOS R5 (though the Canon's recording time has subsequently been improved with a firmware update).
The A1 matches the 4K recording capabilities of the Sony A7S III and then trumps it with 8K capture. What's more, the higher resolution sensor means you can still capture 4K even in Super35 crop mode with 5.8K oversampling. That's a big advantage for any movie makers with APS-C E-mount lenses or Super35 format cine lenses and adaptors.
It's hard to say which is most impressive – the A1's video capabilities or its continuous shooting. Just as it puts the Sony A7S III in the shade for video, it makes the A9 II look pretty pedestrian too, beating its 20fps shooting with 30fps and with a buffer capacity to match (up to 155 compress raw images in a burst). Not only that, it has superior electronic distortion control tool, thanks to its BIONZ XR processor, to all but eliminate skewed verticals in fast panning shots, for example.
The continuous shooting capabilities are aided by a 759-point phased detect AF system covering 92% of the frame and 425 contrast AF points. These work with improved Real-time Eye AF for animals and new Real-time bird eye AF.
Other key features include a 9.44m dot EVF that has the highest resolution yet seen, a 240fps refresh rate and blackout-free shooting in burst mode, plus 5-axis in-body SteadShot INSIDE image stabilisation for up to 5.5 stops of shake compensation, a 500,000-shot mechanical shutter with a 1/400sec flash sync speed.
There is more – a lot more – but those are the main points.
Build and handling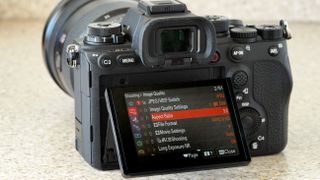 The Sony A1 is a little larger than the Sony A7 series cameras and comparable to the A9. It's still nevertheless quite compact for a full frame mirrorless camera. If you mount a premium G Master zoom like the FE 24-70mm f/2.8, for example, you will still have a very front-heavy camera kit. That would be a good reason to get VG-C4EM battery grip, which will also extend the battery life – though the 530 shots you get from the A1's Z-series battery is pretty good.
The 9.44m dot EVF is seriously impressive. The resolution means you just don't see the dots. On top of that, there's no lag, jerkiness or smearing if you move the camera quickly.
The rear screen is altogether less impressive. It's a 3-inch display when most rival cameras have 3.2-inch screens, and the 1.44m dot resolution is adequate and no more. Worse, it's a tilting screen with no sideways movement, and you can't even flip it to face the front. Sony continues to astound us with its technical advances but its physical designs seems to move forward much more slowly, if at all.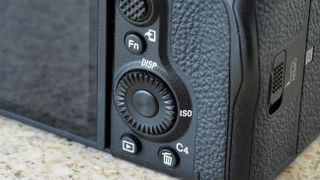 There are three control dials – four, if you count the EV compensation dial – and they all have a good, positive feel, though the combined rotary controller and four-way pad on the back feels a little smaller and trickier to grip with your thumb than we would like.
Sony has replaced its old, complex and often random-seeming menu structure on the A1. The new menu system is color coded for easier navigation, but there are now three navigation tiers – tabs, menus and options – and you still have to work out where to find the settings you need. We wanted to increase the A1's heat threshold for longer 8K recording times, for example, and that turned out to be amongst the power settings.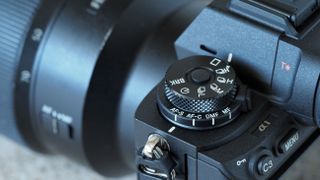 The grip on the right of the camera is substantial, but still barely offers enough height for an average-sized hand (see our remarks about the grip above).
The shutter has a short, quiet action quite unlike the more drawn out mechanical action of previous generations.
The stacked focus mode and drive mode dials on the far left of the top plate are a good idea – it's quite annoying to have these buried in menus.
Performance
We haven't had the A1 for long enough to test it fully for the huge range of applications it's designed for. We aim to bring a fuller analysis of its continuous shooting and video capabilities in due course.
But we did try out its still image performance during bright daylight and late dusk, and carried out some experiments with its 8K recording times and video stabilisation.
First off, its still image quality is everything we would expect and hope for. Exposures are accurate, the resolution is terrific and, unless it's our imagination, Sony's BIONZ XR processor has improved the depth and fidelity of colors. Even in-camera JPEGs look impressive – though the A1 does seem to lean towards overexposure with heavily backlit subjects, so you might need to keep an eye on the histogram.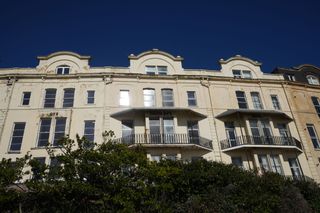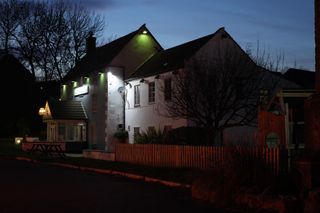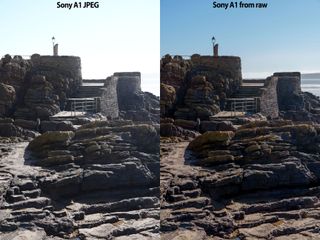 The video recording test was interesting. Sony claims 30 minutes of recording time at 8K 30p, but we didn't get that. Our camera shut down after a little more than 9 minutes. Worse, it wouldn't start again until the temperature had come down. This wasn't like waiting for the buffer to empty after along burst – the camera was actually unusable for around three minutes.
This was curious. Some investigation revealed that the A1 has two sensitivity settings. Once we change ours from standard to high, it sailed right past our earlier 9-minute limit and only stopped at 18 minutes when our memory card became full. (Unfortunately, by this time we couldn't test it for longer with our 128GB V90 card because that failed after the previous test – we think it was the card, not the camera).
The stabilisation results were mixed bag too. For static filming, the in-body stabilisation works really well. If you engage the Active stabilisation, which comes with a slight crop factor, you can carry out some smooth, slow camera movements too. However, Active Mode notwithstanding, the A1's stabilisation did not cope at all well with run and gun (or walk and gun) shooting. We compared both stabilisation modes (Active Mode was visibly better) with no stabilisation (terrible) and a Ronin SC gimbal (way better than in-camera stabilisation).
Interestingly, we could balance the A1 and FE 24-70mm f/2.8 on our Ronin SC, but we had to mount it so far back to balance it that the EVF fouled the roll motor, and the combo was pretty heavy to hand-hold and film with.
The A1 looks like a great camera for video, but its IBIS does not replace a gimbal, and you might want to user lighter lenses or primes to film with. On a tripod it's fine, obviously.
Lab charts
We compared the lab results from the Sony A1 against those from two of its main high-resolution, full frame mirrorless rivals: the Canon EOS R5 and Nikon Z 7II, as well as Sony's other flagship stills camera: the A9 II.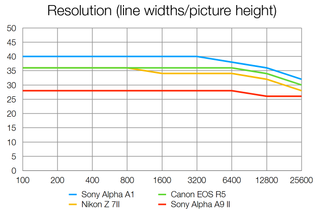 Resolution
Resolution is measured using standardised text charts which give results in line widths/picture height, which is independent of sensor size. Unsurprisingly, with 50MP on tap, the Alpha A1 leads the pack when it comes to outright resolving power. The new Sony can resolve noticably more detail than the ~45MP EOS R5 and Z 7II, and considerably more than the 24.2MP A9 II, though the latter was always going to struggle in this test.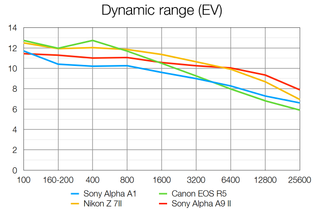 Dynamic range
Dynamic range is a measure of a camera's ability to record extreme brightness ranges and still retain detail in the brightest and darkest parts of the scene. It's measured in EV (exposure values, or 'stops'). In this test there's no obvious clear-cut winner, as each camera has its own strengths and weaknesses. However, the A1 does struggle to compete with the rival cameras we've pitched it against. This seems to go against Sony's claims of a 15-stop dynamic range, but we don't know Sony's testing methods. We use DxO Analyzer, a hardware and software testing suite designed specifically for this test. We measure the dynamic range of 16-bit TIFF files created from the camera raw files without any kind of optimisation. It's possible that Sony is referring to the potential dynamic range available from S-Log video modes and shadow/highlight tone adjustments in raw files.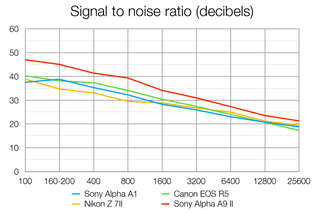 Signal to noise ratio
This test compares the amount of random noise generated by the camera at different ISO settings as a proportion of the actual image information (the 'signal'). Higher values are better and we expect to see the signal to ratio fall as the ISO is increased. Likely as a result of its larger, more light-sensitive photosites being less susceptible to generating image noise, the A9 II leads the pack here, and by a significant margin. The trio of high-megapixel monsters are all tightly grouped and there's little to separate the Alpha A1 from the EOS R5 or Z 7II, especially at higher sensitivities.
Verdict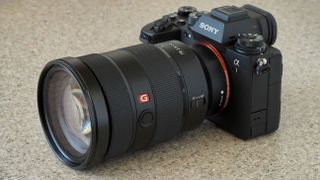 The Sony A1 is a camera with such power and versatility that we have not been able to cover everything it does and can do in a single review. We plan to bring more detailed tests on its video, continuous shooting and AF performance in future updates.
Everything we've tried so far, though, has left us impressed. This does feel like the Leonardo da Vinci of digital cameras – absolutely amazing at everything.
If there is a flaw, it's perhaps in Sony's strategy rather than the camera. The A1 is an amazing camera but it comes at a price that's equally amazing for all the wrong reasons. It's so expensive that it really only makes sense if you need everything that it does. If only only need state of the art 4K video, or fast burst shooting, or high resolution capture, there are other Sony models much cheaper than this one.
Sony is following a trajectory we've seen across all of its sub-brands, from the RX100 to the RX10, from the APS-C A6000 series and now to its full frame mirrorless cameras. It's introducing more and more performance for an ever more specialised audience at an ever-increasing price. It's certainly evolution of a sort, but not necessarily in the direction that the average photographer or film-maker needs.
Read more:
• Best Sony camera
• Sony A1 vs A9 II vs A7R IV
• Best Sony lenses
• Best cameras for sport
• Best cameras for filmmaking
• Best cinema cameras