Is the Sony A7S III what the world expected? With the latest launches of mirrorless cameras aimed especially at filmmakers boasting incredible video resolution up to 8K, Sony's 4K A7S III might seem a little lacklustre in comparison. And with just 12.1-megapixel resolution compared to up to 45MP from its rivals, the specs suggest it's hardly going to set the world alight for hybrid shooters who want high-resolution stills and moving images.
For a camera that's been eagerly awaited for so long, it could seem the latest Sony has missed the mark in terms of ultimate specs. But to dismiss it in this way would be a huge mistake, as it's a camera designed for what real-world filmmakers need right now.
That's amazing and customisable AF, great image stabilisation, and a low-resolution sensor that performs well in in all conditions and doesn't have limits on recording time due to overheating. And crucially, the camera offers a huge range of useable HD and 4K codecs, in a choice of 10-bit and 8-bit, 4:2:2 and 4:2:0 versions, with frame rates up to 120p in 4K and 240p in HD. With little or no sensor cropping, and with the AF working at all these settings. With different version of Log footage for maximum dynamic range, plus easy HDR workflows, it's a camera that ticks a lot of boxes for making movies right now. Which means in 4K, rather than some larger size where a lot of the resolution is thrown away to downsize it or having your computers creak at having to process 6K or 8K files.
Instead of chasing headlines, Sony has worked on giving filmmakers a camera they need, with lots of codec choices without limits on frame rates. And using its computing power for fast readouts to enable fast frame rates and high bit rates at all settings, with all other functions working. Such as all the clever AF systems with eye detection and face detection for humans and animals. Features that stills shooters have come to take for granted while video shooters have always had a crippled AF that just didn't offer all the bells and whistles.
But all the theory around specs is well and good, but if the camera doesn't perform, then it's useless. Although we only had access to a pre-production camera so chances are the final image quality will be even better, we had plenty of time to put the camera through its paces in a huge variety of shoots to see just how it works.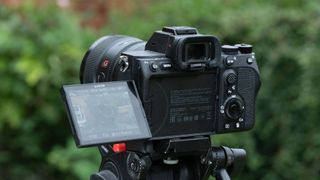 Specifications
Sony model number: ILCE-7SM3
Sensor: 12.1MP full frame BSI CMOS full-frame sensor
Image processor: Bionz XR
AF points: 759 on-sensor phase detection, 425 contrast detection
ISO range: 80-102,400 (expandable 40-409,600)
Stabilisation: 5-axis
Metering modes: Centre weighted average, highlight weighted, multiple, spot
Video: 4K video up to 120p, FHD to 240p, 10-bit 4:2:2 internal capture in H.265/ All-I H.264
Viewfinder: Electronic OLED, 100&% coverage, 9,437K dots
Memory card: Twin CFexpress Type A or SD/SDHC/SDXC card slots
LCD: Fully articulating 3-inch touchscreen LED, 1440K dots
Max burst: 10fps, up to 1000 raw frames
Connectivity: Wi-Fi, Bluetooth
Size: 128.9 x 96.0 x 69.7mm
Weight: 614g (body only)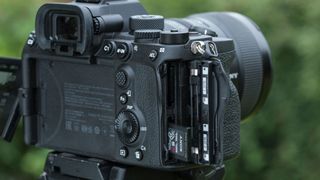 Key features
For the Sony A7S III, it's really all about the 4K video from the 12.1-MP sensor. And specifying a sensor which such a low resolution – by modern standards – might just well be Sony's moment of genius, instead of fitting a much higher-resolution sensor just to steal a few headlines or make stills shooters happy.
Instead of using valuable computing power – and the heat it generates – with pixel binning or line skipping high-resolution files to get them down to 4K size, the Sony A7S III is designed around full-frame 4K shooting. The larger-but-fewer pixels on the sensor not only gives huge benefits at high ISO but is also read much faster, which hugely reduces the dreaded rolling shutter that blights many mirrorless cameras.
The powerful new processor means that a huge range of 10-bit 4:2:2 codecs can be used at native speeds up to 120p in 4K. And you can go to 240fps in HD, still in 10-bit. All while retaining the use of the advanced AF in all its glory. No longer is there a limit to the AF working when the more data-hungry settings are used. Everything works at all settings.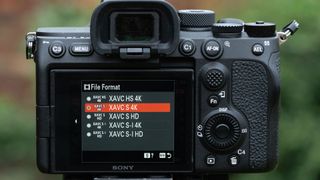 Well, maybe there are a couple of tiny limitations, but we can forgive them from a small camera that can shoot at 4K/60p full frame internally with no crop, in 10-bit 4:2:2 with no limits on recording time and little potential to overheat.
The only thing to note is that there is a small 1.1x crop when shooting 4K/ 120p. And if you use the most advanced in-body image stabilisation system, every setting gets a 1.1x crop. And the only way to get 240fps is to use the camera in HD S&Q mode which means it doesn't record audio.
With an ISO range that goes from 80-102,400, expandable as low as 40 and high as 409,600, then it's a camera that can pretty much see in the dark. And this sensitivity means there is a huge amount of dynamic range, which can be expanded according to the settings you choose. With Sony S-Log2 and S-Log3 as well as HLG settings, you can maximise the highlight and shadow detail at will.
And if you demand the ultimate quality, the camera will output 16-bit raw over HDMI, which can be saved as 12-bit Log ProRes Raw by a recorder like an Atomos Ninja V.
Any filmmaker knows audio is just as important as the images, which is where mirrorless cameras can be a let down – forcing users to go for external audio recorders. The A7S III audio is good, with four channels in linear PCM ideal for Sony's XLR adapter. And the controls are good.
For stills, it might only be a 12.1MP sensor but it is a full-frame camera, so that offers significant low-light benefits. And it can shoot compressed or uncompressed raw files at 10fps for up to 1000 shots. Until very recently, those sort of specs would have made it one of the top choices for sports photographers, especially as it's allied to Sony's fast and precise AF system. Don't write the camera off as a stills machine. It may not offer the resolution for huge prints or croppability of cameras with four times its resolution, but many magazine covers and spreads have been printed from 12MP cameras. It's far more capable than just taking behind-the-scenes snaps or web-resolution pics.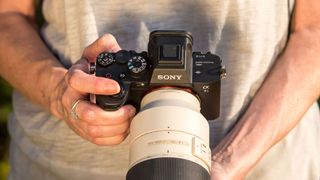 Build and handling
Sony's cameras continue to evolve and the A7S III takes the learnings from the A7R IV and improves on them. There are better buttons, a deeper grip, a separate mic jack, fully articulating screen, and a full-size HDMI port which comes with a screw-on cable cage. The REC button has been made bigger and moved to the top plate. And the Movie and S&Q buttons are next to the usual PASM settings on the dial, instead of the other side of the custom buttons. It just makes things easier to change.
And when using manual focus in video, as many do, pushing the AF button now gives you one-shot auto focus.
The camera is slightly bigger than other A7 cameras with the new bump on the top plate housing one of the best electronic viewfinders we've ever seen. The camera is weather sealed and solid, and uses the same battery as other later Sony cameras. This lasts well, but does get eaten up if you are using 4K 120p settings with IBIS at high bit-rates. That's something its lesser siblings simply can't do.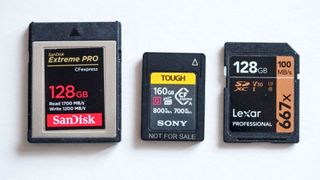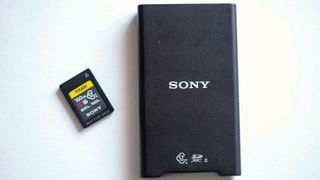 In terms of storage, Sony has really scored as there are two UHS-II card slots that also take the new CFexpress Type A cards. If you use fast SD cards, these are good enough for most codecs. But use the most intensive settings, such as 4K/120p, S&Q, All-Intra, and you need CFexpress Type A cards.
And as the card slots are matched, you can do hot card swapping, unlike some cameras which have two different cards. And the camera's USB-C socket can now accept power delivery, for example from a power bank. So by hot swapping cards, you can carry on shooting for a very long time.
Sony's rear screen is a flip screen, and is a touchscreen where you can navigate through the much improved menu system. Or you can use the dials, if you prefer.
One small improvement is that video clips now can be named, rather than them always defaulting to a standard format.
Below is a gallery of still images taken at a series of different ISO settings. They are not displayed here at full resolution as this is a pre-production camera, but you can still get an idea of how well the Sony A7S III performs even at ISO 102,400.
Sample stills: swipe through to see all ten of our sample images
Performance
Although we were only using a pre-production prototype so it's not exactly as will be delivered to buyers, it was easy to see that the quality of the files in 4K and HD is stunning. The colours are bright yet natural, there is lots of dynamic range and the high-ISO performance is off the scale. Sony claims up to 15-stops of dynamic range, and we saw nothing to disprove that.
It wasn't just the high bitrate 4K codec files that were impressive. The results using the Sony H.265 format were equally impressive, and the HD was stunning too. The standard colours are some of the best we've seen from Sony, and Log shooting helped get even more dynamic range for more hardcore grading. The files are full of colour info, so this is finally a Sony mirrorless camera that works perfectly in Log.
Although Sony doesn't say so, we believe there is a dual ISO circuit function which bases at ISO 640 and again at 16,000. Files shot at ISO 16,000 were cleaner than at 12,800 for example. We found that up to ISO 6400 we were more than happy with the results. When it gets darker than that, switch up to 16,000. Of course, the camera does go up to ludicrous high figures which would get you out of a hole. Such as being inside a dark hole with no light.
The AF system is also second to none, thanks to its customisation for video use. It can be used to rack focus smoothly and organically, depending on the AF focus settings. So fast AF is good for stills, but for video use you usually want something more controlled. The speed of focus can be adjusted over seven increments from fast to slow, and the transition speed in five steps. And it works in very low and bright light.
With great focus tracking, helped by touch-to-focus on the screen which then tracks the object as it moves, it's Sony's best yet.
Also good is Sony's IBIS which has two modes, standard and active. Active is best for video but crops in 10% apart from 4K/120p, where it's already cropped. It's good, though it's not the best on the market.
And in fact pretty much our only gripes were around the tools for filmmakers. There is no option to change shutter speed to shutter angle, and there are no waveforms to monitor the footage. But those are pretty small issues on an otherwise incredible camera for making movies.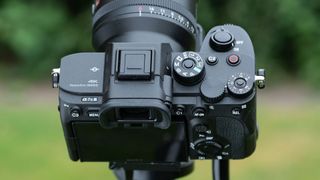 Verdict
If you are in the market for one of the latest mirrorless wonder-cameras but are confused by the choice, it's perhaps easier to say who the new 12.1MP Sony A7S III is NOT best suited for. If you want one camera to take video and incredibly high-resolution stills, it's definitely not for you. If you are a filmmaker who absolutely needs 6K or 8K or wants to shoot video raw files recorded internally, then it's not for you either.
But if your work is predominantly video in 4K or HD, and use the stills function to take pictures to use online or medium sized prints, then this is the camera that will suit your needs. And that's what the vast majority of filmmakers want from their camera right now.
Apart from a big and expensive cinema camera, this is the only camera that can shoot 4K at 60p full frame with no crop, recorded internally, in 10-bit 4:2:2 with no limitations on recording time and with all the advanced AF functions still working. As well as 240fps in HD and very little rolling shutter. Those are the real-world specs that matter and that's what makes it a winner.
Read more:
• Best 4K cameras for filmmakers
• Best cinema cameras
• Best cinema lenses
• Best cameras for vlogging
• Top vlogging tips
• Top video editing tips