The Fujifilm GFX 100S is the fourth model in the GFX series, inheriting the 102MP sensor from the GFX 100. However, it one-ups its predecessor by coming in a much smaller, DSLR-style body that boasts better image stabilization. And it does so with a far smaller price tag than the previous model.
When we reviewed the Fujifilm GFX 100 back in 2019, we called it "groundbreaking", and the same is true for its successor, the Fujifilm GFX 100S, but for very different reasons. It manages to take medium format photography out of the studio and a little more mainstream.
And going mainstream also means making the camera a little more affordable. Costing almost half as much as the GFX 100, the new Fujifilm GFX 100S manages to come in at a price under some pro-level full-frame mirrorless cameras – notably the Sony A1. Compromises have had to be made to achieve that price point, but in no way do any of those hamper the performance of the camera. In fact, in some respects, the GFX 100S is actually better than its predecessor.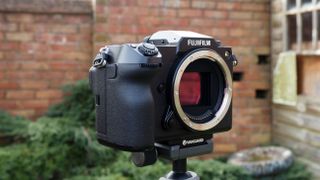 Specifications
Sensor: 102MP BSI-CMOS 43.8x32.9mm medium format
Image processor: X Processor 4
Lens mount: Fujifilm G
Autofocus: Intelligent hybrid with 425 AF points
ISO range: 100 to 12,800 (exp. 50-102,400)
Video: Uncropped 4K/30p
Viewfinder: 0.5-inch 3.69 million dot EVF, 0.8x magnification
Memory card: 2x SD UHS-II
LCD: 3.2-inch two-axis tilt touchscreen, 2.36 million dots
Max burst: 5fps mechanical shutter
Connectivity: Wi-Fi, Bluetooth, USB-C, mini HDMI, mic, headphone
Size: 150 x 104 x 44mm
Weight: 900g body only (with battery and card)
Key features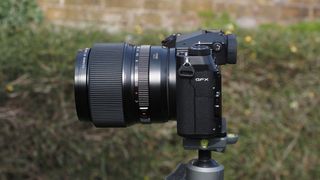 The Fujifilm GFX 100S is a much smaller camera than its predecessor, the GFX 100 – smaller than the GFX 50S, even – with DSLR-like styling rather than the rangefinder design of the GFX 50R.
Despite the downsizing, Fujifilm has managed to retain in-body image stabilization by reducing the size of the IBIS unit by 20% compared to the one in the GFX 100 (and making it 10% lighter too), as the company has done for the smaller X-series cameras like the X-T4 and X-S10. In the process of miniaturizing the IBIS mechanism, Fujifilm has also managed to make it more effective as well – it's rated at six stops of compensation for camera shake as compared to the 5.5 stops of correction on the GFX 100. Moreover, the image stabilization system is able to work alongside stabilized lenses to maintain the level of correction for longer focal lengths as well.
Thanks to the sensor and image stabilization combo, the GFX 100S can capture 400MP high-res images by using a pixel-shift mode that was only added to the GFX 100 via a firmware update.
Downsizing the body has also meant compromising on the battery, however. Instead of using the larger NP-T125 packs of the earlier GFX bodies, Fujifilm has opted to use the NP-W235 pack that debuted with the X-T4, though this does offer a CIPA rating of a reasonable 460 shots per charge.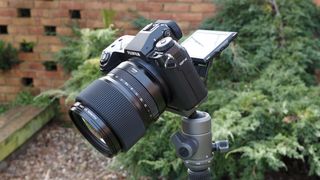 For potential users who are keen to upgrade from their old systems to the GFX 100S, the addition of a regular mode dial will be a welcome relief. There's the usual 1.8-inch status display on the top for showing shooting parameters, but that can be customized to display the virtual dials that were introduced in the GFX 100.
Instead of the usual 4-way joystick controller on the rear, there's an 8-way textured nub that allows for diagonal movements alongside the usual horizontal and vertical directions. We're calling it a 'nub' as it's not as tall as the joysticks on the previous GFX cameras, and its small size means you're not accidentally pressing it (which can reset AF-point selection or camera settings). However, its additional directional movements take some getting used to.
To keep costs down, the Fujifilm GFX 100S gets a fixed OLED EVF with a resolution of 3.69 million dots and a magnification of 0.77x (as compared to the detachable 5.76-million dot EVF of the GFX 100). That said, the rear LCD monitor is still the same 3.2-inch tilting touchscreen on a triaxial mount. This lets the monitor move up to 90º upward, 45º downward and 60º to the side.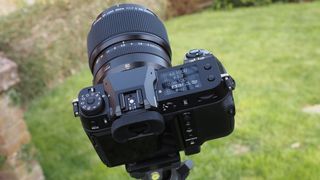 While the GFX100S can capture 100MP images at bursts of up to 5fps with continuous autofocus, it's also a capable movie camera. 4K/30p 10-bit 4:2:0 internal recording (with a bit rate of up to 400 Mbps) using the full width of the sensor is possible, along with the option of F-Log and HLG 10-bit 4:2:2 or 12-bit ProRes RAW to an external recorder – the same spec as its older sibling. 16-bit RAW video recording is also available via HDMI to the latest Atomos Ninja V recorder. Where the GFX100S improves on the older camera is movie clip lengths – there's now a maximum recording time of 120 minutes instead of 60 minutes.
Although the GFX 100S inherits the same max shutter speed, shutter mechanism durability and sync speed as the GFX 100, Fujifilm claims the new mechanism reduces lag to 0.07 seconds from 0.09 seconds.
The GFX 100S gets an additional Film Simulation mode, taking the count to 19. Called "Nostalgic Neg", it adds a slight amber tint to highlights and saturates some colours for a more retro look.
Build and handling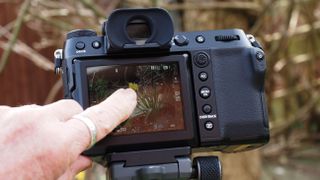 The new shutter unit and IBIS mechanism in the GFX 100S means Fujifilm has been able to relocate the battery to the single handgrip on the body, allowing it to lose the vertical grip under the body. It has resulted in a body that's shorter and slimmer than the other GFX models, one that can easily be mistaken for a full-frame camera. It measures 150x104x44mm, which is similar to a full-frame DSLR like the Canon EOS 5D Mark IV (measuring 150.7x116.4x75.9mm) and a little larger than the Canon EOS R5 (which stacks up at 135.8x97.5x88mm).
At 900g, the body's 500g lighter than the GFX 100 and that makes it easier to use outside of a studio – the usual haunt of a modern medium format camera. That said, it's still heavier than a full-frame camera and can get very tiring with prolonged handheld use. During our testing, we had to keep putting it down every 20 minutes or so to rest our aching fingers. Moreover, the GF lenses aren't lightweights either (physically or in terms of optics), adding to the weight you will need to lug around if you plan to use the camera for street or travel photography.
Despite that, the GFX 100S sits comfortably in the hand with a textured rubber grip that provides excellent traction, although the middle finger indent may be too small for users with large hands.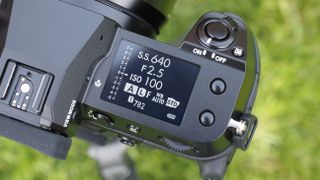 The control layout will be familiar to most photographers, with a traditional PASM mode dial on the left of the top plate, the usual twin control dials on the front and back on the right side of the body, and most buttons within easy reach of your thumb or forefinger. Even though it doesn't inherit the usual ISO and shutter speed dials that you'll find on most Fujifilm cameras, there's still a very distinct Fuji ergonomic here.
That said, the placement of the Q button (to access the Quick Menu) could prove annoying to some. Like on the Fujifilm X-T30, the Q button is on the ridge of the thumb rest and can trigger accidental presses. However, we didn't have any issue with that during our testing as the ridge is high enough to keep the digit away from the button.
As we mentioned earlier, the top display can be customized to show shooting parameters, the virtual dials for shutter speed and ISO or a histogram. It can also be set to display any information in black on white instead of the usual white on black in case that's easier for you to view. A small button on the side of the EVF (indicated by a lamp icon) illuminates the panel.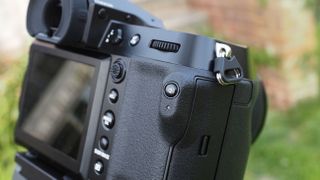 Similarly, you can even customize the Q menu to be displayed on a grey background or overlaid on the live view frame. Physical buttons can also be customized depending on your needs – practically anything can be programmed, from drive modes and metering, to exposure settings – and the interface will be familiar to anyone who's used any recent Fujifilm camera.
Even though the EVF has a lower resolution than the one on the GFX 100, it's sharp as a tack. If you're not happy, though, the camera's 'Boost' modes lets you increase the resolution or the refresh rate at the expense of battery life.
Interestingly Fujifilm has opted to stick with the dual SD card slots in the GFX100S instead of using faster storage like XQD or CFexpress as other camera makers have done. That said, they're both compatible with UHS-II speed cards and that's plenty for both continuous shooting and 4K video recording.
Thanks to a USB-C port, the battery can be charged in-camera. Alongside this there's a micro HDMI port, 3.5mm mic and headphone jacks, a PC sync port and a 2.5mm remote jack.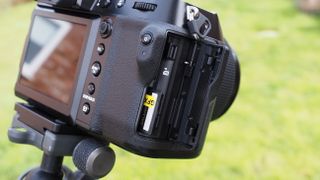 Performance
The biggest selling point for the GFX 100S, apart from its huge resolution, is its relatively small size and image stabilization. That means, in theory, you can shoot long shutter speeds handheld. While we were able to go down as low as 1/8 second, the results weren't as sharp as we were expecting. The claim of up to six stops of shutter speed advantage is calculated for the sensor's pitch and yaw movements and is, essentially, a best-case figure. During our time with the camera, we got more like 4-4.5 stops of compensation in practice, which is still pretty good considering the results will largely depend on your personal ability to hold the camera steady.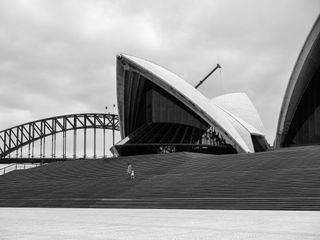 Like its predecessor, you can take full advantage of that whopping 102MP of resolution on tap. The biggest advantage of this kind of resolution is your ability to crop an image without losing quality. All sample images shown here are straight-out-of-camera JPEGs, and a few have been cropped significantly (like the butterfly below) and, needless to say, we were very happy with the results.
The camera's dynamic range is also nothing short of incredible. Not once did we need to set bracketing parameters to capitalize on dynamic range and, add to that the tonality and color you get from Fujifilm's Film Simulations, this camera is perfect for landscapes, portraits and still life.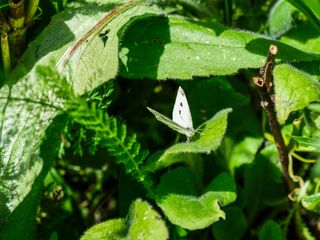 Where most medium format cameras have slightly clunky autofocus, we found the GFX 100S to perform quite admirably. Admittedly it's not as snappy as what we'd find on Canon's latest full-frame mirrorless cameras or in a Sony alternative, it's still pretty good when paired with the GF 32-64mm f/4 lens. It does struggle when there are several faces to focus on, but it's quite quick when there's just the one subject. However, AF speed will depend on the lens you use – while the GF 50mm prime we had was also quite quick, it's likely that the GF 120mm f/4 might slow things down a bit.
Eye tracking wasn't as great, although if you can focus perfectly on a face, chances are the high resolution would have captured plenty of details that you can fall back on. If however, you're considering this camera for sports or wildlife photography, its continuous AF performance may not be up to scratch. The GFX 100S won't be able to handle anything fast moving; slow-moving subjects will be tracked admirably though.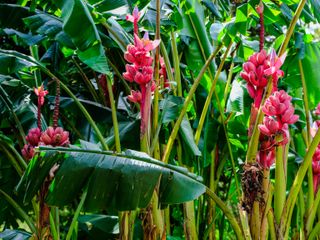 GFX 100S Nostalgic Neg
'Nostalgic Neg' is a new Film Simulation introduced with the GFX 100S. Like Fujifilm's other simulations, it's applied during processing to in-camera JPEGs. If you shoot RAW, you'll be reliant on your raw processor being able to mimic this profile – though raw processors will also offer their own 'looks' and profiles.
Nostalgic Neg seems to offer a warmer overall look with a slight lessening of contrast but no loss of saturation. Here are some before and after examples supplied by Fujifilm: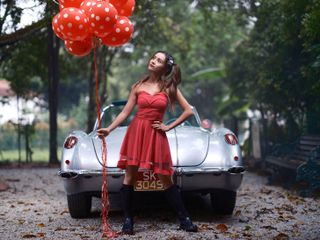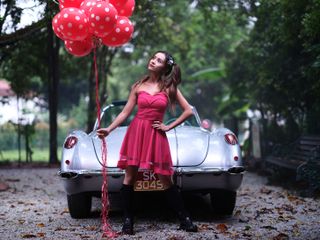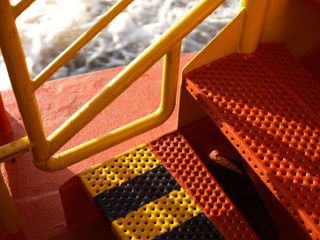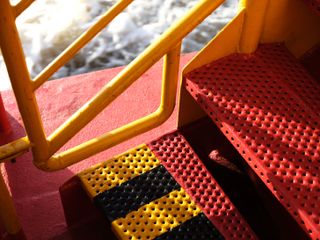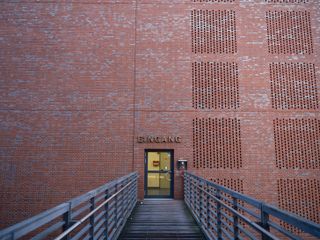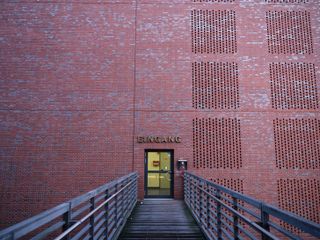 Video
Our video testing was confined to a couple of blustery days in early March, so we weren't able to try the GFX 100S in a wide variety of conditions, but it was long enough to form a picture of what this camera is like to film with.
• Watch our sample Fujifilm GFX 100S video below:
The large sensor in the GFX 100S does give footage a beautiful cinematic quality, especially if you shoot at wide lens apertures. We were sent the new GF80mmF1.7 R WR lens with our sample camera, and at f/1.7 the bokeh is very attractive. However, this lens is not really optimised for video, with autofocus that is fast enough, but quite jerky and noisy – fine for stills, but not ideal for AF during filming.
This combines with in-body stabilization that's fine for static filming, but not so good with camera movements, where it's difficult to avoid a 'choppy' look with slow pans. A lot of this will depend on the skill of the operator (not great, in this case!) but it's still fair to say that if you are going to use handheld camera movements, you need to be pretty smooth because the GFX 100S is not going to paper over any cracks in your technique.
This camera feels much more effective on a tripod – or perhaps on a gimbal, though you will need a pretty beefy one to get it balanced. In reality, the GFX 100 feels better suited to a slower more considered filming style with a solid support, controlled movements and manual focusing. It's not a vlogging camera, despite that in-body stabilization. If you want to use camera movements and a run-and-gun shooting style, there are far cheaper 4K cameras that will do a better job.
Lab data
We compared the lab results from the GFX 100S against another compact medium format camera - the Hasselblad 907X 50C - along with two high-resolution, full frame mirrorless cameras: the Sony A7R IV and Leica SL2.
Resolution: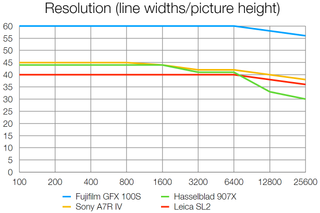 No surprises here – with 102MP on tap, the GFX 100S is in a class of its own when it comes to resolving fine detail. Interestingly, the Hasselblad manages to come very close to producing images with as much detail as those from the higher megapixel A7R IV, showing the advantage of the extra clarity afforded by a larger medium format sensor.
Dynamic range: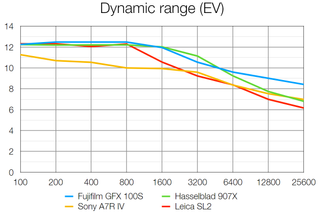 Dynamic range is a measure of a camera's ability to record extreme brightness ranges and still retain detail in the brightest and darkest parts of the scene. It's measured in EV (exposure values, or 'stops').
The GFX 100S and Hasselblad 907X are evenly matched in terms of dynamic range at lower sensitivities, though the Fujifilm camera does pull out a 2-stop advantage at ISO 12800 and above. While the full-frame Leica SL2 can stick with the medium format cameras at low sensitivities, it can't produce the same dynamic range as the GFX once you go past ISO 800.
Signal to noise ratio: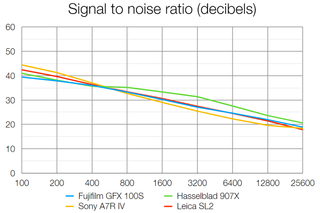 This test compares the amount of random noise generated by the camera at different ISO settings as a proportion of the actual image information (the 'signal'). Higher values are better and we expect to see the signal to ratio fall as the ISO is increased.
All four cameras produce similar results here, though the Hasselblad does pull out a slight lead at higher sensitivities. This is likely due to its larger, more light-sensitive photosites being less susceptible to generating image noise than those on the more pixel-packed sensor in the GFX 100S.
Verdict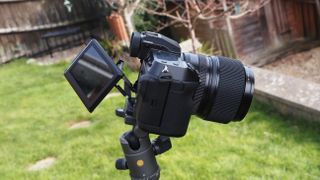 It's easy to see why someone would want to opt for the GFX 100S over its predecessor, the GFX 100. The older camera still has some advantages, but now looks somewhat cumbersome and expensive.
Not only is the GFX 100S smaller and lighter than any other 100MP medium format camera, it's also far cheaper (it will set you back $5,999 / £5,499 / AU$9,499) – and that makes it a lot more accessible. It is still expensive for many photographers (even professionals), but it proves that medium format photography is steadily becoming more mainstream.
Like its predecessor, the GFX 100S isn't perfect – its autofocus performance may not suit every shooting scenario and its image stabilization doesn't quite match what it says on the tin, but all that gets trumped by the image quality you're going to get from this camera. With excellent dynamic range, tonality and color depth, sensational resolution and the ability to crop as much as you need and print as large as you want, this camera is worth the investment for anyone who's after a versatile medium format body.
Read more:
• Best medium format cameras
• Best Fujifilm GF lenses
• Fujifilm GFX 100S vs GFX 100
• Best professional cameras
• Fujifilm GFX 100 review
• Fujifilm GFX 50R review
• Fujifilm GFX 50S review