To understand the Sony A9 II, you need to understand that there's pro shooting and then there's pro shooting – and the latest Sony flagship full-frame mirrorless camera caters firmly to the latter category.
The Sony A9ii is not the highest resolution camera you can get, but it's designed for speed – not resolution. And its performance for high-speed sports shooting guarantees it a place on our list of the best professional cameras, as well as the best full-frame mirrorless cameras.
Of course, its two rivals in the best pro sports camera stakes aren't mirrorless models but DSLRS: the Canon EOS-1D X Mark III and the Nikon D6. For a full breakdown of how these three cameras fare in real-life shooting, check out our head-to-head-to-head Olympic shootout: Nikon D6 vs Canon EOS-1D X Mark III vs Sony A9 II.
All professional photography has its own challenges and requirements. Yet no matter how frenzied a wedding might be, it will never torture your camera's autofocus the way that photographing Olympic swimmers does – and while you might need a decent burst mode to photograph a dance troupe or catwalk model, decent just doesn't cut it when you're shooting champion kickboxers or divers.
It's in the fire of these elite arenas that the Sony A9 II has been forged. For photographers who don't shoot fast action professionally, it may seem like an incremental update over its predecessor. However, put through the rigors of a professional environment, the A9 II proves just how instrumental its upgrades are…
Specifications
Sony model number: ILCE-9M2
Sensor: 24.2MP full frame Exmor RS CMOS sensor with integral memory
Image processor: Bionz X
AF points: Hybrid AF, 693 points phase detection, 425 contrast detection
ISO range: 100-51,200 (exp. 50-204,800)
Max image size: 6,000 x 4,000
Metering modes: Multi-segment, center-weighted, spot, spot standard/large, entire screen avg., highlight
Video: 4K at 30fps, 24fps / 1080p at 120 fps, 60fps, 30fps, 24fps
Viewfinder: EVF, 3.69m dots, 0.78x magnification
Memory card: 2x SD/SDHC/SDXC (UHS II)
LCD: 3-inch tilting touchscreen, 1.44m dots
Max burst: 20 fps electronic shutter, 10fps mechanical
Connectivity: Wi-Fi (5GHz), USB-C (USB 3.2 Gen 1) Wi-Fi, Bluetooth, HDMI mini, LAN (1000BASE-T for FTPS), NFC
Size: 128.9 x 96.4 x 77.5mm
Weight: 678g (body only, with battery and SD card)
Key features
The camera uses the same 24.2MP sensor and Bionz X processor as the original Sony A9, yielding an impressive 20fps continuous shooting output with the electronic shutter, 14-bit RAW output, 4K video up to 30fps and 1080p up to 120fps, 5-axis in-body image stabilization and a remarkable autofocus system that makes up to 60 AF calculations per second.
For casual observers, the increased mechanical shooting burst of 10 frames per second (up from 5 on the original) might seem like the most notable improvement on the Sony A9 II, but if anything it's the least important thing here.
Let's start with that new mechanical shutter (now rated to over 500,000 actuations); thanks to a fast-response coreless motor it delivers ultra low vibration, which combined with the new chassis dampers and refinements to the IBIS algorithm results in improved stabilization of 5.5 stops.
This also facilitates continuous shooting using external flash, and continuous shooting now features anti-flicker with AF/AE tracking. And the autofocus has also received a significant improvement to its algorithm, thanks to further development on the Bionz X processor.
The AF has been performance-tuned to more reliably track fast, erratically moving subjects – ideal for subjects making acceleration changes, such as triple-jumpers, or quick changes of direction like footballers shimmying to shake off defenders.
It's not just autofocus speed and continuous shooting speed that has been improved, though; crucially for professionals, transfer speed has been improved dramatically. To non-pros this might seem like nothing significant but, when the aim of agency level sports shooting is all about who can send best image fastest, this is key critical for workflows.
The ethernet port is ten times faster than the A9, now supporting 1000BASE-T for gigabit transfer. The Wi-Fi is also improved, both in terms of frequency (now offering 5Ghz) as well as range and reliability, perfect for pros who rely on a MiFi unit and no longer have to keep it unreasonably close to the camera. USB now supports 3.2 Gen 1, and you can save up to 20 FTP settings (ideal for freelancers uploading to multiple agencies), all of which results in markedly faster file transfer.
Something else that would be completely overlooked by non-professionals is the voice tagging facility. Far from a frivolous feature, this enables you to create a 60-second voice memo that is automatically transmitted with the image data via FTP in an industry standard format that will work with every press agency system from Reuters to the Daily Mirror.
Even more impressively, the Transfer & Tagging function on the smartphone app can automatically convert up to 50 seconds of speech into a text caption, meaning that the receiving party doesn't have to manually transcribe the description – which means nothing if you're an amateur, but if you're the AP it gives you the ability to publish images almost as fast as (for example) Usain Bolt crosses the finish line at the Olympics.
Build & handling
The Sony A9 II has been significantly improved in terms of handling and operability. Given that sports photographers will spend at least half the year shooting in the cold, the big thing is that the camera can be used really well while wearing gloves – something that couldn't always be said of its predecessor.
Crucially, size and location revisions mean that the key controls – AF-ON, the joystick and the shutter – are positioned identically in horizontal and vertical orientation. And crucially, the vertical shutter stroke possesses the same tactility so there is no difference in play (which, again, is also key when wearing gloves).
In addition to a larger focus button and reshaped, retextured joystick, the shape and position of the rear dial has been modified for easier access and operability, and the exposure compensation dial now possesses a lock. The grip has also been beefed up for better purchase, with more room for pinkies and increased overhang for middle fingers.
Touch operation is now 1.5 times faster, and real-time touch tracking can now be engaged while using the viewfinder (rather than just controlling point selection). The Recall Custom Setting During Hold function has been improved, enabling you to quickly change your entire shooting configuration by depressing a button (for example, if you're shooting a panning shot of an F1 car and then hear a crash and need to immediately switch to shooting 1/1000 sec bursts).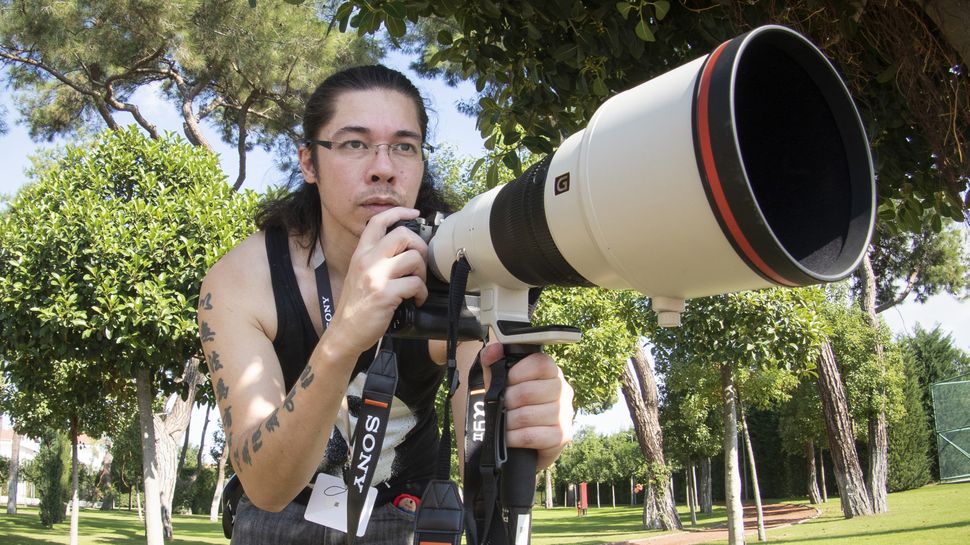 The Fn button can now be customized for independent function in movie and stills mode, and at last you can now access your customized My Menu options simply by pressing the Menu button, to help alleviate the patented pickle that is Sony's menu architecture.
Best of all, you can now save and load up to 20 camera settings – ideal for transferring your settings across multiple bodies, whether you're unifying the settings on all cameras in an agency or applying them to loan cameras.
Dust and moisture resistance has been improved, with the battery compartment cover and media slot now being double sliding rather than just hinged as on the A9. Speaking of the media slot, Sony has finally sorted it out so that the top slot is Card 1 and the bottom slot is Card 2!
The A9 II uses the same battery as its predecessor (along with the same dual- and quadruple-battery grips), though CIPA performance has been improved to 690 shots using the LCD screen and 500 when using the EVF (compared to 650 and 480 on the previous model).
Performance
It's fair to say that the Sony A9 in 2019 is a completely different camera to the Sony A9 that was released in 2017, thanks to the raft of firmware improvements. However, firmware alone can only boost performance so much – at a certain point fresh hardware is required, and it unquestionably makes night and day difference in the Sony A9 II.
This is abundantly apparent in the autofocus. AF in the original A9 was good enough, and with all the firmware it was good. The A9 II's AF, however, is better, more reliable and more instant – in non-professional measurements it might only seem a small amount, but for sports photography it becomes an enormous amount.
Photographing swimmers and seeing how quickly it will find and lock onto eyes demonstrated this point with crystal clarity – not to mention the fact that real-time Eye AF is now available when shooting 4K.
In terms of transmission, this is a completely different camera than the original thanks to things like the 1000BASE-T support. For example, transferring a batch of 60 images took 71 seconds on the A9, but now takes just 25 seconds on the A9 II.
Again, non-pros wouldn't look twice at things like the voice tagging, but it's a game changer for this kind of photography. The fact that the app also enables you to manually input captions, as well as use saved glossaries (to save you misspelling the difficult names of European sportspeople), means that transfer can be done without even needing a computer – again making life that much faster and more efficient when trying to get an image to Getty faster than the other 400 shooters at an event.
Even little things, like being able to change the focus frame color to white or red, or the option of the new 4:3 aspect ratio (much-needed by photographers shooting potential magazine covers) are a big deal here. Though the bigger things, such as the improved IBIS and less crunchy ISO performance (shooting comfortably up to ISO6400) are obviously much bigger headline getters.
In terms of actual shooting, we torture tested the A9 II in a variety of unique environments. When photographing volleyball, we were blown away by the robustness of the AF; the camera was able to acquire Eye AF on a player from one end of the court to the other.
It was able to maintain and reacquire the eyes even when players passed in front of them on the far side (obscuring a small part of the frame), or even when they passed right in front of the camera (obscuring the entire frame) – and it wasn't even confused by the netting at half court.
When shooting kickboxers, the A9 II was able to find and track faces and eyes even with rapid punches and blocks obscuring the subjects, and even when eyes squinted and faces winced. Tracking would reliably stay with targets even when they turned around or were partially obscured by ring ropes or completely obscured by grabs and clinches.
The only time the AF struggled to keep up – and it really didn't struggle, more that the subjects were just inhumanly fast – was during swimming, when swimmers' heads literally only came out of the water for a second at a time, and on a few occasions focus wasn't acquired until just as the face started to dip back underneath the water.
This was exacerbated when the swimmers were in backlit conditions, with faces in shadow, but the fact that the camera was still able to give us plenty of keepers even in these impossible shooting conditions was truly and honestly impressive.
Lab data
Signal to noise ratio
Our signal to noise test measures image clarity and noise levels at each ISO sensitivity. At lower sensitivities, the A9 II produces the cleanest images of the current crop of flagship professional cameras. At ISO1600 and beyond, the slightly lower pixel count of the EOS-1D X Mark II helps give Canon a slight edge, as it resists image noise marginally better than the A9 II at higher sensitivities.
Dynamic range
The A9 II's dynamic range is decent, but it's only enough to tie with the Nikon D5 at lower sensitivities. However, the Sony starts to come good at ISO1600, and at ISO6400 and beyond it's very much the camera of choice for low light. It's worth noting that we disable any in-camera dynamic range enhancement for our testing, in order to maintain a level playing field.
Resolution
The A9 II scores what we'd expect for a 24MP sensor in our resolution test. The 20MP Canon and Nikon were measured using an old testing procedure; if we were to use our current testing methodology, we'd expect the EOS-1D X II and D5 to perform closer to the Olympus OM-D E-M1 X.
Verdict
When we first tested it, the Sony A9 II was the fastest, most ferocious full-frame sports camera with unmatched speed, autofocus performance and connectivity. Since then, however, both Canon and Nikon have released their latest flagship sports cameras, too. So the playing field is now very different.
While the Nikon D6 isn't a match for the A9 II, the Canon EOS-1D X Mark III stands more than toe-to-toe with it. Canon's Deep Learning AF system is truly extraordinary, it offers the same 20fps shooting in Live View but outguns the A9 II with a stunning 16fps using the mechanical shutter, it boasts 12-bit 4K RAW video, far superior ISO sensitivity, and features lightning-fast CFexpress memory cards.
On top of that, the 1D X Mark III has inherent DSLR benefits, such as a lag-free optical viewfinder and superior battery life. Though of course, the A9 II has all the benefits of mirrorless technology, such as an electronic viewfinder and in-body image stabilization. It also features superior connectivity, with built-in 5GHz Wi-Fi (the Canon only offers 2.4GHz without an add-on) and brilliant tools such as voice tagging transcription. And of course, it has a higher resolution 24.2MP sensor.
So, apples or oranges? DSLR or mirrorless? Shooting speed or stabilization? That's a determination you will have to make. And if you want to see how the A9 II compares to both the 1D X Mark III and Nikon D6 in direct competition, read our Olympic shootout: Nikon D6 vs Canon EOS-1D X Mark III vs Sony A9 II.
However, you can rest absolutely assured that, if you're a professional sports photographer, the Sony A9 II is a powerhouse performer that will give you robust, reliable results no matter how fast the action.
Read more:
• Sony A9 review
• The best cameras for professionals: which pro camera system is best?
• The best Sony lenses: top lenses for Sony mirrorless and Alpha cameras
• The best Sony cameras: from pocket-size compacts to mirrorless