Just as we thought it was the end of the road for budget DSLRs it looks like the Canon EOS T7 is making a comeback with an amazing Amazon deal. This twin-lens starter kit comes an 18-55mm and a 75-300mm for just $549 it's perfect for shooting just about everything from portraits, landscapes or architecture. We spotted this on Prime Day - but the good news the offer is still available, and what's more you don't even need to be an Amazon Prime member to take advantage.
Just the other day we were talking about how we miss yesterday's entry-level DSLRs and how today's replacements just aren't the same (mostly because they cost so much). However, all is not lost! If you're looking to upgrade from one of the best point-and-shoot cameras or looking for a standalone camera so you can move away from shooting with a camera phone this is a deal seriously worth considering.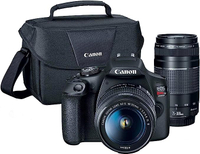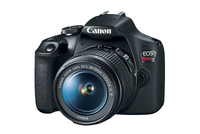 • These are the best budget DSLRs perfect for beginners
The Canon EOS T7 features a 24.1 MP APS-C sensor, an ISO range from 100-6,400 and built-in WiFi so you can wirelessly send photos to other devices or use a phone as a remote shutter (though you will need to download an app). The autofocus system is good if you're not capturing anything that's moving too fast but with just 9 focus points, it's not the best when it comes to sport and action photography.
Now is also a really good time to invest in some new kit as you can take advantage of the best Prime Day memory card deals as well as some of the other amazing Prime Day camera deals which include laptops, lenses, tripods, monitors and printers.
When I got my first DSLR over 10 years ago, it was an exciting step into my journey as a professional photographer (although I didn't know it then). Entry-level DSLRs may not have all the bells and whistles of the latest and greatest mirrorless cameras but they certainly serve their purpose. They're perfect for learning more about the exposure triangle (i.e. how to shoot in manual) and they don't break the bank. Take advantage of this Prime deal and you could have a camera and two lenses for $549 saving you $50 to spend on other things.
Check our recommendations for the best lenses for Canon Rebel T7