The Canon EOS C70 has all the potential to be a game changer. Boasting a completely new form factor and the manufacturer's latest lens mount, Canon has evolved its Cinema EOS system with a camera that's uniquely compact and thoroughly capable.
While it replaces the C100 line, it's effectively a Canon EOS C300 Mark III in a body the size of a pro DSLR, boasting the RF mount used by the manufacturer's cutting-edge mirrorless cameras like the Canon EOS R5 and the autofocus wizardry of the Canon EOS-1D X Mark III.
While it doesn't record RAW, its headline specs include uncropped 4K 4:2:2 10-bit capture, with up to 120fps recording in 4K and 180fps in 2K, along with 16 stops of dynamic range thanks to the Dual Gain Output sensor (the same one seen in the C300 Mark III).
With more competition than ever before in the pro and prosumer video sphere, does the C70 have what it takes to stand shoulder to shoulder with the best cinema cameras out there right now? Let's find out…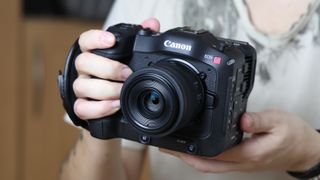 Canon EOS C70 specifications
Sensor: 8.85MP Super 35mm Dual Gain Output
Lens Mount: Canon RF
Processor: Digic DV7
Video formats: XF-AVC (MXF) ALL-I or Long GOP, 4:2:2 10-bit • MP4 H.265/HEVC, 4:2:2 10-bit • MP4 H.264, 4:2:0 8-bit • 26.2 x 13.8 mm (29.6 mm on the diagonal) in 4096 x 2160 or 2048 x 1080 • 24.6 x 13.8 mm (28.2 mm on the diagonal) in 3840 x 2160 or 1920 x 1080
Frame Rates: 59.94Hz mode (59.94P / 59.94i / 29.97P / 23.98P) • 50.00Hz mode (50.00P / 50.00i / 25.00P) • 24.00 Hz mode (24.00P) • Slow-motion 4K up to 120fps • Slow-motion 2K (crop) up to 180fps (audio recording at normal frame rate possible)
Gamma curves: BT.709 Wide DR (T.709 Gamut), C-Log2 (Cinema Gamut), C-Log3 (Cinema Gamut) PQ (BT.2020 Gamut), HLG (BT.2020 Gamut)
ISO: Base ISO800 • Dual Gain Output ISO160-25600 (expandable to ISO100-102400)
Dynamic Range: 16 stops
Autofocus: Dual Pixel CMOS AF, Contrast AF (Face Priority, Face Only and Tracking AF modes available), with EOS iTR AFX (head tracking)
Controls: Peaking, waveform, zebras, false color display, markers
Shutter speed: 1-1/2000 sec depending on frame rate
Shutter angle: 11.25º to 360º depending on frame rate
Filters: Built-in ND filters in 2, 4 or 6 Stops (10 in extended mode)
Memory card: 2 x SD/SDHC UHS-II
LCD: Fully articulating 3.5-inch touchscreen • 2.76 million dots (1280 x 720 x RGB)
Connectivity: Mini XLR 3-pin connector x2, 3.5 mm audio in stereo mini jack (input only), 3.5 mm stereo headphone mini jack (output only, camera body), HDMI Type A (output only), USB Type C (USB 3.2 Gen1), Time Code BNC / HDMI, Remote A connector 2.5 mm stereo mini-jack (input only
Size: 160 x 130 x 116 mm
Weight: 1,190g (with grip belt and measure hook)
Canon EOS C70 key features
At the heart of the Canon EOS C70 is the same 8.85MP Super 35mm Dual Gain Output sensor found in the C300 Mark III. Using the same principles as the Dual Gain technology featured in the Alev III sensors of Arri Alexas, this records two separate 14-bit readouts for every pixel – a high amplification signal prioritizing saturation in the highlights, and a low amp signal that prioritizes noise in the shadows.
These two paths are then combined into a single, 16-bit HDR file that (according to Canon) possesses up to 16 stops of dynamic range and very low noise levels. The C70's base sensitivity is ISO800, as with Arri's sensor, and you'll need to shooting here in CLog2 to get the full benefit of the technology.
The Canon EOS C70 can record unlimited 4K in XF-AVC or MP4; 4K All-I up to 30p,
4K long GOP up to 60p, S&F (long GOP) up to 120fps, and 4K HEVC 10-bit 4:2:0 or 10-bit 4:2:2 options. All-I is only available up to 25p in XF-AVC, with long GOP required for 50p and slow-motion. All XF-AVC options are 10-bit, while for MP4 you can opt for H.265 (in 4:2:2 or 4:2:0) or H.264.
The camera is built around the RF mount, used by the EOS R family of mirrorless cameras, enabling it to make use of the best Canon RF lenses – many of which are among the finest optics that Canon has ever made.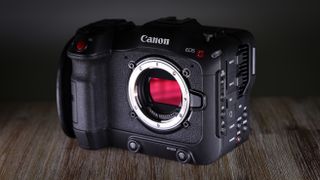 Unlike other Cinema EOS cameras, the mount is not interchangeable. However, using the Mount Adapter EF-EOS R you can mount EF glass with native (and, in some cases, better than native) performance. And companies like Metabones offer PL adapters that enable you to use other industry standard glass.
Furthermore, unique to the C70, the manufacturer has produced a Canon speed booster, the Mount Adapter EF-EOS R 0.71x – a focal reducer that not only mounts EF lenses with the same field of view (unaffected by the Super 35mm crop factor), but also gives you an extra stop of aperture performance.
The Canon EOS C70 also possesses the same Dual Pixel CMOS AF and iTR AFX autofocus technology seen in the flagship 1D X Mark III DSLR. Not only does this deliver spookily good AF performance, it also boasts the signature head tracking ability that means the camera still prioritizes the head even if the face and eyes aren't visible (such as when subjects turns away, or have their features obscured by masks, goggles or helmets).
And obviously, the most obvious feature is that all of this is squeezed into a compact, lightweight chassis that's more like a professional DSLR than it is a conventional cinema camera.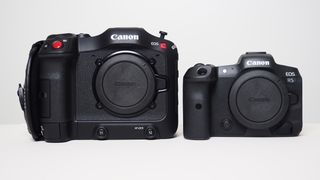 Canon EOS C70 build and handling
If you come from the world of cinema cameras, the Canon EOS C70 feels very weird. If you come from the world of DSLRs and mirrorless, it feels very familiar. And this tells you a lot about the target market for the camera.
On the one hand, it's designed as an entrée for hybrid shooters looking to start shooting with a full-fledged cine camera. As such it eschews the conventional, modular style of other Cinema EOS systems in favor of a DSLR-like chassis and layout – it really does feel a lot like a 1D X, in a lot of respects.
At the same time, however, this new small and sleek form factor makes it an intriguing proposition for veteran cinema shooters, as the ultra-compact footprint makes it ideal for use in cramped environments as well as run-and-gun situations, where you simply don't have the elbow room for anything but a body and lens. Similarly, the small frame makes it ideal for mounting on a gimbal.
The camera is festooned with 18 buttons, 13 of which are customizable, along with a rear control wheel and a tiny joystick input – which might be the lone weak point of the C70's inputs, as it feels very thin compared to the larger, textured joysticks on Canon's DSLRs and mirrorless bodies.
The menu system is typically simple and straightforward, as you'd expect from Canon, and has the same 'grammar' as traditional EOS cameras – making it easy to assimilate if you're transitioning from a stills system.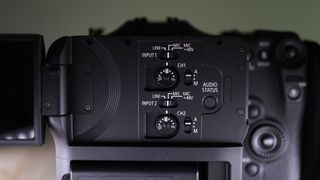 The LCD screen is fully articulating, which is obviously ideal for videography, and the ability to rotate it 180° into 'selfie mode' adds to the C70's flexibility. No, we can't imagine most vloggers buying this camera to shoot YouTube videos, but if you're a one-person crew – a journalist or documentarian, for instance – you can easily record interview and pieces to camera safe in the knowledge that you're in frame and in focus.
This is made easier by the brilliant touch interface. Of course you can tap the screen to select focus points, but the C70 also introduces a Cinema EOS equivalent of the Q menu seen on Canon's stills cameras. With a tap of the screen you can adjust white balance, the build-in ND filters, ISO, shutter, and all your assists such as peaking, waveforms and false color. You can also use the touchscreen to stop and start recording, even with a "REC" button displayed with no live view of your footage, if you so choose.
Behind the LCD screen are the array of audio controls, which means that you do have to flip the screen out in order to access them. In our experience, though, we shoot with the screen out 90% of the time, so this isn't really a big deal.
In terms of inputs there is almost everything you could ask for, from Mini XLRs to Time Code jacks. Some might grouse that it doesn't feature full-size XLRs, but it's so easy to adapt them that we're more than happy to take the minis in order to keep the footprint small. That said, an SDI output is something that we would have liked to see here.
The battery is the same BP-A30 workhorse used by other Cinema EOS cameras, which will power you through hours of shooting even with the demands of 4K, and features a helpful touch-based power check to see how much juice is left without having to turn the camera on (brilliant, when you're digging through a bag looking for one that still has charge).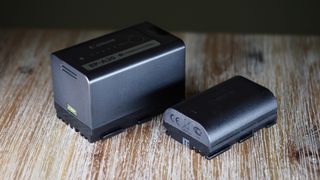 Canon EOS C70 performance
Aside from one major difference – the fact that it doesn't record RAW – the Canon EOS C70 really is a C300 Mark III in a smaller, sleeker body. It has the exact same sensor, so you can expect the exact same performance – and that means pristine video 4K quality whatever your frame- and bitrate.
It's worth noting that, as was the case with the C300, in order to squeeze the full 16-stop potential out of the Dual Gain Output tech you'll need to shoot at ISO800 in CLog2 (the dynamic range drops to 14 stops if you shoot in CLog3).
Furthermore, DGO doesn't work if you shoot above 60fps in uncropped 4K (Super 35) – though it does work, as you might imagine, at up to 112fps in cropped 2K (Super 16). That's no doubt due to the processing and power required to deal with dual readouts during high speed (slow-motion) recording.
Speaking of slow-motion, it's a real strength of the C70, with both 4K 120fps (in Super 35) and 2K 180fps (in Super 16) with full audio (recorded as a separate file) and full Dual Pixel AF. While it would have been nice to see Canon roll out DPAF II, that would require a new sensor – and the fact that it possesses the iTR AFX with Deep Learning is enough to make a big difference if you're filming human subjects, with overall AF performance feeling a touch more accurate than the C300 Mark III.
The built-in ND filters are a revelation to anyone coming from DSLRs or mirrorless cameras, and the 2-, 4- and 6-stop physical NDs (expandable to 10-stop digitally) perform brilliantly while only introducing a very minor effect on color. On that subject, the C70 maintains color well even when underexposed, as that is where Dual Gain Output feels most efficient.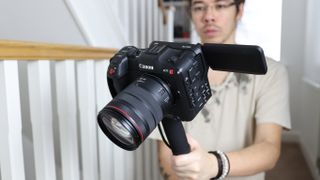 DGO does give you a lot of leeway, with about four stops either way when under or overexposing before things become unworkable. Again if you're a solo shooter, or otherwise unable to keep close tabs on your levels, this can be a real life saver in changeable conditions. Also helping matters is that the C70 introduces Auto ISO to help you maintain a balanced exposure, something that will prove invaluable to documentary or news videographers working with difficult lighting.
Contentious as it may be, the Canon EOS C70 accommodates vertical shooting – which is only a joke until a client wants to pay you to produce Facebook- and Instagram-friendly content – and even rotates the on-screen menu (but not the full menu system) when you do so.
Accordingly, there is a mounting point on the side of the camera to easily set up for vertical video – something that will be increasingly useful, as this kind of content gains more momentum. However, the mounting points on the bottom of the camera are somewhat less helpful, as they don't play well with many mounting plates – requiring you to effectively mount the camera sideways.
The dual SD cards enable you to shoot with great flexibility, recording the same format to both cards, XF-AVC to one and MP4 the other, proxies, relay recording – they'll fit pretty much any workflow. However, we did encounter problems using 32GB SanDisk Extreme Pro 32Gb cards (and other outlets have reported issues with 64GB Angelbird cards), with half our files being partially corrupted. We had no problems with 32GB Sony Tough G cards, though.
Still, the footage captured by the C70 across a variety of formats and framerates were universally impressive – especially in H.265 4:2:2. Obviously that can still be a nightmare for many machines when it comes to post production, though, so 4:2:0 might make a more sensible workflow for most people until more computers catch up with the necessary horsepower.
Canon EOS C70 sample video
Here's a selection of video filmed on the Canon EOS C70, in a variety of file formats using the Canon RF 35mm f/1.8 IS STM Macro and Canon RF 24-105mm f/4L IS USM lenses (there is no audio on any of the videos, all of which were shot using a pre-production camera sample).
The first vignette, with the match being struck, was filmed on a tripod using the RF 35mm f/1.8 lens to test the low light performance, as well as some slow-motion.
The second vignette, showing the subject applying her making, was filmed on a combination of the lenses both handheld (using the digital stabilization) and on a monopod, in both auto and manual focus.
The third video is a selection of B-roll, shot on the RF 24-205mm f/4L, testing both auto and fixed focus along with a selection of 120fps and 180fps clips.
Canon EOS C70 verdict
The Canon EOS C70 is a superb cinema camera, ideal as both an entry point for those new to this kind of shooting and as a fantastic tool for veteran videographers looking for a compact body to shoot in confined or fast-paced environments – and is particularly well suited for solo shooters.
If you're a content creator or events videographer who has been filming on a DSLR or mirrorless camera, the form factor and accessible menus are far more welcoming than most cine cameras, and you will quickly find your way around and soon start shooting great video.
For documentary filmmakers, news gatherers, corporate videographers and other established shooters who need to work in cramped or fast-paced situations, the C70 packs all the power of the C300 Mark III in a form factor that will enable you to shoot just as efficiently inside a car as you would in a studio.
This is an incredibly well specced, fully featured body with a brilliant sensor with (just about) all the inputs and controls you need. And the RF lens mount enables you to use brilliant optics that have never been available to cinematography before, such as the stunning Canon RF 28-70mm f/2L USM.
If you need to shoot RAW or you demand the modularity of conventional cine cameras, look to the C200 or C300 Mark III. But if you need a run-and-gun setup, a high performance system for fast paced shooting, or an introduction to "proper" videography that won't have you wasting your evenings searching Reddit threads to see how everything works, look no further.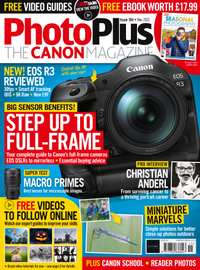 PhotoPlus: The Canon Magazine is the world's only monthly newsstand title that's 100% devoted to Canon, so you can be sure the magazine is completely relevant to your Canon camera system. Every issue comes with free video tutorials and free ebook. Don't miss our Christmas subscription deal – you can save 63% on our Premium print and digital subscription package.
Up to 63% off Offer ends 4th January
Read more:
The best cinema cameras
The best cine lens for filmmakers
Canon EOS C500 Mark II review